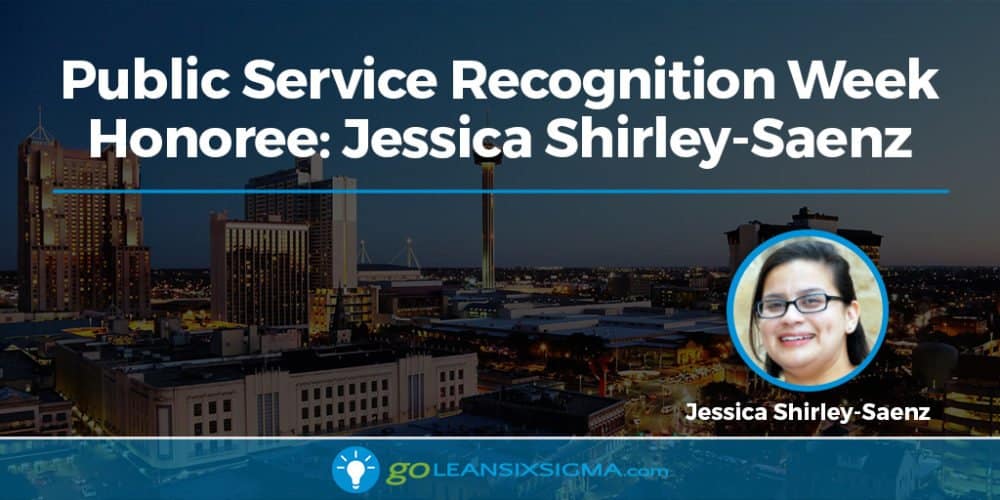 Public Service Recognition Week is a time to recognize and celebrate those who work in public service. This year, GoLeanSixSigma.com would like to take this opportunity to recognize Jessica Shirley-Saenz, Project Control Manager from the City of San Antonio, Texas. Jessica is an outstanding government employee who has made significant contributions and effort towards applying process improvement.
Jessica's Favorite Process Improvement Quote
You can't manage what you don't measure – W. Edward Deming
Honorary Moment
Jessica Shirley-Saenz is a Project Control Manager at the City of San Antonio. Jessica's greatest process improvement moment goes beyond results and successfully engages the involvement of the process owners and impacted users. Jessica believes that she and others are changing mindsets.
The City of San Antonio's success has inspired other departments to embark and works towards what will be a continuous improvement culture. Learn about some of Jessica's success by check out her Lean Six Sigma Project:
Celebrate Public Service Recognition Week with us as we announce a new honoree every day this week.
Celebrate Jessica Shirley-Saenz's Efforts With Us
Let's recognize and celebrate Jessica along with all of our honorees by sharing her success and inspiring others.