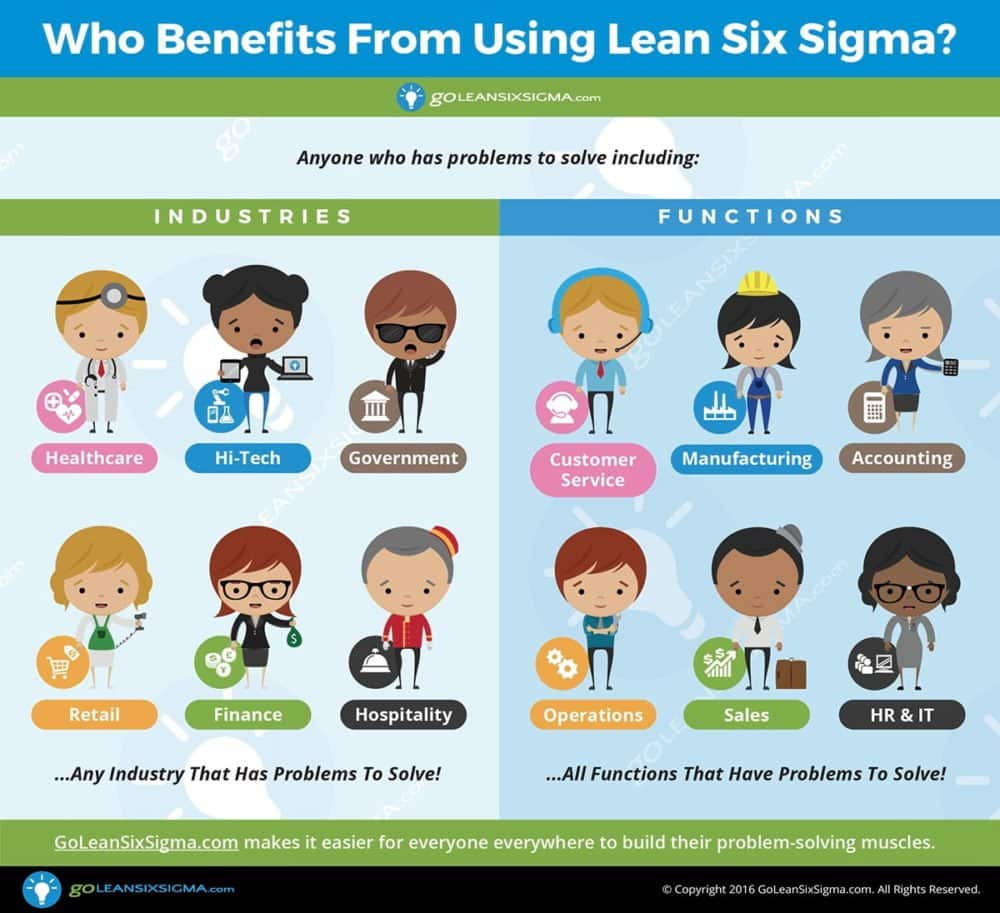 Small- and medium- sized businesses
Lean Six Sigma works for small and medium businesses (SMBs). In fact, often times, the same success that is achieved within large businesses can be achieved in small and medium businesses since smaller organizations can move faster because less people, fewer resources and lower levels of red-tape are involved.
The benefits are boundless, as Lean Six Sigma increases revenue and reduces costs, while freeing up resources that can be utilized toward any endeavor your organization wishes to pursue.
For example:
A new product or service
Other improvement projects
Expanding your sales force
People & Morale
Lean Six Sigma not only increases revenue and reduces costs, it positively affects people by engaging them in improving the way they work. Since employees are the closest to the actual work (production of a product or delivery of a service) of any organization, they become the best resources to understand how to improve the efficiency and effectiveness of business processes.
By participating in successful Lean Six Sigma projects, employees are able to build the confidence and develop the capability to become your business' most important assets. Studies show that when employees feel that they have a positive affect on the organization, they perform better, are more accountable and live happier lives. And once your employees get comfortable with Lean Six Sigma skills, they can continue to find and remove problems and waste in your organization.
Industries
Healthcare
Healthcare costs are skyrocketing across the country and an aging population means increased stress on healthcare services. Lean Six Sigma can help you increase the amount of time care providers are able to spend with patients, reduce the time spent on paperwork, and reduce the time people spend waiting for care, waiting for claims or waiting for a call.
Technology
As consumers increasingly rely on technology, Lean Six Sigma helps businesses by delivering products with fewer defects, decreasing returns and more.
Financial Services
Budgets continue to tighten and resources are more limited than usual. Lean Six Sigma shortens the time to sign up new customers, reduces the time to provide customer service and brings revenue in faster.
Your Industry
Lean Six Sigma has been applied successfully to virtually any industry. To speak with a Consultant to learn how Lean Six Sigma can increase revenue, reduce costs and improve collaboration within your organization, contact us.
---
What's Next:
Lean Six Sigma Training & Certification