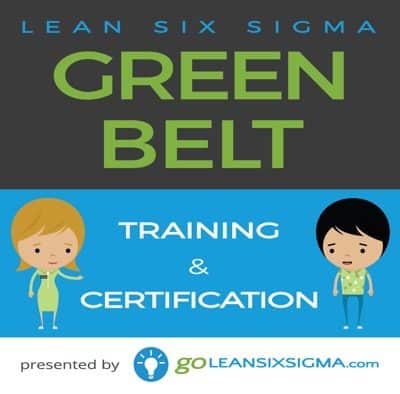 ACCESS ON YOUR
SMARTPHONE & TABLET
Lean Six Sigma Green Belt Training & Certification will enable you to easily complete successful projects by building your problem-solving muscles.
This engaging course draws on 25 years of success helping the world's leading organizations create happier customers and save millions of dollars.
Prerequisite: None
$699 (includes Training & Certification)
32 hours, self-paced, completely online, 1 year of access
Accessible on computers, tablets and smartphones
Globally recognized (32 PDUs / 4 CEUs)
Green Belt Training will enable you to:
Select the right projects
Define the problem that needs to be solved
Measure the current problem and baseline the process
Analyze the process and identify the cause of the problem
Improve the process by implementing and verifying the best solution
Control the new process by maintaining the solution
Green Belt Certification includes:
Exam: 130 multiple choice questions (unlimited re-takes)
PDF Certificate to add to your LinkedIn profile
Membership to our Green Belt Certified Group on LinkedIn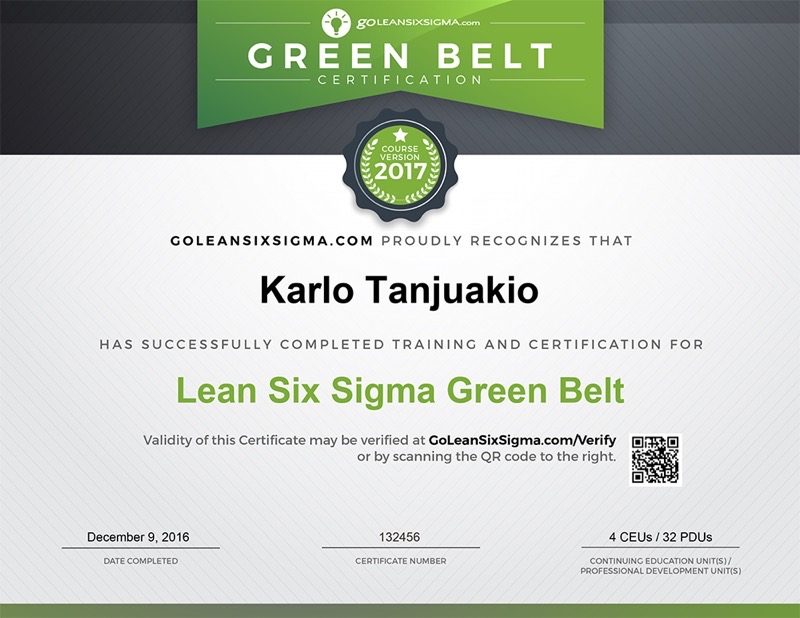 You'll Love Learning With Us
Register today and you'll learn how to solve problems and improve processes using Lean Six Sigma – in any industry or function.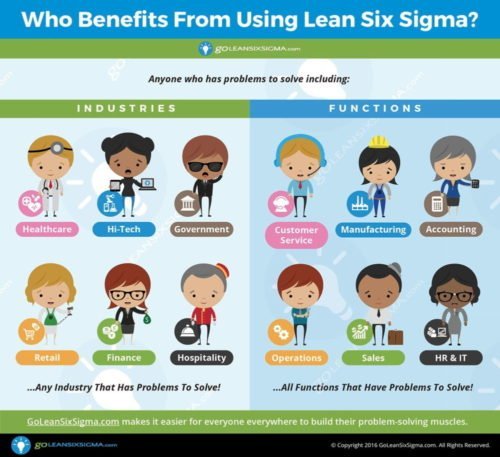 Simple
We've simplified Lean Six Sigma to make process improvement easier – while still covering a comprehensive body of knowledge.
Fun
Enjoy learning in an engaging environment with plenty of games and examples that helps ensure effective knowledge transfer.
Practical
Save time by learning how to use the most valuable Lean Six Sigma concepts and tools and begin improving right away!
Updated for 2017
We're always improving our courses with the latest best practices our experts learn in the field and feedback from our clients.
Globally Recognized
We're trusted by the world's leading organizations, governments and educational institutions.
Highest Rated
Our learners love our courses and consistently give us 5 star reviews! Read their glowing reviews here.
Ready to Minimize Costs, Maximize Profits & Build Better Teams?
Interested In Another Course?
Select a course below to learn more.
Lean Six Sigma Green Belt Training & Certification Reviews
Average rating:
568 reviews
Apr 13, 2018
Great course, thank you!
Apr 11, 2018
The course was easy to follow along, site easy to navigate. Enjoyable class for something that has the potential to be very dry.
Apr 11, 2018
Great course. Easy to access and navigate. materials are in digestible format.
Apr 11, 2018
This self paced program is comprehensive and user friendly.
Apr 10, 2018
well structured and highly engaging course.key concepts and tools are explained clearly. Strongly recommended for anyone interested in efficiency and understanding Lean Six Sigma.
Apr 9, 2018
Would recommend this course.
Apr 9, 2018
Green Belt Training has given a whole new perspective towards handling projects and processes.
Apr 8, 2018
It was a lot of fun learning the material. I appreciate how key concepts and tools are clearly explained. I also like the examples.
Apr 7, 2018
I really enjoyed this training. The course material was informative while being fun. The examples and illustrations help you understand how everything works together. I have taken a few online certification courses and this one by far has been the best.
Apr 6, 2018
To be honest I was hesitant about taking this course online instead of a classroom atmosphere like I achieved my Yellow Belt. However, after sampling this course for our facility to use I was amazed with the program. It was very easy to follow, great examples in a language easy to understand and fun to learn. It kept me interested and eager to finish. Great Job.