What's the secret Quality connection between Italy and Japan? The Pareto Chart! Signore Pareto provided his 80/20 rule and Dr. Ishikawa created the Pareto Chart and included it in his 7 Basic Quality Tools. Voila! (that's French) An international pairing was born to help pave the problem solving path. Vilfredo Pareto was born too early to meet his Quality parter, but this month we celebrate both their birthdays.
On July 15th, Mr. Pareto would have turned 172. He wins the prize for the oldest contributor to the world of Quality! He's not a classic quality guru but, like others, he wore many hats; engineer, sociologist, economist, political scientist and philosopher. Vilfredo studied economic trends and his biggest quality discovery is what's known as the Pareto Principle. He could never have foreseen how his principle would become a staple of modern process improvement.
Claims to Fame – What Did He Invent?
The Pareto Principle:
He gave us the 80/20 Rule – aka the "Pareto Principle"
Mr. Pareto delved into economic statistics. He looked at income, wealth, property and through his studies, he built some of the foundations of modern economics. Central to his work is his discovery that 80% of the land in Italy was owned by 20% of the people. His data intensive approach led him to apply this principle to a broad list of distributions. The chart, created by Dr. Ishikawa (or possibly Dr. Juran – the debate continues) ingeniously shows the total number of units on the left Y axis but it adds a second Y axis on the right showing the percentage. The 80/20 rule is revealed!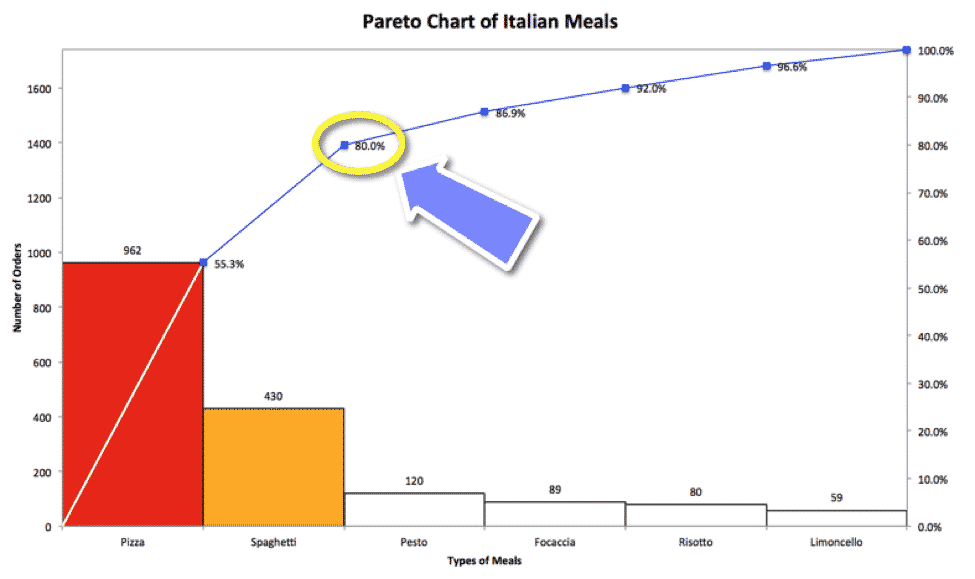 Central to his work is his discovery that 80% of the land in Italy was owned by 20% of the people.
Today we use Pareto Charts in the majority of our Lean Six Sigma projects. We use them to show the most frequently ordered item (as shown above) or the most frequent cause of an error. It provides an immediate focus for improvement efforts. If the restaurant above were trying to cut down on food costs they could stop spending money on all that Limoncello and put more time and effort into their pizza offerings. Of course it's nice to have just a little bit of Limoncello at the end of the night..after all that pizza.
It provides an immediate focus for improvement efforts.
Economics Plus Data:
He added math to the field of economics – who knew?!
His biggest impact is in the field of economics because, and it seems an obvious connection now, he added math! Mr. Pareto bucked the tide of the times and focused on statistics which are the foundation of modern economics. He got into trouble when some of his theories became popular with Mussolini, but we'll let that slide…in exchange for the Pareto Chart.
Little Known Facts:
He was an Italian who was born in Paris and died in Switzerland

He lived with a menagerie of cats ("gatti")
Vilfredo Pareto at the Bahama Bistro:
Quote of the Day:
"Today's special is Fettuccine Vilfredo!"
Putting Vilfredo Pareto into Action:
"I think 20% of our customers are enjoying 80% of the Bahama Mama Smoothies"

"That's the Bahamian Pareto Principle!"
Mr. Pareto's legacy is the foundation of modern economics, but in the Quality world, it's the Chart that resulted from his 80/20 Rule. It's one of the Seven Basic Quality Tools and it's the best visual for displaying where most process defects come from. Lean Six Sigma would not be the same without him.
Happy Birthday Vilfredo Pareto!