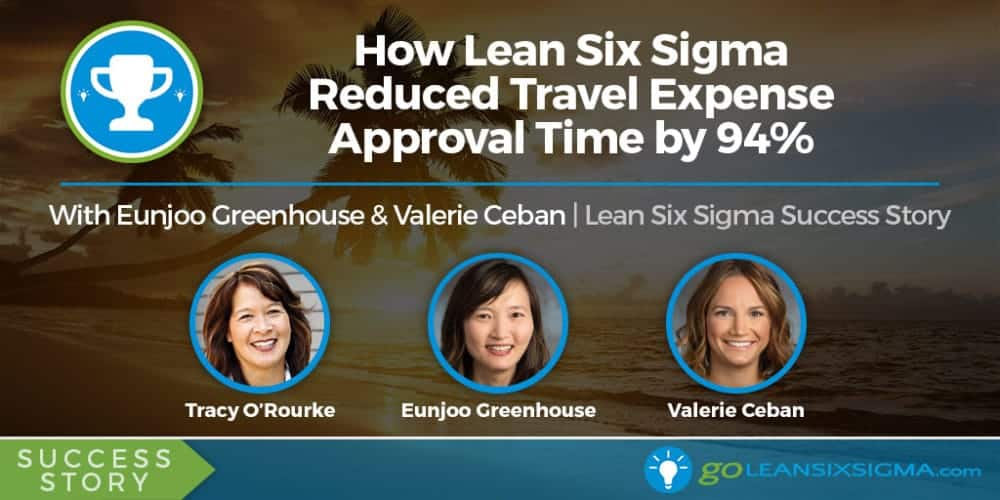 King County continues to streamline processes and make things simpler and easier! Watch this 30 minute success story to learn how they reduced unnecessary steps in a process that almost all organizations have: the travel expense process!
Watch Success Story
View Slides
Success Story Transcript
Tracy O'Rourke: Hello and welcome to our Success Stories Webinar hosted by GoLeanSixSigma.com. My name is Tracy O'Rourke and I'm a Managing Partner and Executive Adviser at GoLeanSixSigma.com.
We are very excited to have this offering for our learners because this is where the rubber meets the road. This is where we talk about real projects that have been implemented within an organization particularly government and we want to share those stories with you.
Today, we are highlighting an awesome success story from King County, Washington about reducing travel pre-approval lead time. And our presenters today are Eunjoo Greenhouse and Valerie Ceban. How are you ladies doing today?
Eunjoo Greenhouse: Good.
Valerie Ceban: Good. How are you?
Eunjoo Greenhouse: How are you?
About Our Presenters
Tracy O'Rourke: I'm doing great. So before we get started on the project, I just wanted to introduce Eunjoo and Valerie for a moment. So Eunjoo is the Deputy Director of King County Finance and Business Operations. She leads the division with approximately 200 employees and is very passionate about growing people. She has led efforts to build management systems and sustained the division's lean cultural transformation and standardization initiatives.
She is a veteran finance manager with over 17 years of experience in financial management, budget and financial modeling. In her free time, she loves to spend time with her two young children, her daughter, an aspiring dancer, and her son, a race car driver. How old are they, Eunjoo?
Eunjoo Greenhouse: Three and six, so aspiring, both of them.
Tracy O'Rourke: Good. Wonderful. And Valerie has pursued a degree in international economic affairs from Moldova State University and shortly thereafter, moved to Seattle to attend the Seattle Pacific University, graduating with a degree in Business.
Valerie started her career with King County as an intern in FBOD, Finance and Business Operations Division. And then transitioned and was promoted to a couple of different roles and is now with the Department of Information Technology as a Budget Analyst.
Valerie was directly involved in this travel approval process and she was very excited to help reduce waste and remove what she perceived as a bottleneck her role out of the process and simplify this process in her Green Belt project.
Outside of work, Valerie enjoys traveling and checking off countries from her bucket list. So Valerie, what country are you going to be checking off next?
Valerie Ceban: I'm going to Costa Rica in two months.
Tracy O'Rourke: Wonderful. That's exciting. Have you ever been there before?
Valerie Ceban: No. It will be my first time.
Tracy O'Rourke: Wonderful. Well, let's talk about what your project is about. I'm sure that a lot of people want to hear about it because this is actually a process that many counties probably have.
FBOD Travel Pre-Approval Project
Valerie Ceban: Yes. So a little over a year ago, Eunjoo and I actually and 12 other people in our division embarked on the Lean Six Sigma adventure. And part of our training involved taking on a process improvement assignment. So because Eunjoo and I were both involved in the travel pre-approval process, we decided that there are a lot of bottlenecks including us, and so we decided that it would be a great idea to tackle this project. So, we started June of last year and we're here today.
Tracy O'Rourke: Wonderful.
About Finance and Business Operations Division
Eunjoo Greenhouse: So before we get started, it will be good to tell our listeners what FBOD, Finance and Business Operations Division, actually does in King County. So we're in King County, which is located in City of Seattle and other surrounding areas. And we provide five lines of business which include accounting. So we produce financial statements for the whole county, benefits and payroll, administration, and we buy things, procurement, and treasury that we process proper tax services, and we promote small businesses around King County area.
Tracy O'Rourke: King County is fairly large, isn't it?
Eunjoo Greenhouse: Yes. Thanks for asking that question. So King County is I believe 13th largest county in United States and we have 13,000 employees and approximately 50 plus lines of businesses within King County. Finance and Business Operations Division has 200 employees. It provides service for all these agencies within King County and also some local jurisdictions as well.
So, our vision for our division is that become the best on financial services for the best run government. So King County's vision for future is to become the best run government. So we wanted to support that effort and provide the best run financial services.
Tracy O'Rourke: And that's an initiative that your King County Executive, Dow Constantine has had for a number of years, the best run government. Is that right?
Eunjoo Greenhouse: Yes.
Tracy O'Rourke: Wonderful.
Define
Valerie Ceban: So we'll talk about our travel project. We started with collecting data. We gathered travel packets within our division over the course of two years and we discovered a 70% error rate, a pretty lengthy cycle time. It was – it averaged about 15 days. It was also a manual paper-based process, which meant that whenever there was an error on a form, it had to be redone, reprinted, and resubmitted. And we had four forms at the time.
This created employee disengagement because there was a lot of redundancy in our forms and most of our employees were not necessarily sure how to submit travel packets. So the error rate came from missing forms, missing information and just actual errors within the forms.
Tracy O'Rourke: Wow! So you're saying that because it's manual paper-based and there were forms, every time there was an error, it would have to get resubmitted. And that was happening 70% of the time.
Valerie Ceban: Yes, right.
Tracy O'Rourke: Ouch! That must have been a lot of paper.
Eunjoo Greenhouse: Yeah. That also meant that things took a lot longer for approval process which meant that we missed out on opportunity to save dollars in terms of the cost because you could register for conferences ahead of time and you can take advantage of early bird registration fees and whatnot and travel arrangement as well. So it had definitely cost impact associated with all these problems.
Tracy O'Rourke: Oh yes. So I see. You're saying that because of the delay, because of the errors, the resubmissions, it's lengthening cycle time and therefore missing all of those early bird pricing opportunities and cheaper flights.
Eunjoo Greenhouse: Correct.
Tracy O'Rourke: Ouch. OK.
Define – Project Charter
Eunjoo Greenhouse: So, here are the elements for our project charter. So things that are in scope were definitely the forms. We wanted to look at those forms and see what we can do about it. And we also provide trainings related to how to fill out a form, how to process this work for the whole county. We wanted to revisit those. And also, travel manual that was available online. We also wanted to see if we can make the signature process electronic so that we don't have to rely on paper process.
Things that are out of scope, basically the things that are more backend of this process. So when you return from the travel, you process reimbursement, those are out of scope for us. And expense, which is actually reimbursement processing in Oracle Module, Oracle Financials. And any type of bank reconciliation and financial reconciliation that goes into the work.
SIPOC
Valerie Ceban: So our SIPOC shows the step-by-step process. It started with the traveller or the admin. It's really dependent on who submitted the travel packet but typically, the traveller will request all the forms from the Section Admin, input all of the information, submit the forms to the admin, the Section Admin reviews it.
After that, it goes to the Section Manager for review then it hits the Director's Office which is where I review the packet and then it would go to the Deputy Director, and in this case Eunjoo. She would review it. If it passed her inspection, it would go to the Department Admin for review and then from the Department Admin to the Department Director.
In the event that – at any – in any step, it didn't get approved, it would have to go back to either the traveller or the Section Admin for yet another review and any kind of editing and resubmittal.
Tracy O'Rourke: Wow! Just looking at the SIPOC, you can see the waste already because the last four steps are review, review, review, review.
Eunjoo Greenhouse: Yes. And then if it's a rework, all those steps repeat again, right?
Measure
So here are the reasons. So we collect the data for two years and so we looked at what are the reasons the packet was rejected. So a lot of them had to do with missing forms. So when you have four forms to fill out, it's found that you're going to miss one of those, missing information. So each form had a lot of fields and they were missing some information. It wasn't very clear what you're supposed to provide either. And other general errors that's not part of those reasons.
Tracy O'Rourke: Yes. And again, just to clarify, this data, you didn't take it from the entire county. You really took a look at the data from just your division.
Valerie Ceban: Yes.
Tracy O'Rourke: OK. Got it.
Valerie Ceban: So this shows our cycle time distribution. We averaged 15 days. However, there's an outlier shown here, that one day. The reason behind that is because it was a one-time occurrence and the travel packet was submitted the day before travel occurred. It typically does not happen. We request the travel packet to be submitted at least four weeks in advance. So due to this outlier and certain other things that we discovered throughout the process that we will talk about a little bit later, our cycle time is actually started averaging from 30 to 45 days instead of 15 days.
Tracy O'Rourke: That makes sense. So that was one of those things where it happened and the super expedited process.
Valerie Ceban: Yes.
Process Walk Team
Eunjoo Greenhouse: So part of the project, we conducted a process walk. Here is the picture or photo of people who participated in the process walk. So we included people who actually travel, frequent travellers as well as section reviewers and also the people who actually process the travel at the backend in accounts payable as well. Even though that wasn't exactly part of our scope, their insight was helpful because we didn't want to make process changes that are going to impact downstream adversely that we didn't anticipate.
Also, not shown in this picture but we also involved our Department Director in the process walk and her administrator as well because we wanted to make sure that their input was gathered as well.
Analyze – Process Walk
Valerie Ceban: And this right here is actually the highlight of our project because during our process walk, we all sat down and we identified all the steps within the process and this is actually where we discovered that there were extra steps that we were not aware of and hence, our cycle time averaged higher than we originally calculated.
So during our process walk, we discovered that our sections actually have their own steps included and some of them had forms that we've never seen before, either forms that were created by section admins and section managers or King County forms that were pretty archaic and from back in the day and we were not aware of them. So because of that, that added about two weeks to a month to our cycle time.
Tracy O'Rourke: Wow! So your original measurement really was from where it started in the process where you were but you realized when doing the walk that it wasn't the beginning really of the process.
Valerie Ceban: No. Our original measurements showed the travel packet when it came to the Director's office, so to me and Eunjoo, to the day that it was approved.
Tracy O'Rourke: Yeah, that is always enlightening when you have a process walk and you realized that the process started a lot sooner. Good.
Analyze – The Process Walk Key Takeaways
Eunjoo Greenhouse: Yes. So here are some of the key takeaways Valerie talked about a little bit. So there were so many redundant forms and redundant reviews. When you have process, there are about six people reviewing for the same items. That's a bit much. Too many hand-offs. And we discovered a hidden form that we didn't know existed. And cycle time was way longer than originally measured.
And one thing we also realize that we had a lot of instructions for the people to submit their travel packet but we didn't have much instruction for people to what to review. So everybody was doing something different based on their understanding of what they were supposed to look at. So it needed a better standard work.
Valerie Ceban: This right here shows the two travel pre-authorization forms. The one on the left is our old form and the one on the right is our newest. There is not a lot of difference visually. The only difference is that the one on the left is one of four forms. The one on the right is the only form required for travel pre-approval.
So now, all of the information and the justification for all the expenses and the reasoning for training and travel is included in this 2-page form.
Checklist for Travel Submittal
Eunjoo Greenhouse: This is a checklist for the travel submittal in the previous process, existing process. It's a fairly long, lengthy checklist and it didn't really – when we asked the users, they didn't really use them. Some people didn't know it existed. And some questions really didn't make sense to them. So, we tried to simplify the checklist and came up with a lot simpler checklist. And as you noticed, it says form 1, instead of having four of them.
And in the past, they had to like write an easy justifying what the travel is about. And sometimes the justification wasn't what the reviewers were quite looking for. So we simplified that process as well as trying to just check the box and making sure that you have everything included in your packet that needs to go with it.
Valerie Ceban: The other thing that we wanted to add into this is that the new form actually has an electronic signature on it. And now, it does not require to be printed out. So it's no longer a paper-based process. The form can be signed electronically and submitted via email.
And we also have – we created a share point site where all of the forms can be uploaded. And this allows us to track all of the travel packets and collect data.
Tracy O'Rourke: So, you automated some of the process but not just straight automation, which sometimes happens where people just automate a bad process. But you actually improved the process and automated some pieces of it. And you're saving lots of paper and therefore lots of trees.
Valerie Ceban: Yes, that's the idea.
Current vs. Future State Process Map
So, this is probably the highlight of our process improvement project. This shows the current versus future state process map. So the process map on the top shows what the process has been with all the reviewers and all of the steps. And the one on the bottom shows what we're aiming for.
So currently, we have created an annual travel plan that has been discussed by our Division Director with our Department Director. And at this point, our Department Director reviews the annual travel plan which includes all of the estimated training and travels that we have for the future year, estimated cost, how many employees will be attending, and a justification for why they will be attending the training.
So it allows the Department Director to have a high level overview of all of the travels that will be occurring throughout the year. She was able to look at it, approve it, and this allows us to now only approve travel packets at the Section Manager level. So it removes quite a few reviewing steps out of the process.
Tracy O'Rourke: That's great. So, all of the reviews have been removed except for the Section Manager because there's a pre-approval at the front of the year.
Valerie Ceban: Correct. And the travel that is not included in the annual travel plan will have to go through all of the steps that are mentioned on the line above.
Tracy O'Rourke: So it's great to be proactive about what's happening in terms of travel for the year.
Valerie Ceban: Yes. It incentivizes employees and section managers to submit their travel plans – to put their travel plans in the annual travel plan.
Eunjoo Greenhouse: So you plan ahead. You are more thoughtful, intentional about how you're using your training dollars also. And then try to discourage last minute travel, which tends to be more expensive as well. So we tested out whether or not this process would work.
FBOD Travel Pre-Approval Pilot Project
So we did a pilot project trying to test out the new process. So, we took the first six months of this year, 2017, from January through June and we piloted this new process with the new form within our division. So it had a lot simpler and less form, from four to one. And the form is easier to use. It's more intuitive.
We had fewer hand-offs as we mentioned earlier. So instead of six approval steps, six reviewer steps, we only have two people looking at the form. It's paperless, electronic. You can save all the documents into a share point site so everybody has a view of what's going on in terms of travel approval.
And we provide some training upfront to be able to set the expectation and user training so that we can reduce the error rate, and improve the cycle time. Also, we wanted to be able to collect data at the end of our pilot project, and it was very helpful to have everything in one place in share point site.
Exploring More Options for Travel Cards
Valerie Ceban: We are currently exploring some options for travel cards. We are looking into providing our travellers with travel cards to simplify the process a little bit. And part of the reason is because there have been times when we've had issues with travel arrangements.
For example, we've reserved hotel rooms but the traveler came to the hotel and the reservation was somehow lost or there was an issue with the card. So then it implies that the traveller has to submit their own credit card for hotel reservations.
So currently, we're working with our Procurement Section to see what kind of options we can come up with.
Tracy O'Rourke: Good.
Project Timeline
Eunjoo Greenhouse: So as we mentioned, so this is our project timeline. We've done some communications about what the new process will be. Last year in November and December, we provided training for the users so that we can communicate the new process and teach them what data we are looking for to collect and how it's different from the previous process.
And then we've done a pilot for six months. And then now, we are at a phase that we've collected all the data from pilot project and we have results which is positive luckily. And so, we are trying to go actually county-wide, outside our division. So we are in actually phase two of this project trying to roll out the new process county-wide. And we are actually working on the communications on that piece right now.
Tracy O'Rourke: That's wonderful. So you were able to scope the project appropriately to actually get the work done within your own division because you have travellers in your division and now, you're going to roll it out to the entire King County 13,000 employees and people who travel.
Eunjoo Greenhouse: Yes. And then now, we have a data to prove that the new process works to encourage people to use the new process.
Tracy O'Rourke: Wonderful. And do you think people are going to like it?
Eunjoo Greenhouse: I think so.
Valerie Ceban: We hope so.
Improve – Pilot Results
And we are happy to report that we have reduced our cycle time from actually 30 to 45 days to 1.6 days. Our error rate went from 70% to 0. And as Eunjoo mentioned before, we are ready to roll it out to the whole King County.
Tracy O'Rourke: That is very exciting.
Q & A
And I have some questions for you about your project if that is OK. So now that you're in the midst of expansion of your project improvement, which is we call that phase implementation, if you will, what was do you think was the most impactful part of the project like a tool or a certain aha moment that you had? What would you say would be your most impactful thing that you did during the project?
Valerie Ceban: I think we would probably both agree that the process walk was the most impactful part of our process improvement project simply because we were able to sit down with other employees within our division who are directly involved or impacted by this process. And this is where we actually came up with a few ideas and we actually saw a different perspective. And this is where we actually found out that there are more forms that delay our cycle time even more. So, it was a lot of data points for us, I would say, throughout the process walk.
Tracy O'Rourke: Wonderful.
Eunjoo Greenhouse: And also, it gave us instant buy-in from the people who are involved in the process so we didn't have to spend so much effort trying to gain support and buy-in from people that we needed help to get the project done.
Tracy O'Rourke: Yes, it's really – in my experience with process walks, when people see the pain that people go through because of the way a process is set up or designed, it's very easy for people to just want to make a change because they want the pain to go away.
Valerie Ceban: Yes.
Tracy O'Rourke: Wonderful. So what were some of the challenges that you had? Did you have any challenges that you want to share about the project and maybe do something different?
Eunjoo Greenhouse: Quite a few. So when we first picked this project, we thought it would be fairly simple and quick and easy to get it done. That's part of the reason why we picked it. I mean we saw a lot of wastes in the process as well as we thought, "Oh, this would be easy to fix." It was so broken, the process itself. But it took a lot longer than we expected it would have taken.
I really think it's because it's really more a collaborative effort to get here and we've also tested out in a small sample, in our division, rather than going all out with a new process without testing. So what I didn't foresee also is that all the change management that's involved to get the process become more successful. So, it took way longer than we thought it will be and a lot of pain.
Valerie Ceban: Yes, it did.
Tracy O'Rourke: Yes. Good. And then do you have any advice for someone that is embarking on doing a process improvement in government, anything that you would want to share for someone that might be standing at the beginning of their project?
Valerie Ceban: I would probably say that at the beginning of your project when you're working with others involved in the process make sure that every party involved identifies the need for change. In this way, you'll obtain the support and commitment necessary to get positive results.
Eunjoo Greenhouse: And also, don't forget to involve the right people. Scope right. Don't go into a big project in your first time. As Valerie mentioned in the beginning, this was our first Green Belt project. So we have not done any project or process improvement work at this scope.
And I do remember, Tracy, that you were encouraging us to pick a sizable scope that's manageable. I wish we listened to you a little better. Hindsight. I see why you kept pushing for a smaller scope project. And oh, we went big bang. So it's right to start small because – but I think it helped that we did a phase implementation. I think it would have been very overwhelming if we went county-wide initially. So, pick a small scope, involve the right people, and make sure you get your senior management support throughout the process.
So given that this is a county-wide process, we had a strong support from our senior management team. Our Division Director, Department Director, and Deputy Director for the whole county were behind our process improvement work and we were constantly in communications with them in terms of our progress and what we need from them to make this successful.
Tracy O'Rourke: That is great. So thank you so much for sharing your success story. I'm Tracy O'Rourke. And you're listening to GoLeanSixSigma.com Success Story Webinar. We are highlighting Eunjoo Greenhouse and Valeria Ceban from King County today. I want to thank you both for sharing your process improvement success today. Doesn't it feel good to finally be done with this project? Well, at least the first part.
Eunjoo Greenhouse: Yeah. We'll feel much better when it's over with the phase 2.
Tracy O'Rourke: Wonderful. So for all of you that have signed in to listen to the recording, we thank for joining us as well. And if you have any questions about this presentation, just contact us at [email protected] Don't forget to download any free tools and templates, infographics and more from our website. We have – this webinar will be posted and it's viewable for free with all of our success story webinars.
So, thank you so much for joining us. Have a great day and see you next time. Thank you both.
Valerie Ceban: Thank you.
Eunjoo Greenhouse: Thank you.
Tracy O'Rourke: Bye-bye.