King County continues to streamline processes and make things simpler and easier! Watch this 30 minute success story to learn how they reduced unnecessary steps in a process that almost all organizations have: the travel expense process!
---
The Challenge
King County—Washington State's most populous county, with over 2 million citizens—has a vision to become the best run government. But where does one start with a vision of perfection? Deputy Director Eunjoo Greenhouse wanted to support that vision by helping to run the best Finance and Business Operations Division possible. She knew there were plenty of opportunities for improvement so she reached out to a colleague.
Valerie Ceban wanted to help too. She oversaw the lengthy travel approval process. She suspected her department was part of a bottleneck and she wanted a good project to pursue her Green Belt Certification—it sounded like a good match. Valerie and Eunjoo partnered on a process they both agreed would be an "easy fix," although it turned out to be a little tougher than that.
The Discovery
Since a county-wide effort would involve 13,000 employees, they scoped the project down to cover the 200 employees within their own division. Initial cycle time data indicated the travel pre-approval process took an average of 15 days, but further digging showed that 15 days was optimistic—they soon discovered that lead time averaged 30 to 45 days—not 15.
Cycle Time Distribution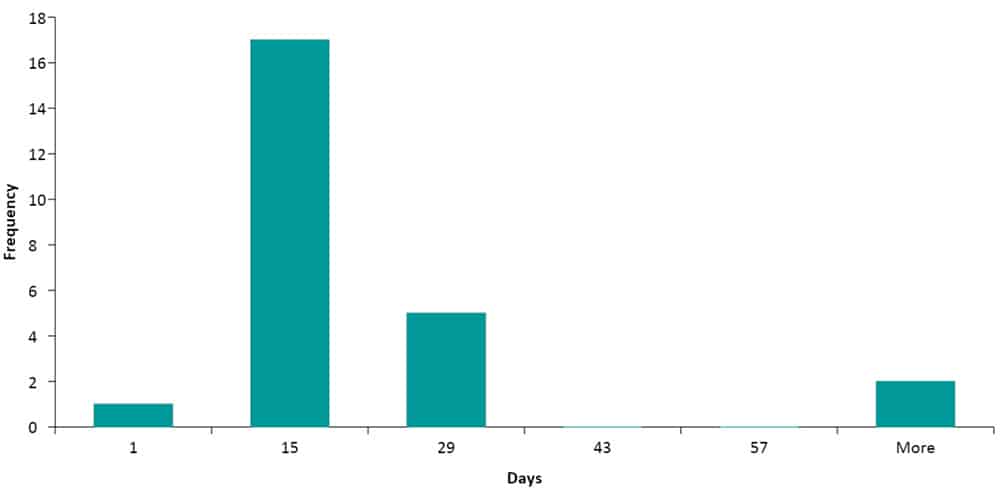 An Effort to Reduce Costs Results in Increased Spending
Pre-approving travel took so long that staff missed out on early-bird registration fees as well as low-cost flights. In an effort to manage costs, the pre-approval process increased them. A big driver of long lead times was rework—there was a 70% defect rate for pre-approval submissions. Every error on a form required manual rework—it had to be redone, reprinted, and resubmitted—using 4 separate forms.
In order to understand all the resubmissions, they dug a little deeper into the top reasons for rework:
Travel Packet Rejection Reasons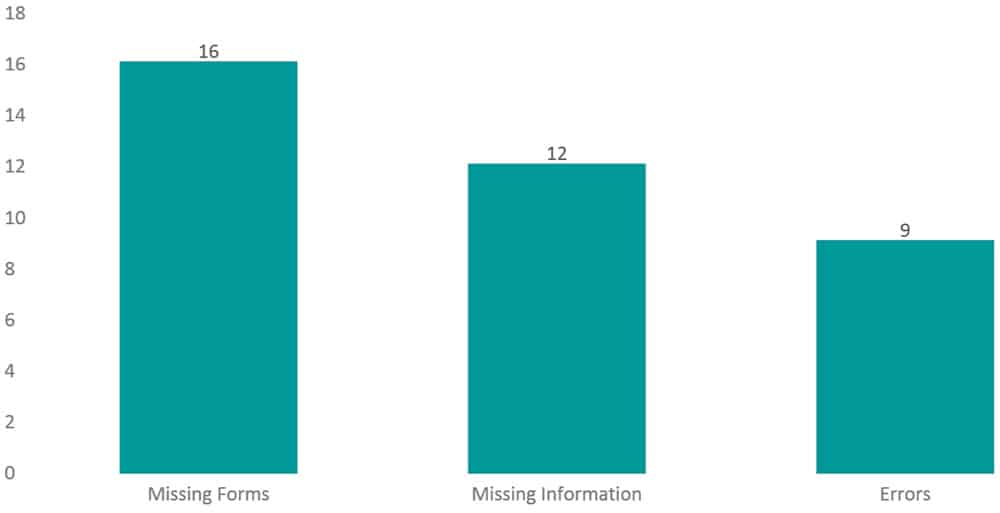 Understanding the Rework
They wanted to figure out why the staff were submitting their travel packets with so much missing information, and the best way to understand a process is to "walk it." Eunjoo and Valerie planned their Process Walk to include include the people who travel for the county, the section reviewers, the Department Director and the administrator as well as the people who process at the backend in Accounts Payable. Accounts Payable was out of scope but including them was critical in order to avoid making changes with a negative downstream impact.
Ahas and Opportunities
During the Process Walk the team discovered that different groups had invented their own steps. There were forms they'd never seen before—some created by section administrators and some archaic holdovers from decades past. What they heard from frequent travellers was frustration with the redundancy of the process and confusion around how to submit travel packets.
On top of the multiple forms they uncovered redundant reviews. Six different people reviewed the same items resulting in six separate handoffs. They also realized they had a wealth of instructions for the travelers but not much instruction for the reviewers. The result? Everybody invented their own "best way." Hidden forms, extra steps, multiple handoffs, duplicate reviews and no Standard Work added two weeks—to a month—to the total lead time.
They knew they could do better.
The Improvements

Eunjoo, Valerie and the team piloted their improvements for six months to test out their new process with their new form within the division. Aside from going from 4 forms down to 1, the new form was electronic. Instead of six review and approval steps, they required only 2 people to look at the form. On the user side, travellers could now save all documents onto a Sharepoint site and monitor the progress of the travel approval.
Planning Ahead
One of the biggest impacts was the creation of an annual travel plan with the Division Director and the Department Director. With the new process the Department Director reviewed the plan including the estimated training and travel for the coming year, estimated costs, the number of employees attending and why. Providing this high-level overview enabled the Department Director to review and approve it a year in advance. As long as it wasn't a new travel request, they only required Section-Manager-level approval. They jettisoned multiple reviewing steps from the process.
The Results
They reduced their lead time from a high of 45 days down to 1.6 days—a 94% reduction. Their error rate—initially 70%—was reduced to zero. Having succeeded with their division, Eunjoo and Valerie were ready to roll the new process out to all 13,000 King County employees.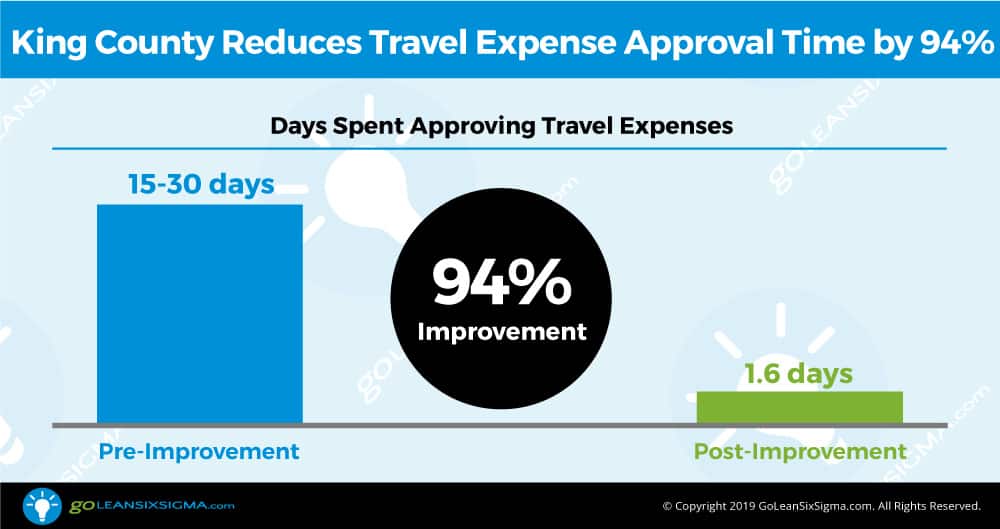 What Did They Learn?
They formed a keen appreciation for the need to scope the project down to something manageable—especially for first-time efforts. It was key to involve the right people, and critical to get senior management support throughout the process. But the biggest learning was the power of the Process Walk which led them to sit down with employees within their division who were directly involved and impacted by this process.
The Process Walk provided an education on both the process and the people who work inside it. Their experience was so profoundly positive that they created a Process Walk video to highlight the takeaways from their pre-approval process. The video allows them to share their learnings with and educate the broader Lean Six Sigma community. Many thanks to Eunjoo, Valerie and the wonderful people of King County!
Eunjoo Greenhouse is the Deputy Director of King County Finance and Business Operations Division (FBOD). She leads the division of approximately 200 employees with a day-to-day job of overseeing the production of financial statements, benefits, administration, payroll, procurement and tax services. She has sustained the division's lean cultural transformation and standardization initiatives for Washington State's largest municipality.
Valerie Ceban, who started out as an intern in Finance and Business Operations Division (FBOD), and later became a Budget Analyst with the Department of Information Technology. She had direct involvement in the travel approval process which became the focus of this effort.
---
---
View Slides
---
Get the inside scoop on many other successful Lean Six Sigma projects at our Super Stories of Success page. Do you have a story to tell? We'd love to hear about your own project success! Please contact us.