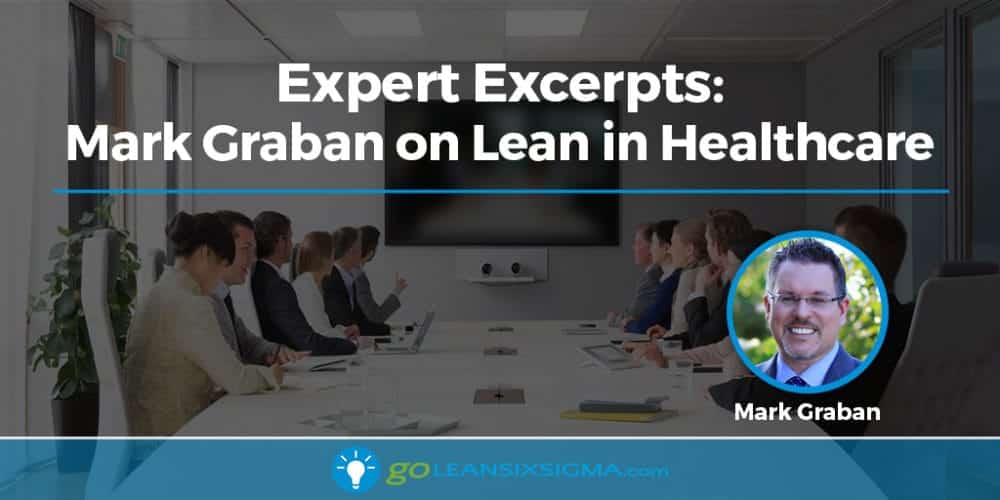 Are you in Healthcare? Whether you're just starting your Lean Journey, or you're in the middle of improving a process, guidance from Experts can help make your efforts easier – and more successful! In this short interview, we interview Lean Expert, Mark Graban, who shares key insights to being successful with Lean in Healthcare.
Mark Graban is an internationally-recognized expert in the field of "Lean Healthcare," as a consultant, author, keynote speaker, and blogger. He is the author of the award-winning books Lean Hospitals: Improving Quality, Patient Safety, and Employee Engagement and Healthcare Kaizen: Engaging Frontline Staff in Sustainable Continuous Improvements.
What advice do you have for someone that is getting started with applying Lean in Healthcare?
I'd suggest starting by finding and solving meaningful problems, rather than thinking about what Lean tools to implement. Start first by understanding the purpose, process, and people that you're working with, as a way of first analyze the current state of where you are working (the entire environment, not just the process). Solving problems that make things better for the patients, staff, and the organization will prove to skeptics, in a very practical sense, that Lean methods work in healthcare.
It's also very important to not be a "lone wolf" or solo practitioner who is working alone to develop ideas and solutions. It's ultimately more effective to engage others in the current state analysis, problem solving, and improvement activities.
Show respect to everybody you are working with, keeping in mind that they probably haven't been exposed to operations management practices or improvement methods that you might consider very basic. The best Lean healthcare success I've seen or been a part of has been a partnership between "improvement science" practitioners and clinical caregivers, each bringing their own perspective and experiences to the improvement process.
What are some common mistakes you see people making when applying Lean in Healthcare?
Unfortunately, this could be a fairly long list, as we see misunderstanding or misapplication of Lean principles and methods in healthcare (and many of these problems exist in other industries).
Some of these problems include:
Seeing or practicing Lean just as a series of tools or projects, instead of also working on a new style of management and culture change.
Focusing only on cost or efficiency, instead of focusing first on safety and quality.
Trying to force change on others (instead of engaging the people who do the work) and then complaining about a lack of buy in or a lack of sustainment.
Using Lean tools, such as 5S, in trivial ways instead of solving problems that matter.
Executives sending primarily front-line staff to Lean training classes without educating themselves or being willing to change themselves.
Hiring one person and then expecting them to "make the organization Lean" on their own.
Taking a hospital employee or project manager who has zero experience with Lean and putting them in charge of the "Lean program."
Not being willing to hire experienced Lean practitioners from other industries.
These are problems that can derail an organization that starts with the best intentions to use Lean as a framework for improvement.
Do you have any pet peeves related to Lean application in Healthcare?
One of my biggest pet peeves is more related to "Lean Sigma" in healthcare (or otherwise).
Most Lean Six Sigma training, when you really look at the curriculum and time spent, is not 50/50 Lean and Six Sigma – it's usually about 90% Six Sigma. Many people who hear about Lean decide it's probably a good idea to learn about two methodologies (Lean and Six Sigma) instead of just one.
But, too much of the "Lean Sigma" training is really just a full-blown Six Sigma program with a few superficial Lean tools thrown in. People are taught that "Lean is just another tool in the toolbox" instead of getting an appreciation for Lean as a culture, philosophy, and management system.
It also irks me when Lean Sigma trainers or books say, "Lean is for efficiency/cost/speed" and "Six Sigma is the method for improving quality." Now, don't get me wrong… Lean and Six Sigma can co-exist and work together in an organization.
It's grossly incorrect to say or imply that Lean is only about efficiency. The roots of Lean are in the Toyota Production System, which has dual pillars of improving flow AND quality. Flow and quality go hand in hand. Improving quality (and Lean has many methods that can be used directly to do so) leads to better flow and better flow leads to better quality, especially in healthcare, when better flow means shorter waiting times for patient and, therefore, better care.
It would be more correct to say that both Lean and Six Sigma can be applied to improve all the measures and goals that matter to people – safety, quality, flow, cost, efficiency, employee engagement, etc.
Is there anyone that has significantly influenced you over the years?
I've been fortunate to have many great teachers, mentors, and influencers… whether I've gotten to meet them, work with them, or just read their books.
Larry Spiegel, my first plant manager at GM, who was one of the first GM people to learn from Toyota at the famed NUMMI plant.
Jim Womack and John Shook from the Lean Enterprise Institute.
W. Edwards Deming… who I wish I could have met, but his books and videos have been very influential.
Donald J. Wheeler – for this book Understanding Variation.
Dr. John Toussaint for being a great leader and mentor in the Lean healthcare realm.
Norman Bodek and Masaaki Imai, for what they have taught me about Kaizen and continuous improvement.
And there are many, many others…
Why do you do what you do? (What motivates you?)
When I started my career, at General Motors, I saw how unhappy many people were at work. It shouldn't be that way. It doesn't have to be that way. So, one of my major motivations became to create better workplaces, a motivation that I still have in healthcare.
Getting into healthcare led to a new passion and motivation and that's improving patient safety and reducing harm to patients. This is a major problem, not just in the United States, but also around the world. Too often, healthcare leaders blame the caregivers instead of looking at more systemic causes of errors and harm.
Solving these problems, through Lean, goes hand in hand. Engaging people in process improvement and error proofing, along with a different type of organizational culture leads to better safety (not just for patients, but also for staff) and better quality and outcomes.
What's something exciting that you're currently working on?
I'm again working with my Healthcare Kaizen co-author Joe Swartz to host another 2-day site visit to his organization, Franciscan St. Francis Health. We call this "Kaizen Live!" since attendees get to see what a culture of continuous improvement looks like and feels like. They get to visit departments to meet staff and leaders who are improving something every day. This year will be the third year of this event and it's being held again May 24 to 25, 2017 in Indianapolis. You can learn more or register via the URL http://www.kaizenlive.com. I learn something new and am inspired every time I go.
What's your favorite application of Lean in your personal life (away from work)?
People often ask if I've "5S-ed my kitchen," as if they'd expect to see tape outlines around my toaster and coffee maker. The answer, is "no!"
That said, I've applied the simple Lean method of "2-bin Kanban" to many of my basic household supplies and toiletries. The problem I'm solving is making sure we don't run out of toilet paper, kitchen trash bags, or toothpaste. Instead of waiting until something runs out and then running to the store in a panic, I generally make sure I have two of everything on hand. It's not that much more expensive and the space requirements aren't outrageous. I don't have Kanban cards, but when one "bin" or container of something is gone, that item gets added to the grocery list and I can get to it at my convenience.
Of course, this method works better in a suburban house with sufficient storage space than it does in a smaller, urban apartment.
Have a question for Mark? Please feel free to ask in the comments below.