He's in Lean. He's all Shook up! Musical puns aside, John Shook recently did a good job of connecting Lean to Baseball which ties together two of America's favorite past times. Okay, Lean my not have risen to "favorite" yet, but John Shook is working on it!
We don't actually know when John Shook's birthday is (if you know, please share it with us in the comments below!), and he'd probably rather spend it with his family, but we'd love to wish him happy birthday anyway since he is yet another Grand-Daddy of Quality!
As Chairman and CEO of the Lean Enterprise Institute, Mr. Shook is a modern day quality guru. He spent 11 years in Japan at Toyota and became a true "sensei" or master teacher of Lean techniques. His focus is truly on the people who do the real work within organizations. His books, lectures and presence are a gift to practitioners around the world.
Claims to Fame – What Did He Invent?
Value Stream Mapping Guide:
He wrote a breakthrough Value Stream Mapping instruction guide
In Learning to See, John Shook co-authored a book that took what he learned at Toyota and made it accessible with an easy-to-understand case study involving the Value Stream Map (VSM). Although the VSM is a Lean staple, it can be intimidating with it's mix of process steps, process data, information flow and endless array of icons. Mr. Shook and Mr. Rother broke the map into its components and systematically used it to build understanding about a classic manufacturing scenario. The visuals are engaging, "graspable" and surprisingly simple. Below is the start of Value Stream Map at the Bahama Bistro.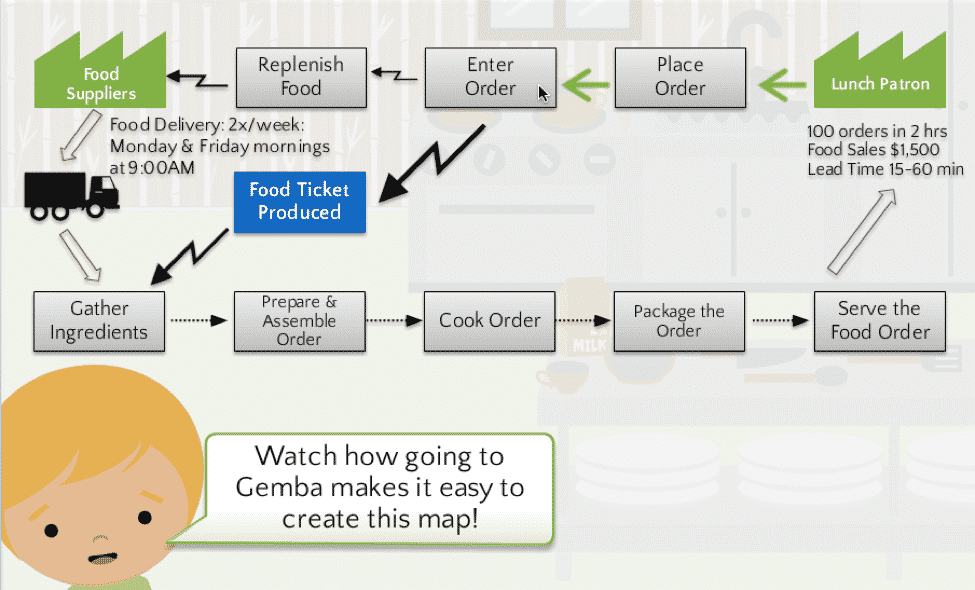 His efforts to create easy access to such a bedrock Lean tool has spawned many other books detailing VSMs for the office, healthcare and other industries. His efforts to make it easy to build our problem solving muscles is much appreciated. It's no wonder this book won the Shingo Research Prize in 1999!
A3 As a Learning Tool:
He released the true teaching potential of the A3
In his book in "Managing to Learn" he let the rest of the world in on Toyota's secret to developing talent. He outlines how they used "A3 Thinking" to frame problems, outline analysis and set the stage for people to develop and implement solutions. The power of the A3 lies in the fact that while framing and acting on issues, managers are simultaneously deepening the knowledge and capabilities within the organization. John Shook has always been about the people and this book is yet another great addition to anyone's working Lean library. Below is an example of a simple but effective A3 in progress at the Bahama Bistro.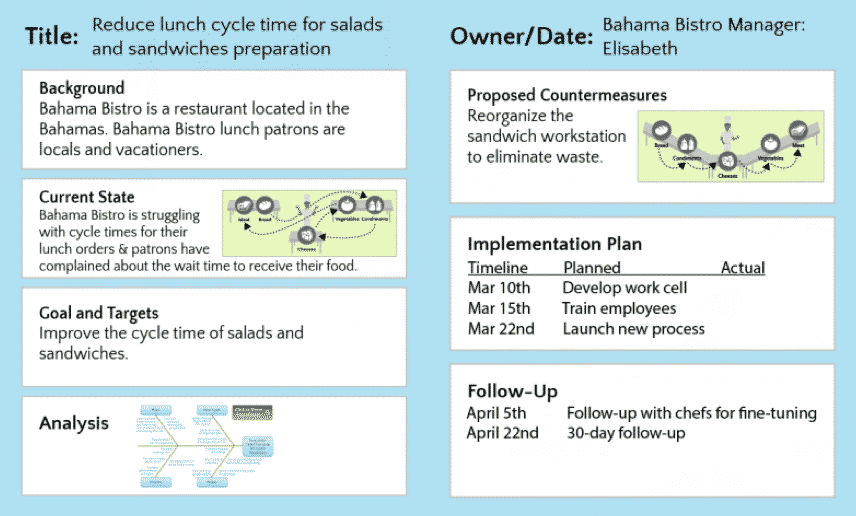 Little Known Facts:
He is known as an "Industrial Anthropologist"
He was the first American hired into Japan's productivity network
John Shook at the Bahama Bistro:
Quote of the Day:
"We used the A3 – and got all Shook up!"
Putting John Shook into Action:
"A3? – Are you grading me?"
"No way – if I was grading you I'd give you an A+!"
John Shook has already had a large and lasting impact in the Lean Field. As an industrial anthropologist he has spent years studying how business cultures and norms impact problem-solving activity. His books are designed to bring more learners to the table and his focus has always been, and continues to be, the workers. He truly understands that improvement comes from, and benefits, the people in the process as well as the organization as a whole.
Happy Birthday John Shook!