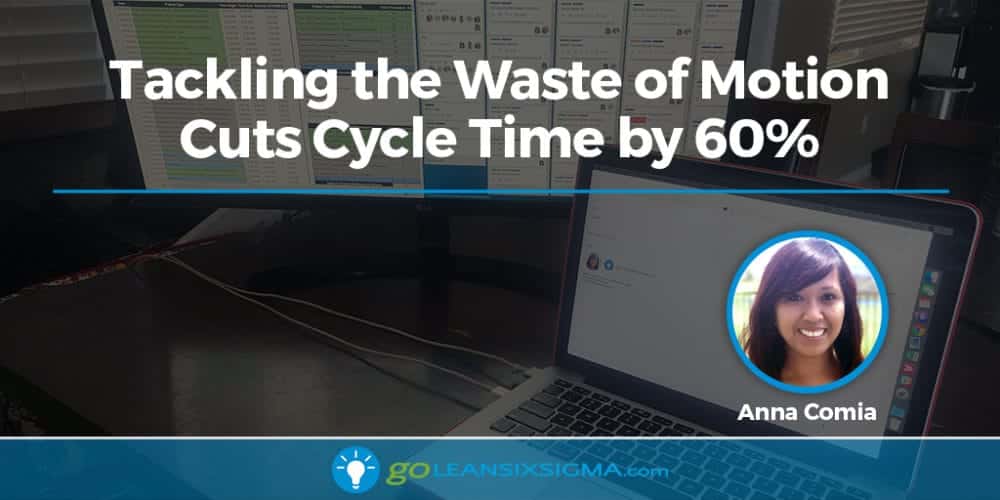 Here at GoLeanSixSigma.com, we like to practice what we teach. As a Client Experience Manager, my goal is to help people build their problem-solving muscles. Now that I have my Green Belt, it's easy for me to improve painful processes. The more time I can spend directly helping our learners the better, but some of my tasks take me away from our customers so I decided to do a little problem solving of my own!
One of my responsibilities includes processing candidates' Green Belt and Black Belt projects. Learners submit their projects to me so I can process them and pass them on to our Master Black Belts for review. As increasing numbers of learners have been submitting projects, the administrative side of the process has started eating up a lot of my time.
Problem: Processing learner projects is taking too long.
The Process
The first step was to take a look at my process. Below is how I review project submissions: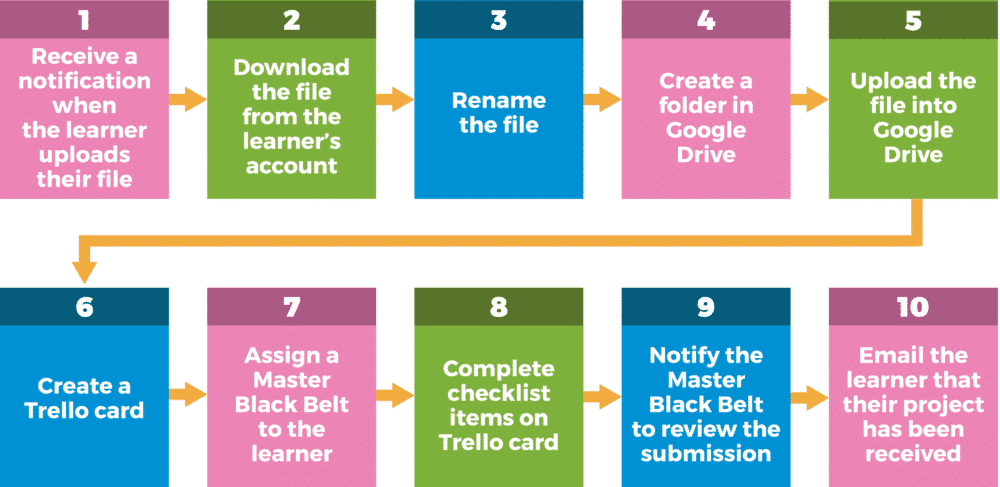 Receive a notification when the learner uploads their file
Download the file from the learner's account
Rename the file
Create a folder in Google Drive
Upload the file into Google Drive
Create a Trello card
Assign a Master Black Belt to the learner
Complete checklist items on Trello card
Notify the Master Black Belt to review the submission
Email the learner that their project has been received
Whew! That's just the process for receiving a project! Providing feedback and processing resubmissions is a whole different beast.
Baseline
Because it's such a tedious process, our team decided to conduct a Process Walk to review each step. At each point we asked, is this step needed? What could be eliminated?
The process involved a lot of desktop applications that I had to switch between: Learning Management System, Google Drive, Trello and Mail. Although the process wasn't necessarily hard, it was still time-consuming. There was a lot of movement between browser tabs and applications in order to process one project.
When I first learned this process from another team member, it took me 12 minutes to process one learner's project. Once I got used to the flow and started processing more submissions, I brought that cycle time down to an average of 2 minutes and 30 seconds. It was a huge improvement; however, when you're processing roughly 400 projects, it's still a painful process!

Solution: Buy an ultrawide computer monitor to reduce the Waste of Motion. Now I can keep all the browser tabs open, and I don't have to "flip" between them with the confinement of a laptop screen.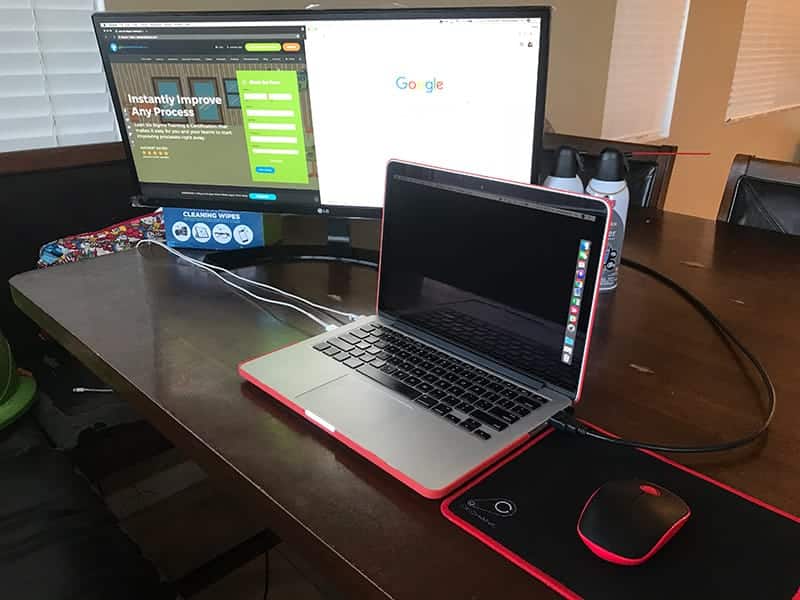 Based on the recommendation of a team member, I decided to purchase an ultrawide, 29" desktop monitor. The extra desktop space allowed me to eliminate the Waste of Motion by reducing the number of clicks between browser tabs and applications. I also arranged the applications in the order of the process flow which reduced even more wasted motion.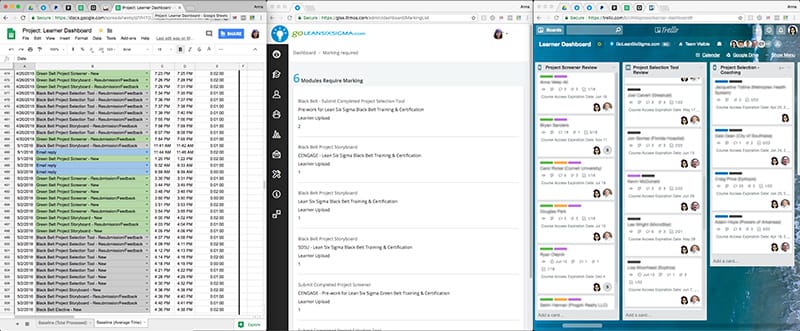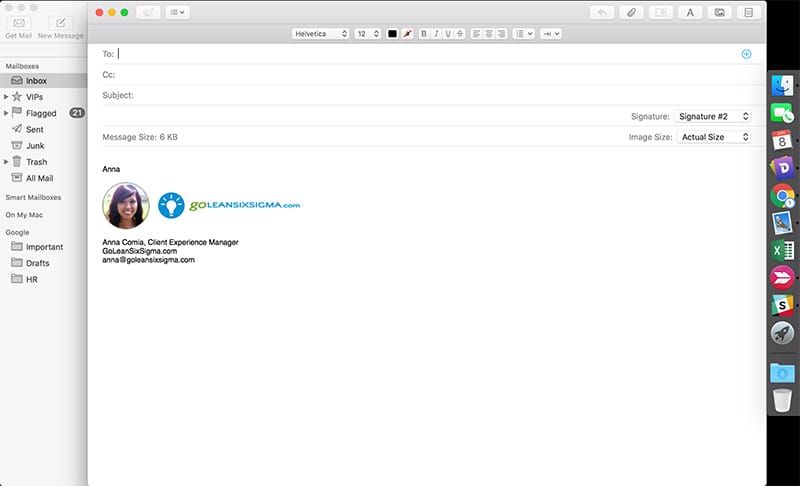 I gathered "after" data once I installed my ultrawide monitor solution. I processed another 118 projects over the next two months and reduced my average cycle time even further to an average of 1 minute and 30 seconds per project.

Although it was a simple solution, it had a huge, positive impact on my process experience. I reduced my cycle time by 60%! If I had processed the same number of projects with my original, baseline cycle time the difference would be striking: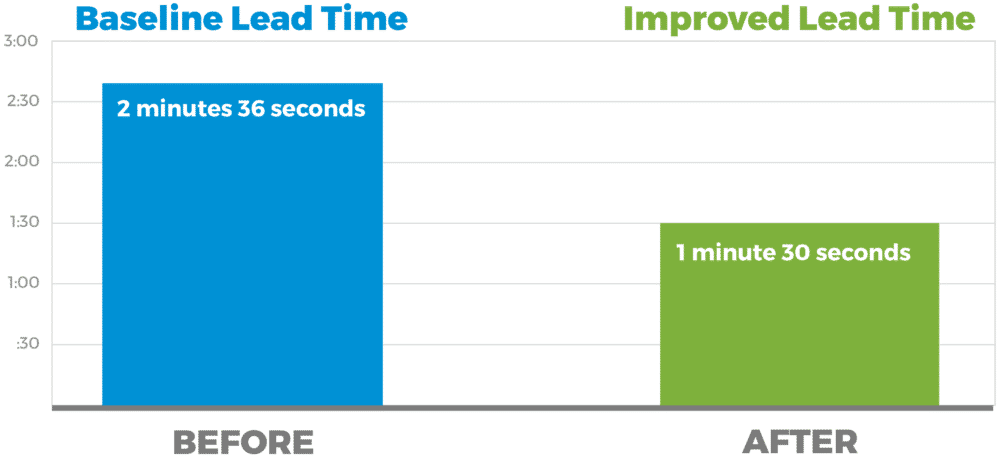 Before:
Volume: 391 projects
Baseline Lead Time: 2 minutes 36 seconds
Total Processing Time: 14 hours 8 minutes
After:
Same Volume: 391 projects
Improved Lead Time: 1 minute 30 seconds
Total Processing Time: 9 hours 46 minutes 30 seconds
Total time saved: 4 hours 21 minutes 30 seconds- from one Quick Win!
---
To get foundational training on how to complete Lean Six Sigma projects using the 8 Wastes, check out our Yellow Belt Training & Certification!