Lean Six Sigma can be applied anywhere since its foundation is basic problem solving: find the root cause(s) of a problem and then determine the best solution(s). In this example, we show you how Lean Six Sigma can help you become more effective at finding and getting a job.
Operational Definition(s): What to Know Before Getting Started
Daily Job Contacts – mail, in-person, or phone contacts that are documented in an ongoing Job Search Log
Minor Phone Defect – one of three phone numbers on cover letters was defective. This phone number is infrequently used by potential employers.
Phrasing Defect – wordy, incorrect leading verb
Previous Style – changing from use of '…' or 'etc' to complete phrases or thoughts
Punctuation Defect – incorrect punctuation
Spelling Defect – spelling defect noted after letter or email transmittal
Trailing '& ' Defect – a trailing '& ' is at the end of phrases
Trend Lines – used to show decrease in quantity defect (when relevant)
Project Results Summary (Executive Summary): Using Lean Six Sigma to Get a Job
Project Effectiveness!
Improved number of daily contacts from an average of 3.3 to 5
Decreased phone number & punctuation defects from .GT. 40% & 12%, respectively, to .LT. 5%
The client, perspective employer, received a higher quality cover letter & resume. The probability of receiving a job related contact increased
DMAIC Approach
Root causes were identified using reviews of job related correspondences as well as feedback from potential employers & the EDD
Defect rates and submittals were measured by reviewing, electronically scanning, and counting submittals.
Change was driven by implementing a thorough second check to increase removal of defects and increase in submittals on a daily basis
Context
In a job market with high (10+%) unemployment, highly accurate and defect free correspondences are essential to attract potential employers
Project Timing
Start Date: 6/10
End Date: 12/10
Project Details (DMAIC Process): Using Lean Six Sigma to Get a Job
Define Phase
Key issues for job effectiveness include quantity, quality, and effectiveness of correspondences
Focus is on customized cover letters
Targeted resumes had high quality levels
Problem
Number of daily correspondences were decreasing and quality defects were Increasing; customers expect zero defects in cover letters and resumes
Project Goal
Increase productivity, quality, and effectiveness of job correspondences
Project Impact
Increased customer response (interviews)
Project Communication Plan
Direct Mail
Faxes
Emails
Direct mail and faxes increased (response rate improved)
Tools
Trend Lines
Correlation Coefficients
Threat vs. Opportunity Matrix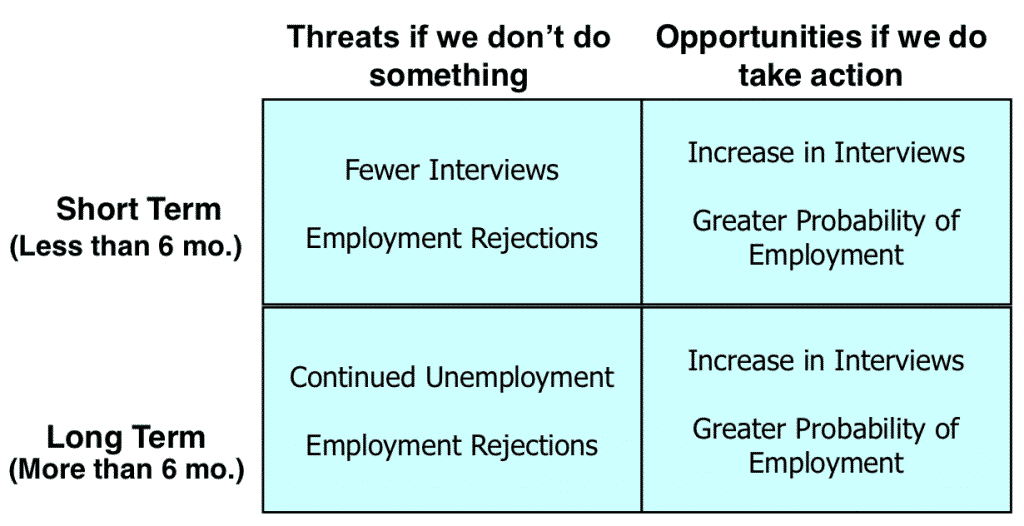 Business Case
Job search effectiveness is a key factor in obtaining employment.
Methods of increasing the chance of obtaining employment are increasing the:
Number of correspondences
Quality of correspondences
Using more effective marketing channels
Customers expect zero defect in employment correspondences.
Problem Statement
A decreasing number of high quality employment correspondences is causing a low response from potential employers.
Job hunting correspondences were identified as a key and controllable issue.
Goal Statement
Simultaneously increase the:
Number of correspondences
Quality of correspondences
Use of more effective marketing channels
Project Scope
In Scope
Increasing letters and resume submittals
Reducing correspondence defects
Use of more effective marketing channels
Utilize EDD and other job search resources
Focus on growth markets
Networking at professional society meetings
Out of Scope
Increases in job offers (uncontrollable)
Working excessive hours to 'make numbers'
Focus on non job search activities
Routine exercise
Project Timeline: Estimated vs. Actual Activity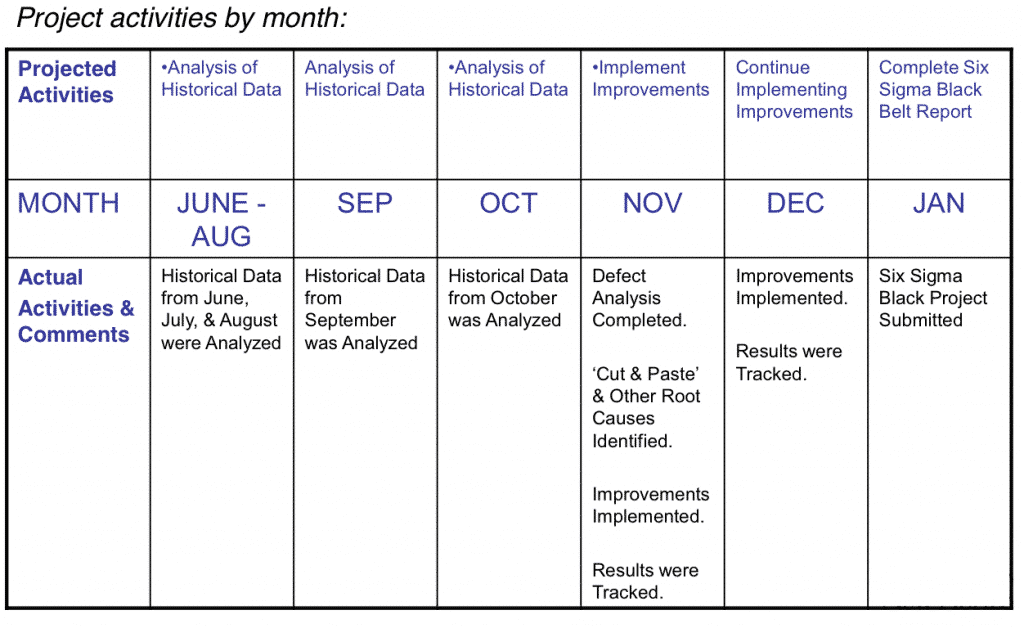 SIPOC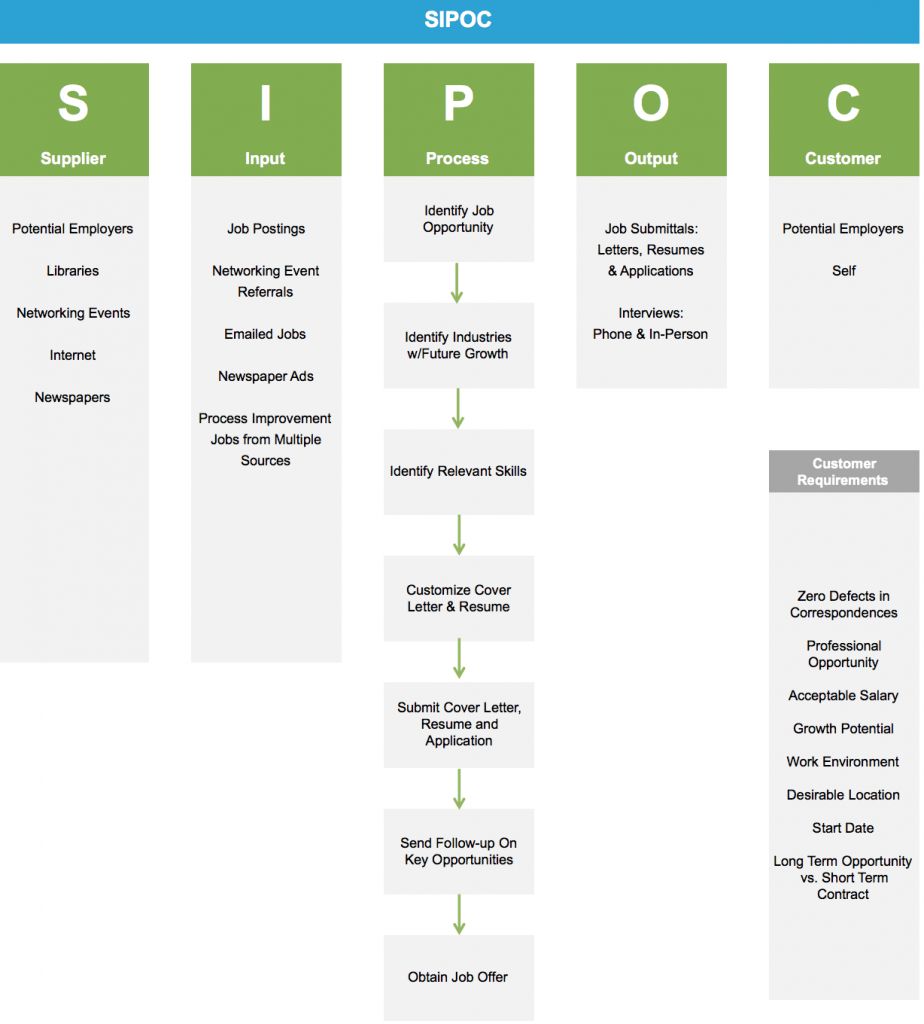 Measure Phase
Defect rates, number of job submittals, and % direct mail were measured

Baseline data existed in electronic files
The defects were identified and tabulated
A baseline was established

A slow decrease in defects and submittals was identified in the baseline data
Trend line fits of data was completed for 2 major defects
Baseline measurements assisted in establishing an improvement goal
Defect Rate Measurement
Defect rates for phone number and punctuation were decreasing slowly while spelling defects increased slightly (baseline date).
Job Contact Measurement
Daily job contacts were decreasing (baseline data).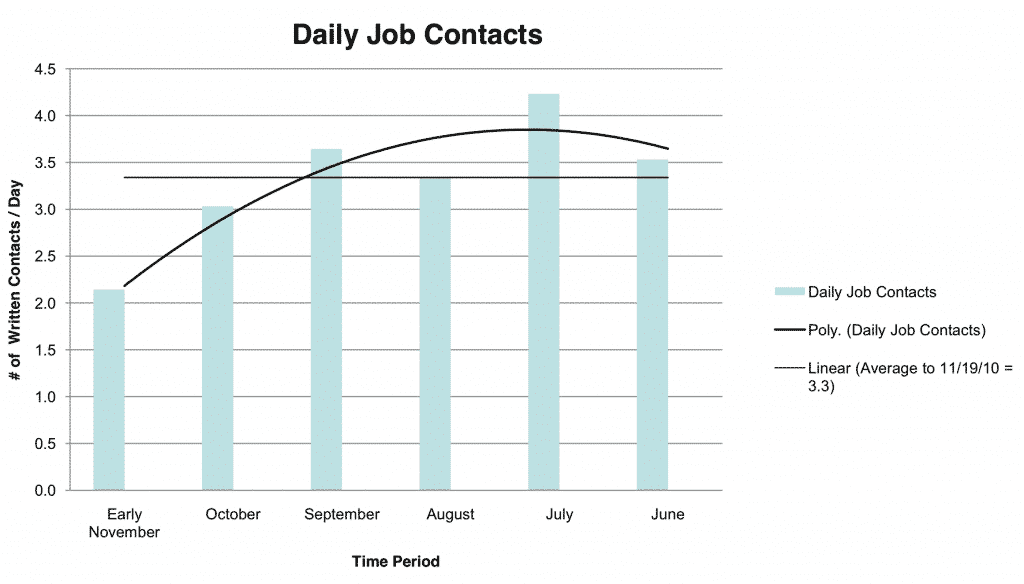 Analyze Phase
Analysis of data after implementing improvements showed several key findings:
Number of daily job contacts increased at least 48%
Number of major correspondence defects decreased significantly

Style change in correspondences was implemented faster

A positive correlation exists between % direct Mail (x) and interviews (y)

% direct mail is associated with over 50% of the increase in interviews

Pareto charts, histograms, and scatter charts are the tools utilized
Defect Rate Analysis
Major defects decreased significantly starting late November.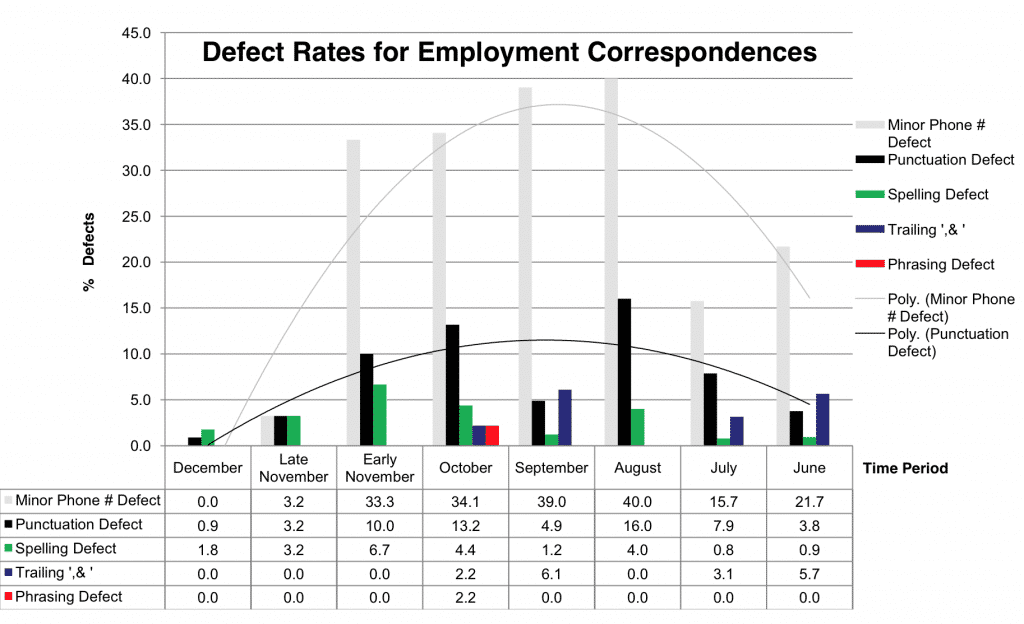 Job Contact Analysis
Daily contacts increased by at least 48% after early November.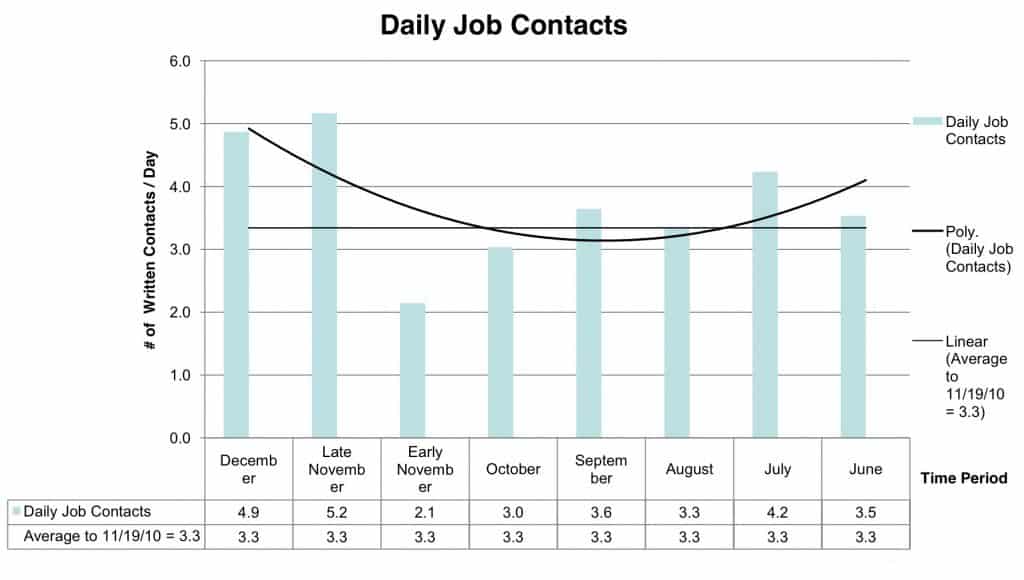 Style Analysis
New style use in letters increased after late November.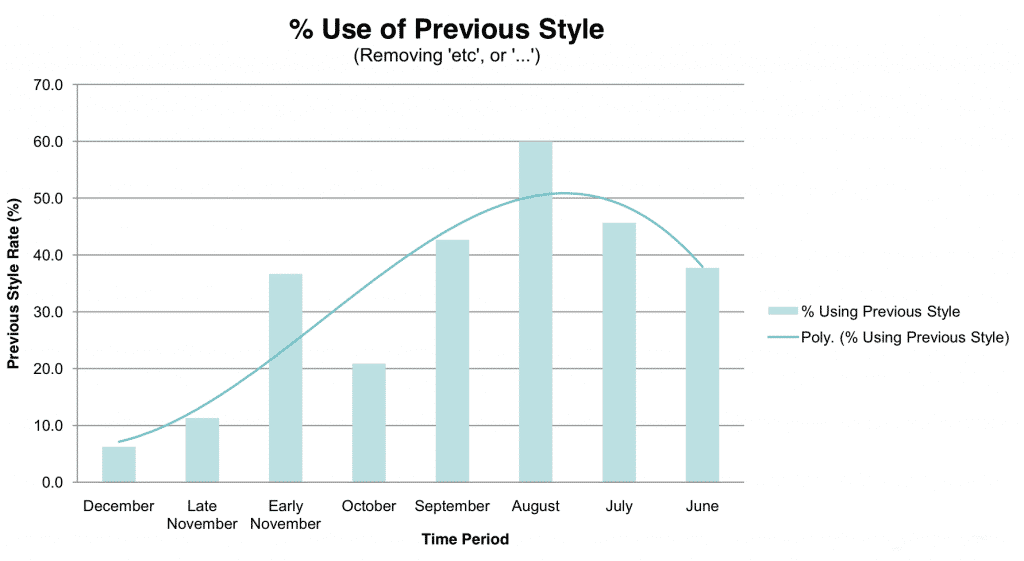 Direct Mail Analysis
A positive correlation exists between number of interviews and percentage of direct mail.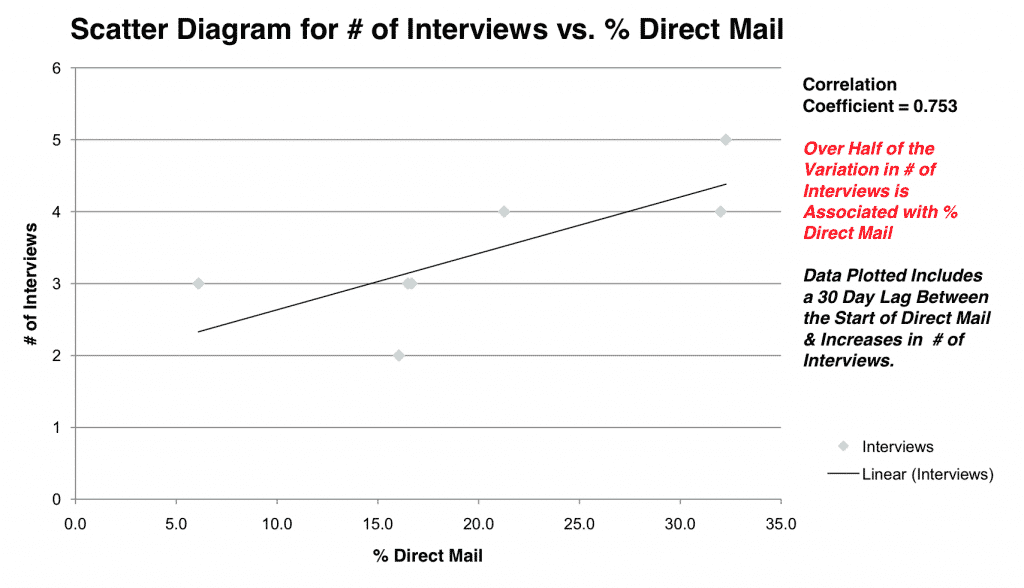 Improve Phase
Improvement Data
Customer Realizes

Targeted & higher quality job correspondences
One less resume in the reject pile
Higher prospect yield for time spent
Job Seeker Realizes

Less rework of incorrect correspondences
Increase in employer responses
Closer job match and more Interviews
Focuses redundant correspondents on 'buzz' words

Increases in response rate
Control Phase
Next Steps
The sustained improvement that was implemented in late November and through December will continue into the future. The number of submittals and number of defects will be continuously tracked and are part of an improvement plan. The goal is to use direct mail for at least 1/3 of submittals. Direct mail repetition is thought to improve response rate.
There are numerous other studies that could be offshoots of this project. Other variables include level of unemployment, skill match, and others.
The relationship between faxed job correspondences and interviews needs additional clarification.
Many of these studies are expected to verify known effective techniques for job hunting.
Lessons Learned
Expect other high priority projects to disrupt efforts to complete projects
Numerous other factors such as high unemployment rates, redundant submittals, direct mailing to hiring managers, and networking can alter job search effectiveness
Pareto style bar charts and scatter diagrams with trend lines are effective for graphically displaying data. Correlation coefficients are useful for identifying relationships
Direct mail has a positive correlation to number of interviews. A correlation coefficient of +0.753 indicates that increases in % direct mail significantly increased the number of interviews; over half of the variation in the number of interviews is associated with direct mail. (There is a 30 day lag between the start of direct mail and the increase in the number of interviews.)
Strikethroughs are an excellent method of preventing cut and paste errors
Have questions about how Lean Six Sigma can help you get a job or about this project example? Please share your questions or comments below!
Ready to improve your job search with Lean Six Sigma? Register for the Green Belt Training & Certification today!