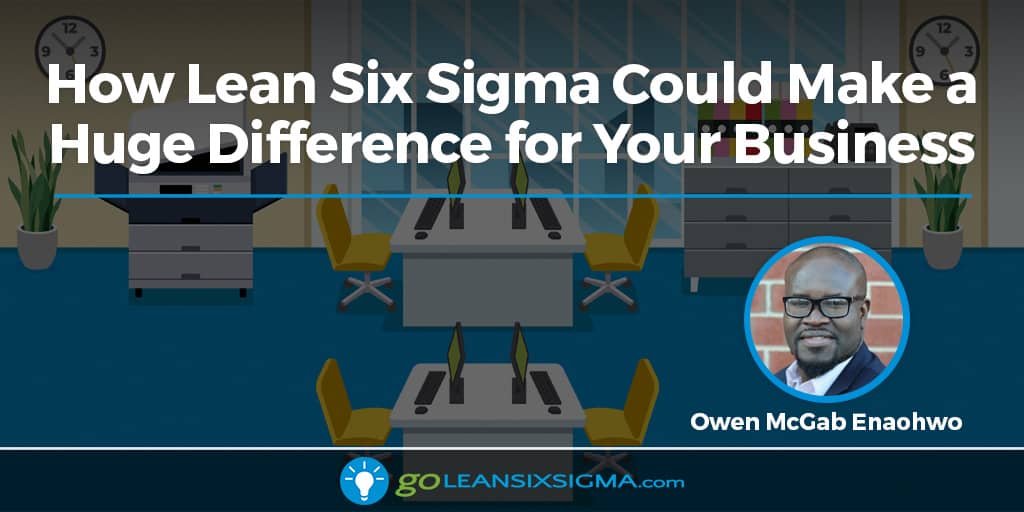 By eliminating bottlenecks and promoting innovations in your business processes, you can propel your business to lasting organizational growth and increased revenue within a short time frame.
When you build your business using Lean Six Sigma, it becomes easy to share initiatives, handle projects, track deliverables, and pay attention to your customers' needs.
While it's part of human nature to make mistakes, the quality standards of the Lean Six Sigma focus on reducing errors and making it efficient to evaluate products or services and sharpen your employees' quality management skills.
According to industry experts, companies who adhered strictly to the Lean Six Sigma methodology reported achieving 65% higher cost savings per project than the average Lean Six Sigma initiative.
According to a recent GoLeanSixSigma.com poll, 55% of companies have challenges in completing process excellence training due to competing priorities or not scheduling time for it.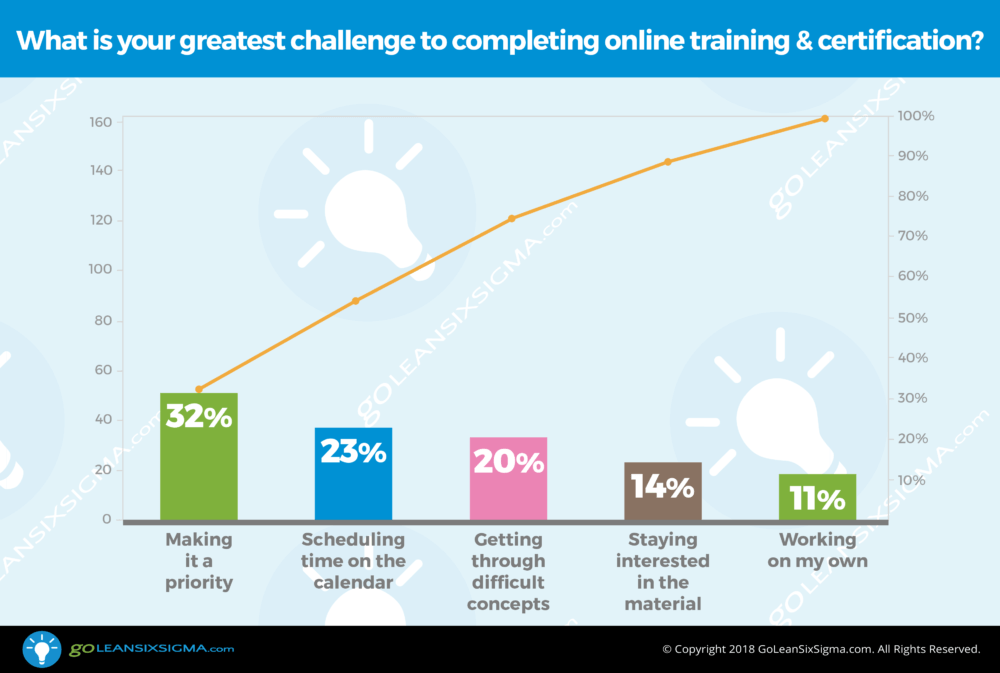 A report by McKinsey details how a global bank which implemented a Lean Six Sigma methodology, subsequently rolled out its program to more than 2,000 branches over a two-year period. The rollout enabled them to reduce costs by an average of 15%-20% while maintaining sales activity at pre-existing levels.
In this post, we'll cover how to use Lean Six Sigma to improve your company's business processes.
Let's get started.
Lean Six Sigma Methodology: What Does it Mean?
Lean Six Sigma is a business process improvement methodology formulated to eliminate problems, remove waste and inefficiency, improve employee working conditions, and better serve customer needs.
It is a conceptual framework that tackles bottlenecks in every business aspect. The methodology comes with tools, techniques, strategies, and principles to help you improve your organizational operations.
The two keys areas of focus of a functional Lean Six Sigma roadmap are:
Quality development and management: This is the degree to which the company is able to remove defects and process variation, increase predictability, consistency, and focus on the products or services that customers will spend their hard-earned dollars on
Innovative waste reduction: This is a measure of eliminating or reducing the unnecessary waste in transportation, processing, production, and inventory
You can tap into this framework by following the steps below: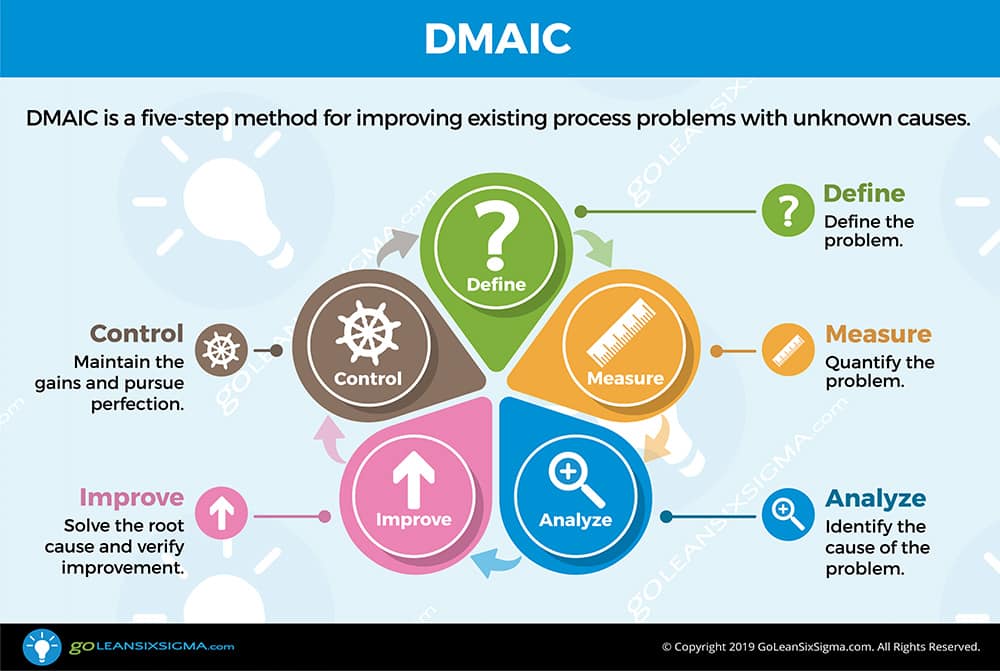 Why You Should Employ Lean Six Sigma in Your Company
As you run your company, you strategically consider key activities so as to improve on them. You constantly ask yourself and the process point employees to give you feedback on how to better the process performance and add value to your clients.
When you analyze your processes end-to-end as Lean Six Sigma directs, and follow through with your improvements, you'll increase your business and operational productivity, improve quality, achieve higher customer satisfaction, improve team members' communication, and reduce operational costs.
Here are five reasons to employ Lean Six Sigma in your company's business processes.
1. Effective Time Management
Time is an excellent and priceless resource that every organization must strategically utilize. You shouldn't underestimate the smart use of your business time.
By setting smart goals when you apply the data principles of Lean Six Sigma, you figure out how interruptions and workplace noise can disrupt a manager's attention.
For instance, creating an action plan can help an employee become more productive and healthy.
2. Reduced Process Cycle Time
It is important to reduce the cycle time of your business processes. As an example, if your business is in construction or manufacturing, a change in design, project scope, and management policies can delay delivery time.
Using Lean Six Sigma, you can identify the factors that affect the process cycle time and find ways to reduce the time and avoid delays.
3. Strategic Planning
If your vision is clear, Lean Six Sigma can help you leverage your SWOT (Strengths, Weaknesses, Opportunities and Threats) analysis to focus on areas of improvement.
With it, you'll decipher your internal processes, eliminate unnecessary complexities, and increase output.
4. Employee Motivation
Beyond salaries and wages, employees need motivation in their work processes. If employees can achieve complex tasks in the simplest way possible, they relate that convenience to work-life balance which means they will likely stay longer on the job.
Providing your employees with Lean Six Sigma tools and techniques to allow for their personal development and workplace knowledge sharing improves the sense of ownership and motivation for many employees.
5. Increased Customer Loyalty
According to Hubspot, 93% of customers are likely to make a repeat purchase with companies that offer excellent service. With that satisfaction comes customer loyalty and more customer acquisition through word of mouth or referral.
When you implement Lean Six Sigma, you reduce your risk of not meeting your customer needs. Part of the process involves listening to the Voice of the customer to understand how your customers perceive your products and services.
Given the number of companies competing in the complex global marketplace, a great way to offset the pressure of achieving operational excellence is by employing Lean Six Sigma in your company's business process.
How to Use Lean Six Sigma to Improve Your Company's Business Process
Ensure Adequate Staff Training and Development
Organize staff training to explain Lean Six Sigma concepts. Ensure the training details how to use the concepts and tools for effective implementation.
Employees with the basic knowledge of the methodology can help your company retain existing customers, minimize waste, and reduce any lapses in the work process.
If you currently operate on a tight budget, there are thousands of free lessons to help you create a knowledge base for your employees.
Put the Knowledge Into Practice
When your employees apply their new knowledge, they solve your company's process problems and boost their skills.
Challenge your employees to break down each work process and identify the areas that require improvement. They can differentiate these areas by studying operational metrics to highlight time-consuming process steps.
For instance, if employee motivation has fallen and you sense a decrease in productivity, you can examine the problem by talking to the involved staff members.
You could conduct focus groups or interviews with concerned employees, line managers, and other personnel to gather data about what processes to address so as to rectify the problem.
Tap Into the Numerous Lean Six Sigma Tools
Lean Six Sigma provides a variety of problem-solving tools like the 5 Whys, 5S, Cause & Effect Diagrams, Value-Stream Mapping, Regression Analysis, Pareto Charts, Project Charters, FMEA, Poka-yoke or mistake-proofing, and Kaizen or Rapid Improvement Events.
Employ the appropriate tools to show the significance and relationship between business methods, equipment, materials, data, and the environment on the development of your product or service.
From this analysis and critical thinking, you can address large and small process problems with an easy-to-follow method.
Reduce Costs by Optimizing Your Processes
Make the most out of every step in your business processes. That way, you can reduce the cost of human resources, materials, or money spent on the process.
You must control process inputs so you can eliminate product or service defects, monitor and track the progress of achieving your vision.
For instance, in the pipeline of product delivery, the Value Stream Map (VSM) is an essential tool. It is a visual depiction of key activities in the end-to-end process of delivering products or services to the customer.
This map can be created with input from people across all areas of the business. It provides a solid starting point for drawing the workforce into the process of improvement. Replicating this map for several processes would lay the groundwork for further boosting your business profits.
Reduce Errors by Streamlining the Process
By streamlining your work processes, employees can start conducting their tasks without stress. Once they've reduced the steps and complexity, you might find opportunities for automation.
Some improvements might lead you to decentralize your database operations such that every key officer has access to it and they would be able to track every process.
For example, if the receptionist logs in a visitor, the head of administration might be able to track who visits, why, and when the visit happens.
For customer support, the agents could enter the troubleshooting data of customer support calls into a database accessible by all support personnel. That would enable your support teams to reduce the time it takes to solve customer problems and know where to begin if the customer calls again.
Build an Improvement Culture
To be the best at anything, it is necessary to continually improve on what you do. Your actions to build an efficient system shouldn't be negotiated.
To excel in building an improvement culture, you must unlearn past habits and processes that no longer work, learn new tools, and new methods that are relevant to your existing processes.
This may involve developing a program or procedure to ensure that activities continue to make use of Lean Six Sigma processes and methods.
By using the tools and techniques the organization develops a problem-solving mindset and culture. It will happen at the level of the management team as well as frontline employees. As the benefits spread others will continue to follow suit.
Final Thoughts
As you can see, using Lean Six Sigma in your company will help improve operational efficiencies and remove needless tasks that consume time and resources that can lead to errors.
The Lean Six Sigma pathway helps your human resource team to nurture managerial and leadership abilities in employees, sustain quality development and improvements, and ensure compliance.
If you're ready to bring real sustainability and growth into your business, this is the best time to start.
Sign up here for a free 28-day trial of Sweet Process and document processes, procedures and tasks in one place so you can stay focused on growing your business!