GoLeanSixSigma.com's Green Belt Training is the most practical, easy to understand and cost effective way to learn and apply Lean Six Sigma. Globally recognized Lean Six Sigma Certification is finally within your reach!
Lean Six Sigma Green Belt Training & Certification Summary
Extensive body of knowledge that will empower you to instantly improve processes
Fully online and self-paced
1 year of access
Immediate issue of Certificate
Globally recognized
Lean Six Sigma Green Belt Cost Comparison
| | | | | |
| --- | --- | --- | --- | --- |
| Online Green Belt Provider | Training Time | Cost of Training | Cost of Certification | Total Cost |
| GoLeanSixSigma.com | 32 hours | $399 | Included | $399 |
| ASQ | 64 hours | $2,095 | $438 | $2,533 |
| Villanova University | 8 weeks | $2,495 | Included | $2,495 |
| MoreSteam | 80 hours | $1,900 | $450 | $2,350 |
| Pyzdek Institute | 100 hours | $2,100 | Included | $2,100 |
| Acuity Institute | 105 hours | $995 | Included | $995 |
| New Horizons | 32 hours | $2,796 | Included | $2,796 |
Based on data collected 3/2019
The Best Lean Six Sigma Training & Certification Available
Practical
We save you time and money with our optimized training by teaching you only what's valuable, allowing us to provide you with the highest quality at the most affordable price.
Fun
Our lively, colorful, interactive environment makes learning fun, keeps you engaged and helps you retain knowledge more effectively. Learning doesn't need to be a bore. We bring learning to life.
Supportive
A friendly, knowledgable, responsive support team is available to you online, 24 hours a day. We're all you'll need to become a Certified Yellow Belt, Green Belt or Black Belt!

Training Tailored Just for You
Our training is for anyone from the challenge-seeking high school student to the experienced business professional.
We want to make your learning experience as enjoyable as possible, so all of our training courses are easy to understand and fun – ensuring you retain and are able to apply what you learn. But don't take our word for it! Check out our Yellow Belt Training (FREE) and find out for yourself.
Optimized Green Belt Training – Only 32 hours!
Why does GoLeanSixSigma.com's Green Belt Training only take 32 hours (4 days) to complete? We're all about saving you time. To do this, we've reduced the amount of time it takes to complete our training while still covering a comprehensive body of knowledge. How?
Amazing Content. Because our training is expertly developed by highly successful Lean Six Sigma consultants and trainers who actively teach these concepts and tools in virtually every industry, we've been able to effectively streamline our training to focus on the most valuable concepts and tools, and spend less time on the concepts and tools that aren't as valuable.
An Highly Engaging Learning Environment. Our immersive learning experience enables you to learn information more quickly and effectively, reducing the amount of time required to complete Green Belt Training, while still covering a comprehensive body of knowledge.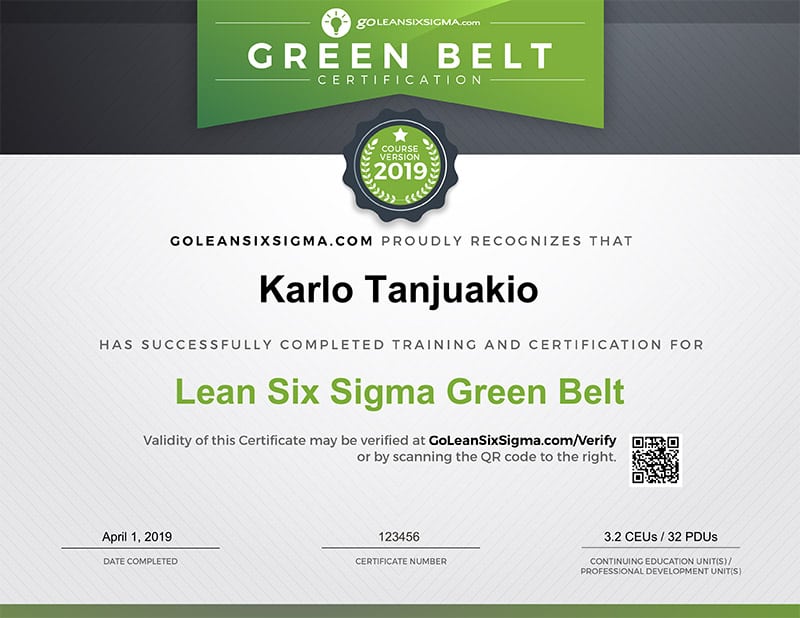 Average rating:
3665 reviews
Dec 2, 2023
Truly enjoyed the content and the structure. I will recommend to others I know who are looking to gain certification.
Nov 30, 2023
Excellent course. Very engaging with helpful resources.
Nov 28, 2023
The course is easy to follow and great as far as the dynamics go. The tests after each segment make it easier to get through but still challenging. I'd recommend this business.
Nov 27, 2023
Great Training. So much information given to you and the examples helped explain in more detail what they were talking about.
Nov 26, 2023
Great Course!
Nov 26, 2023
This course is easy to follow, yet challenging. I believe this really help me to understand how to apply the lean six sigma tools to real life.
Nov 23, 2023
The program was great. It also allows you to work and your own pace.
Nov 22, 2023
Good course, very complete and easy to follow. My personal preference would be to have more statistics but I understand that comes in the Black Belt training. I recommend the course.
Nov 22, 2023
too long but good to learn something new.
Nov 21, 2023
Well investment ! I was learned so many things.
Page 1 of 367:
«
‹
1
2
3
›
»