GoLeanSixSigma.com's Green Belt Training is the most practical, easy to understand and cost effective way to learn and apply Lean Six Sigma. Globally recognized Lean Six Sigma Certification is finally within your reach!
Lean Six Sigma Green Belt Training & Certification Summary
Extensive body of knowledge that will empower you to instantly improve processes
Fully online and self-paced
1 year of access
Immediate issue of Certificate
Globally recognized
Lean Six Sigma Green Belt Cost Comparison
| | | | | |
| --- | --- | --- | --- | --- |
| Online Green Belt Provider | Training Time | Cost of Training | Cost of Certification | Total Cost |
| GoLeanSixSigma.com | 32 hours | $999 | Included | $999 |
| ASQ | 64 hours | $2,095 | $438 | $2,533 |
| Villanova University | 8 weeks | $2,495 | Included | $2,495 |
| MoreSteam | 80 hours | $1,900 | $450 | $2,350 |
| Pyzdek Institute | 100 hours | $2,100 | Included | $2,100 |
| Acuity Institute | 105 hours | $995 | Included | $995 |
| New Horizons | 32 hours | $2,796 | Included | $2,796 |

Based on data collected 3/2019
The Best Lean Six Sigma Training & Certification Available
Practical
We save you time and money with our optimized training by teaching you only what's valuable, allowing us to provide you with the highest quality at the most affordable price.
Fun
Our lively, colorful, interactive environment makes learning fun, keeps you engaged and helps you retain knowledge more effectively. Learning doesn't need to be a bore. We bring learning to life.
Supportive
A friendly, knowledgable, responsive support team is available to you online, 24 hours a day. We're all you'll need to become a Certified Yellow Belt, Green Belt or Black Belt!

Training Tailored Just for You
Our training is for anyone from the challenge-seeking high school student to the experienced business professional.
We want to make your learning experience as enjoyable as possible, so all of our training courses are easy to understand and fun – ensuring you retain and are able to apply what you learn. But don't take our word for it! Check out our Yellow Belt Training (FREE) and find out for yourself.
Optimized Green Belt Training – Only 32 hours!
Why does GoLeanSixSigma.com's Green Belt Training only take 32 hours (4 days) to complete? We're all about saving you time. To do this, we've reducing the amount of time it takes to complete our training while still covering a comprehensive body of knowledge. How?
Amazing Content. Because our training is expertly developed by highly successful Lean Six Sigma consultants and trainers who actively teach these concepts and tools in virtually every industry, we've been able to effectively streamline our training to focus on the most valuable concepts and tools, and spend less time on the concepts and tools that aren't as valuable.
An Highly Engaging Learning Environment. Our immersive learning experience enables you to learn information more quickly and effectively, reducing the amount of time required to complete Green Belt Training, while still covering a comprehensive body of knowledge.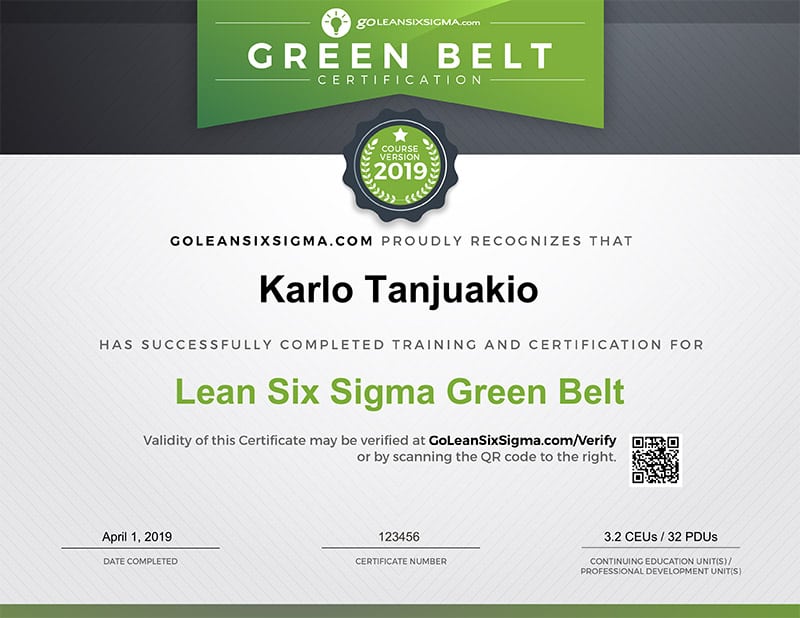 Average rating:
2132 reviews
Sep 21, 2020
Great learning experience.
Sep 21, 2020
It was really great learning experience!
Sep 20, 2020
Great learning opportunity on process improvement! Enjoyed the ability to learn and review contenet at my own pace!
Sep 19, 2020
This course is very instructive and it is helping me to open my eyes to analyze processes in a more integral and efficient way. This green belt course is condensing in a practical and pedagogical way very complex topics and years of implementation of Lean and six sigma methodology of pioneer companies. I loved the practical examples in the Bahama Bistro process!
I am excited to implement the knowledge I learned here in my work space.
Because of my busy schedule, I'm glad I had on-line training access 24/7.
All instructors were friendly and very accessible all the time. In particular, Sabine, Elisabeth, and Angela: thank you so much for your feedback and support!
In general I'm satisfied with this on-line course, but I wish I had more interaction with instructors. In my opinion, face-to face-discussion should be the best way to clarify topics, and grasp better ideas.
The discussion board is not functional at all for interaction and "discussion". My feeling is that most of the people are adding their notes just to get the points and move on to the next task, without seeking debate or clarify points with classmates. For example, I got just a few answers or clarifications to my questions from other participants. It will be interesting to have a way to track notifications (for example, in case someone is commenting or asking something).
Sep 16, 2020
Easy course to follow, comprehend and apply to complex operational opportunities.
Sep 15, 2020
Fun and informative.
Sep 15, 2020
The course is well done and quite easy to follow. However, some exam questions, or their answers, used different terms than those in the learning material. It forces you to study the material well but the testing time is somewhat short when you need to go over your notes.
Also, the tests do not tell you which questions you got wrong. Reviewing the material is long.
Sep 14, 2020
Easy to follow, very informative and a please to study with GoLeanSixSigma.
Sep 12, 2020
Very informative and I am excited to implement the knowledge I learned here in my work space.
Sep 11, 2020
A+ so many good and useful training tools that can be used in many different fields.
Page 1 of 214:
«
‹
1
2
3
›
»