Our Lean Six Sigma Black Belt Training & Certification course will enable you to manage process improvement programs and help you become a better leader.
This engaging course draws on 25 years of success helping the world's leading organizations create happier customers and save millions of dollars.
Prerequisite: Green Belt Training & Certification
$999 (includes Training & Certification)
48 hours, self-paced, completely online, 1 year of access
Accessible on computers, tablets and smartphones
Globally recognized (48 PDUs / 6 CEUs)
Black Belt Training will enable you to:
Manage multiple projects and ensure their alignment to meet organizational goals
Coach Green Belts to complete successful projects that deliver significant, sustainable results
Communicate + influence people at all levels of your organization to manage change effectively
Understand the why, what and how of statistical analysis tools
Black Belt Certification includes:
Exam: 185 multiple choice questions (unlimited re-takes)
Project Review: Project Storyboard
Elective: Article summarizing project
Re-Certification ($299): Every 4 years. Choose one:

Black Belt Exam
Black Belt Storyboard Submission (no live Project Review required)
Elective

PDF Certificate to add to your LinkedIn profile
Membership to our Black Belt Certified Group on LinkedIn
Easily apply Lean Six Sigma with these

FREE resources included in our Black Belt course

:
($202 in bonus content for FREE!)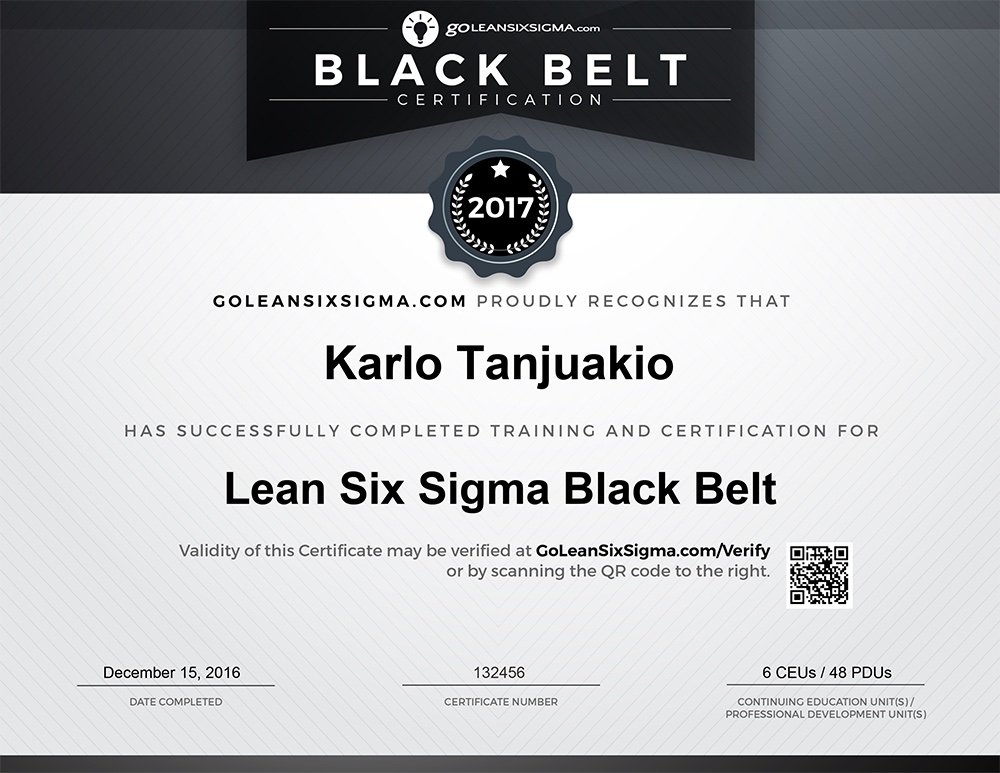 You'll Love Learning With Us
Simple
We've simplified Lean Six Sigma to make process improvement easier – while still covering a comprehensive body of knowledge.
Fun
Enjoy learning in an engaging environment with plenty of games and examples that helps ensure effective knowledge transfer.
Practical
Save time by learning how to use the most valuable Lean Six Sigma concepts and tools and begin improving right away!
Updated for 2017
We're always improving our courses with the latest best practices our experts learn in the field and feedback from our clients.
Globally Recognized
We're trusted by the world's leading organizations, governments and educational institutions.
Highest Rated
Our learners love our courses and consistently give us 5 star reviews! Read their glowing reviews here.
Ready to Manage Process Improvement Programs & Be a Better Leader?
Interested In Another Course?
Select a course below to learn more.
Lean Six Sigma Black Belt Training & Certification Reviews
Average rating:
39 reviews
Jun 20, 2018
The GoLeanSixSigma.com Master Black Belt was both informative and supportive. The support and guidance provided was very helpful.
Jun 19, 2018
Very informative and educational course. Enjoyed studying the topics and preparing for the exams. Excellent support form coaching staff and I highly recommend this course.
Jun 3, 2018
I would thoroughly recommend both the Black Belt Training & the 1-on-1 Project Coaching. The material & delivery of the online module is 1st class!. The Project Coaching was excellent & adds further insight into what is an overall excellent learning experience
May 24, 2018
This training was a great supplement to the green belt training and well worth the money. It invested in the Lean Six Sigma Skills but also the overall leadership development of the participant as well. I went back to the training modules several times and will miss having access to the modules once the year is up. The only challenge I had was when it came time to submit the projects. The project storyboard checklist had changed and so their were new requirements that we had to go back and fill in after the fact. Even with that though, I would still give it 5 stars because the changes made our project even better.
May 7, 2018
This was an excellent program that took me step by step through the Black Belt course and I was able to complete my Black Belt project with full understanding of what i was supposed to do. I had the support I needed when I was unsure how to do something. I enjoyed the visuals and the charts that were provided. I feel confident in my Black Belt abilities. This is the place to go for Black Belt Certificates.
Apr 15, 2018
This is a very enjoyable experience in a very user friendly way. There is plenty of knowledge to be gained by taking this course and it allows you the opportunity to complete it on a self paced basis. I am glad I chose to go through goleansixsigma.com
Mar 20, 2018
GoLeanSixSigma.com is by far one of the most user friendly and client experience driven that I have ever encountered. I had my entire team gain their Lean Six Sigma Green belt through them and the content made sense to everyone from those with little to no experience with Six Sigma to those who were experienced. The interactive videos and training allow users to learn the material at their own pace and then to practically apply the information learned. We loved them so much that when my team and I were ready to being our black belts, we didn't even think twice about using GoLean again. In addition to their fantastic training format, their client experience is second to none. Every single person I have had the pleasure of speaking/engaging with at GoLean has been a true delight. We will absolutely be returning to them for our next steps and when I have new team members come on! I would give them 10 stars if it was an option 🙂
Mar 2, 2018
I wondered how you were going to pull off putting Green Belt and Black Belt training online. I am so impressed. It's presented in a clear, distilled way including the stats pieces. You effectively integrated the soft skills of leadership/coaching/facilitation and broader change management. And the templates! Finally, the accompanying webinars are collaborative, comfortable and relevant. It exceeded my expectations. So…the overriding feedback is NICELY DONE.
Feb 27, 2018
I've completed the green belt and black belt certifications and have encouraged several coworkers to pursue certification as well. I appreciate Go Lean's online learning environment and easy-to-grasp teaching style. As a busy professional, being able to work at my own pace was ideal. Further, the free templates and webinars are amazing resources! We've rolled out the lean six sigma methodology across our operations team over the past two years and are continuing to build our expertise with help from Go Lean. I highly recommend choosing Go Lean Six Sigma for your training needs.
Feb 23, 2018
Perfect next step to the Green Belt training. Continuation of the Bahama Bistro example tied everything together. Very easy to follow at you own pace. Lots of extra material to help you going forward in your Black Belt projects. Thanks!