Our Lean Six Sigma Black Belt Training & Certification course will enable you to manage process improvement programs and help you become a better leader.
This engaging course draws on 25 years of success helping the world's leading organizations create happier customers and save millions of dollars.
Prerequisite: Green Belt Training & Certification
$999 (includes Training & Certification)
48 hours, self-paced, completely online, 1 year of access
Accessible on computers, tablets and smartphones
Globally recognized (48 PDUs / 6 CEUs)
Black Belt Training will enable you to:
Manage multiple projects and ensure their alignment to meet organizational goals
Coach Green Belts to complete successful projects that deliver significant, sustainable results
Communicate + influence people at all levels of your organization to manage change effectively
Understand the why, what and how of statistical analysis tools
Black Belt Certification includes:
Exam: 185 multiple choice questions (unlimited re-takes)
Project Review: Project Storyboard
Elective: Article summarizing project
Re-Certification ($299): Every 4 years. Choose one:

Black Belt Exam
Black Belt Storyboard Submission (no live Project Review required)
Elective

PDF Certificate to add to your LinkedIn profile
Membership to our Black Belt Certified Group on LinkedIn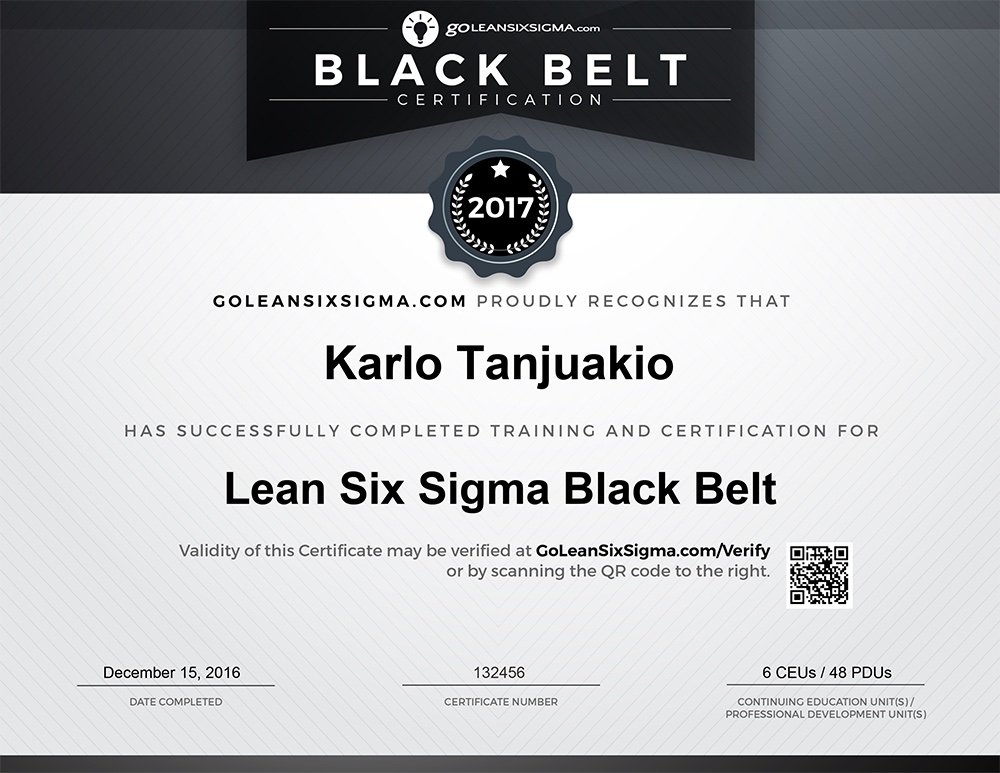 You'll Love Learning With Us
Simple
We've simplified Lean Six Sigma to make process improvement easier – while still covering a comprehensive body of knowledge.
Fun
Enjoy learning in an engaging environment with plenty of games and examples that helps ensure effective knowledge transfer.
Practical
Save time by learning how to use the most valuable Lean Six Sigma concepts and tools and begin improving right away!
Updated for 2017
We're always improving our courses with the latest best practices our experts learn in the field and feedback from our clients.
Globally Recognized
We're trusted by the world's leading organizations, governments and educational institutions.
Highest Rated
Our learners love our courses and consistently give us 5 star reviews! Read their glowing reviews here.
Ready to Manage Process Improvement Programs & Be a Better Leader?
Interested In Another Course?
Select a course below to learn more.
Lean Six Sigma Black Belt Training & Certification Reviews
Average rating:
28 reviews
Feb 19, 2018
Great content with good flow. The tools and templates as well as the webinars available are comprehensive and help to give a solid and practical application to lean 6 sigma. I'm already using much of this in my daily tasks. Finally, the support staff at Golean are very helpful and responsive and a pleasure to deal with.
Feb 8, 2018
The goleansixsigma.com black belt training was certainly more challenging than the green belt, but I feel the course fully prepared me to use these tools and techniques within any company or industry.
Jan 3, 2018
This very rewarding personal and professional achievement adds a level of depth to my process improvement / problem solving skills that have already begun to make positive changes within our organization. The disciplines, tools, and techniques that I learned and was exposed to provides a structured and logical methodology to facing myriad of challenges and creating opportunities for improvement throughout the many varied functions necessary to efficiently and effectively manage and grow virtually any type of company / corporation within any industry. The journey which led to this final destination could not have been possible without the help and support of many coaches and colleagues along the way. The road was bumpy and difficult to navigate at times, however, as the saying goes, "Nothing worth having comes easy." I'd like to Thank one of GoLeanSixSigma's aces and my Master Black Belt, Elisabeth Swan, for her guidance and patience throughout this process...
Dec 13, 2017
This has been a great class! I little challenging at times but overall a great experience.
Nov 21, 2017
This has been an amazing learning experience. There were many concepts that I already utilize and practice today which was one of the reasons I decided to move forward in obtaining Lean Six Sigma certifications. However the tools that the training touched upon are imperative to helping you with ensured success of addressing any issue, work related processes or even everyday non-work related topics. Awesome experience. Thank You all for your patience and guidance in helping me to stay on track. Thank You. Good luck to my fellow Lean Six Sigma candidates!!! Can't wait to use what I learned!!!
Nov 19, 2017
Wow! I am thoroughly impressed by Go Lean Six Sigma. Its engaging and helpful training material along with real-world examples made a big difference in understanding Lean Six Sigma concepts and tools and retaining newly acquired knowledge and information. I shopped around quite a bit to find a suitable Lean Six Sigma Black Belt training and certification provider. I am so glad that I chose Go Lean Six Sigma. I have to mention that Go Lean Six Sigma staff is awfully professional. The staff is always prompt with their responses to email. I really felt that they are willing and delighted to support me through the training and certification process. Superb training and superb customer service! Anna and Karlo, you rock! Thank you for all you do, Go Lean Six Sigma!
Nov 9, 2017
Great training program.
Oct 18, 2017
Great training program, well balanced and an example on how e-learning should be. The templates are ready to be applied on your own project.
Oct 14, 2017
Great course. Very easy to follow and complete with a busy schedule. Thanks!
Sep 19, 2017
I really appreciated this learning experience along the whole courses. For me, I really see now from the very first beginning - let´s do it first time right. Here, I want to thank the whole team to have created such a good learning program. Thank you.