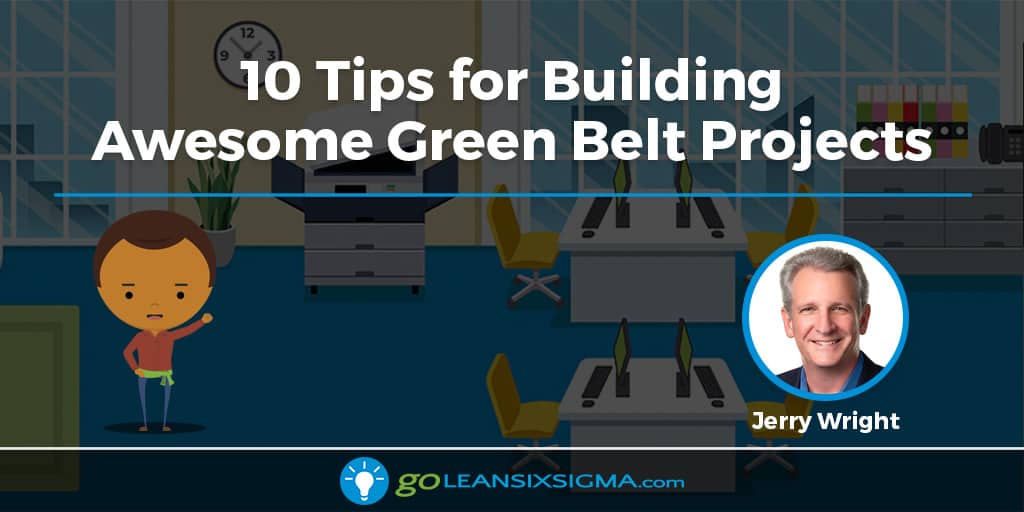 Congratulations! You have just passed your exam and now it is time to tackle that Lean Six Sigma Green Belt project. "What makes a good Green Belt project?" is often the first looming question that comes to mind.
Learners struggle with finding support, properly scoping their projects and other common traps on the road to earning their coveted Lean Six Sigma Green Belt Certification. The good news? There are simple ways to structure projects and avoid the usual errors that threaten to derail Green Belts during their journey to success.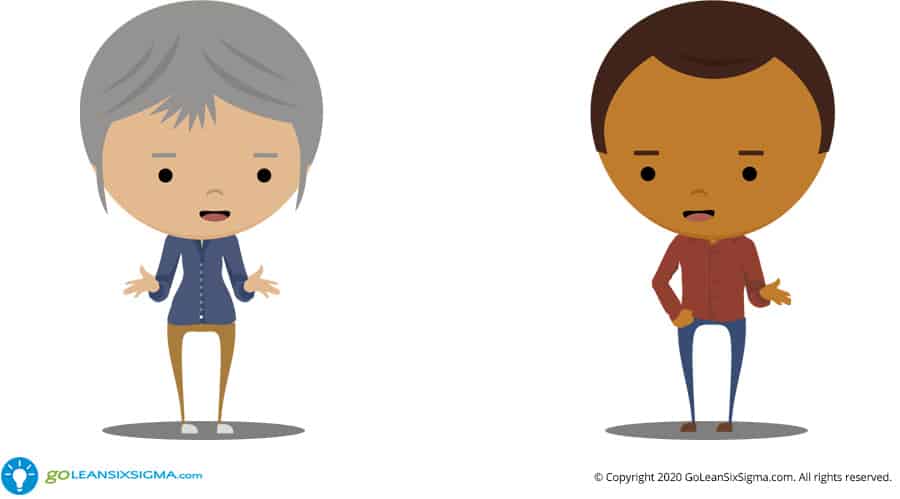 1. Find a Sponsor
We'll start at the "true" beginning to give you the biggest boost. First, meet with your manager, or the Project Sponsor if they are not one and the same. Do this before you have signed up, registered or paid for the Lean Six Sigma Green Belt course. While this sounds simplistic, it's surprising how frequently I come across students who truly want to earn their Green Belts, yet have no idea who will support their project or if they can even find a project to work on.
Three solutions for this dilemma are to:
Partner with someone who has a project and wants help
Find an organization that needs a project done—a business, a school, a church or a local nonprofit
Treat this as "prework" and get it done before you start your course
2. Scope a Project
Assuming that you have a Sponsor—your manager or another supportive leader is ideal—The first thing to discuss are the processes in need of improvement. Here is where scope is important. If the project is too small, it won't help you really grow and learn. If the project is too large, it won't be easy to complete in the time allotted—or might be too hard to complete at all.
A good way to help narrow the range of potential projects is to focus on a process that is somewhat stable, not well-organized and needs help. Let's walk through a few examples.
Accounting: Accounting departments typically include Accounts Payable, Accounts Receivable, Cost Accounting, and other standard areas. Within each of these there are multiple processes. A good Cost Accounting project would be to improve updating monthly standard costs for new products. Another one could be to reduce cost changes—a reasonable scope for a project.
Manufacturing: In a manufacturing company there may be multiple lines or cells that produce different products. One place to focus is the final assembly—improving quality checks or reducing the packaging cycle time could be good ways to drive improvement. If there is enough time and support, you could implement Single-Piece Flow and Standard Work on a single line or cell. This type of scope allows for good use of Lean Six Sigma tools.
Education: At most schools there are processes for orientation and training of new arrivals. The hiring process for instructors might need improvement. These could be reasonably-scoped projects that would allow for improvement within a reasonable timeframe.
If you or your Sponsor are uncertain about how to scope your project, seek advice from your instructor or a knowledgeable colleague before proceeding. This will help you avoid one of the most common pitfalls for students seeking their Green Belts.
3. Draft an A3
Now you know your potential project. That's great! The next key thing to do is draft your A3 Project Charter or Mandate. I strongly recommend you draft it with the Process Owner—the person responsible for ensuring the changes made to the process actually "stick." If you can't do that, draft the A3 with your Sponsor or manager's input and review it with the Process Owner.
I cannot stress enough that you need the Process Owner's buy-in to have a successful project. If you happen to be the Process Owner, then you are in luck. However, this is not a common situation. If you need help on your A3, there are multiple blogs and reference tools available to help you draft the mandate.
4. Use Your Project In Class
For the fourth tip for creating a successful Green Belt project—and this goes back to the beginning—be ready to work on a project once your course starts. Whenever possible, use your actual process for practicing the Lean Six Sigma tools in the class. If you need to create a Value Stream Map, choose the one that covers your selected process. If you need to collect and analyze data, do it on your chosen process. This will help you learn as you go—better understanding the subject and your process.
5. Start With the Measure Phase
In direct alignment with this fourth tip is warning against what I call the "jumping to analysis and improvement" mistake. Once you have defined your project, your next proper step—following DMAIC—is the Measure Phase. But in too many Green Belt projects, students decide what they are going to measure and then leap immediately into the Analyze and Improve Phases.
It is critical for students to take the time to fully measure their process as it stands. The need to understand the current state before considering or even discussing any changes.

Completing Measure Phase first serves two purposes:
It captures the actual current state which is the baseline
It allows students to see the challenges of the current process without assumptions.
I find that students are surprised at how many steps are required to complete the process they're studying. It takes drawing a Spaghetti Diagram for them to discover how much excessive movement operators make in the workspace. By taking time to measure before making any changes, you have the opportunity to study the true current state.
When it comes time to compare the "After State" measures to the "Before State measures"—in the Improve Phase—the comparison will be accurate and much easier than trying to estimate the baseline.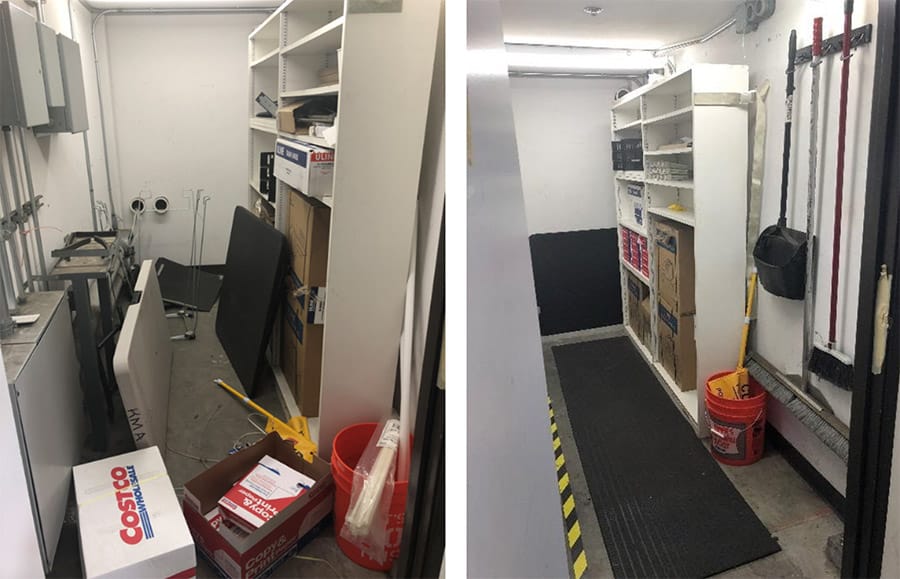 6. Document the "Before" State
The sixth tip also takes place in the Measure Phase. Take lots of photos of the current state where it is possible and when it makes sense. After the improvement, come back and take photos again from the same vantage points or angles. It truly shows the changes and the level of improvement made. Those pictures are literally worth a thousand words. And they are nearly impossible to recreate once the changes have been made to the process.
7. Use the Tools You Need
The best tip in the Analyze and Improve phases are to use only those key Lean Six Sigma Tools that best fit your project. Students often want to use all or most of the tools in the toolbox. But that is not necessary. Use what tool(s) makes sense and you'll substantially improve the measures.
If you happen to be working on a Set-up Reduction project, the use of Internal/External elements, Spaghetti Diagrams, 7S and Standard Work will be critical to success. Also, being able to accurately and consistently measure the set-up times on an ongoing basis will be pivotal for achieving the desired gains.
8. Select an Ongoing Measure
In the Control Phase, a good tip to follow is determining what measure to collect daily or at least regularly to ensure that the changes remain in place. For Set-up Reduction, tracking the set-up time in perpetuity could take care of that need.
While not often used, Control Charts are an excellent way of ensuring processes stay in control. Control Charts can track a daily measure with upper and lower limits that tell the story of variation. Those measures could be set-up time, first pass yield, units per person per hour, turnaround time, almost anything can be charted using Control Charts.
Now let's assume you have reached the end of your project. It's finally complete! All the work is done, but you still need to document the effort and show the results in an effective manner. In the next-to-last tip for your project, keep your presentation straightforward and simple. Make it so the reader can understand it without an advanced degree in statistics or engineering. Move the laborious or eye-chart slides to an Appendix.
The presentation should be easy to understand regardless of the process in question. These simple guidelines will help:
Keep font sizes and type consistent wherever possible
Maintain some white space around images so eyes focus on the key elements
If using bullet points, keep them to about 4-5 per page
Try for more images and charts—use less words wherever possible
Make sure that the presentation flows in order—Define, Measure, Analyze, Improve & Control
When you believe you are done with your presentation, present it to a family member or friend. Solicit their feedback. If they don't know much about your process or project, that's even better. You'll get the best input from them. Make the changes and run it by your manager or Sponsor next. Take their feedback as well and then you'll likely have a good presentation for your class or team at work. You'll be grateful you did this little bit of extra review and made the adjustments.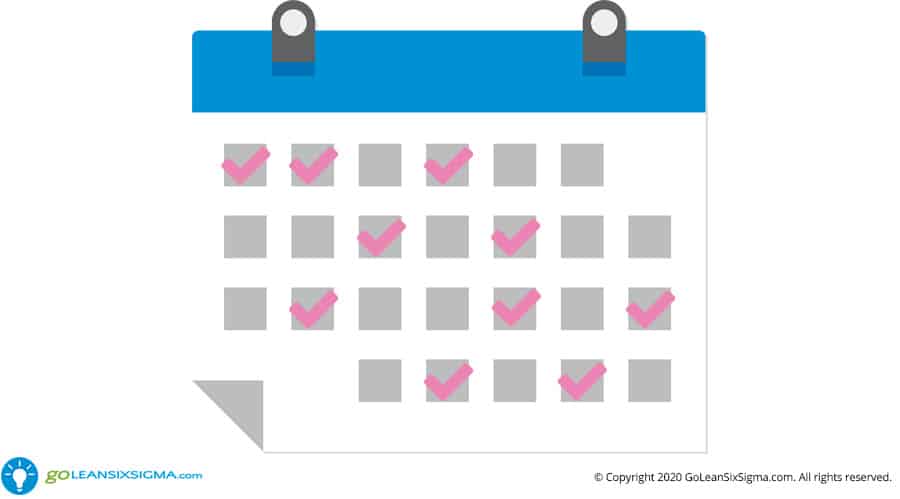 10. Start Now
The very last tip is for everyone who likes to procrastinate. Waiting until too late and rushing to complete a project is by far the most common mistake for aspiring Green Belts. Do whatever you can to avoid this mistake. Procrastinating can turn great projects into mediocre ones. It has turned decent projects into utter calamities.
If you fail to plan, you are indeed planning to fail. Keep on working on your project from the start of the class. Work ahead and stay ahead. You'll need it later because surprises happen and can cause delays. You'll be glad you got ahead of it.
Let's recap the top tips for a Successful Green Belt Project:
Find a Sponsor: Meet with your Manager and/or Sponsor up front to confirm their support and and agree on a project
Scope Your Project: Scope your project to be the "right" size—not too big, not too small—seek help to do this especially the first time you select a project
Draft an A3: Draft your A3 Project Charter or Mandate with the Process Owner—it's essential for buy-in
Use Your Project in Class: Be prepared to work on your project while your course takes place— working on your process is the best way to learn
Start With the Measure Phase: Measure first, before analyzing and improving the process—gather all the data before making any changes so you understand the current state
Document the "Before" State: Take plenty of photos of the process before you make any changes
Use the Tools You Need: Only use the handful of tools from the Lean Six Sigma toolbox that make sense for your project
Select an Ongoing Measure: Determine what measure(s) you will use to ensure that the gains are sustained—track these regularly
Make a Good Storyboard: Make your presentation look good—solicit feedback and improve it at least it a couple of times
Start Now: Get started right away and stay ahead of your project—don't procrastinate if you want it to be great!
Following these tips will help you navigate surprises and delays. It will give all learners a better chance of completing a very good project and having a successful Green Belt experience. Best wishes on your Lean Six Sigma Green Belt project journey!