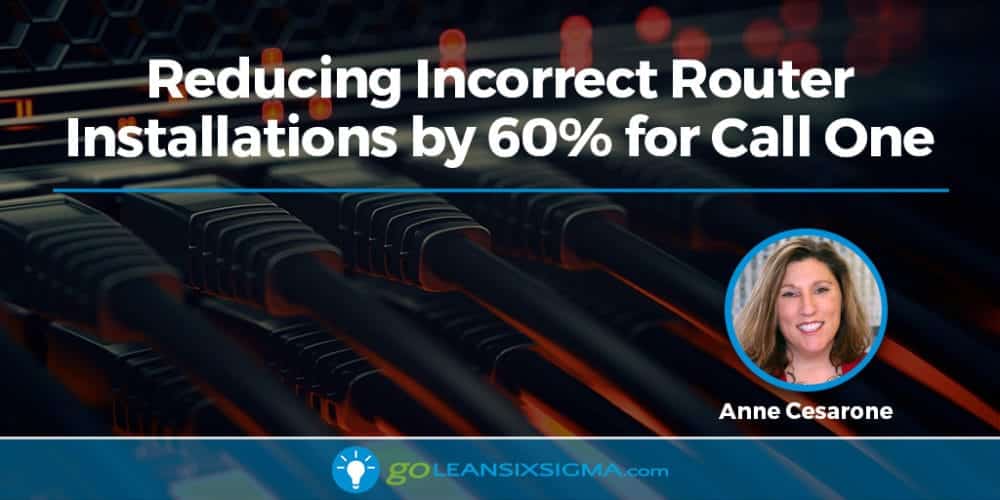 Streamlining technology in our lives is a good thing! Find out how GoLeanSixSigma.com Green Belt Anne Cesarone's project decreased router order lead time by 11 days, decreased process time for programming routers by 70% and reduced incorrect router installations by 60% for Call One.
– Tracy O'Rourke, GoLeanSixSigma.com Managing Partner & Executive Advisor
Executive Summary
Business Case
Customers are complaining that router installations require multiple trips and lengthy time to complete. Process improvement in our router deployments for new carrier circuits would result in higher levels of service to our customers. Process improvement would also save considerable expenses related to rework, including labor and travel expenses.
Root Cause Analysis
Router orders are being placed at the last minute and being expedited to make dates. Routers are being programmed at the last minute, causing errors in configuration. Routers are having to be either reconfigured on site or brought back to the office for rework.
Solutions Implemented
Have Network Engineers make router requests to purchasing at the time they are engineering the job, rather than later in the process when the order is in the Provisioning Department, using a new Router Request Form
Keep an inventory of 10 extra routers based on a Just-in-Time system with Kanbans
Conduct 5S to create and organize new Network Drive for all customer router information, including a new Router Request Tracker
Create new default router configuration files to load onto new routers and to establish consistency and decrease long or repeated visits
Project Results
Increased router order lead time by 11 days
Decreased the Process Time for programming routers from an average of 30 minutes to 9 minutes
Decreased the percentage of incorrect router configurations by 60%, thus improving customer satisfaction
Graphical Display of Improvement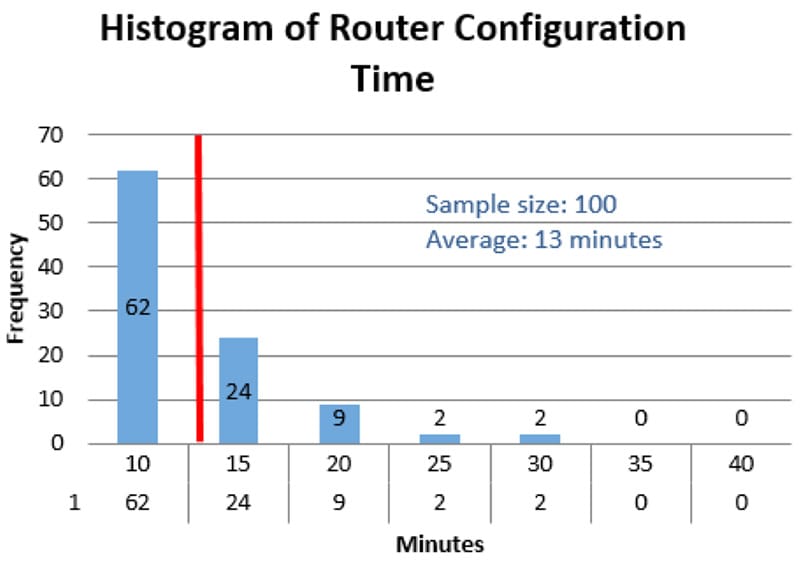 Key Words
Carrier Circuits: A physical circuit, ordered by Call One, brought into a building by a Telecommunications carrier, and terminated in the customer's server room
Customers: A business, municipality or school whom has signed a contract with Call One
Router Configuration: The act of a Network Engineer gathering customer specific data and programming the router with the necessary configuration
Router Installation: The act of a Field Technician installing the router at a customer site, including rack mounting, turning on and testing
Router Order Lead Time: Total cycle time from the moment the router order is received at Call One to the moment that the router is in the engineer's hands for programming
Provisioning Department: A department at Call One which places the circuit orders, on behalf of the customer, with the carrier
Project Charter
Problem Statement
For the last 6 months, we have received customer complaints on circuit installations that require long and/or repeated site visits by field technicians. We have also received complaints from out CFO that we are going over budget on our shipping costs.
Goal Statement
We would like to decrease the need for multiple technician visits from 35% to 10% by the end of 2nd quarter 2017. We would also like to decrease router programming time from the current 37 minutes to 10 minutes by the end of 2nd quarter 2017.
Scope
Process Start: Customer signs a contract for a new Call One circuit
Process End: Customer signs a Delivery & Acceptance for completed circuit installation
In: The team will develop improved process steps; develop programming templates
Out: Increasing our inventory by more than 10%; adding additional staff
Business Case & Benefits
Process improvement for our router installations will result in improved customer service. It will also translate into financial benefits because we will spend less money on expedite charges for router orders, as well as increase productivity in the network engineering department.
Timeline
| | | |
| --- | --- | --- |
| Phase | Planned | Actual |
| Define | January 9th | January 9th |
| Measure | January 16th | January 18th |
| Analyze | January 30th | January 30th |
| Improve | February 20th | February 24th |
| Control | March 8th | March 22nd |
Team Members
| | | |
| --- | --- | --- |
| Position | Person | Time Commitment |
| Team Lead | Anne Cesarone | 30% |
| Sponsor | Jason Spulak | 15% |
| Team Member | Peter Peverly | 25% |
| Team Member | Joe Crawford | 20% |
| Team Member | Victoria Lasch | 10% |
Voice of the Customer Translation Matrix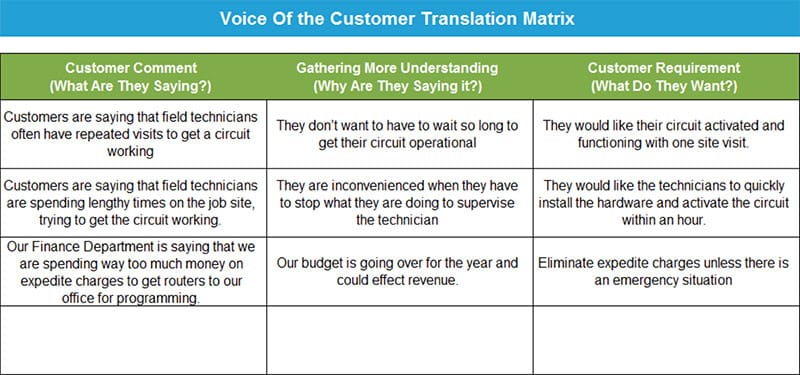 Key Takeaway: Project needs to address the router ordering and programming lead time which will impact the overall customer satisfaction.
SIPOC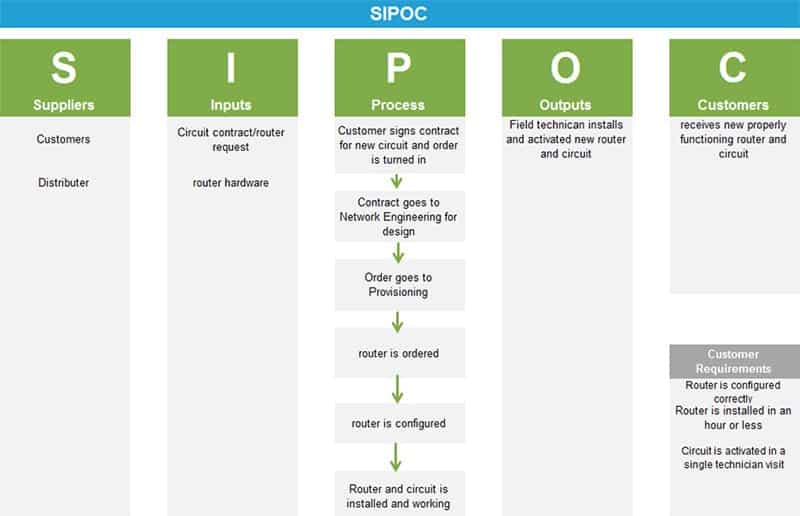 Key Takeaway: The scope of this project starts from the point of the customer signing a contract for a new circuit and router to the successful installation of the circuit and router at the customer site.
Swimlane Map (Old Process)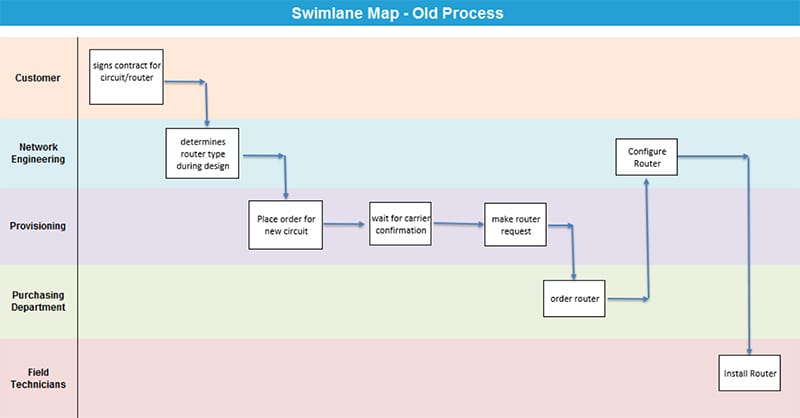 Key Takeaway: There are a few NVA process steps that include significant wait time, which could be leading to increased cycle time.
Data Collection Plan

Key Takeaway: Data collection was made over a one month period by multiple department staff.
Standard Event Occurrence Check Sheet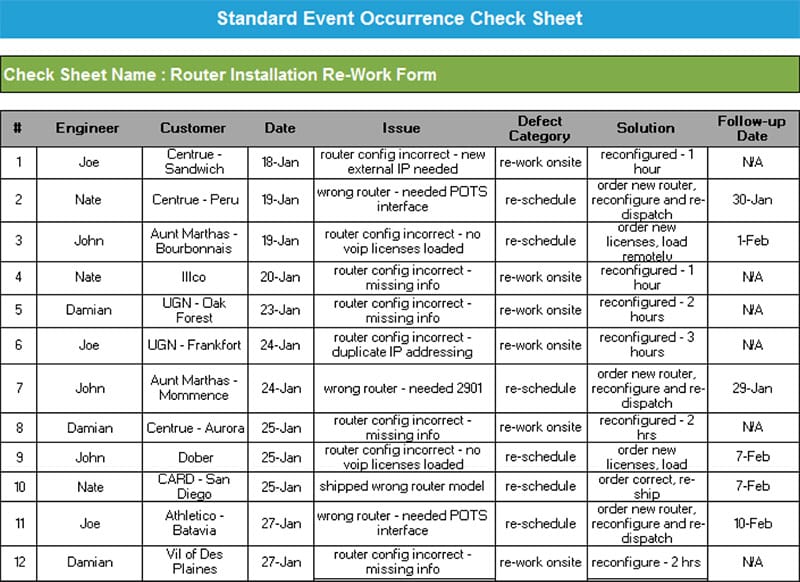 Key Takeaway: The baseline data shows that there are many installations in a month which required either extra time on site to rework or a follow-up visit to complete the needed changes.
Fishbone Diagram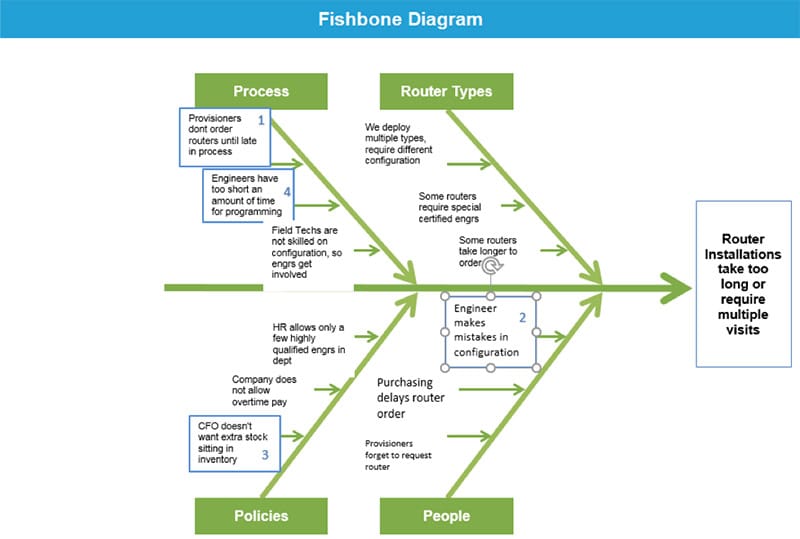 Key Takeaway: Initial brainstorming points to human error in router configuration and lack of time as potential root causes.
5 Whys
Why do router installs require so much rework?
Because the routers are not going out with correct hardware or configuration.
Why are they going out with the wrong hardware or configuration?
Because we don't have the time to properly verify correctness before dispatch.
Why don't we have enough time to verify?
Because the engineers are getting the routers with very little lead time before they are due.
Why are the engineers being given so little lead time to configure the routers?
Because the routers are being ordered too late.
Why are the routers being ordered so late?
Because the provisioners request them late in the ordering process.
Value Add & Cycle Time Analysis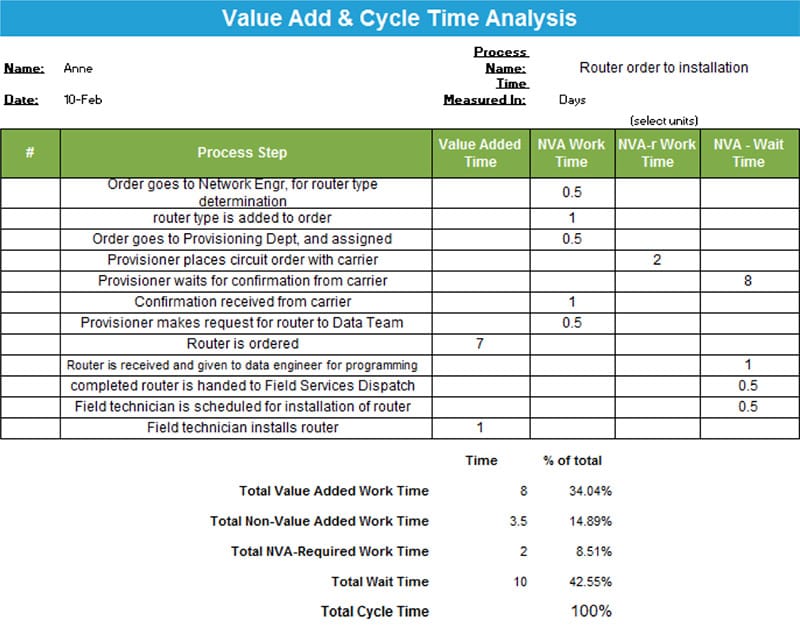 Key Takeaway: The majority of the steps are non-value adding with considerable wait time. There's an opportunity to lower wait time by possibly running steps in parallel.
Hypothesis Confirmations
Histogram of Router Configuration Time
Histogram of Router Order Lead Time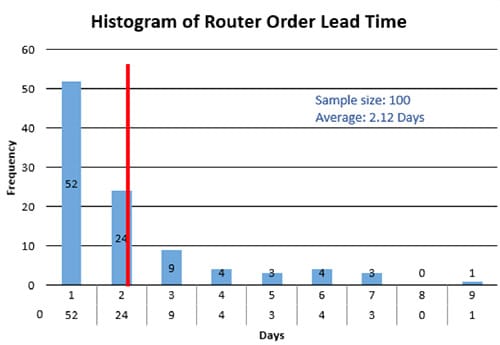 Root Cause Hypothesis

Key Takeaway: Data shows that the routers are being ordered with only 2.12 days lead time, which leads to errors in programming and little time to test before they are sent to the field. It also shows that the engineers are taking 29 minutes on average to configure each router.
Impact Effort Matrix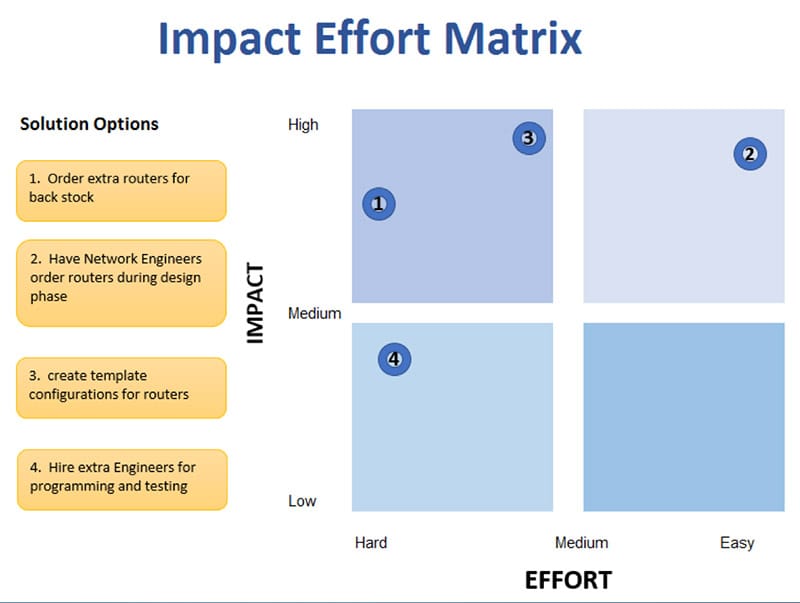 Key Takeaway: Options #1 and #4 aren't options, as they are considered outside of the scope. The team will order the routers earlier in the process, during the design phase of the order. They also created a programming template to load onto the routers.
Before & After Time Data
Router Configuration Time – Before & After

Router Order Lead Time – Before & After

Key Takeaway: Implemented solutions significantly decreased router configuration time and increased the router ordering lead time.
Before & After Swimlane Map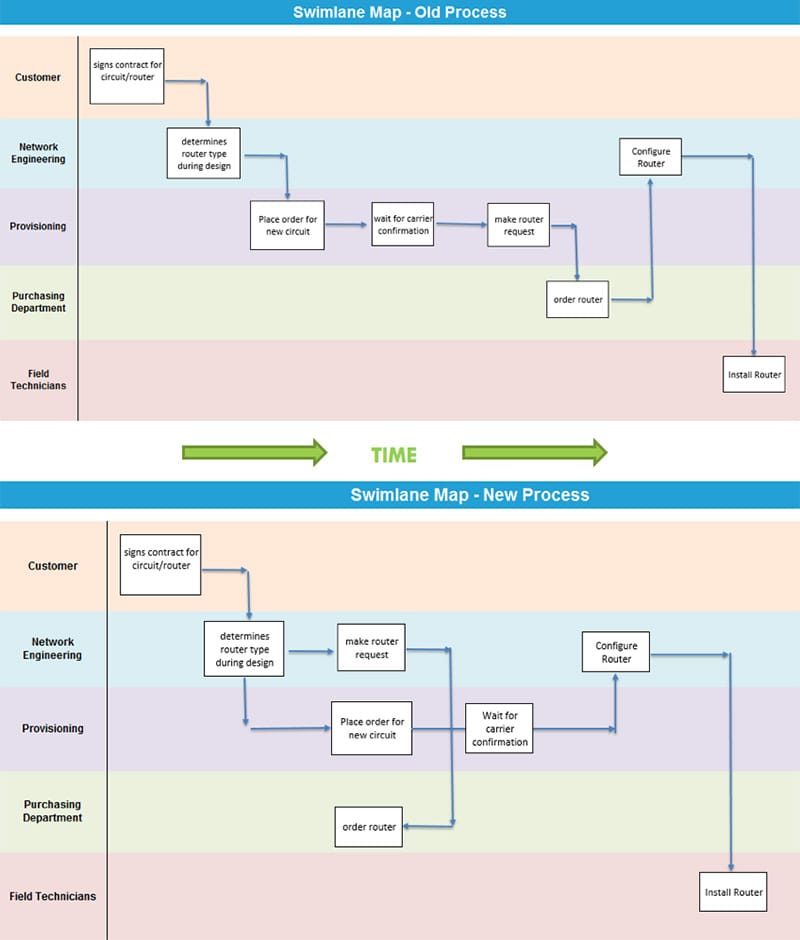 Key Takeaway: By making some activities concurrent, including the router ordering, we decreased the wait time and the overall cycle time.
Risk Management
FMEA Form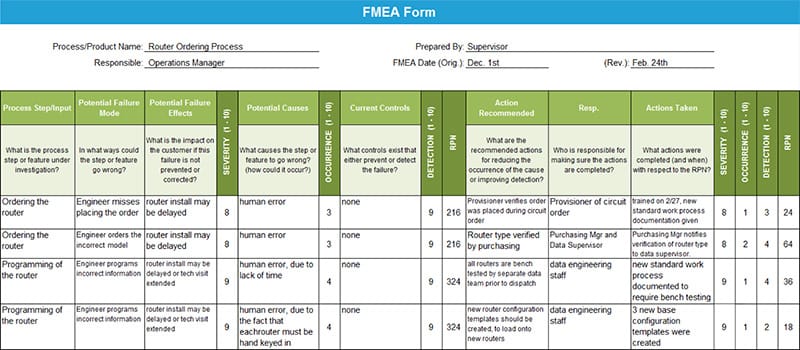 Key Takeaway: Ordering routers earlier in the process, having router types verified, testing all routers before dispatch and building router configuration templates will lower the risk of rework and rescheduling of router installations.
Monitoring & Response Plan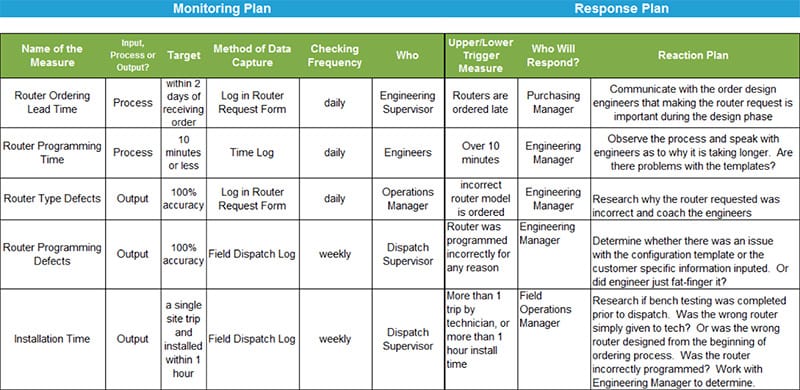 Key Takeaway: The Monitoring Plan factors both the leading indicators of router programming accuracy and order lead time along with the Project "Y" of Installation Time.
Innovation Transfer Opportunities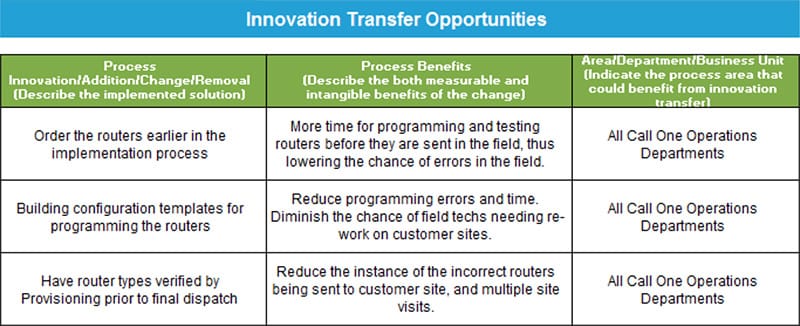 Key Takeaway: All of these improvements could be immediately transferred to other Call One Operations Departments which order and install hardware.
Implementation Plan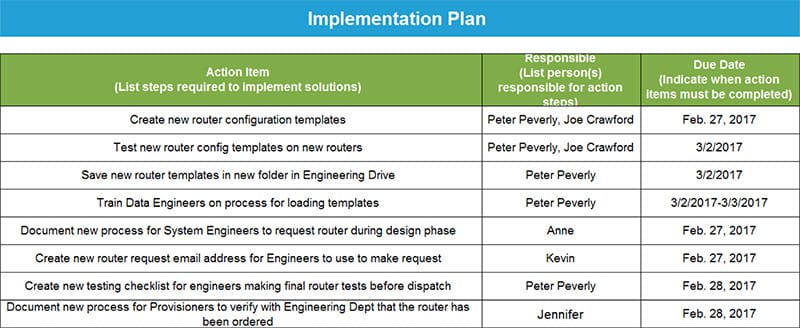 Key Takeaway: The Implementation Plan will include a few process changes but will affect much of the outputs.
Goal Statement Builder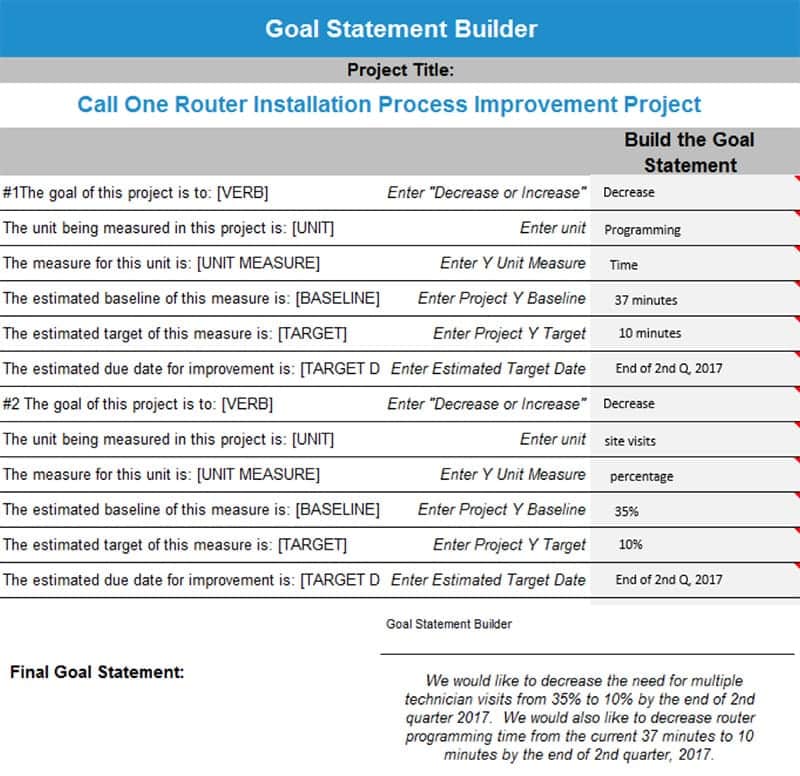 Project Storyboard