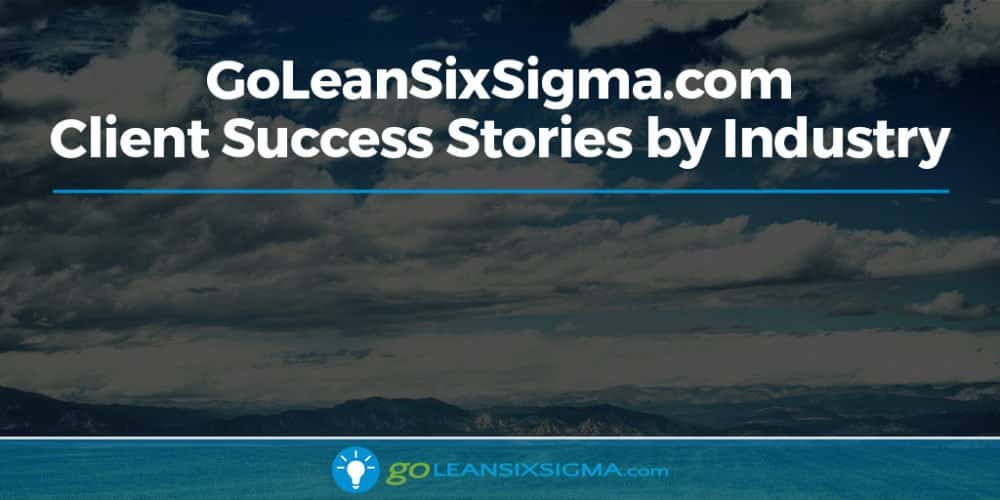 Industries
For more Lean Six Sigma Success Stories outside of GoLeanSixSigma.com, click here.
Construction & Manufacturing
Dennis M., Supervisor, GM (General Motors)
By utilizing analytical data and proving how the data converts in real time to human interaction, I was able to save $550 per unit, per minute of downtime, for a 3% savings per shift at GM Corporation. This resulted in a $225,000 savings per shift.
Ken C., Line Lead, Manufacturing Company
My success story begins with a visit from my boss to my manufacturing assembly area (I am the Line Lead) wanting to know how some new changes in the area are having an impact. This was a perfect opportunity to use what I've learned in from my Yellow Belt Training to demonstrate my knowledge of the Lean Six Sigma methodology. First, I started to look at our new changes with "new eyes" and was able to give clear and constructive feedback based upon on the 8 Wastes. My boss was very impressed with how I gave the feedback and took actions immediately to correct the issues raised from my feedback. I believe I am now a value in his eyes and I look forward to continuing on my journey of development with Lean Six Sigma.
Shahid M.
After achieving my Lean Six Sigma Yellow Belt Certification, I started by implementing the system into the fabric of my own work, which reached out into the other departments, ultimately catching the attention of the CEO. After reviewing my work, I got the thumbs-up to move Lean Six Sigma forward within the company. Now, I had the skill set that stood above my peers, not the other way around. Maybe I'm gloating here a little, but victory sure is sweet. I have my Masters and my plans now are to merge this knowledge with Six Sigma to further expand the applications in the world.
William J., Commercial Building Energy Engineer, JD Scaffolding
I started a new job fresh after taking the Yellow Belt Training in Lean Six Sigma. Right away, I started to use the tools at work. The Construction industry is well known for it's level of waste. At my new job, the staff would arrive to the office each day wanting to know what to do for the day. I identified this as the biggest waste to tackle. By introducing a visual job board, we are able to look at one page. The jobs we have to do are added to the board and are not removed until they are invoiced. Since this change, jobs are planned weeks in advance rather than day by day. The Lean approach has made my life much easier and my efforts were noticed. I was given a pay raise in just two months of starting my new job!
Education
Michael T., Administrator, Nova Southeastern University
Nova Southeastern University (NSU) has several applications used for online education in conjunction with our Learning Management System (Blackboard Learn) that provide both synchronous and asynchronous learning to students. After several critical issues that arose with our current suite of applications, the task was given to me to determine how to streamline the user experience and reduce the number of applications needed to provide quality education at NSU. As a result, I became the project manager, project owner, application expert, technical lead, and a host of other roles as I worked towards achieving the goal.
I have used Lean Six Sigma over the course of the last 2 years to determine what applications on the market will meet the customer's expectations. I surveyed them on the current set of tools we owned to obtain a baseline of expectations. I went through the process very methodically, dissecting one application at a time, and researching with faculty and students, all the while using many of the tools available to me through Lean Six Sigma Training.
Wesley T., Certified Lean Practitioner, Education Company
I was once responsible to investigate a 30% loss of monthly production in a period of 6 months in a particular calendar year comprising a revenue loss of $200,000 as compared to the same time period the previous year. I created a SIPOC chart and a Project Charter that identified the above problem statement, goal, scope, and business case in the Define Phase of DMAIC. The 80-20 rule of the Pareto Chart in the Measure phase showed that the biggest issues faced were that teams: lacked the training in some jobs and there was also a difference in monthly production between high temperature and low temperature samples. The 5 Whys root cause analysis and the Cause & Effect diagram in the Analyze Phase showed that the highly skilled workers were absent due to vacation times in the month that had low monthly production. During this time, the unskilled workers were absent due to moving or temporary projects in the month that had high monthly production. The increased monthly production was achieved by 50% in the next 3 months by streamlining processes and eliminating non-value added activities.
Financial Services
Alicia Z., Copywriter and Direct Marketing Specialist, Maryland's Leading Credit Union
My biggest success story utilizing Lean principles would be how I evaluated the way my 15-person Marketing department managed the concepting, production, and deployment of individual promotions, from inception through execution. What was a tradition of one meeting a month followed by an exorbitant number of confusing emails, phone calls, miscommunication and missed communications, eventually transformed into a thoughtful, organized, streamlined workflow that is replicable and reliable. By utilizing the main principles of DMAIC as well as pulling specific worksheets, mapping exercises, observational approaches, and process control methodologies that I have learned thus far thanks to Lean Six Sigma, my "Strategy Phase (1) Workflow" establishes and delineates the meetings, tools, actions, and documents required and created during the first week of every month for our department's upcoming promotional campaigns on an ongoing basis.
Joan M., Finance Professional
I have applied Lean Six Sigma concepts at home and have elevated my standard of thinking when doing things such as cooking meals. I can cook a full meal in 30 minutes by applying simple ways of my Lean Six Sigma experience instead of having to prepare everything for one hour. I frequently discuss with my husband all that I have learned and he too has applied it to his personal and work life. At my work, I was acknowledged by the company as one of the people to help in process reviews and to do process improvements by discussing with management. Lean Six Sigma has changed my life forever!
Food & Beverage
Seun I.
I recently completed the Lean Six Sigma Yellow Belt Training. I learned a lot and I applied what I learned to the issues I've always had with food waste in my home. I complained about food waste until I took this course. After the course, I took the time to look into the matter by talking to each member of my family and noting responses of meals and meal times. I discovered the reasons behind the waste, especially our favorite food- rice. I discovered that my family ate less when rice was not freshly prepared or served at breakfast. I also discovered that serving fruits before the main meals encouraged the little one in our family to eat more. Having identified the possible causes, I decided to prepare food fresh each time and ensure each person had fruit before their meals. We reduced food waste by nearly 81% and our family now eats better.
Healthcare
Donna R., MSM, BSN, RN, U.S. Department of Veteran's Affairs
With the use of process mapping and work standardization techniques, the Specialty Care Clinic at the Department of Veteran's Affairs was able to make the following successful changes over a 9-month period of time:
Eliminate wound clinic and separate post-op clinic
Create separate clinics for New patients
Allow New patient visits 30 min to prevent additional return visit
Allow new patient visits to be filled by any patient within 48 hours of appointment
Built in two 20 minute slots/day for on-call provider to triage consults
By having separate clinics for new patients, space is now preserved in order to decrease wait time of appointments. New patient appointments are evenly divided among all Providers whereas, historically some providers saw very few new patients. Unused new patient visits can now be used to accommodate patients needing wound care that require less than 20 minutes. Lastly, post-op visits are built into the regular clinic grid and match the historic and predicted OR utilization.
Dr. Jorge A. G., Clinic Integration Manager, Vista Community Clinic
Lean has played a pivotal role in our organization since a group of us decided to implement the problem/process solving methodology into our daily work lives. Recently, we used Lean to improve our colorectal cancer screening rates in our clinic. The project started back in September 2014 and our colorectal cancer screening rates have improved from 0% (our low point in October 2014) to just over 24% (June 2015). To get where we are, our organization reported quality measures to the federal government, which there was a monetary compensation for improving/reaching desired quality outcome goals. We reported quality measures through HEDIS to the Medi-Cal managed care plans; they in turn assigned patients to us based on these HEDIS quality scores. Increasing our scores has increased the number of patients assigned to us by 10%. Lastly, we provide better patient care! The increase in colorectal cancer screening has allowed VCC to secure two grants worth $25,000 for additional funding for our quality improvement programs.
Hans H., Records Tech, Community Hospital of the Monterey Peninsula
I have very specific duties and various tasks that must adhere to a set schedule in my workplace. Most tasks and duties are known in advance, but others aren't. I work for a Hospital! After clocking in, I check the email and phone messages. I print out any new tasks to be added to the ones I know about and then I use 5S.
John K., RN, University Hospital – Oklahoma City
Using Lean Six Sigma, we used Root Cause Analysis to identify the obstacles preventing our RNs from enrolling in schools and increased their Continuing Education rate from 2.7% to 10% within 12 months. Prezi to this project is available here and an article to this project is available here.
Phillip W., Director of Comprehensive Cancer Center, Community Hospital of the Monterey Peninsula
I have found the Lean Six Sigma Yellow Belt Training to be very useful. I have been able to use the tools I learned to successfully plan and implement two process improvement projects at my workplace. Both processes improve the care we provide to patients. First, I standardized a way of educating and supporting patients who are about to receive chemotherapy. Second, I involved engaging staff in a process to improve hand-off communication between nurses and engaging patients in their care. Both have been successful with high reliability. In the first process, the specific metrics used to measure our success were: time studies to measure the amount of time required for the old shift report process, compared to the new process, feedback from staff, feedback from patients, direct audits to measure compliance and ensure a reliable process. In the second process, the pre-chemotherapy visits, the primary metric used is the percentage of patients who receive their pre-chemotherapy education and screening at least a day prior to receiving the chemotherapy. We are currently at 40% as the initiative is only a few months old. Before this initiative, none of the patients did. At this point, we have anecdotal feedback from the patients, their family, and the staff which has all been positive.
High Technology
Andy Noble, Head of Remote Service Operations, International IT Company
After completing GoLeanSixSigma.com's Yellow Belt Training, I began utilising the Lean methodology to try and improve a process that wasn't working properly and that was taking weeks to complete when it should only take hours. By using the Kanban approach, we quickly identified bottlenecks and idle processing points. With that, we could quickly see ways to remove them and reorder some of the process steps. When we attempted the process for real after reordering steps, we reduced the time to complete the main part of the process from 19 working days to just 4 hours!
Carlos E., Project Manager, Multinational Technology Company
I found the GoLeanSixSigma.com Yellow Belt Training pleasant, comprehensive, and educational in the best ways possible. Although I already working with Six Sigma, the Training helped clarify some concepts I have always struggled with. I used the "5 Whys" to help a friend of ours understand the root of her problems at her current job and in just two weeks her productivity and positive feedback spiked. We are now looking in to doing some "Poka Yoke" to eliminate remaining issues. I believe this shows that you can use Lean Six Sigma to LITERALLY improve your performance at work.
Telecommunications
Eric R., Supervisor, Call Center
I am a supervisor in a call center for a software company. I was feeling stuck with no possibilities for advancement, and then I came across GoLeanSixSigma.com. I began with the free Yellow Belt Training and I absolutely love the Bahama Bistro case study example to learn the Six Sigma concepts. Just recently, at the software company I work for, we had a influx of customers calling in for installation assistance for a product they purchased from an online vendor. Using the tools and concepts from the Yellow Belt Training, I was able to create a workflow for these callers and my idea was implemented!
Transportation & Travel
Amandeep S., Travel Technology Company
Customers of a travel technology company were expressing high dissatisfaction with their service. In an effort to fix the concerns, we revisited and measured meetings with the customer to document and prioritize their concerns and created scorecards with metrics that defined the key areas that were needed for a successful implementation of the contract and to sustain good relationships. In addition, we established a team process that used Six Sigma tools and techniques to improve the process to address the customers' concerns. The monthly meetings with the customer to review scorecards showed commitment to take action and resolve concerns in an ongoing matter.
Dan O.
I am currently in-between jobs and it's likely that my next job will require me and my family to move to another state. By doing the Lean Six Sigma Yellow Belt Training, I've been able to significantly reduce clutter and chaos during this transition. The 5S, five step process, has been extremely useful to create a visual workplace for my 5 children and their chores. It has been very useful in getting our house ready to present for sale.
Water, Energy, and Utility
Phillip A., Business Process Manager
After taking my Yellow Belt Certification at GoLeanSixSigma.com, I started using the Lean Six Sigma principles in our continuous improvement work. We started our journey 9 months ago in utter chaos! There was no structure, it was random at best, and there was no link to business strategy. Today, our improvement engine is running well and aligned with our business strategy. Some of the results are: cutting transaction errors during data import by 70%, removing close to 600 hours of waste (having another 500-1000 hours in the pipeline), and a conservative savings of $100. I will continue to use the Lean Six Sigma principles in my work as well as improving my own professional level with more education.
Natasha V., Electricity Generation and Retail Corporation Company
By using Lean Six Sigma, I identified an opportunity to improve how critical operational information was being sent to key stakeholders at five different worksites. The benefit reduced costs and eliminated the risk of people accessing out-of-date information in error. The Production and Logistics plans and schedules are very large excel files that were being sent as an attachment via email on a daily and weekly basis. This was impacting the entire integrated planning chain because people's inboxes would fill quickly (especially when they were off site), new people were often missed off the distribution list and had no way of obtaining the information to perform their work, and there was also the risk that people would access out of date information by viewing old emails. For my initiative, I developed an intranet site to contain all the relevant information in a central location where updates could be sent to stakeholders via a link. This way, everyone could access the latest information at all times and the cost of storing information was reduced significantly.