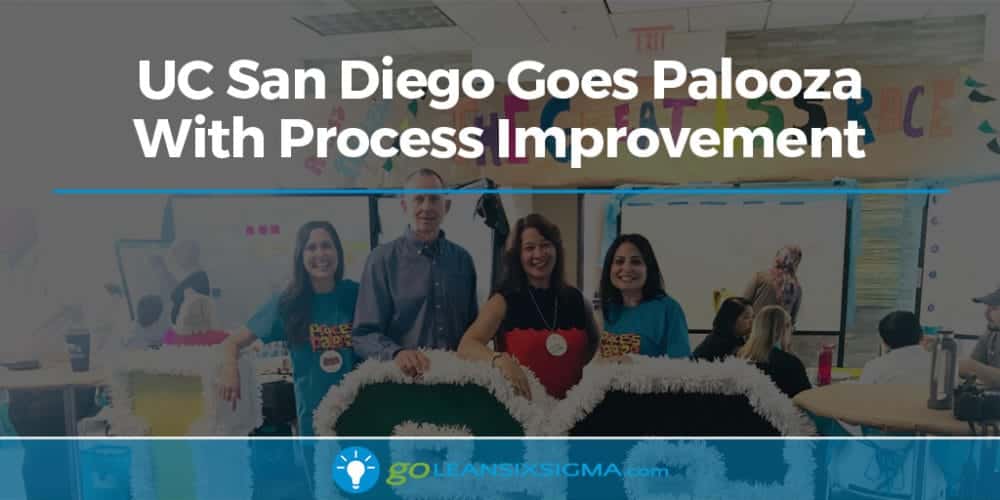 On November 8th, UC San Diego recently conducted its first-ever Process Palooza, a day-long conference and competition focused on continuous improvement through Lean Six Sigma techniques.
The goal of the event was to strengthen the community of Lean Six Sigma peers, at UC San Diego as well as encourage more employees to incorporate process improvement into their job.
More than 400 UC San Diego employees signed up to attend and learn first-hand from their colleagues about how process improvement can save money, streamline operations and improve service.
Watch the Entire Livestream Webcast!
00:03:59 – Kicking off Process Palooza with Ric Van Der Linden & Tracy O'Rourke
01:35:24 – Tracy interviews the process owners Heather Belk & LaWana Richmond
01:57:58 – Ric and Tracy discuss the judging criteria for the teams
03:46:05 – Ric and Tracy talk with the process owners about the team progress
04:52:19 – Tracy interviews Lynn Underwood – the person who pulled the event off!
05:05:17 – Tracy kicks off the presentation portion of the event and announces the judges
05:08:27 – Team presentations (6 teams allowed 10 minutes each to present)
06:19:52 – Tracy interviews Eliud about which team he thinks will win
06:28:10 – Tracy interviews Justin Clow, a participant and team member of the Sunshine Squad team
06:49:47 – Tracy announces the awards for Best Team Player and Team Winners for Process 1 & 2
Do you have a Lean Six Sigma event that you want to highlight? Let us know about it!