But, you have some questions. Big questions, like:
How do I get started on my first project?
Once started, what do I do to keep my project on track?
Who needs to be involved in my project?
What if I don't have any improvement ideas?
And the list could go on. You may have a few concerns as well, such as:
While the training was great, I'm unsure if I can do this.
What if I mess things up?
I don't have the time for this.
As a Yellow Belt, you want to begin your process improvement journey with the proper level of challenge and the best project path. In other words, a beginner project should take the approach of doing beginner-level improvements. That is, improvements made by gathering clues from directly observing a process and looking at it with a fresh set of "eyes." You don't even need a specific problem to solve because most processes have plenty of improvement opportunities. You only need to spot a few to make a real difference.
When using this fresh perspective, clues become visible. Some clues are directly actionable, while others may need more investigation. The good news is, once these clues are understood, the solutions become obvious. At that point, you are ready to implement improvements and see results.
"OK," you say, while this makes sense, that doesn't tell me the "How"! That's where Kure comes in.
Automate Your DMAIC Projects With Kure
Kure is a project management app that automates your Lean Six Sigma DMAIC project. With Kure, you can complete projects faster, with better results. Kure helps you get started and stay on track, using best practices and expert guidance to help you avoid common pitfalls whether you are a Yellow, Green or Black Belt.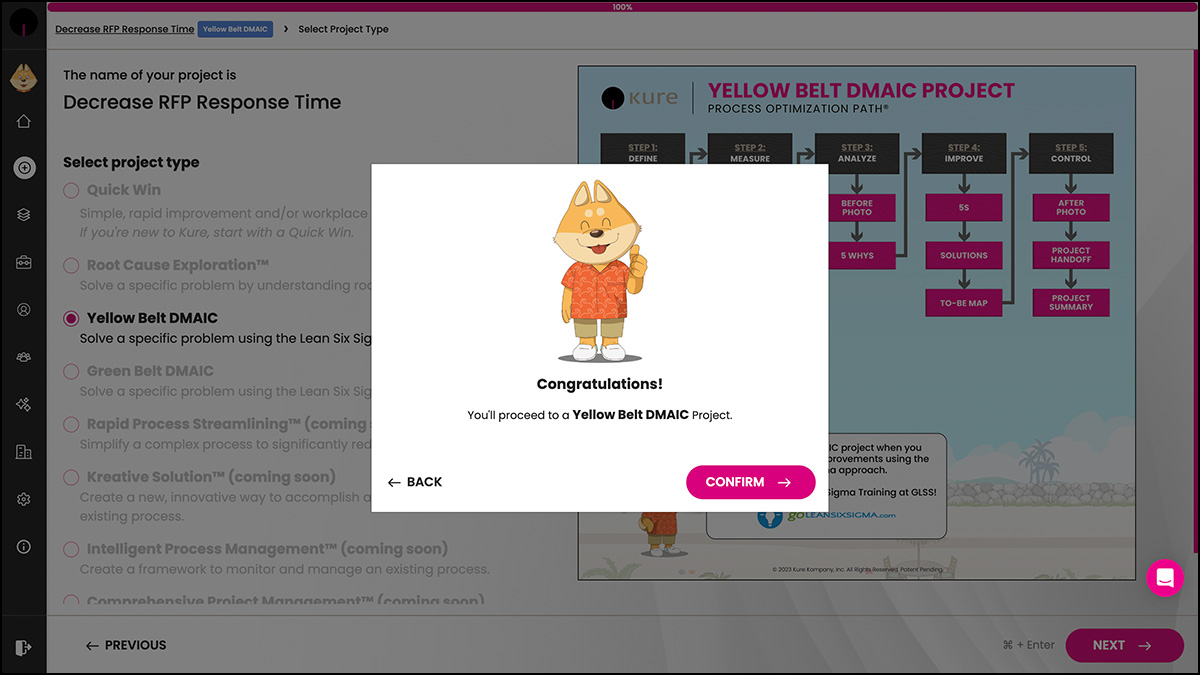 Easily Start Your First Lean Six Sigma Project
All you need to do is answer a few simple questions and Kure will help you define your project. Once defined, Kure will lay out a project path using the most commonly used Yellow Belt tools to guide you through a fast and effective project. You'll always know what to do next.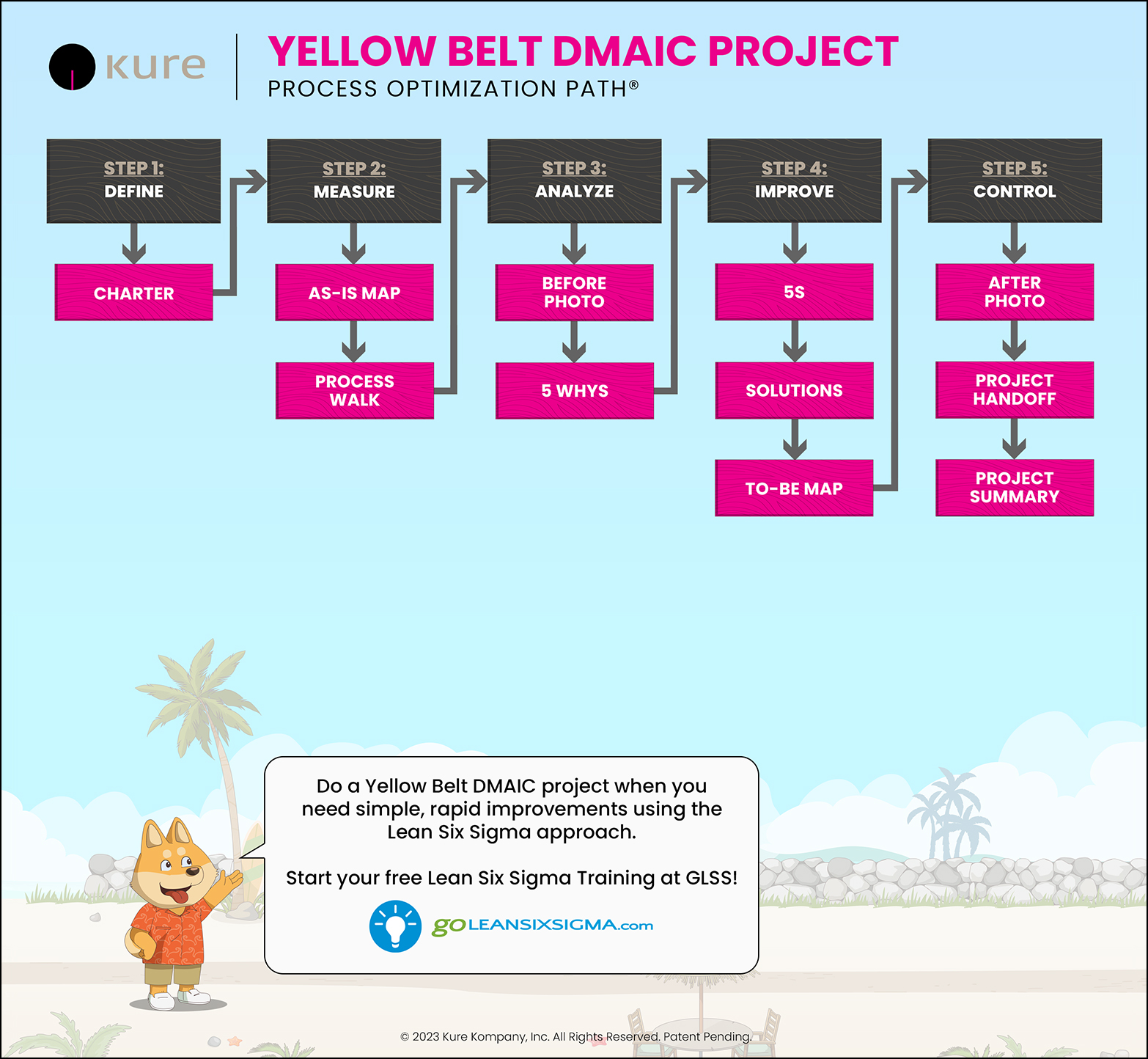 Involve the Right People in the Right Way
A common project pitfall is not effectively involving people. With Kure's expert advice, you will not only know what needs to be done but who needs to be involved. Kure will help you identify Team Members along with your Process Owner—the person who manages the process you intend to improve. This will be summarized in the Charter.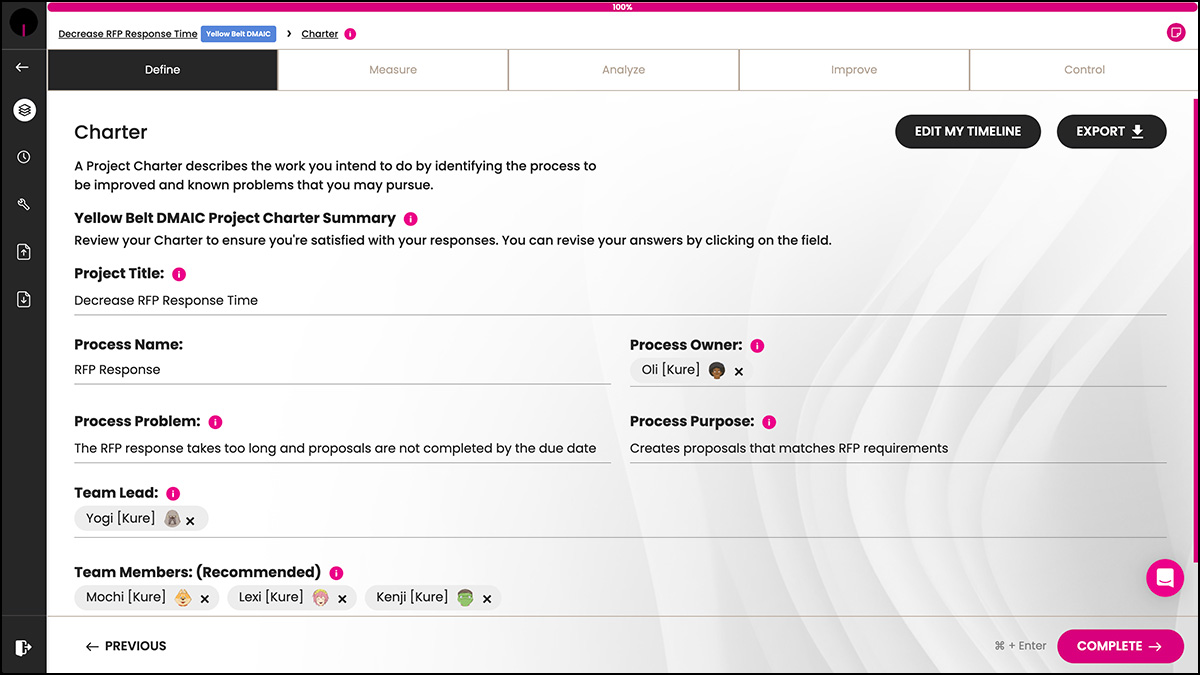 You can export the Charter (and all your project tools) to a PDF to share and review with the Process Owner, Sponsor and Stakeholders.
Stay on Track
With Kure's auto-generated Project Timeline, you have a detailed list of what needs to be done and by when. Kure develops the timeline based on Lean Six Sigma best practices, which can be adjusted as needed. You'll also be able to assign tasks and due dates to team members, with Kure automatically tracking completion.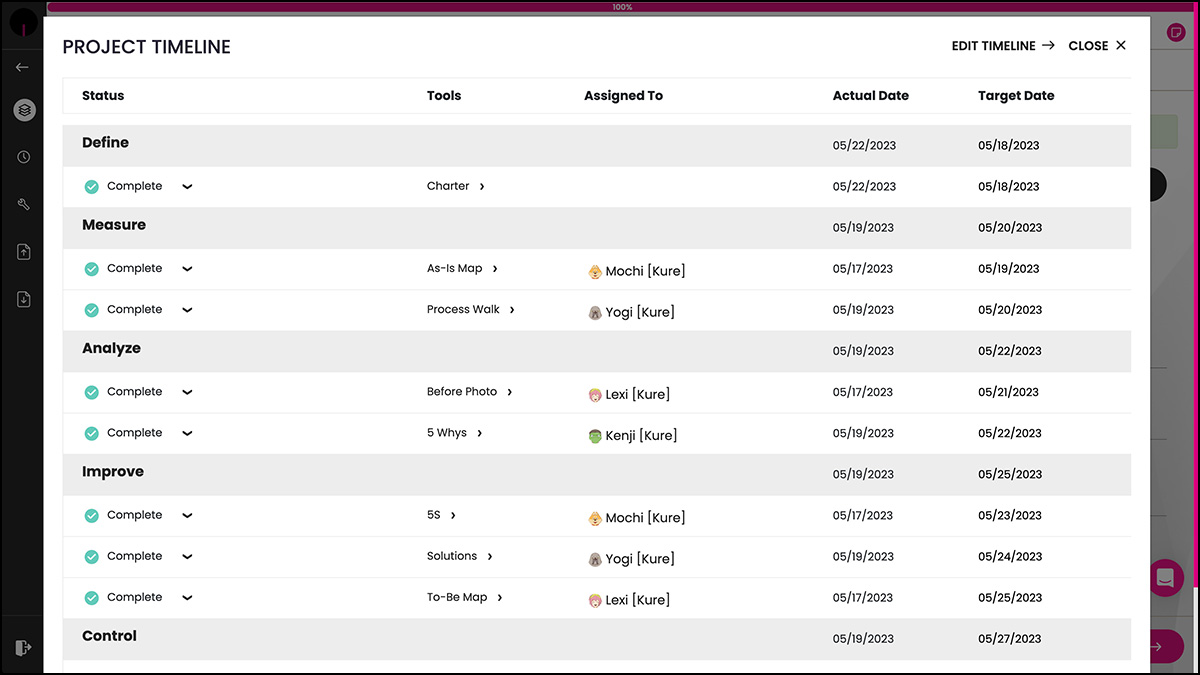 Collaborate and Communicate on Project Work
Team members can include comments on all the tools, allowing the team to work together anytime. Collaboration can occur outside of team meetings, moving the project forward while the tasks fit into everyone's busy schedule.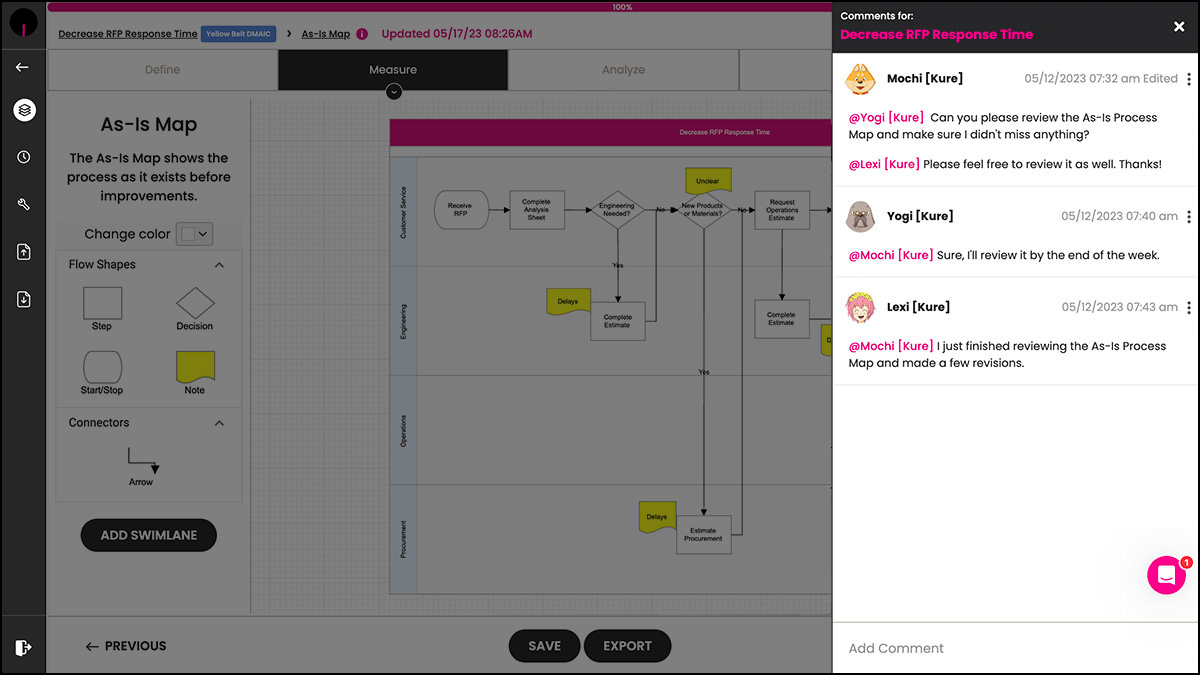 Easily See Improvement Opportunities
Kure will help you to clearly "see" your work process and quickly identify improvement opportunities.
With the process mapping tool, you can easily create an As-Is Process Map to document how your process "actually" works—or how you think or wish it worked.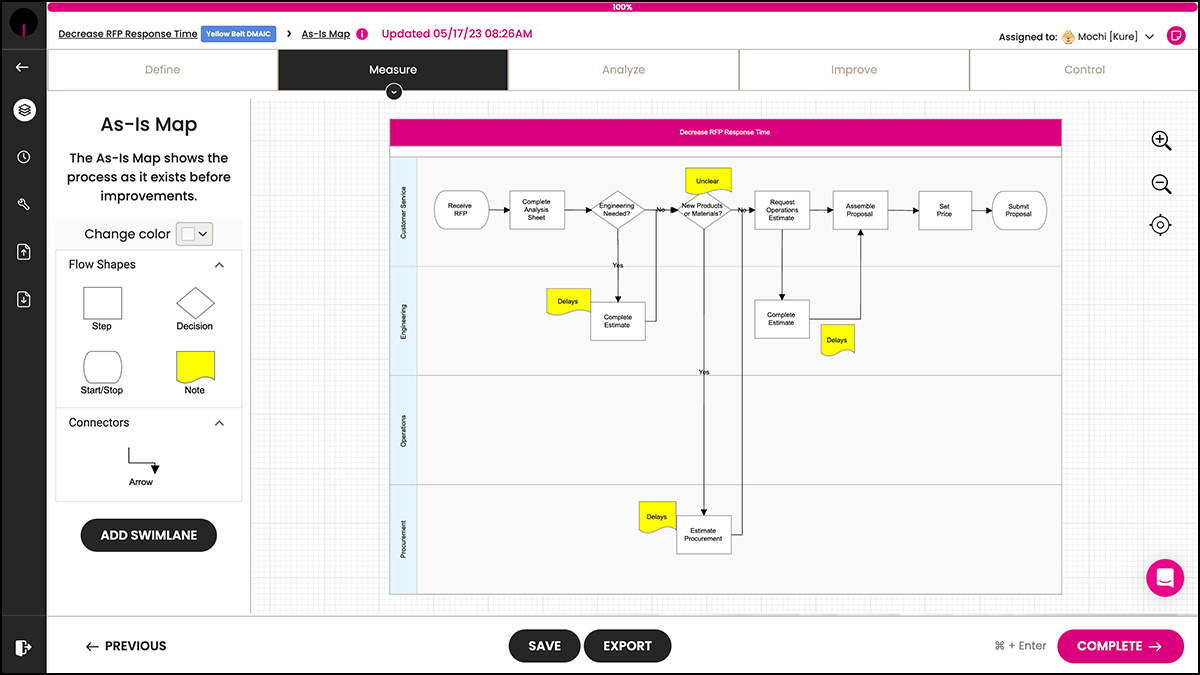 To start identifying improvement opportunities, Kure will guide you through a Process Walk, which is an investigative tour to analyze the 8 Wastes and other problems in your process.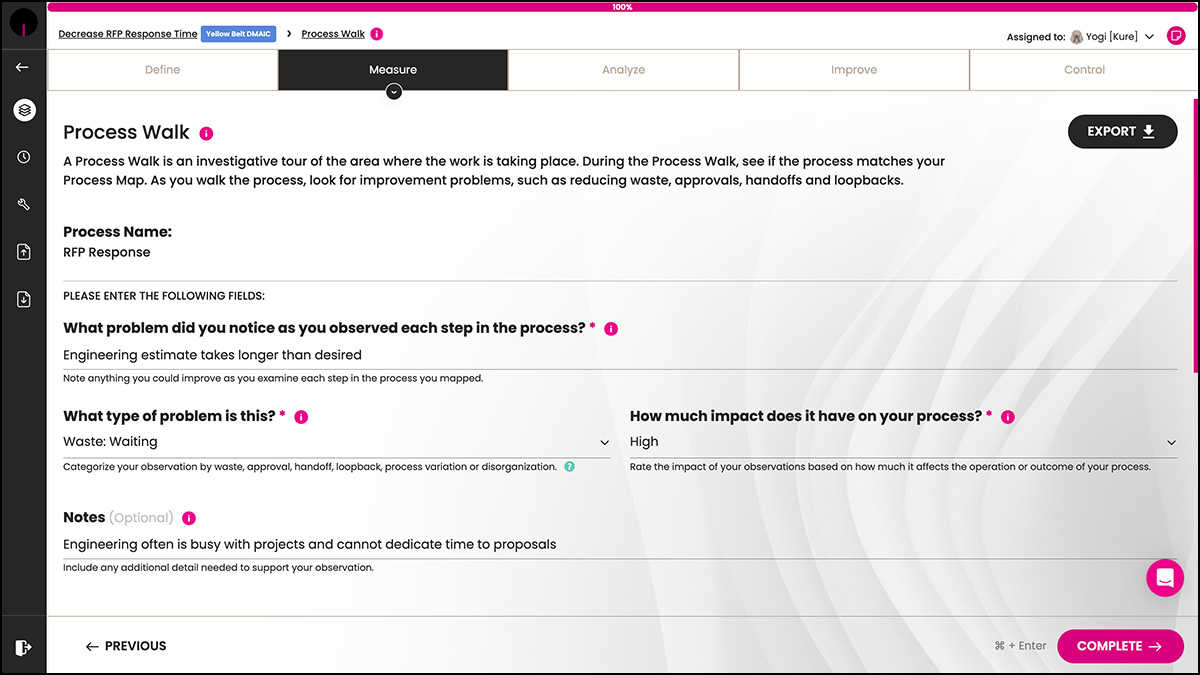 You may be wondering, "What if I find too many problems!" Generally, the more you look, the more things you'll find that need improvement. Your Yellow Belt project is intended to ease you into implementing improvements—not bury you.
If you do find more opportunities that you can pursue, use your team, along with your Sponsor, to prioritize what needs immediate attention. The other opportunities can be additional projects—either Yellow, Green or Black Belt level. With Kure, you can easily record them as Raw Ideas in the Portfolio to be reviewed and addressed later.
When more investigation into the problems is needed, Kure will guide you through root cause analysis using the 5 Whys tool.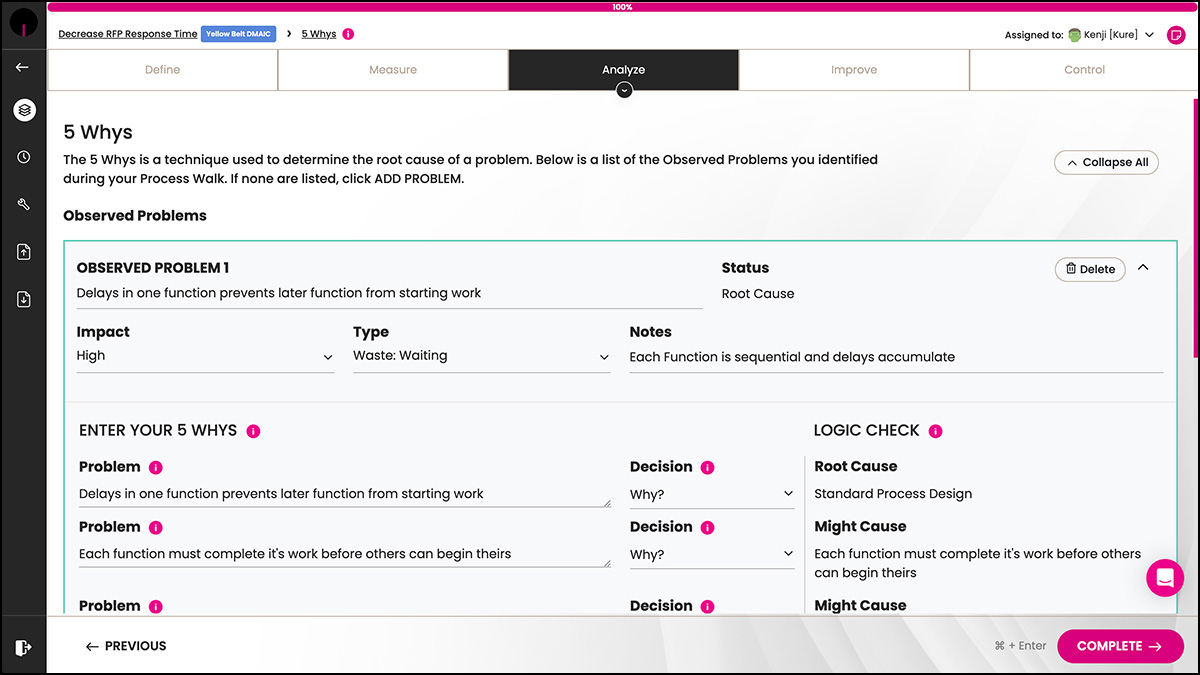 Improvements That Get Quick Results
If you identified disorganization as a problem in your process, then Kure AI will guide you to implement 5S and create an orderly and intuitive workspace.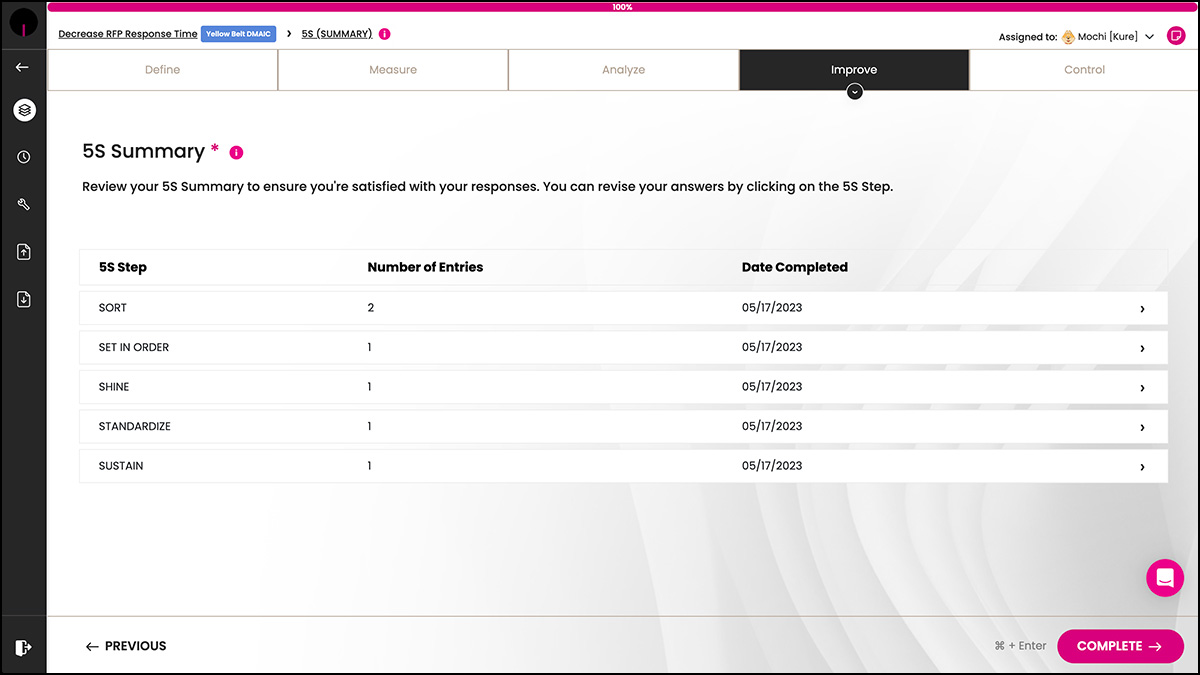 Kure will also help you develop solutions to the root causes of the other problems you identified. With a focus on Quick Wins, Kure helps you develop the solutions that will provide the most impact for the least effort.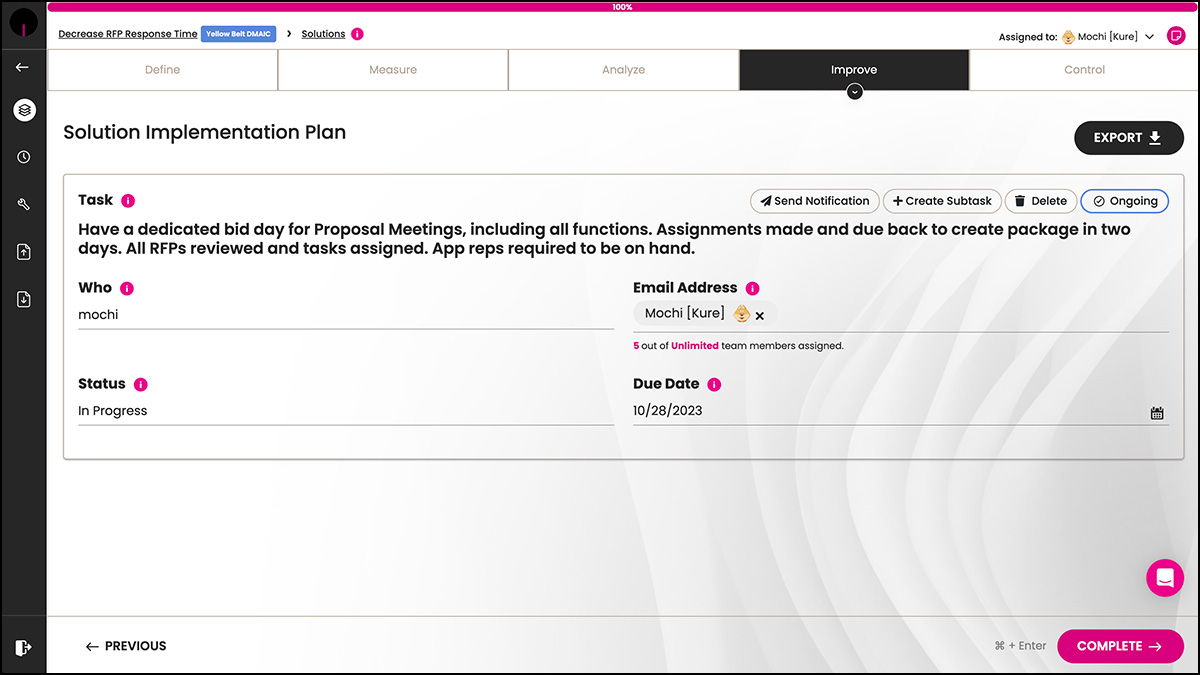 Kure makes it easy to document your improved process with the ability to copy your As-Is Process Map into the To-Be Process Map. Then you can edit the To-Be Map to describe the improved process and use it to communicate to stakeholders and train staff.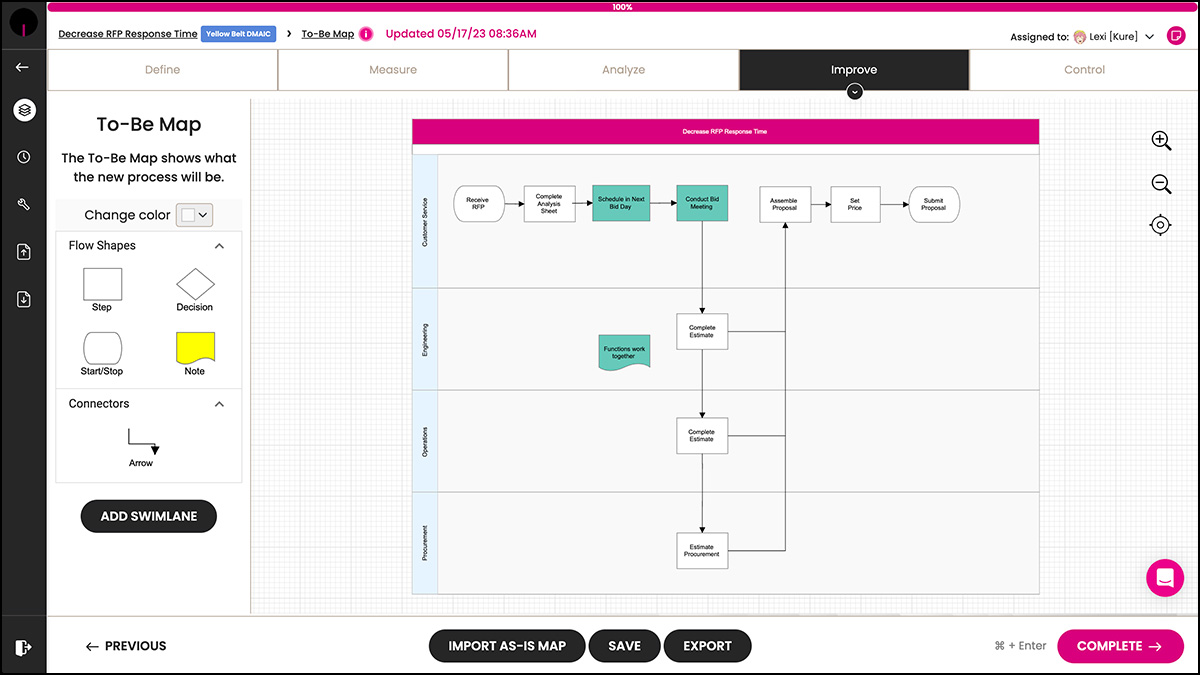 Seamless Project Handoff
With Kure, you'll know when and how to close your project. The Project Handoff details the information to provide to the Process Owner and makes a clean handoff.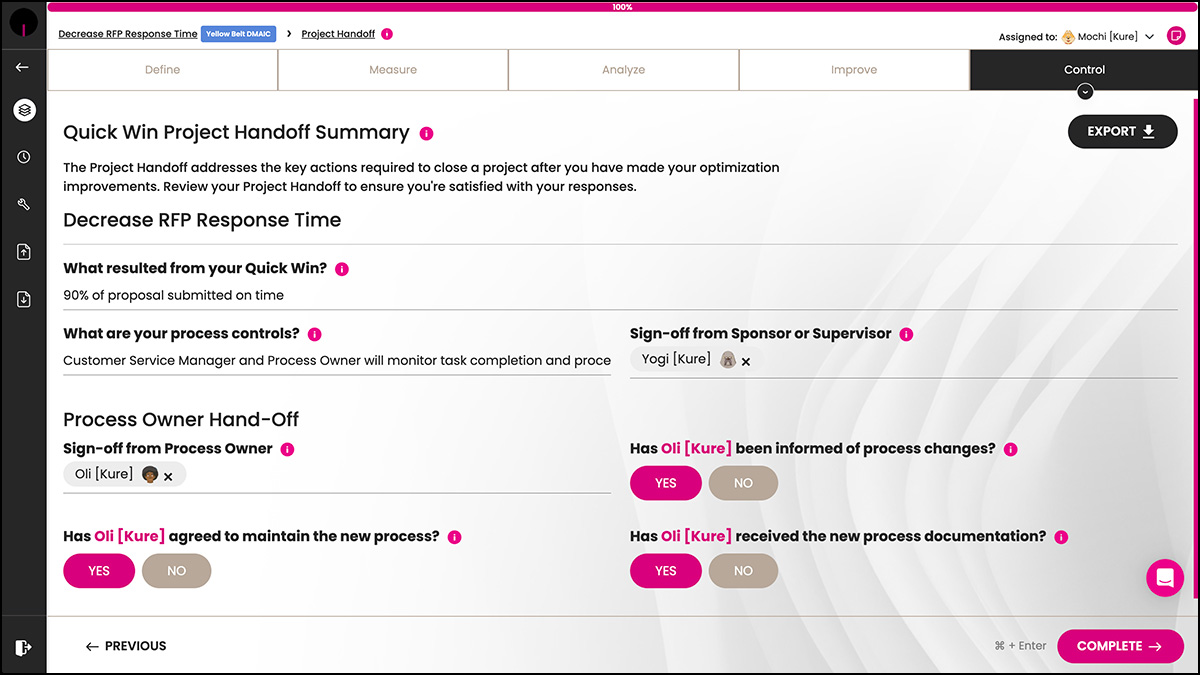 Automatic Project Summary
Kure saves you from the tedious work of generating status reports and project storyboards by automatically creating a summary of your project. You can export your summary and project information and share your success!
Help When You Need It
Kure provides help throughout your project in multiple forms–tooltips, explainer videos, blogs, tutorials, and live coaching as needed.
Kure gets you started, lays out the best path, and then guides you step by step. You'll spend less time with your questions and concerns and more time making improvements happen! Kure makes your projects faster and easier to do.
One more thing: Kure will help you grow in your process improvement knowledge and skills. As you gain experience, Kure can guide you through your Green Belt and Black Belt level projects.
Start using your new Yellow Belt skills now with Kure and see for yourself!