There are numerous online Lean Six Sigma Green Belt Training providers, but they all typically utilize the same process when it comes to delivering online training. At first, the Green Belt Training process may seem overwhelming and complicated, but in reality, it can be broken down into a few key steps.
Green Belt Training usually takes one to two weeks to complete. There are two main parts:
Training of Green Belt concepts and tools
Exam of Green Belt concepts or tools
Good Lean Six Sigma Green Belt training courses will intertwine lecture and application, which most training courses do. However, great Lean Six Sigma Green Belt training courses will keep you engaged, allowing you to easily absorb and learn the variety of different ideas more effectively and quickly – saving you time and money.
The Online Green Belt Training Structure
Introductions & Selecting the Best Projects
Training usually begins with introductions. This includes some background information on your instructor or training provider. If it's a live training, you may also be able to learn more about your classmates. This allows you to collaborate and communicate with others throughout the course of the training, which empowers the students/participants to learn from each other and generate new ideas that could potentially solve real-world problems at their jobs (and even in day-to-day life!).
Following introductions comes a high level overview of what process improvement, Lean Six Sigma and the structure of the training will be.
Next, comes guidelines on selecting the best projects. It's important to understand which projects will benefit your process improvement/Lean Six Sigma initiative the most. Being strategic is one of the biggest factors to take into consideration when selecting projects. Quite frankly, it could make or break the entire Lean Six Sigma effort. Your trainer or consultant may provide you with additional support when deciding the best route to take when selecting your projects.
The Meat of the Green Belt Training – DMAIC
The largest portion of Green Belt training is the learning of the DMAIC process. DMAIC stands for Define, Measure, Analyze, Improve and Control. You can learn more about the DMAIC process here. Each phase of DMAIC will have its own chapter. Throughout each chapter for each phase, you'll learn about Lean Six Sigma tools (like SIPOC, Value Stream Maps, Project Charters and much more) and how to use them properly. Templates should be available for download and support from your instructor should be available should you have questions or need clarification on how to properly and maximally utilize them.
Here's a quick summary of each chapter and what you'll learn how to do: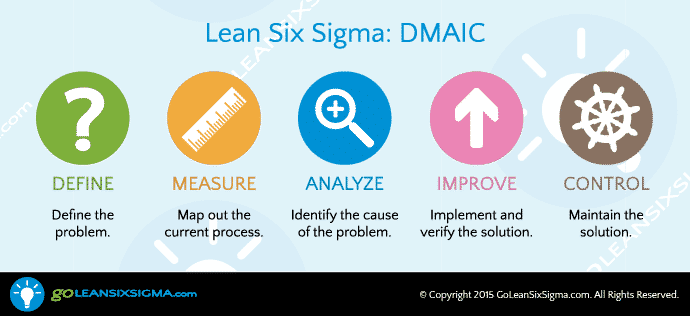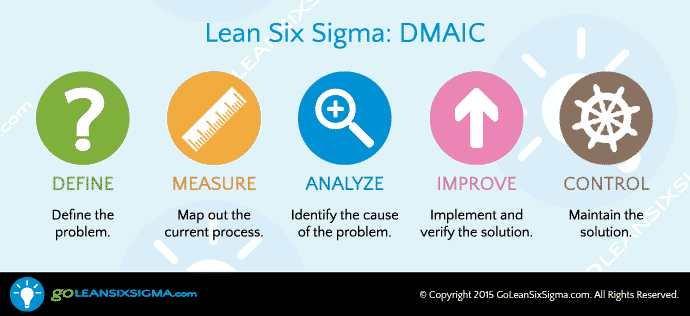 Define: Define the problem and what is required to satisfy your customer.
Measure: Map the current process to collect data.
Analyze: Investigate and identify what causes the problem.
Improve: Implement a fix that will solve the problem.
Control: Sustain the improved results.
The Green Belt Exam and Green Belt Certification
After training is complete, most people seek to obtain Green Belt Certification. In order to become Green Belt certified, you must complete an examination as well as complete a successful Green Belt project which will be verified by a consultant via a storyboard and interview over the phone or online.
It is up to you to be diligent and research your training provider to learn about the specifics of their training and their certification process. Things like how effective their Green Belt training is and how satisfied those who have gone through their training are good places to start.
Although there are dozens of Green Belt training programs available online, not all of them are created equally. Be sure to confirm that the training provider is credible, responsive and active by exploring their website and requesting a demo of their online Green Belt training. Most will be happy to provide you with a training demo so you'll get a real feel of how their training works. Remember, Green Belt training usually takes two weeks or ten days, so ensuring that their training keeps you engaged and is effective for you is important as it will require your precious time and effort!
What's Next