Attending a great process improvement conference can change your life. But sometimes you're so busy you missed hearing about the iconic keynote speaker – and they were just 20 minutes away!
Don't you hate learning about these events after the fact? Sometimes you can arrange to download videos, but it's not the same. Well now you can plan ahead. Process Improvement, Lean, Six Sigma, Operational Excellence – it's all here at a glance.
Have an event you'd like to suggest? Please add it in the comments below!
Featured Events
At Instant Impact 2018, Project Management Institute's fifth annual development event, attendees can expand their knowledge, hone their management skills, learn from active practitioners and learn all about the tools, techniques and strategies that support personal and professional growth. This conference will feature exciting speakers addressing topics focused on project and business management. Learn more here.
The AME 2018 conference will explore the big changes making waves in manufacturing. From the "internet of things" to artificial intelligence, virtual reality, wearables and more, the AME conference is the gold standard for peer-to-peer shared learning on lean and continuous improvement, and the San Diego conference will be no exception. Learn more here.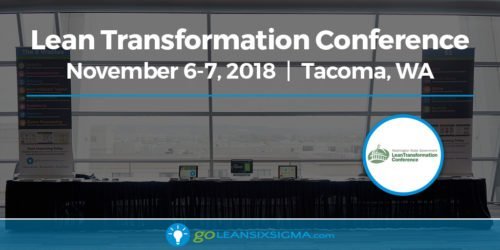 At the annual Washington State Government Lean Transformation Conference, hosted by Results Washington (part of the governor's office), people can share ideas and inspiration about using Lean thinking in government. Attendees deepen their understanding of Lean principles and tools in dozens of sessions led by local and national leaders in Lean. Learn more a register here.
January 2019 Events
Opex Week: Business Transformation World Summit 2019
January 21-25 | Orlando, Florida, USA
March 2019 Events
Lean Transformation Summit 2019
March 27-28 | Houston, Texas, USA