You can now register at one of the world's leading educational institutions, San Diego State University, to complete your Lean Six Sigma Training & Certification for Yellow Belt, Green Belt, Black Belt and Lean.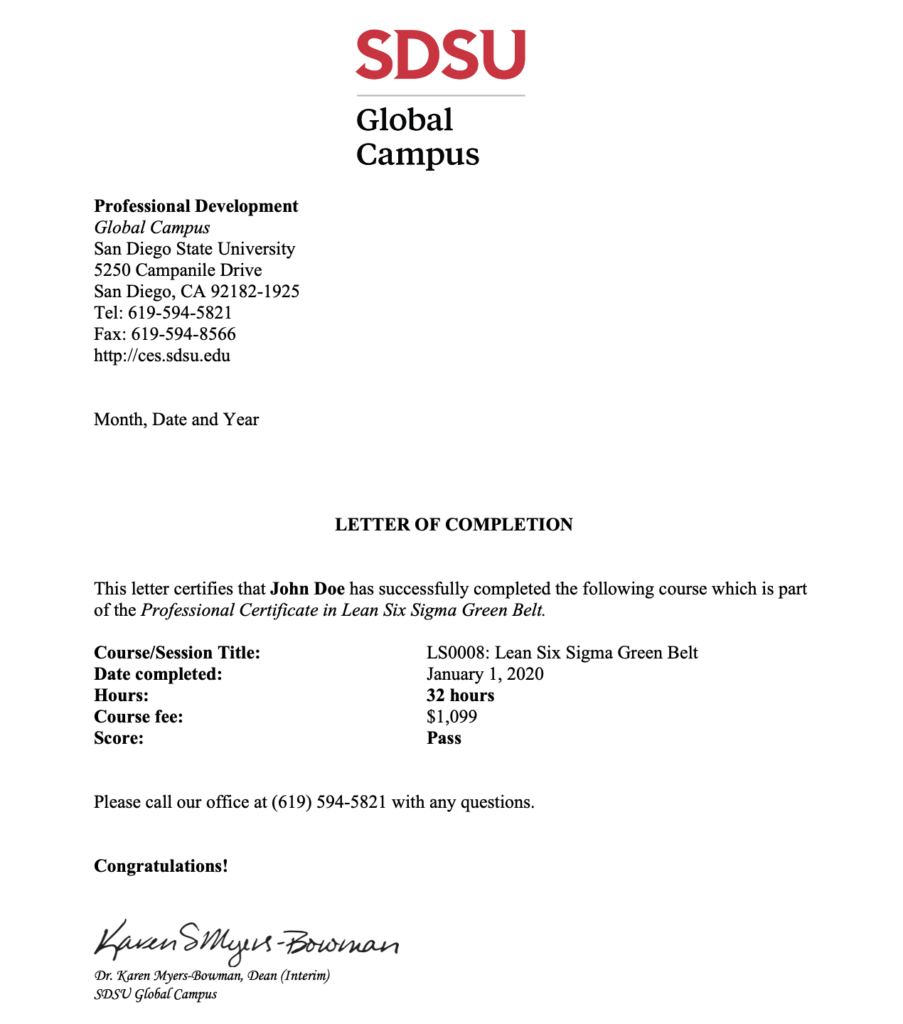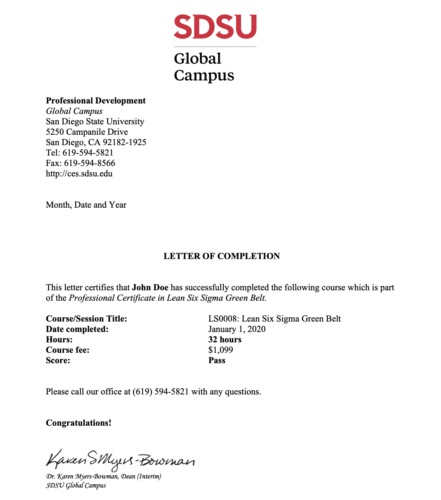 Receive a Letter of Completion from SDSU upon certification
What Is Lean Six Sigma?
Lean Six Sigma is a popular approach that many organizations use to help build problem-solving skills among employees. Learn more about Lean Six Sigma.
The Best of Both Worlds
GoLeanSixSigma.com is both excited and honored to collaborate with SDSU to offer its globally-recognized courses because its approach to learning is leadership inspired, diverse and provides transformational experiences. In addition, because all of the GoLeanSixSigma.com courses are 100% online, SDSU's student base will expand across the globe.
With an enrollment of more than 30,000 students, SDSU's mission since its inception 1897 is to "provide well-balanced, high quality education for undergraduate and graduate students and to contribute to knowledge and the solution of problems through excellence and distinction in teaching, research, and service."
The university is home to top-ranked graduate programs in business, engineering, public health, fine arts, education and more.
The direct connection between GoLeanSixSigma.com and SDSU will allow students to enroll in exclusively online certificate programs in:
Lean Six Sigma Training & Certification Is Ideal For…
Students and career professionals looking to strengthen their problem-solving skills and improve their ability to perform root cause analysis
All organizational levels planning or implementing a Lean Six Sigma initiative, including directors, managers, supervisors, leads, and front line staff
Career professionals including but not limited to health care, finance, insurance, food and beverage, electronics, construction, product manufacturing, call centers, gas/utility, service, and administrative functions
Personnel from operations, human resources, information technology, production, quality, supply chain management, inventory control, customer service, and accounting
Government and military employees and contractors
All industries and functions including both service and manufacturing
At GoLeanSixSigma.com, a key part of its mission is to ensure a brighter future for all – this includes empowering youth with the ability to think critically, giving them the skills to make good change happen, and to create a world of problem-solvers.
To register for any of these courses, please visit: www.ces.sdsu.edu/LSS
---
Questions?
SDSU: Jonathan Rhodes, Program Manager, jrhodes@sdsu.edu
GoLeanSixSigma.com: James MacCallum, Directo of Operations, james@goleansixsigma.com