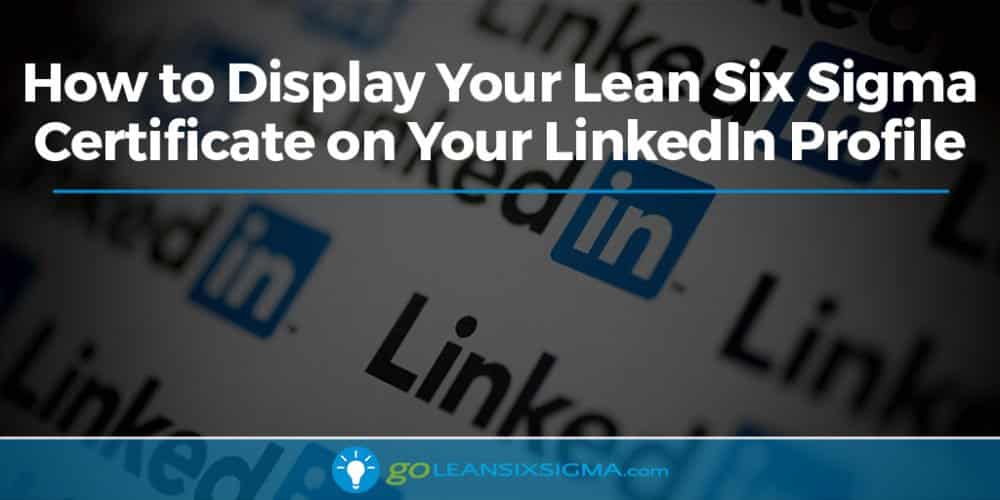 With more than 300 million members, LinkedIn is the go-to professional network to show off your skills and stand out. A great way to stand out is by adding Certifications to your profile.
Certifications are a great way to showcase your professional achievements on your LinkedIn Profile.
Here's the easiest way to add your GoLeanSixSigma.com Certificate(s) to your profile:
Before beginning, please download your PDF certificate by logging into your account here and clicking the "download my certificate" button next to your completed course.
Add your Certificate to your LinkedIn Profile in just one click for:
Lean Six Sigma White Belt Certification
Lean Six Sigma Yellow Belt Certification
Lean Six Sigma Green Belt Certification
Lean Six Sigma Black Belt Certification
Lean Certification
Here's the manual way to add your

GoLeanSixSigma.com

 Certificate(s) to your profile:
1. Log into your LinkedIn profile, and go to "View Profile"
2. On the right hand side, Click "Add new profile section"
3. Under the "Accomplishments" heading, click "Certifications"
4. Enter the Certification Name – this is the name of the course. Ex: Lean Six Sigma Yellow Belt
5. Enter "GoLeanSixSigma.com" as the Certification Authority
6. The License Number is where you will input your Certificate Number.
7. The Certification URL is the Certification Authority's website. In this case, GoLeanSixSigma.com
8. Input the month and year you received your certification. Be sure to select, "This certificate does not expire"
9. Save and you're done!