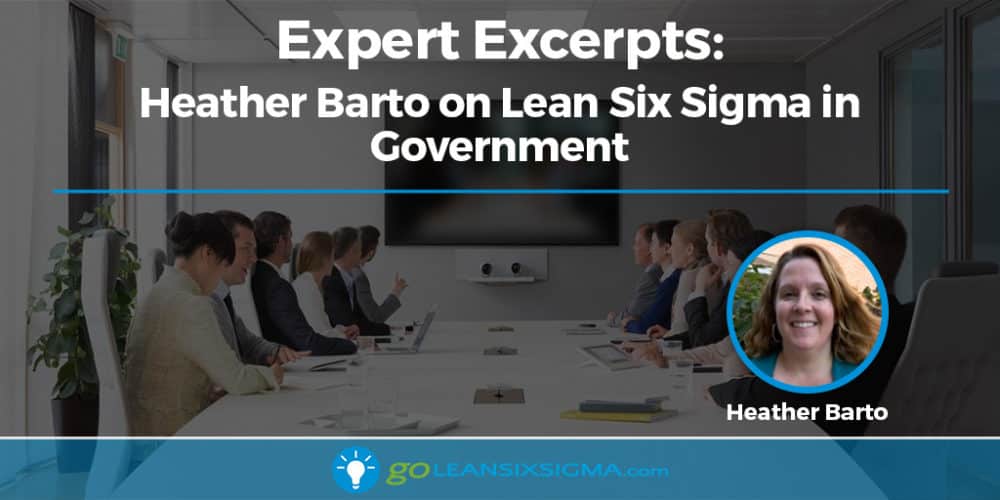 Whether you're just starting your Lean Six Sigma journey, or you're in the middle of improving a process, guidance from Experts can help make your efforts easier – and more successful! In this Expert Excerpt, we interview Heather Barto who shares key insights to being successful with Lean Six Sigma in the Government.
Heather Barto has been with the New Hampshire Department of Health and Human Services for nearly 20 years. Heather is currently supporting the department in a senior process improvement leadership role. She contributes to the advancement of Lean in New Hampshire with legislative work, training support, various mentoring and coaching roles, and project facilitation. She serves as an advisor for the New Hampshire Bureau of Education and Training Lean program. She serves as the co-chair of the New Hampshire Lean Executive Committee and leads efforts with strategy to provide faster and smoother services to the citizens of New Hampshire who interact with state government. Heather, along with support from the New Hampshire Lean Executive Committee, has recently published the first ever New Hampshire Lean Annual Report that begins to tell the story of the value in state government.
What advice do you have for someone who is getting started with applying Lean Six Sigma in Government?
The best advice for anyone who is starting to apply Lean Six Sigma in government are these 3 things: find a mentor, prepare to be resilient, and meet people where they are. A mentor is an invaluable asset as a person begins their journey to apply concepts, understand the methods, engage with teams, and communicate with leadership. The ability to press "Restart" or "Reset" for each setback with programmatic planning, project challenges or team member engagements is a pivotal component of being successful.
The last recommendation is not to present Lean Six Sigma to team members with too much or too little complexity; meet them where they are with concepts, methods, and information. There is nothing worse than sitting in a class or meeting only to realize there is no value for the attendee. Communication skills, insight, and respect for the current work are all necessary to ensure successful Lean Six Sigma application at any level in an organization.
What are some common mistakes you see people making when applying Lean Six Sigma in Government?
This is an excellent question and important to talk about. Often when we think about change we think about making changes to people as opposed to with people. In order for a change in any process to have the best effect with people, you must include the subject matter experts. The subject matter experts have ideas, solid solutions, and invaluable insight into the current approach and work methods.
Gemba Walks can gather the intel needed to make an informed question or decision. Working in government means you are serving the public; whether it's working with an individual or an entire population. There is a need for the ability to be humble and mindful of your role in state government balanced with the ability to model change. We accomplish the majority of our work and successes through influence and not authority. Authority is not always necessary, especially when we take the time to develop valuable relationships.
Why do you do what you do? (What motivates you?)
Every aspect of process improvement motivates me to do better every time. Self-reflection is critical and required in this line of work. At an early age, I knew I was hardwired to continually evaluate situations, people, and processes. In my earlier professional years, I worked as a recreation therapist. With this bachelor's degree and type of training, assessment, planning, implementation, and evaluation are built into the academic and professional environments. This was the groundwork for me to work in Lean; it was a natural progression of skills with leadership, insight, and above all working with people.
As I advance in my career, those foundational skills are very much present today. The nature to give back through coaching sessions and mentoring in creative venues feeds my innate duty to both lead and influence people. It's the people aspect that motivates me with Lean.
How does New Hampshire use Lean Six Sigma?
New Hampshire adopted Lean 10 years ago.  Early on the application was focused on a Continuous Improvement Practitioner model, which has been updated, with approaches and training changes, into a belt system. The Six Sigma DMAIC model, especially the Measure Phase, is continuing to rapidly evolve with additional training and a community of support providing coaching and practice opportunities.
This year, the first ever Lean Annual Report was published in New Hampshire. This is the early portion of telling the story with Lean work and the value it provides on many levels. We have made some really important and wonderful strides, with plenty more work to do, with a particular focus on the customer service aspect in government.
What's your favorite application of Lean Six Sigma in your personal life (away from work)?
What a fun question! I have been using Lean concepts at home with my daughter Olivia for years and now with my son Blake. I started with a few "at-home mini-experiments" to highlight the value of efficiency and freed-time capacity with loading and unloading the dishwasher. Do you know how much momentum is gained when as a parent you offer "more free-time for playing?" We had fun exploring the concepts and tools. We compared how long it took to load the dishwasher "any-old-way" versus grouping like-items such as cups, silverware and reviewing the manufacturer booklet for proper loading of items.
The most recent application of Lean Six Sigma at home has been finding "home process waste" when planning our week with lacrosse practices and games. We used checklists (mental and physical) to assist with error-proofing, and the PDCA model to perform a pilot run-through of game-day prep and made adjustments in the flow as a family.
The ultimate success for me at home was when my daughter entered middle school. We realized when she was about 5 years old that she needed help and teaching on "how to" organize her personal items in her backpack and while at school. Rather than doing that for her, which would not provide the learning lesson, I began breaking each activity, assignment, and chore into micro steps. PDCA was very much part of the discussion as was root cause analysis.
Fast forward to today—she is on the honor roll, plays multiple sports, practices the trumpet regularly and was even promoted to "Teacher's Assistant" in a life-skills class to model for her peers. The first demonstration she provided for her friends was how to use and open a combination lock for their school lockers. Her ability to proactively problem solve any situation has been stellar.
Have a question for Heather? Please feel free to ask in the comments below.