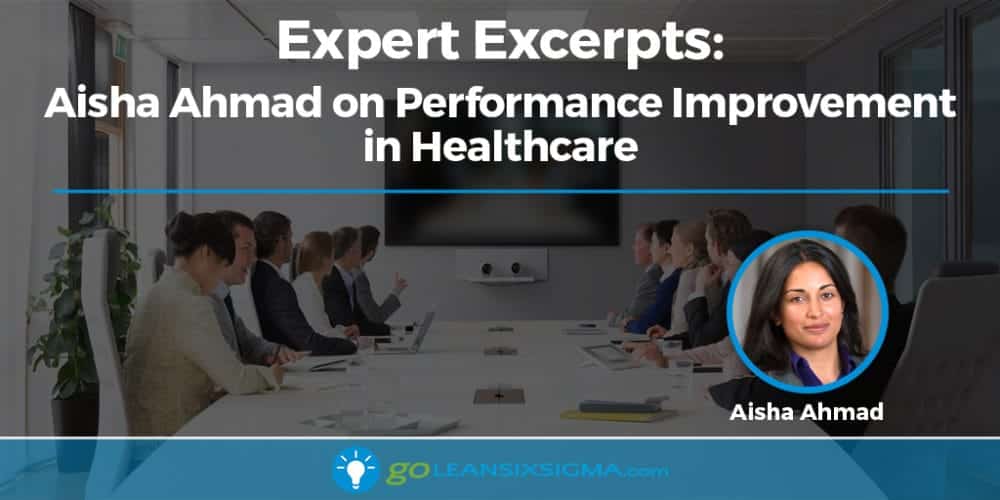 Whether you're just starting your Lean Six Sigma journey, or you're in the middle of improving a process, guidance from Experts can help make your efforts easier – and more successful! In this Expert Excerpt, we interview Aisha Ahmad who shares key insights to being successful with performance improvement in the Healthcare industry.
Born in Libya, raised in Saudi Arabia and ethnically Pakistani, Aisha Ahmad went to undergraduate and graduate school at the University of Iowa and did her post graduate studies at Stanford University Medical Center. Aisha was sponsored for US citizenship at Stanford for her unique skillset in healthcare performance improvement. She currently works for MemorialCare, a large 4-hospital system in southern California, and resides in a small beach town of Los Angeles County. Always up for trying something new, Aisha recently took up sailing and travels on international humanitarian trips as often as possible.
What advice do you have for someone who is getting started with applying performance improvement in Healthcare?
I've learned a lot of different philosophies in performance improvement and the one that has always resonated with me is Toyota's Lean Production System. As a big believer in Lean, I would advocate for involving customers (in healthcare, our customers are patients and their families) in every improvement effort. Ask them what improvements they would like to see and invite them to participate in your Lean events so your healthcare process change is focused from the patient and their family's lens.
What are some common mistakes you see people making when applying performance improvement in Healthcare?
Making decisions in silos, making changes and improvements to the work that others are doing while not involving them in the process and forgetting to ask patients and families what they would like to see happen with the process and the system are common mistakes. Also, I often hear "I'm making changes because my boss wants me to." Get to the root of why your boss wants you to make those changes. Ask yourself — how will the changes we are making impact the overall operations, strategy, or culture, and how will we make things better for the patient and his/her family? That's probably why the boss asked.
Do you have any pet peeves related to applying performance improvement in Healthcare?
Analysis paralysis! Data is great and necessary but sometimes performance improvement folks get bogged down with too much analysis and this impedes action. I say, gather data and evidence and then take action! Aim to make a 50% improvement from where you're at today. And keep practicing your Plan-Do-Study-Act cycle. Slowly but surely, you'll move forward, even if it's incrementally. And you can adjust the direction so you are moving in the right direction always.
Is there anyone who has significantly influenced you over the years?
My dad was a physician administrator (a radiologist) who passed away about nine years ago. I started off in medical school both because of interest and because I always wanted to be like him. We lived in Riyadh, Saudi Arabia, and I remember sometimes when I would go with him to work, patients from villages far away would come to see him because he was known to be a smart and kind doctor, and a family man. While most girls were drawing pictures or playing with dolls, my dad would teach me to read x-rays, practice ultrasound exams, and play soccer and chess.
My mom has now taken the place of my dad as a matriarch and I am thankful to both of them for providing us an incredible childhood at an American School overseas. My mother, my sister, my brother-in-law and his family are all very influential in my life, as are my best friend and her family, who I consider my second family. We are multicultural and global and yet maintain strong midwestern America ties and values.
Is there anything that impacted your view of healthcare?
The experience of growing up in Saudi Arabia gave me the opportunity to see how privatized/government-subsidized medicine was practiced there in the 80s and 90s and it's interesting now to compare it to our (USA) shift in healthcare policy and government-subsidized care here. It's cool to have experienced two very different cultures with similar models that manifested themselves differently because of how health economics play out around the world.
Why do you do what you do? (What motivates you?)
At the end of the day, performance improvement is about behavior change, breakthroughs, and about doing work drastically differently than it has been done before to achieve outcomes that haven't been achieved before. I absolutely love leading people through that journey of self-discovery to find and overcome barriers within their own processes and to see how their role fits into the larger puzzle of the medical center. Our work essentially has to do with taking in patients from the outpatient arena to inpatient medical centers and then helping heal them so they are provided a safe journey back to their home.
When I'm bringing together a group to do improvement work, it's often overwhelming for team members to come in not knowing what to expect, learn new Lean concepts and principles, and then to look at their daily work from a different lens. Our Rapid Process Improvement or Design events are usually from 3-5 days (Monday to Friday) once or twice a month. They are often more than 70 hour work weeks with preparation before the team arrives and synthesis after the team leaves every day.
What keeps me going is when I see that twinkle or gleam in a team member's eyes (usually on Day 2-3 of the workshop) when things just start coming together and the team member just gets it, and starts realizing how the Lean concepts, tools, and methodology could change their daily practice. When I see that twinkle, I know that they just had some big breakthrough- either they just realized that they are looking at their work differently or that they have discovered that they have a skill that they didn't even know they had or the other multitude of "a-ha" moments that happen during an improvement event. This is a key contributor to our system-wide focus on Joy at Work, and it's fun to experience with the team.
What's something exciting that you're currently working on?
I work at MemorialCare, a large California-based health care system in southern Los Angeles and Orange counties. MemorialCare has 4 medical centers including a pediatric hospital, a Medical Foundation (Medical Group and IPA), and over 200 sites of care including surgical, imaging and dialysis centers across the region.
This week, I led 16 nurses from our different medical centers who I had never met before through a Rapid Process Design (RPD) event to address the problem of nurse turnover with our newer graduate nurses. Turnover means that there wouldn't be continuity of care for the patient by the same care providers. The RPD was sponsored by Senior Nursing and HR Leadership from the medical centers.
We looked at data we had collected historically, talked to our younger team members to determine reasons the nurses are leaving the system and decided that we needed to build stronger rapport and relationships within our system. So over the course of the week the team developed the structure of a mentorship program where we pair a younger nurse with a more seasoned nurse to build good professional and personal relationships within our system and thereby increase engagement at all levels of the organization. We built an entire program within a matter of a week, along with a plan for implementation, education and communication to major stakeholders. But mostly it was exciting because I was hoping the team who had come in as strangers to each other would become friends through working with each other and that's exactly what happened- they came in as strangers and left with great teammates and friends.
It was incredible to see how empowered the workshop team felt at the systemwide report-out on the project on Friday and I'm excited to see our mentorship programs be piloted with new nurse cohorts coming in August and September at our medical centers. I felt very proud of the team for all their hard work. Moreover, I currently have an inspiring mentor and I also mentor others in my field, so it was also a rewarding and interesting project on a personal level too.
What's your favorite application of performance improvement in your personal life (away from work)?
I am a bit of a nerd and I have a visibility board (white board) in the living room and another hanging on the wall next to my bed. I currently have roommates so the white board in the living room has goals written on it that are common to all of us. I also tend to post motivational messages or pictures to help us visualize our common goals. My personal white board similarly has my goals for 2018 along with messages that are meaningful to me, and sometimes I also list the tactics to achieve certain goals next to the goal. I look at this visual cue every day to make sure I am keeping the things that are important to me front and center. It's always a work in progress but I'm excited to say, I'm on target for achieving all my goals this year!
Also, I've really been focusing on the concept from Lean philosophy of leader standard work. It implies that leaders spend time only on value-added activities and abandon non-value added activities. I tend to have a busy professional calendar and am very involved with local community service and with the Red Cross, so I use the principles of leader standard work to manage both my personal and professional calendars.
Have a question for Aisha? Please feel free to ask in the comments below.