We're absolutely convinced that our Green Belt Training is the most practical, easy-to-understand way for you to deliver measurable improvement results using Lean Six Sigma –no matter your industry or job function. Here are some results to prove it. 
But we understand you might have questions
Is Green Belt Training & Certification right for your organization? Will your business really benefit from Lean Six Sigma training? What can you expect once everyone on your team has earned their Green Belts?
Before you decide to invest time, money, and your future in GoLeanSixSigma.com's online Green Belt Training, here are 10 key facts you should know:
1.  Every Job Function of Every Industry Can Benefit from Lean Six Sigma Process Improvement Projects.
Virtually every job function of every industry can benefit from Lean Six Sigma Process Improvement Projects. No matter your focus – manufacturing, service, sales, marketing, finance, and even the back office – Green Belt Certification not only expands your process improvement toolkit, but also gives team members the ability to determine which tool is most appropriate and when.
And because GoLeanSixSigma.com's Green Belt Training enables learners to begin applying Lean Six Sigma concepts even before they're certified, you'll start seeing improvements right away. Once everyone is Green Belt Certified, they'll be much better positioned to cut and slash their way through waste going forward.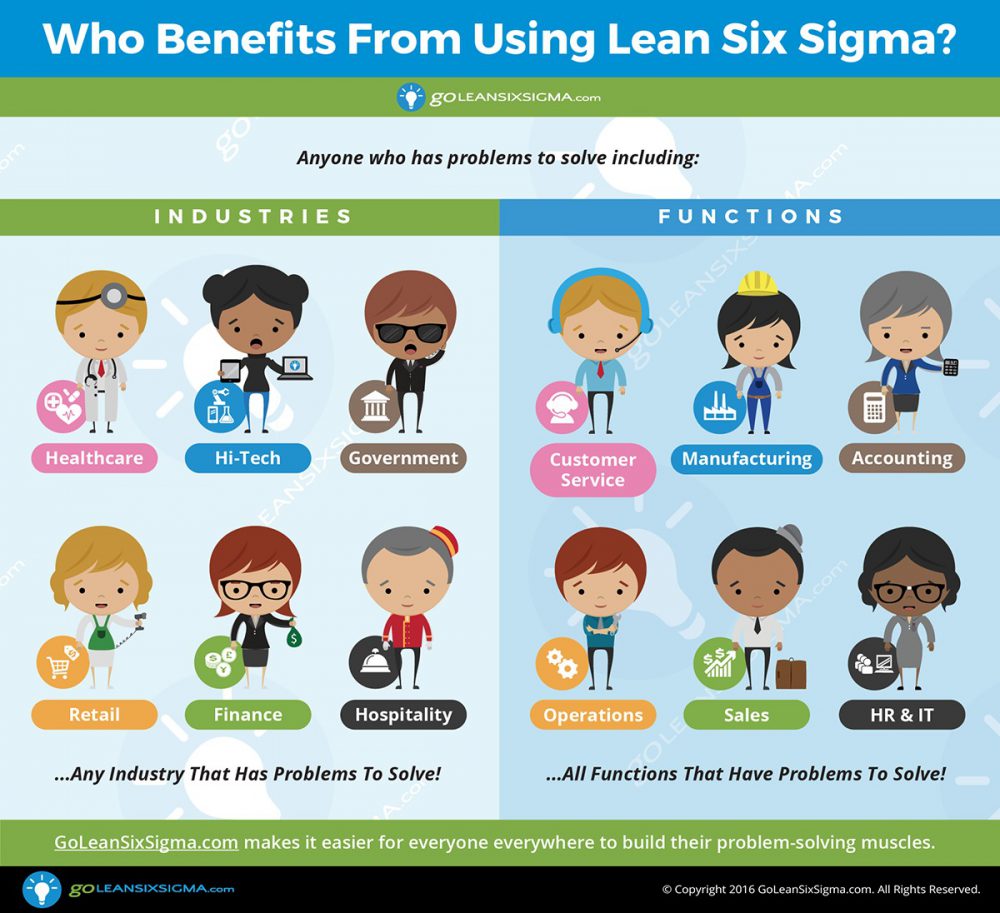 2. Green Belts Generally Work on Projects Within their Functional Areas, But Their Training Provides a Much More Expansive "Line of Sight."
Although Green Belts generally work on projects within their functional areas, Lean Six Sigma training gives them insight into the impact of processes on the external customer – a "line of sight" that can't be overvalued.
Green Belt Training tools and concepts were also designed to drive engagement and encourage collaboration among learners. As they work on their Green Belt project, your team members gain valuable exposure to other people and processes within your organization, ultimately coming away with a much deeper understanding of the business.
3. The Most Basic Tools and Techniques are Often the Most Powerful.
There's absolutely no reason for process improvement to be complicated. In fact, the most basic tools and techniques are often the most powerful.
If learners are going to apply process improvement successfully, it's best to concentrate on the tools and methods proven to be the most useful to Green Belts. GoLeanSixSigma.com's online training doesn't force you to cover every single tool, graph, or statistical test in the toolkit. Instead, your team will focus and spend time on the tools and methods most helpful in delivering solid improvement results.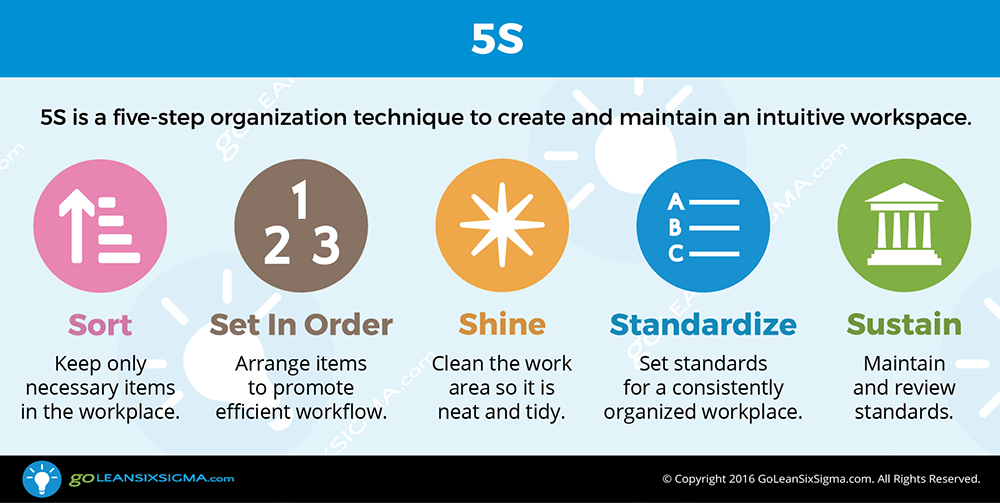 4. Green Belt Training Never Becomes Obsolete.
Green Belt Certification is about problem-solving and root cause analysis – skills your organization needs every day – regardless of industry. And while Lean Six Sigma tools and techniques might be improved and upgraded over time, as a philosophy of improvement, the methodology and concepts will always remain relevant.
All of this means your team's Green Belt Training will NEVER become obsolete, regardless of how members' roles and functions might change over time.
5. Some Organizations Have Had Less than Stellar Experiences with Lean Six Sigma. It's a Question of Implementation.
Yes, some organizations have had less than stellar experiences with Lean Six Sigma. But that's not the fault of the tools and methodology. It's usually due to the way the training was implemented.
The best way to successfully implement Lean Six Sigma training will depend on the needs of your organization. While there's no one-size-fits-all method of implementation, there are ways to make deployment easier and reduce the potential for failure.
GoLeanSixSigma.com's Green Belt Training guides learners to the most effective implementation methods.  When you partner with us, you're guaranteed to have the strategy, timeline, and tools you'll need to train your team and build a culture of Continuous Improvement.
🌍 Get the Green Belt That Delivers Results
6. Lean Six Sigma Follows the Adage, "Creativity before Cash."
When faced with process problems, far too many organizations are ready to pull out their wallets and hire a consultant. And while they do have their place, constantly engaging consultants denies employees the opportunity to think, problem-solve, and creatively contribute to solutions that will deliver real process improvement results.
But because Lean Six Sigma follows the adage "Creativity before Cash," our Green Belt Training provides team members with the tools and techniques that support their creativity. Harnessing that creativity will empower your organization to improve its processes, increase profits, and reduce costs without constantly paying for outside help.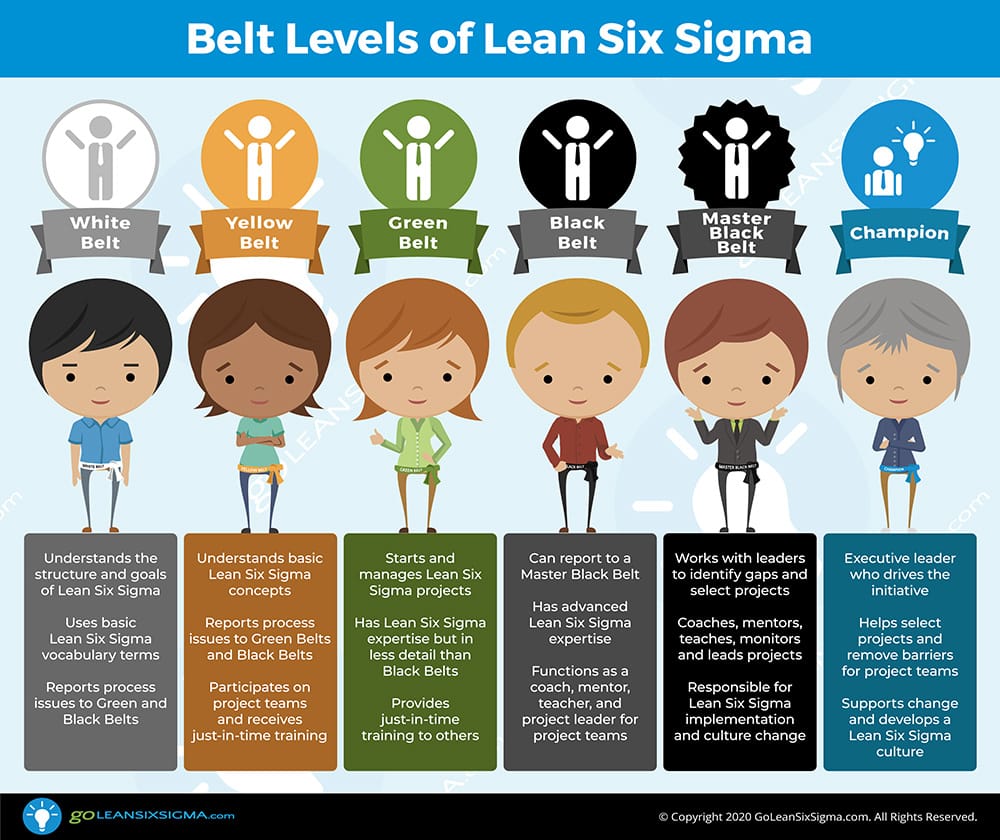 7. Lean Six Sigma Green Belt Certification Helps Build Problem-Solving Muscles.
Lean Six Sigma Green Belt Certification will transform your team members into problem-solving superheroes – and problems are one thing your organization will never run short of!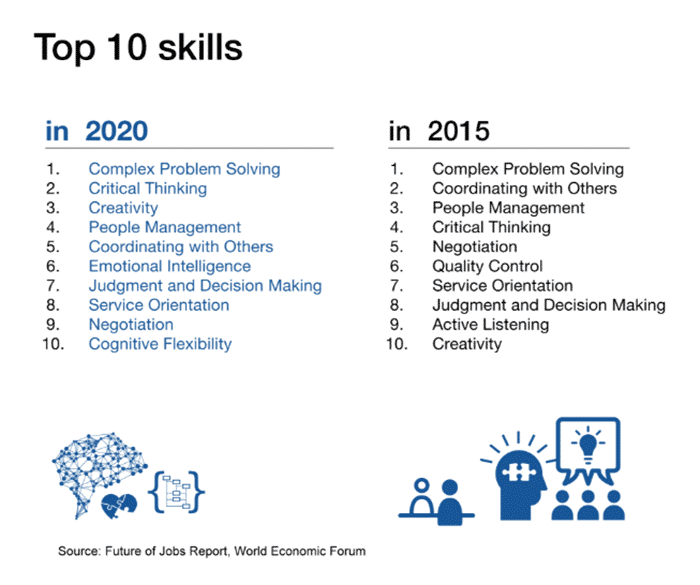 GoLeanSixSigma.com's Green Belt standardizes basic problem-solving knowledge and creates a solid foundation for a widespread Culture of Continuous Improvement and Operational Excellence. And because we recognize the best learning comes from doing, we've made it easy for team members to apply what they learn, ensuring they spend less time training and more time getting results.
8. Twitter's Dick Costolo is a Fan.
Dick Costolo, the recent head of Twitter, says the type of problem-solving skills gained with a Lean Six Sigma Green Belt Certification are what today's cutting-edge companies value most in prospective employees.
In fact, Green Belt level training increasingly shows up on job postings as more and more employers view complex problem-solving abilities as a desired skill set. Their newly acquired process improvement and problem-solving abilities will set your team apart, putting everyone in a better position to create real value for your organization.
9. Lean Six Sigma Green Belt Certification Always Follows DMAIC – Define, Measure, Analyze, Improve & Control Methodology.
Although Lean Six Sigma content offerings may vary, the structure always follows the same DMAIC – Define, Measure, Analyze, Improve & Control – methodology.
DMAIC (pronounced "duh-may-ik") is a 5-phase system for improving process problems with unknown causes. Based on the scientific method, applying DMAIC allows teams to dig into process problems and deliver quantifiable, sustainable results, no matter the issues they're tackling.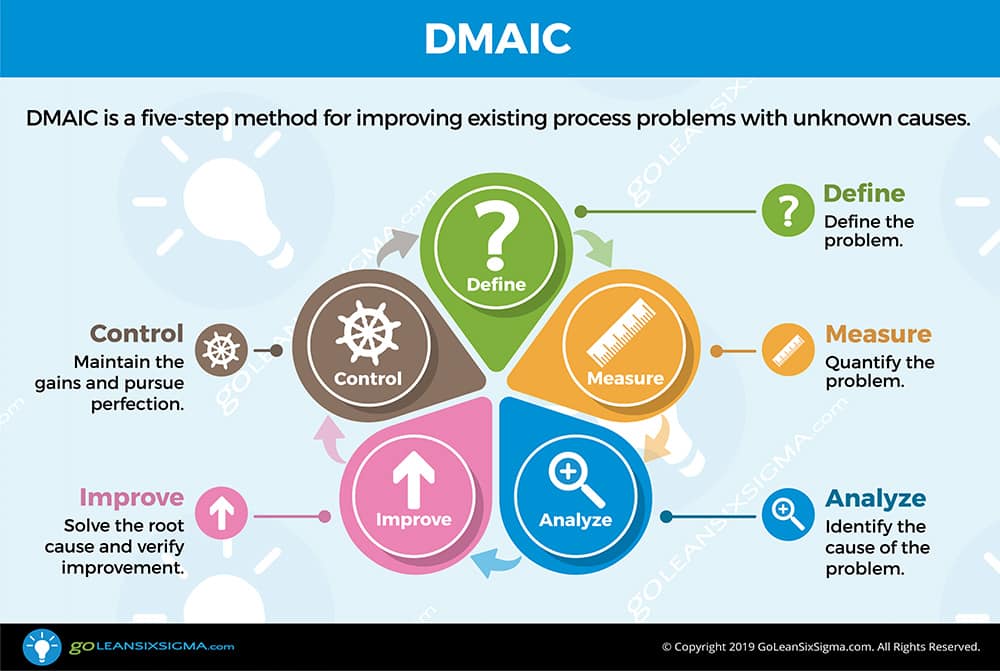 10. Easy-to-Use Templates Facilitate Essential Project Documentation
Project documentation is vital to ensuring all of your team's process improvement work, including process charters, process maps, customer requirements, and charts and graphs are preserved and captured for multiple purposes.
GoLeanSixSigma.com's Green Belt Training comes with easy-to-use templates that facilitate all essential project documentation.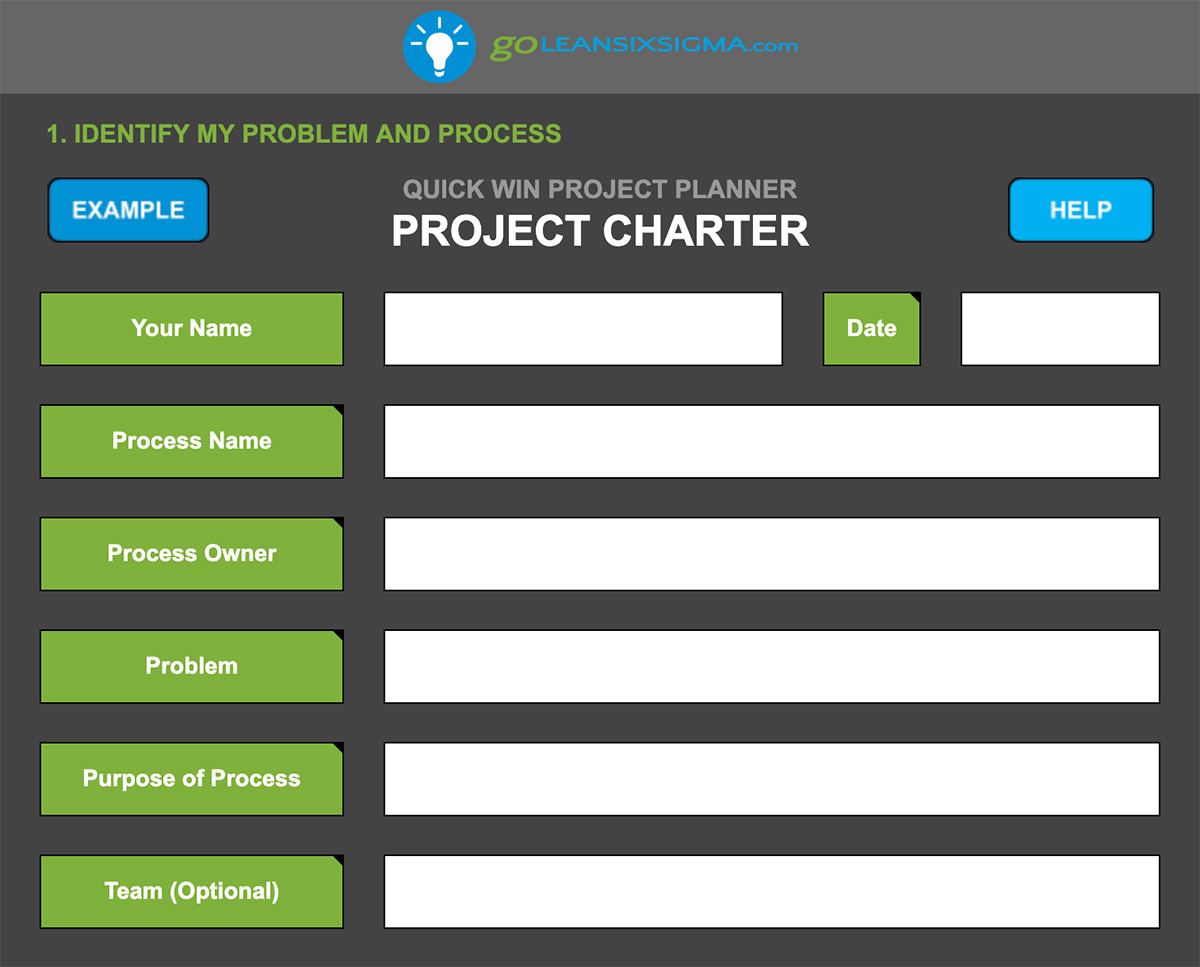 Here are recent reviews of our Green Belt Certification course:
Average rating:
3487 reviews
Jun 4, 2023
Very helpful with the tools and explanations.
Jun 1, 2023
Very interesting and thorough!
May 31, 2023
Great tool and awesome templates to help create a lean culture.
May 31, 2023
Strong learnings overall. Some questions on the exams are not entirely correct, or have multiple answers as an option; however, if you go solely based on the module learnings you should easily get 80% on your first try.

A lot of questions as well can be answered based off of logical thought.
May 31, 2023
I thoroughly enjoyed this course! The real world examples do a great job of bridging the connection between theory and practice.
May 30, 2023
I enjoyed the training!! It was very useful and easy to understand!!
May 30, 2023
As it has been more than 20 years since my first certification, it was a great refresher!
May 29, 2023
Excellent program. Very comprehensive and useful.
May 28, 2023
Excellent tutorials and great knowledge checkpoints.
Page 1 of 349:
«
‹
1
2
3
›
»