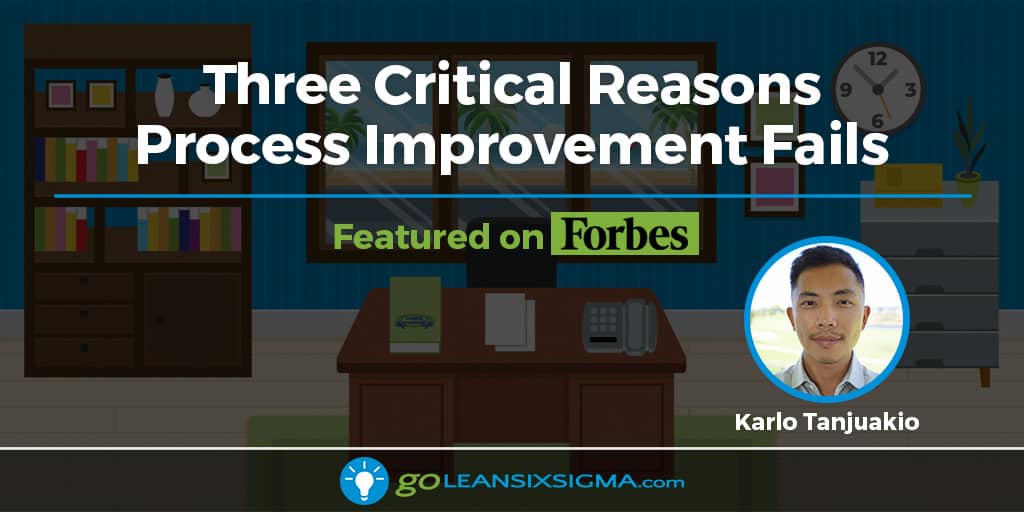 We're proud to announce that our very own CEO, Karlo Tanjuakio, has recently published an article on Forbes!
Karlo Tanjuakio founded GoLeanSixSigma.com with one mission in mind: revolutionize the way people learn process improvement—making it easy for everyone everywhere to build their problem-solving muscles.
Since the company's founding, we've helped organizations of all sizes and industries improve their processes. We've seen many organizations experience dramatic improvements. While we've seen amazing results from these organizations, we've also learned why many fail in their process improvement efforts. In his article, "Three Critical Reasons Process Improvement Fails," Karlo reviews three key reasons why these failures occur and how to prevent them.
Well-intentioned organizations implement solutions to improve bad processes, but they often fail. Have you ever seen a solution implemented but the problem remained? Unfortunately, this happens all the time. Why?

After helping 200,000-plus people in Fortune 500 companies, government, educational institutions, nonprofits and every type of organization in between, I've found a few common themes that are present when process improvement efforts fail.

Stop spinning your process improvement wheels and start getting traction by avoiding these three mistakes.