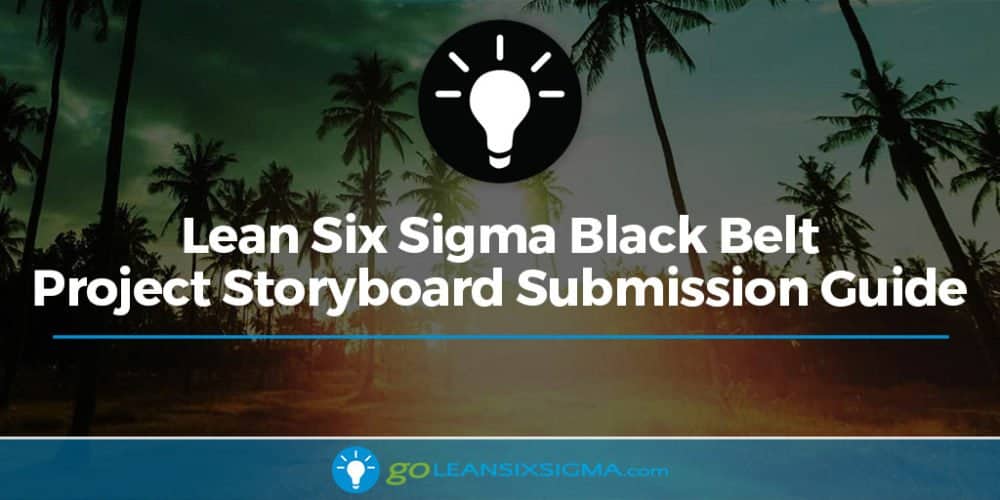 This guide provides best practices for submitting your Black Belt Project Storyboard. It will help prepare you to become a certified GoLeanSixSigma.com Black Belt by improving your communication skills. The goal is to create a high-impact summary of your project that you can successfully share with leadership, colleagues and others within and outside of your organization. A robust storyboard accomplishes many key objectives.
You can find a list of deliverables in the

Black Belt Storyboard Checklist

, but there are some general guidelines that will help you in your efforts.
A Good Storyboard:
Creates a clear, succinct project story
Showcases the project effectively and highlights project wins and successes
Enables others to understand your process improvement efforts
Makes it easy for leadership to appreciate your accomplishments
Increases the likelihood that your solutions can be replicated in other areas of the organization – more gains for lower effort
Helps build momentum for process improvement within the organization
Improves the likelihood of Black Belt Certification
Completing an Improvement Project vs. Constructing a Storyboard
Although the idea is to use any and all applicable Lean Six Sigma tools and concepts throughout the life of the project, when it comes to submitting your storyboard, it is important to pare down to the "vital few" visuals that tell your story. These two lists will help differentiate the two efforts and guide you as you refine your approach.
Black Belt Project – During the Project:
Go Wide

Try out all the tools and concepts that you think may apply to your project

Experiment

Try out different maps, measures, stratifications, graphs and charts to build profound knowledge of your process

Steal Shamelessly

 Use any available templates
See Bahama Bistro examples for usage tips
Research the tools and methods others have used when experiencing the same process issues

Make it Work for You

Adapt the tools and methods to fit your project
Black Belt Project – Preparing the Storyboard for Submission
Tell Your Story Succinctly

Use a maximum of 25 Slides (plus as title page) to describe your project
Make sure the flow of the project story is logical

Clearly illustrate your analysis and how solutions/countermeasures address the verified root causes

Let visuals (graphs, charts, maps, pictures etc.) do most of the work
Add a "Key Take Away" to each slide to make it clear to the reader what you learned at each step

Use the Tools Wisely

Show that you understand the DMAIC method by selecting the right tools for the right reasons during each Phase.

 Label Your Graphs Clearly

List the metric name, the time frame and the axes names/units for each chart (along with the "Key Take Away")

Be Clear About Your Analysis

Describe your root cause hypotheses clearly
Use Null and Alternative hypothesis statements for each hypothesis
Show the results of your hypothesis tests

 Show the Improvement in Full

Make accomplishments clear – list each measurable waste reduction, savings, margin increase, cycle time reduction, increase in customer satisfaction, etc.

 Use the Appendix for Overflow

Include up to 10 slides for displaying additional graphs and tools that may help readers who would like more background on your project
Include a "Key Take Away" for every slide in the Appendix
The Executive Summary
When completing the Executive Summary, keep in mind that this is a "One-Pager" that can be used to tell the "Reader's Digest" or quick version of your project. This page should not only tell the abbreviated story of your project but it should include a graphic that proves your process has been improved. The Executive Summary should be constructed to stand on its own since it is often separated from the Storyboard and shared with others – Below is a sample from the Bahama Bistro.
Example Storyboard
One way to be sure that your Storyboard is ready for submission is to compare it to other successful Storyboards. There is a Bahama Bistro example as well as a growing list of samples from GoLeanSixSigma.com Black Belts on the Resources page of the GoLeanSixSigma.com website. If you are interested in making your storyboard available to others, please let us know during the submission process.
The Black Belt Storyboard Checklist
Before submitting your Project Storyboard, you must complete the Black Belt Storyboard Checklist. It must be uploaded along with your Project Storyboard in the Learning Management System or your Project Storyboard will be rejected.


Please ensure that all items are completed prior to submitting your Storyboard.