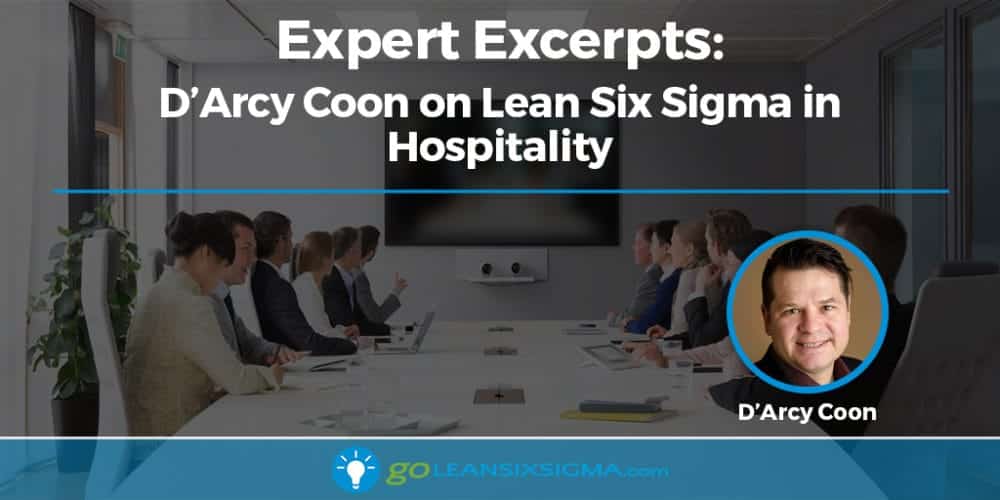 Whether you're just starting your Lean Six Sigma journey, or you're in the middle of improving a process, guidance from Experts can help make your efforts easier – and more successful! In this Expert Excerpt, we interview D'Arcy Coon who shares key insights to being successful with Lean Six Sigma in Hospitality.
D'Arcy is a Hotel Executive Leader and Lean Six Sigma Master Black Belt with over 16 years of experience in strategic planning and implementation, large-scale project coordination, and continuous process improvement in the premium hotel and resort sector. He is currently working at Club Quarters Hotels as the Corporate Director of Guest Room Operations.
What advice to you have for someone who is getting started with applying Lean Six Sigma in Hospitality?
I would advise anyone beginning to use Lean Six Sigma in a Hospitality setting to first put the extra effort into properly defining the problem they are attempting to solve. Second, I would advise them to ensure their project sponsor fully supports the project mission. Doing this prevents teams from wasting time and resources on issues their sponsors did not intend them to work on. Finding out that a sponsor did not fully support a problem or mission at the solution stage of a project can sink the entire endeavor. Put the time and effort into reaching consensus with your sponsor on the problem definition up front.
What some common mistakes you see people making when applying Lean Six Sigma in Hospitality?
One very common mistake I have noted are teams failing to include a financial metric in project dashboards. Project teams must identify metrics to establish financial savings or there is no true way to prove the project's merit. In hospitality environments there is always a temptation to measure project success on non-monetary metrics, such as guest satisfaction. However, in my experience, Lean Six Sigma programs that cannot demonstrate financial savings will quickly perish as non-value-added overhead programs.
Do you have any pet peeves related to Lean Six Sigma application in Hospitality?
My pet peeve is project owners who make ad-hoc changes to project solutions post implementation. These can have unintended consequences that often jeopardize the improvement impact. Therefore, I keep a very close eye on post-implementation processes to ensure that all improvements are followed per the intended solution for at least a full year. I encountered this in a stewarding project once where deviations from the agreed-upon daily staffing guides caused massive storage room disorganization, which ultimately cost more to fix than the daily staff savings — frustrating!
Is there anyone that has significantly influenced you over the year?
As a new Black Belt, I was significantly influenced by my Hotel General Manager, Mark Andrew. Mark really encouraged me to take risks and use every tool in the Lean Six Sigma handbook. This included the statistical analysis tools, which frankly was new to me. As a result, I tried everything and learned how useful regression was for hospitality projects. I am not sure I would have had the courage to take as many risks on new concepts if I had not had his support.
Why do you do what you do?
I enjoy the intellectual challenge of helping teams to solve complicated problems. I also genuinely enjoy working with people to accomplish big goals. That is why I do what I do. It's also why I entered the hospitality industry — to work with people and get things done.
What's something exciting that you're currently working on?
I will be implementing a "Best of" play book of Lean hotel processes and I plan to use it with my team to open a new boutique hotel in Manhattan, N.Y..
What's your favorite application of Lean Six Sigma in your personal life?
The "unloading of the dishwasher" process is my favorite personal Lean Six Sigma life hack. It's my guilty pleasure. I have established the optimal unload order to minimize steps to the cupboards and maximize safe, full armloads. Note: my kids think I am mental and absolutely will not follow my instructions on optimal dishwasher unloading.
Have a question for D'Arcy? Please feel free to ask in the comments below.