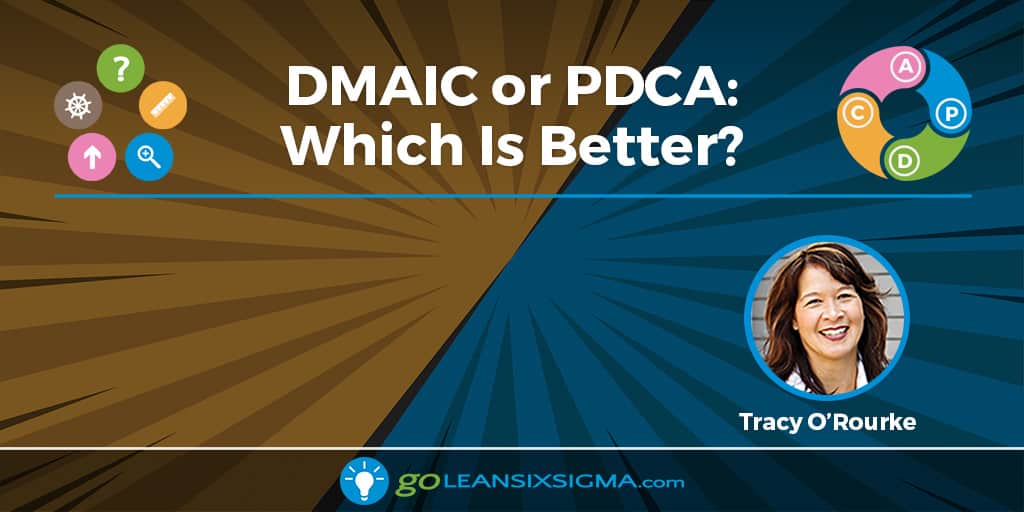 You may run into process improvement enthusiasts who prefer one camp over another—the Lean camp uses Plan-Do-Check-Adjust (PDCA) and the Six Sigma camp uses Define-Measure-Analyze-Improve-Control (DMAIC)—but which one is better, DMAIC or PDCA? 
For years now, organizations looking to implement process improvement have had to wrestle with which method to adopt. When starting out they have to answer questions like these:
New Questions to Ask
As with process improvement itself, these initial questions have evolved, and some of them are not as straightforward as others. A new phase of questions include:
Should we use the PDCA method and document improvement with A3s or should we teach Six Sigma and certify our employees with the "belt" system?
Can we conduct a Yellow Belt program that includes the completion of an A3?
Can Green Belts use PDCA instead of DMAIC?
Should we implement the blended Lean Six Sigma?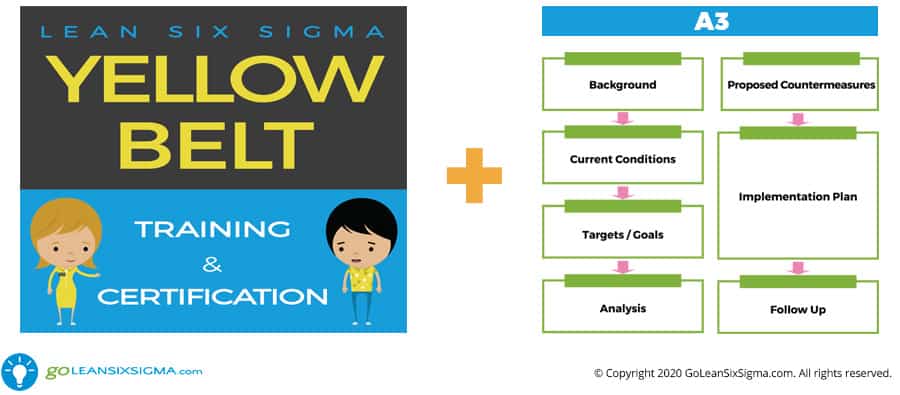 These new questions present blessings and challenges. One blessing is that process improvement has become so mainstream that organizations have a high percentage of employees with previous exposure to both Lean and Six Sigma.
The challenge with this exposure is that it can make it more difficult for an organization to launch a new program. Trying to agree on which approach to use becomes more complicated when employees with prior exposure have definite opinions. This is good news though, right? People want to use an improvement method and they want to use the method they're comfortable with.
Which Method Experiences More Failure?
"Failure" can be too strong of a term here. If an organization is participating in a Continuous Improvement journey, they aren't necessarily failing. They may have a lot to learn, but if they haven't given up, they haven't failed, have they? Interestingly enough, the further along some organizations are on their journey, the further they think they need to go.
Lean and Six Sigma have both seen an equal amount of organizational failure, but it's not due to the method itself—PDCA or DMAIC. Failure is more a result of an organization's inability to embrace the cultural transformation necessary to sustaining successful, long-term process improvement.
Failure is more a result of an organization's inability to embrace the cultural transformation necessary to sustaining successful, long-term process improvement.
Six Sigma has seen a decline, as referenced in this recent article about GE and the history of Six Sigma. The article references that upon Jack Welch's retirement, the commitment to Six Sigma was also "retired." Jeff Immelt, Welch's successor, preached the gospel, but with much less zeal—he later admitted he wasn't as much of a Six Sigma fan as Welch. The article pegs leadership as the primary root cause for the decline of Six Sigma.
Reasons for Failure
There are also dozens of articles covering organizations that fail at Lean. In the article titled, Why Are Most Companies Failing With Lean Implementation?, the author Martial Durin proposes four key reasons that Lean fails:
Lack of direction and vision in the running of projects—A crystal-clear vision is necessary throughout the entire organization.
Lack of time allocated for the projects—Most organizations launch multiple projects at once without sufficient time to complete them all successfully.
Lack of resources—Most companies mistakenly consider Lean to be comprised of a few select experts. The truth is that employees at every level must be involved in improving the organization.
Lack of adherence from employees of the company—Most organizations lack a solid strategy to convert the "uncommitted masses" in an organization. Many organizations succeed in engaging "Early Adopters and Pioneers", but fail to engage the vast majority.
If you look at the reasons for failure listed in both of these articles, they point to leadership priorities and cultural challenges as the root causes of failure. Why? Both DMAIC and PDCA work as improvement methods—it's the deployment of the approach that often fails.
Some Lean enthusiasts argue that Six Sigma doesn't promote culture in the same way as Lean. The truth is that Six Sigma deployments fail for many of the same reasons that Lean efforts fail. In order to be successful, both Lean and Six Sigma need leadership support and a culture that promotes and supports application of the tools and methods.
In order to be successful, both Lean and Six Sigma need leadership support and a culture that promotes and supports application of the tools and methods.
Lean includes more defined methods and tools to help transform a culture—like a Daily Management System and Leader Standard Work—but it is common sense that both methods need leadership support and a culture that embraces Continuous Improvement.
A Perspective on Six Sigma Culture
I worked for GE Appliances during the 90's. Back then we engaged in Continuous Improvement deployment with a Six Sigma focus. During my first week on the job I was plunked into Green Belt training. As a Green Belt I was responsible for completing two projects a year, every year. It was the Green Belt's responsibility to complete the projects, and if they needed help, they had a Black Belt as a resource. But the Black Belt did not "fix other people's processes"—a common confusion about the role.
As a Green Belt, I was responsible for my projects. Aside from my Black Belt resource, my boss was well-versed in the improvement methods and provided me with clear guidance. My direct manager regularly followed up with me to track my project progress, not the Black Belt. My manager showed genuine interest in what I was working on. A few years later, I became a Black Belt and helped 40 internal GE employees complete two projects a year for a total of 80 projects.
One important understanding of my role as a Black Belt—I was not a Green Belt babysitter. Black Belts were leveraged by the concept of "pull." It was the Green Belt's responsibility to pull in a Black Belt if they wanted help. Black Belts didn't insert themselves into projects. They didn't own the projects or follow up without being asked. Any involvement was at the request of the Green Belt. It was the Green Belt's direct Manager who followed up with their project progress.
I believe the clarity and understanding of our roles ensured the success of Green Belts, Managers and Black Belts. It was a critical part of why the program design worked so well.
The clarity and understanding of our roles ensured the success of Green Belts, Managers and Black Belts. It was a critical part of why the program design worked so well.
Did GE do it perfectly? No, not many do. But it succeeded in creating a culture that promoted Continuous Improvement. It was driven through the GE's direct-reporting lines and employees were provided with leadership guidance and support. It worked so well, it seemed effortless. It didn't feel like a separate "program"—it was a way of thinking. It's how we worked.
A Modern Approach
Supportive culture is critical for success regardless of the method. I've had the good fortune to witness dozens of Continuous Improvement efforts over the years so I'll share an example of how a present-day blended Lean Six Sigma approach functions.
Many of the questions listed earlier concern the idea of combining Lean and Six Sigma. For example, "Can we conduct a Yellow Belt program that includes the completion of an A3?" The answer is, "Yes!" And this government agency provides a great example of what that looks like.
The State of Washington has a strong process improvement culture and one of the largest counties in Washington is King County. A King County agency took a group of employees through an innovative approach that blended not only Lean and Six Sigma, but also online training and onsite project work.
A cohort of 20 people completed 8 hours of Lean Six Sigma Yellow Belt online training. This group was responsible for improving a process problem in less than 8 weeks. The problem solvers used the A3—a single-page project document—as their guide and met for group coaching a few times, within the 8 weeks, to get project updates and coaching.
They also completed two cohorts of Lean Six Sigma Green Belt Training with a similar approach. For the Green Belt effort, they followed DMAIC during the training, and presented project boards in A3 form.
Below is a sampling of those projects:
The outcome of this blended experiment proved successful. The problem solvers made scalable improvements within the expected timeframes and strengthened their problem-solving muscles. They started seven years ago and have never looked back. They blended Lean and Six Sigma—and PDCA and DMAIC—without skipping a beat.
Some of these problem solvers have moved on to pursue other interests, but I'm confident that no matter where they go, and no matter what method they encounter in other workplaces, they won't skip a beat there either.
DMAIC Versus PDCA
Let's compare the two methods in a little more detail. What's different? What's similar? Both methods are based on the Scientific Method as a way to analyze processes and discover root causes of process issues.
Both of these methods are capable of achieving similar outcomes: DMAIC and PDCA can reduce lead times, defects, waste and variation. They both maximize efficiency and improve the customer experience.
There is alignment between the two models: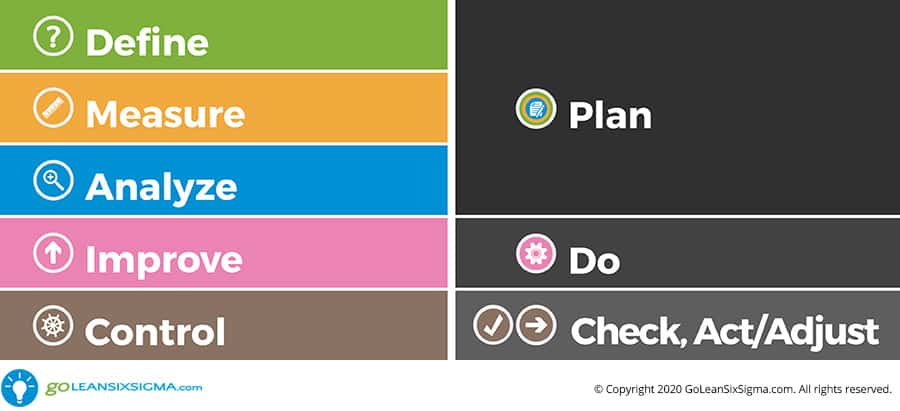 We find that viewing these as similar (but different models) is helpful. The reality is that either of these methods will generate good results. There are different ways to solve problems and having a framework to follow is a way to make problem solvers more successful.
If you're not familiar with Lean, Six Sigma, PDCA or DMAIC, this overview will be helpful.
Lean Six Sigma
Lean and Six Sigma are both well-known process improvement methods. Although the term "Lean" was coined in the 1990s, the thought process behind the method is traceable to the creation of Toyota Production System (TPS) in the 1940s. Six Sigma, on the other hand, emerged from Motorola in the eighties. Both Lean and Six Sigma emerged as robust approaches with accompanying toolkits for improving processes.
Introduction to PDCA and DMAIC
PDCA
PDCA uses a four-step method and focuses on understanding the situation, analyzing root cause, implementing and testing countermeasures, making adjustments and repeating the cycle until the process improvement has been optimized.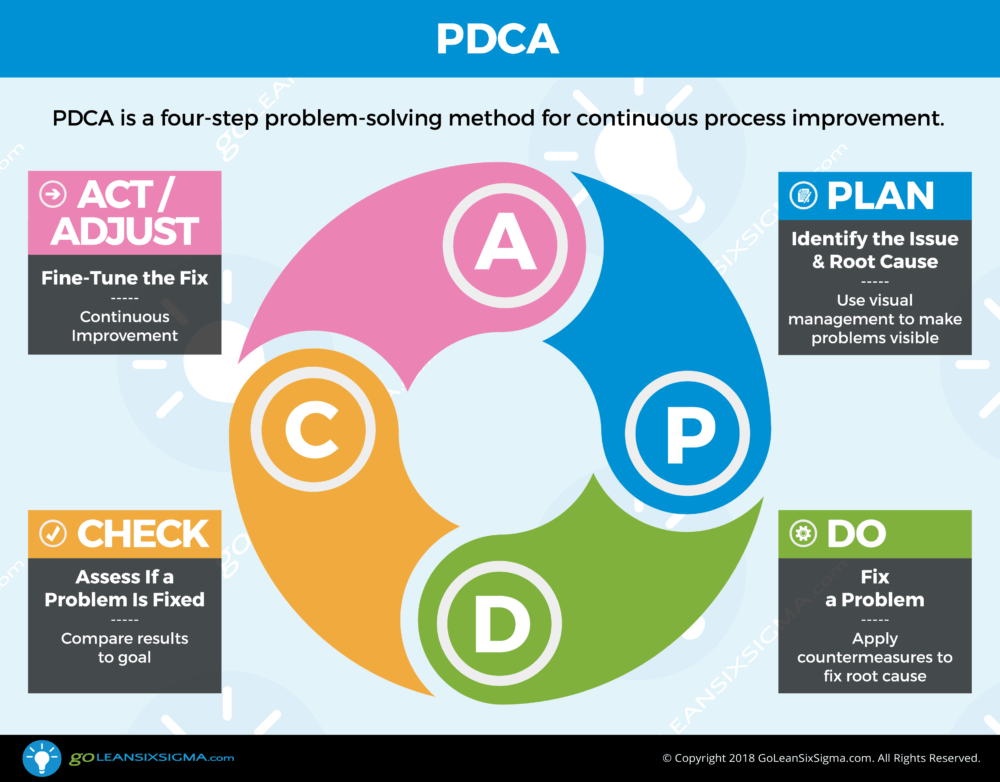 Brief History of PDCA
PDCA has a long history but most people credit Walter Shewhart as the creator. Dr. Shewhart was Dr. W. Edwards Deming's mentor and with Deming, PDCA evolved into PDSA: Plan-Do-Study-Act. The detail involved with following the PDCA Cycle has evolved over time. There are different schools of thought and resulting variation, but the principles and goals remain steady.
Steps Within PDCA
The detail varies but the cultural objective is always to build a workforce with good problem-solving habits. The Toyota Production System outlines 8 substeps within PDCA that help users apply problem-solving skills and thinking. PDCA is front-loaded with 60%-75% of the work happening in the "Plan"step so the added detail provides useful guidance.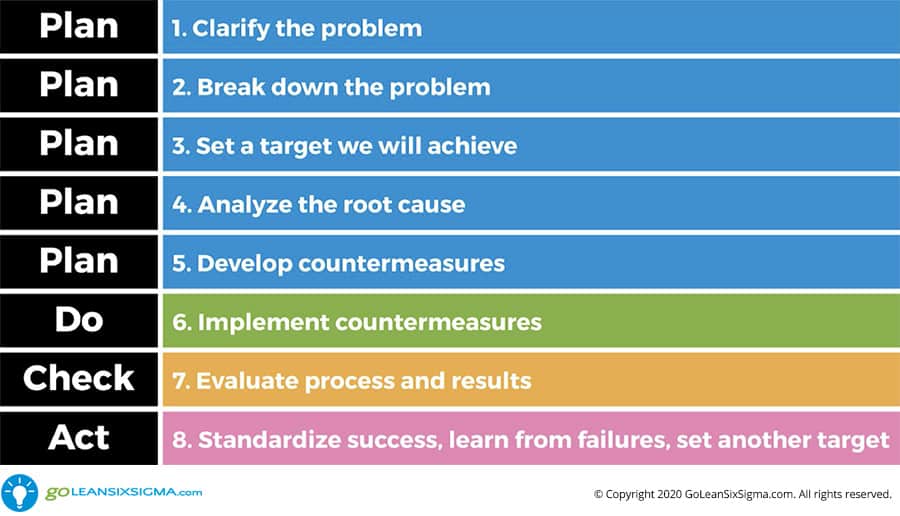 Next up, a slightly different (but similar) method to problem solving, DMAIC.
DMAIC
DMAIC is a five-step process improvement method. Like PDCA, it's an iterative improvement model. DMAIC focuses on defining the problem, quantifying the current performance, analyzing root cause, implementing improvements and sustaining the improvements with monitoring and adjustment.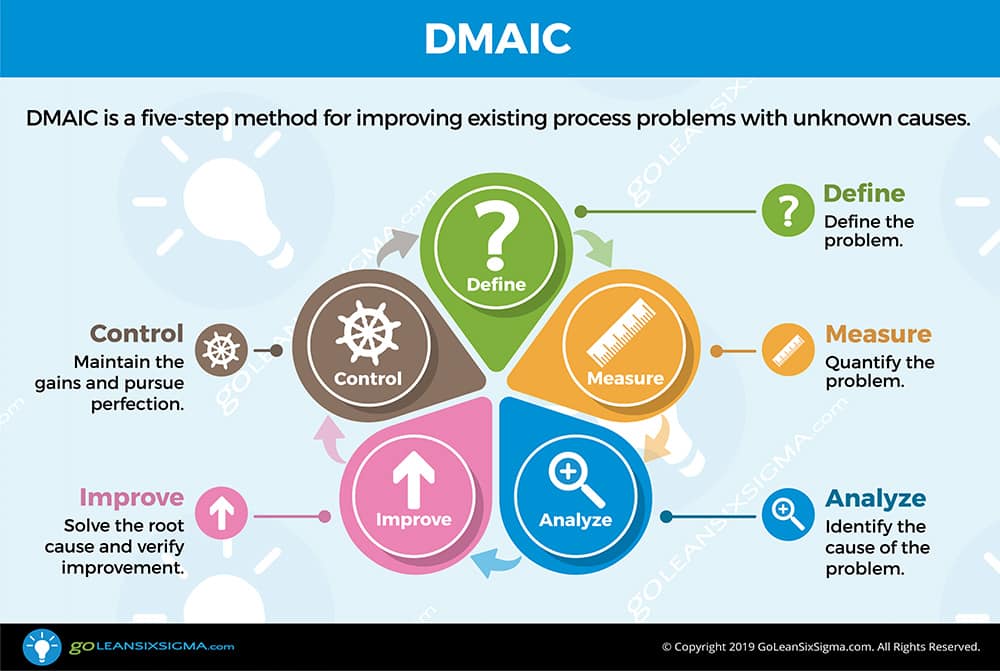 Brief History of DMAIC
DMAIC is the acronym used to define the model used in the Six Sigma method of Continuous Improvement. Six Sigma was founded at Motorola in the mid-80s by quality engineer Bill Smith. Working alongside Dr. Mikel J. Harry, they refined the approach to transform Motorola's culture and the quality of their products.
Steps Within DMAIC
Like PDCA, the DMAIC approach is front-loaded with methods to understand and build profound knowledge about the current state of a process within the Define, Measure and Analyze phases. It covers all the bases in 5 Steps.
Knowledge Is Power
In today's world where people are exposed to various methods for process improvement, I prefer to train and mentor problem solvers on both Lean and Six Sigma—PDCA and DMAIC. As a process improvement professional, these two main methods are mainstream enough that I don't want problem solvers to be left uninformed about either method.
As an educator, it's my job to ensure my students are well-informed. They should know how the methods and approaches align—when to use one tool vs. another, regardless of the origin. Most problem solvers progress during their careers through multiple organizations. There is a high probability they'll encounter both PDCA and DMAIC.
Educating students on both methods may be difficult for some instructors, especially if they've planted themselves firmly in one particular camp. If they've spent a lot of time building a case against one method over the other, that could mean they haven't invested the energy to objectively understand the alignment between these two methods and what they can gain from each other. That's a loss for all concerned.
Don't Mess With Success
Lastly, If the tool solves the problem, does it matter where it came from or the specific method used—Lean, Six Sigma, PDCA or DMAIC? The fact that they're applying and using a root cause analysis method is the most important consideration. After all, the better method is the one successfully applied. Why would you mess with that?