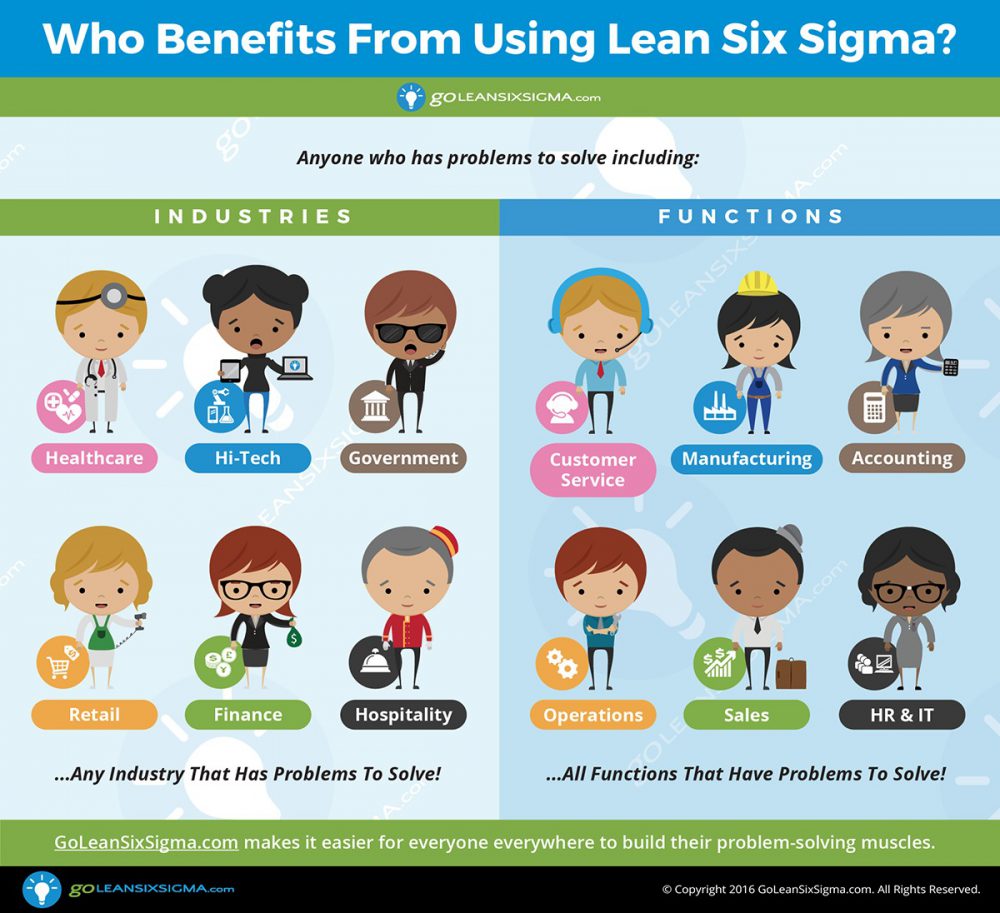 Speed and quality are no longer business trade-offs or nice-to-haves. Efficiently delivering on-time, high-quality products and services to increasingly discerning customers is necessary for survival. In order to grow, organizations must be nimble at problem solving, agile at exploiting opportunities and adept at surmounting challenges. Lean Six Sigma is a means to those ends.
Lean Six Sigma accelerates the potential for organizations to achieve their missions and strategic goals. Every company seeks to realize their vision of the future, so why not reach the future sooner? Incorporating the best Continuous Improvement method available builds the right culture, the best mindsets and the perfect infrastructure for you to better serve your customers and earn their loyalty. It's a great path to satisfying customers profitably.
Who Benefits?
Lean Six Sigma benefits the following:
Everyone everywhere benefits. Regardless of industry, size, sector or country of origin, all organizations and individuals can benefit from Lean Six Sigma. Although manufacturers pioneered the original Continuous Improvement methods, the application to the transactional world evolved decades ago.
Customers benefit. Not only do problem solvers benefit, the customers of each industry and function benefit too. Customers win because solving process problems results in fewer defects, shorter Lead Times and better experiences.
The need to streamline all processes is key to customer satisfaction and key to growth.
Lean Six Sigma Increases Profit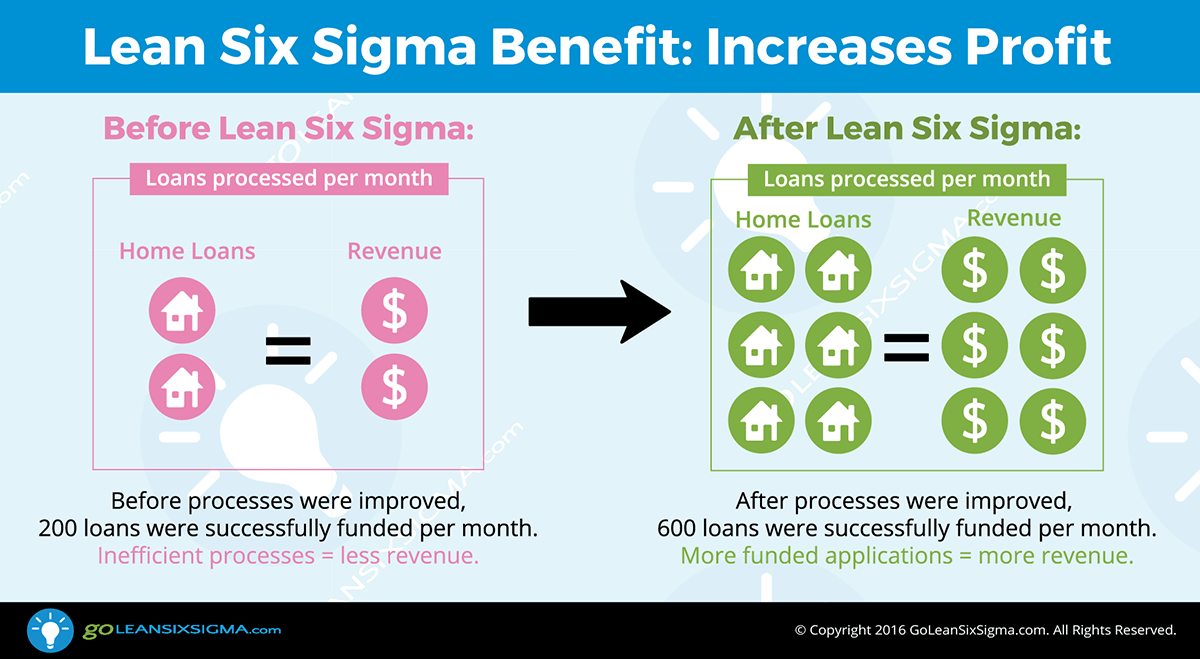 Lean Six Sigma increases your organization's profit by:
Increasing capacity. Streamlining processes to their essential steps reduces the workload per unit which means processes provide more goods and services to more customers
Producing products and services faster. Streamlining processes increases the speed of process flow while maintaining and augmenting quality.
Lean Six Sigma increases revenue by enabling your organization to do more with less—market, sell, manufacture and provide more of what customers want with fewer resources.
Lean Six Sigma Decreases Costs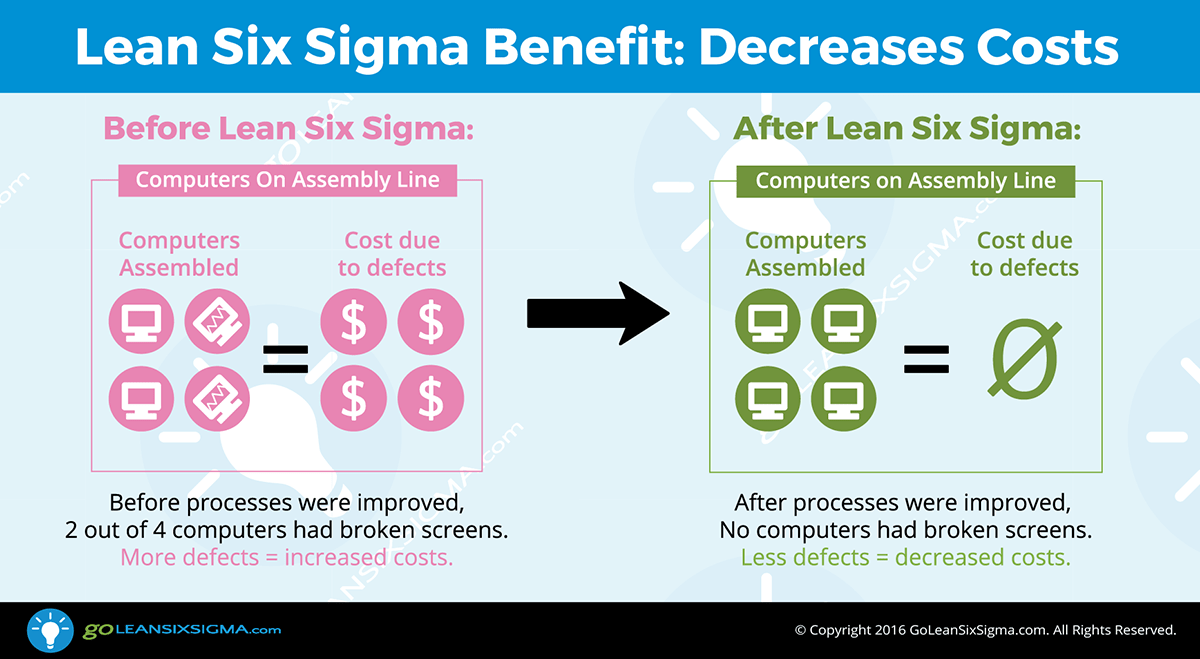 Lean Six Sigma decreases your organization's costs by:
Removing "Waste" from processes. Getting rid of activities that aren't required to manufacture products or provide services makes it cheaper to meet customer expectations.
Solving problems proactively. Relying less on costly inspect-and-rework cycles and switching to defect "prevention" by resolving product and service issues at the root.
Lean Six Sigma enables you to fix and optimize processes that unnecessarily drain your organization of valuable resources and hurt its reputation. Organizations face rising costs and increasing competition each and every day. Lean Six Sigma drives cost containment and frees up intellectual capital to widen the gap leaving your competition behind.
Lean Six Sigma Improves Efficiency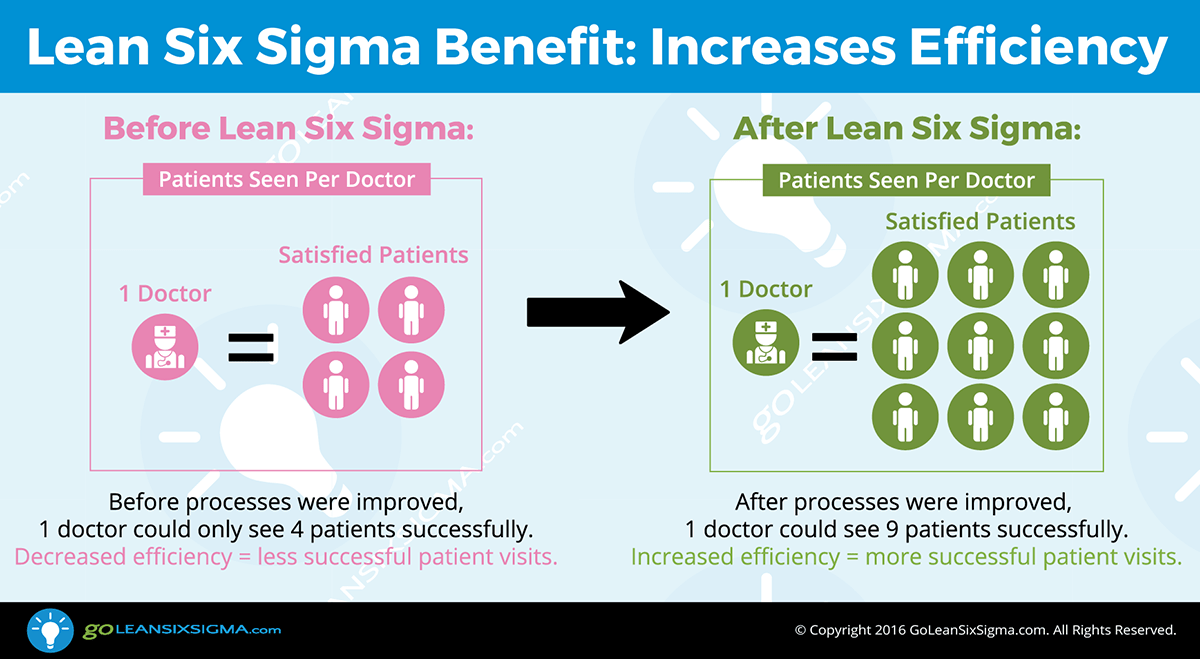 Lean Six Sigma improves the efficiency of your organization by:
Making things scalable. Creating standard processes that are easy to learn, operate and enhance means your business grows faster.
Reallocating valuable resources. Reclaiming resources and revenue from newly streamlined processes means more available resources to grow your business.
Lean Six Sigma Improves Effectiveness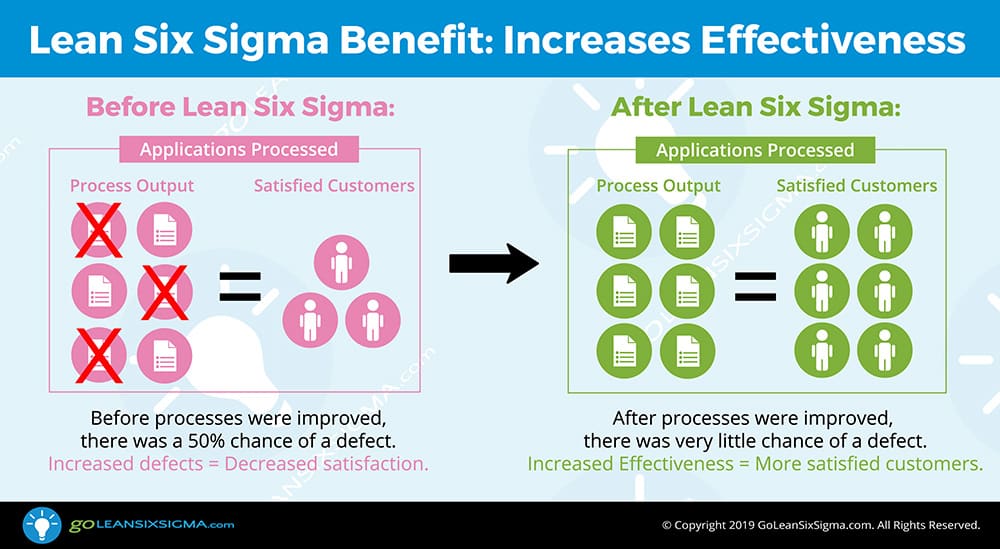 Lean Six Sigma improves the effectiveness of your organization by:
Defining customers and identifying customer requirements. Understanding who your customer is and what is important to them enables you to concentrate your efforts where they add the most value.
Measuring and Improving what customers care about. Measuring what customers value most helps you target improvement efforts to elevate the customer experience.
Lean Six Sigma supports you in the creation of efficient and effective processes. Achieving operational excellence allows your organization to deliver more products and services to a growing audience of increasingly satisfied customers.
Lean Six Sigma Helps Develop Effective People & Teams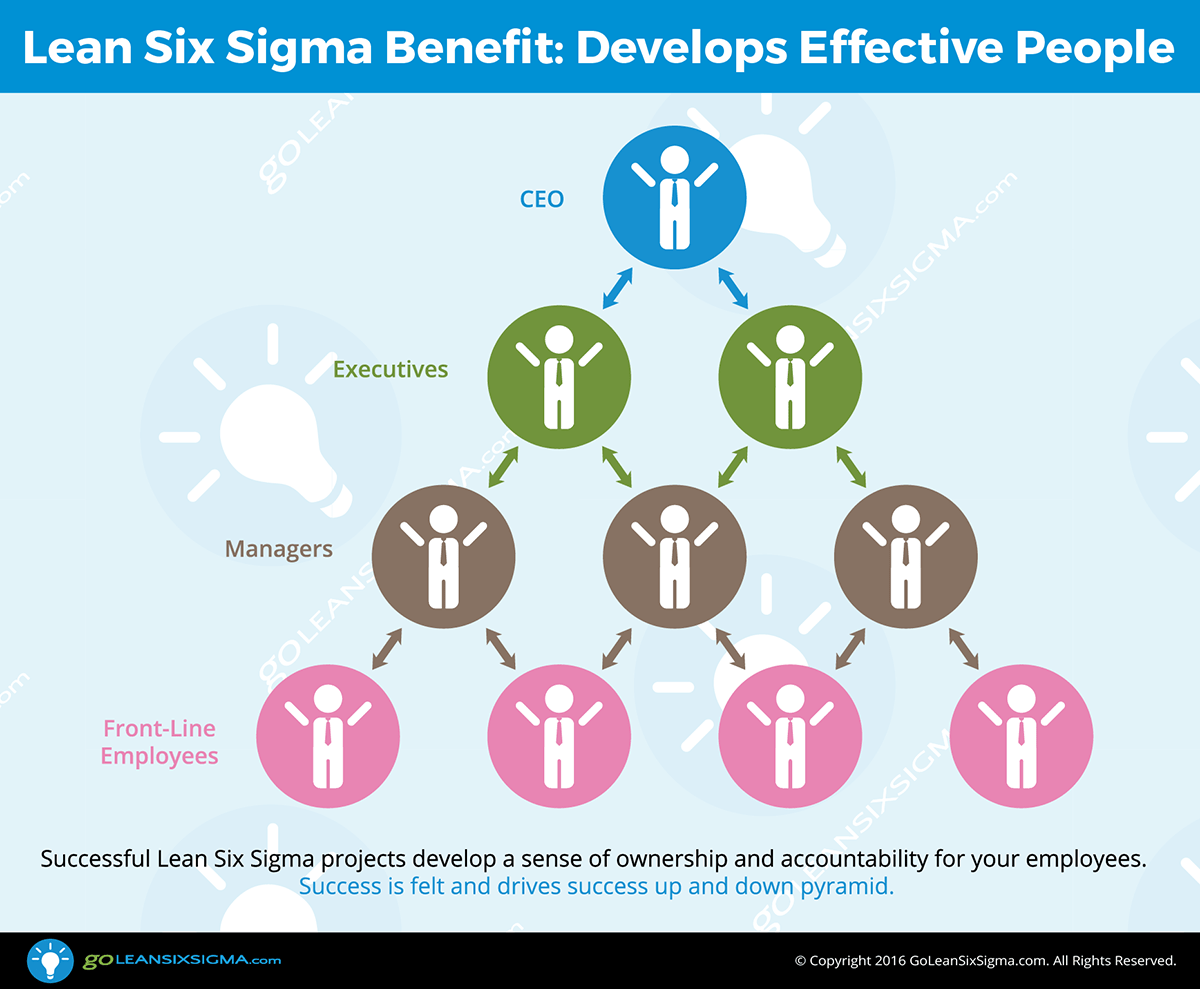 Lean Six Sigma develops an infrastructure of engaged problem solvers by:
Relying on employees to run improvement efforts. Team participants are proud to own process change. Involvement in problem solving results in teams that are accountable to each other and to the organization.
Building a culture of trust. Transparency throughout all levels of the organization promotes respect and a shared understanding of how each person drives organizational success.
The Bottom Line
The goal is to find the best way to achieve your organizational mission and realize your vision. Lean Six Sigma gets you there faster with less effort and leaves you with a nimble workforce. To recap:
Streamlining processes results in Improved customer experience and increased loyalty
Developing more efficient process flows drives higher bottom-line results
Switching from defect detection to defect prevention reduces costs and removes waste
Standardizing processes leads to organizational "nimbleness" and the ability to pivot to everyday challenges
Decreasing lead times increases capacity and profitability
Engaging employees in the effort improves morale and accelerates people development
Find out more about how Lean Six Sigma can benefit your organization. The sooner you start your journey, the sooner you achieve your organizational goals and improve your customer's experience.
---
What's Next
Lean Six Sigma Training & Certification: