Organizations face rising costs and increasing competition every day. Lean Six Sigma allows you to combat these problems and grow your business the following ways:
Lean Six Sigma Increases Profit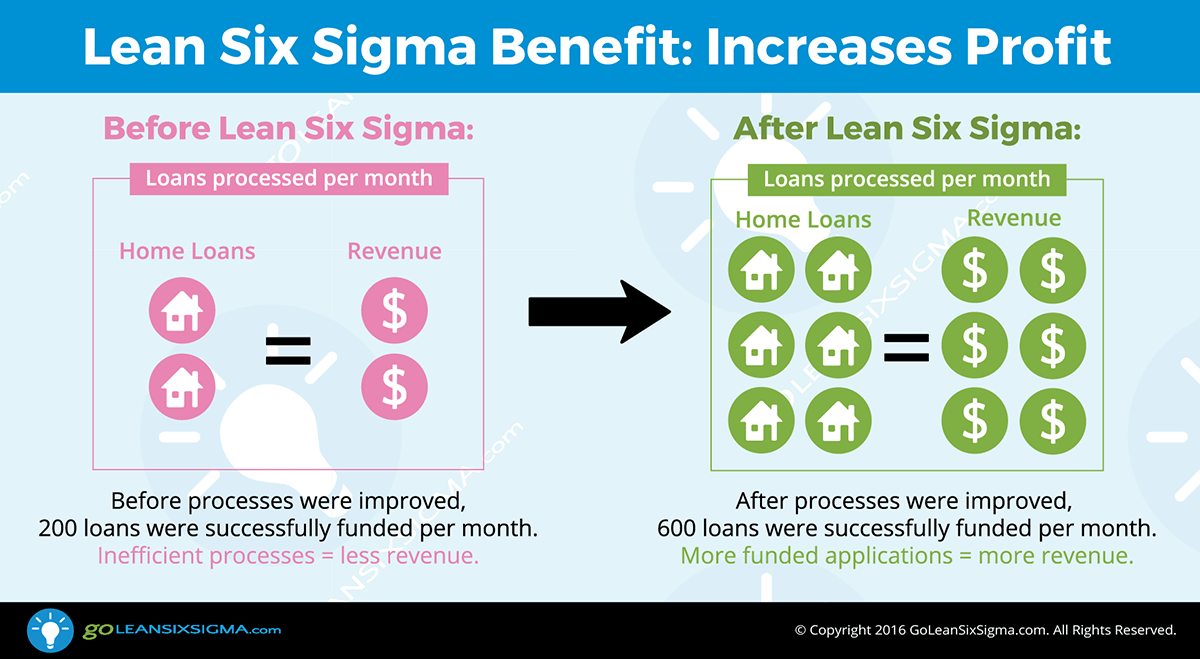 Lean Six Sigma increases your organization's profit by streamlining processes.
Streamlined processes result in products or services that are completed faster and more efficiently at no cost to quality.
Simply put, Lean Six Sigma increases revenue by enabling your organization to do more with less – Sell, manufacture and provide more products or services using less resources.
Lean Six Sigma Decreases Costs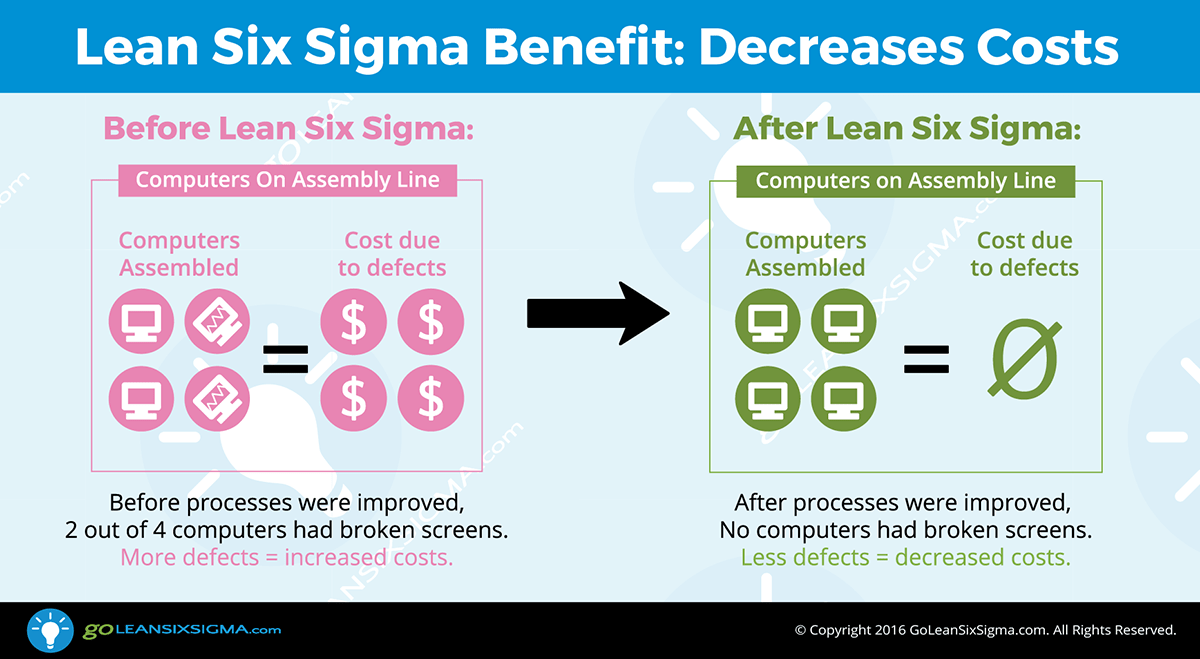 Lean Six Sigma decreases your organization's costs by:
Removing "Waste" from a process. Waste is any activity within a process that isn't required to manufacture a product or provide a service that is up to specification.
Solving problems caused by a process. Problems are defects in a product or service that cost your organization money.
Basically, Lean Six Sigma enables you to fix processes that cost your organization valuable resources.
Lean Six Sigma Improves Efficiency & Effectiveness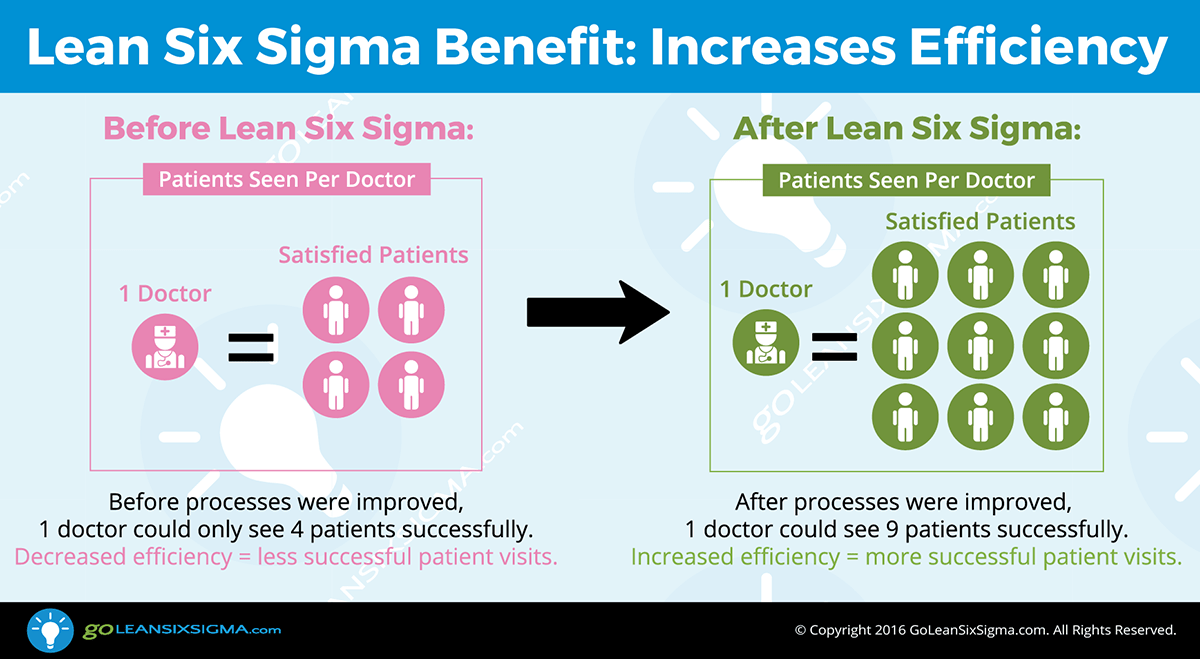 Lean Six Sigma improves the efficiency of your organization by:
Maximizing your organization's efforts toward delivering a satisfactory* product or service to your customers
Allowing your organization to allocate resources/revenue produced from your newly improved processes towards growing your business
Simply put, Lean Six Sigma enables you to create efficient processes so that your organization can deliver more products or services, with more satisfied customers than ever before.
Lean Six Sigma Helps Develop Effective People & Teams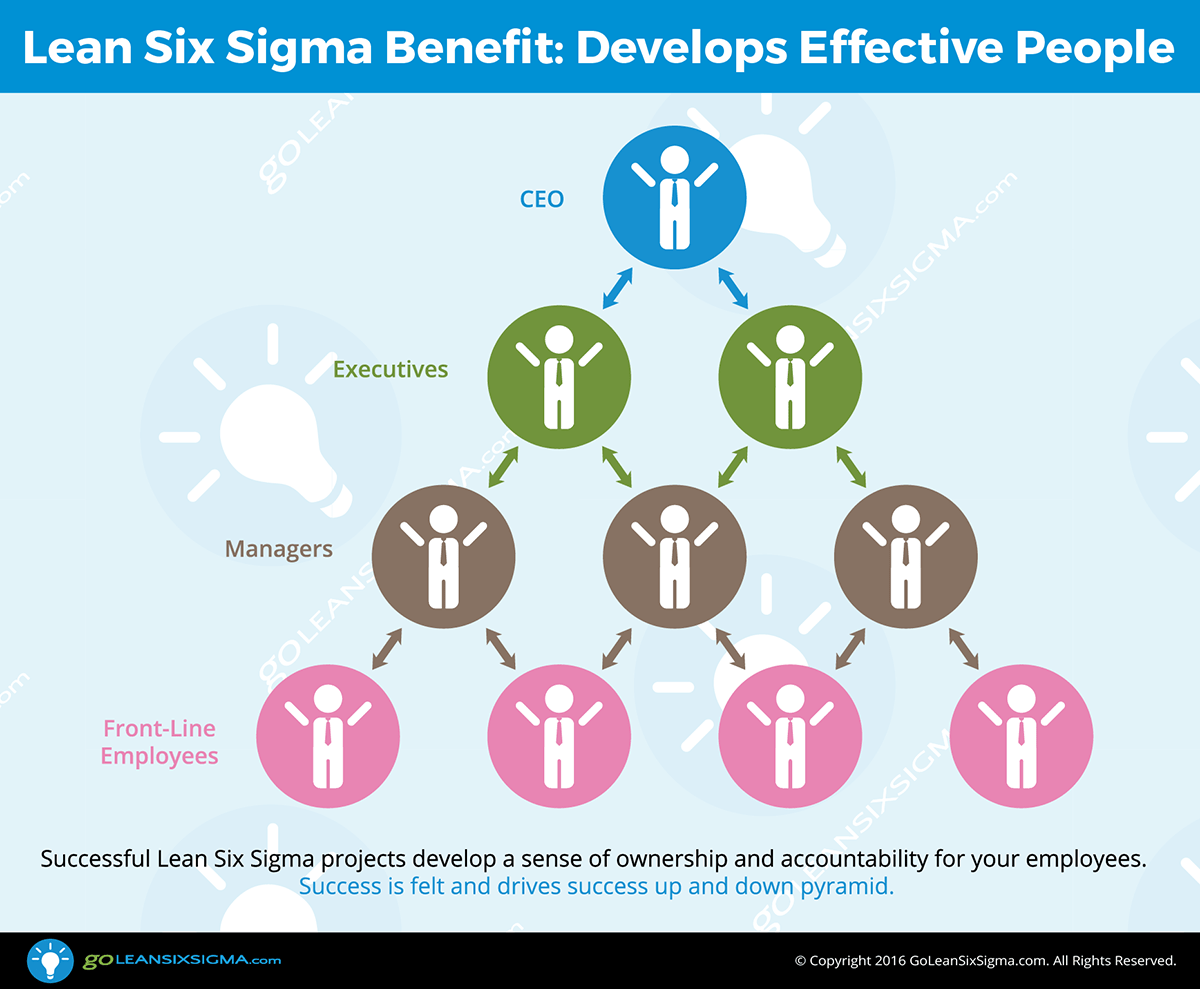 Lean Six Sigma develops effective employees within your organization by:
Involving employees in the improvement process. This promotes active participation and results in an engaged, accountable team.
Building trust. Transparency throughout all levels of the organization promotes a shared understanding of how each person is important to the organization's success.
Basically, Lean Six Sigma develops a sense of ownership and accountability for your employees. This increases their effectiveness at delivering results for any improvement project they are involved in. Quite often, this benefit is overlooked by organizations who implement Lean Six Sigma, but it's underlying advantages dramatically increase the chances of continued success of Lean Six Sigma, and your business.
What's Next:
Lean Six Sigma Training & Certification: