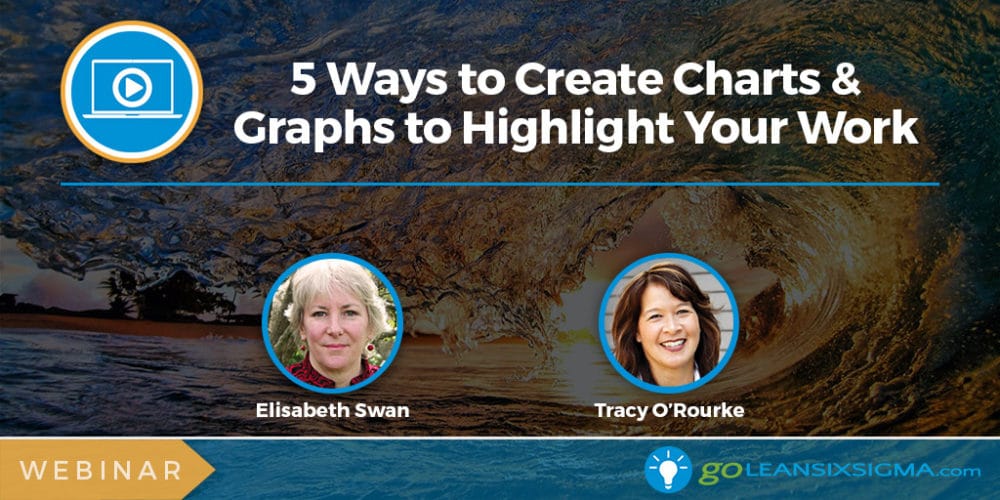 A picture is worth a thousand words – actually, the brain processes images 60,000 times faster than it can read, so it's worth turning your data into pictures. When you're trying to make a point, impress leadership or win the hearts and minds of process participants, graphs and charts are the way to go. In this 1-hour intermediate webinar we'll give you some step-by-step training on how to take a column of data and bring it to life on the big screen.
We'll be using SigmaXL during the webinar. SigmaXL is a Microsoft Excel add-on which we highly recommend for its ease of use, low cost and compatibility with both Macs and PCs. Click here for even more instructions on how to use SigmaXL.
---
Webinar Recording: 5 Ways to Create Charts & Graphs to Highlight Your Work
---
Webinar Presentation: 5 Ways to Create Charts & Graphs to Highlight Your Work
Having trouble viewing this presentation? Download it here.
---
Webinar Level
Date & Time
Date: Thursday, July 20, 2017
Time: 11:00 AM – 12:00 PM PT
Agenda
How Charts and Data Tell the Story
What Does a Histogram Tell You?
What Does a Run Chart Tell You?
What Does a Pareto Chart Tell You?
What Does a Box Plot Tell You?
What Does a Scatter Diagram Tell You?
How Charting Tricks and Tips Can Help
Tools & Templates
---
Presenter
Elisabeth Swan, Managing Partner & Executive Advisor
Elisabeth is a Managing Partner, Executive Advisor and Master Black Belt of GoLeanSixSigma.com. Elisabeth has over 25 years of success helping leading organizations like Amazon, Charles Schwab, and Starwood Hotels & Resorts build problem solving muscles and use Lean Six Sigma to achieve their goals.
---
Q&As From the Webinar
---
Past Webinars
---
View our upcoming webinars and join live so you can ask questions and let us know what you'd like to us to cover next. We're busy building new webinars all the time. And we're happy to know you're busy too – building your problem-solving muscles – keep it up!
Get Full Lean Six Sigma Training & Certification