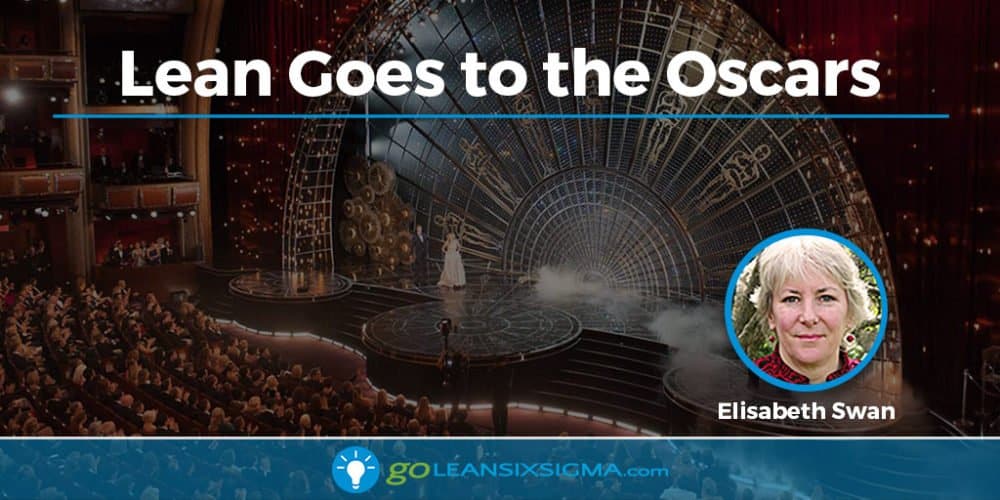 Process Improvement Gets the Red Carpet Treatment
The 87th Oscars will be broadcast this coming Sunday, February 22, 2015. In Anthony Brezinican's article in this weeks' Entertainment Weekly, he covers Oscar producers Craig Zadan and Neil Meron and their efforts to engineer a great show. This year marks their third effort and, to those of us trained in the tools and techniques of Lean Six Sigma, it looks like the viewers are going to benefit from some solid process improvements. Let's take a look at this Hollywood case study:
1. First, they did some basic gathering of Voice of the Customer.
This probably didn't involve the kinds of surveys, interviews and secret shoppers many of us spend time deploying. They have heard years of very public complaints that, "The show's too long. There's not enough entertainment between awards. Too few celebrities attend. Viewers feel like they're left out of the party…" They had lots to work with!
2. Some Baseline Metrics showed that in their first year at the helm they improved viewership 3% to 40.3 million.
But as we've learned, all viewers are not considered equal. Stratification revealed that with Seth MacFarlane they drove the "coveted 18-to-49 demographic" up 11%. Last year with Ellen DeGeneres and the famous "selfie" they drove the viewership up another 6% with 43 million viewers.
3. Two data points aren't enough to do much Data Analysis, so at this point you have to ask if the improvement is just Common Cause Variation and the odds are that viewership drops this year.
Or, could the host be the source of Special Cause Variation and Neil Patrick Harris of "How I Met Your Mother" may or may not be the right X factor this year?
After looking at the Cycle Time they realized that "it took an eternity to get to the microphone – up to 40 seconds." A little Root Cause Analysis revealed that the set design itself led to the waste of Motion when the actors were walking, which led to the second waste of Waiting experienced by the audience. They joked, "there was more walking at the Oscars than in a Lord of the Rings movie."
5. They did some Risk Management, and realized that women "in gowns and high heels cannot walk down a staircase without putting their lives in jeopardy."
Jennifer Lawrence was a good sport about her public tumble but she's a Hunger Games warrior. It's surprising that someone older hasn't taken a more disastrous spill. Once again, the long staircases are the obvious culprits.
6. Then they looked at their workspace and, while it's not exactly Work Cell Design, they basically reduced the size of the sets and put the presenters at center stage.
Instead of waiting for them to walk to their marks, the scenery moves to reveal them. All the acting nominees are up front anyway but now they'll rotate contenders from the technical categories in and out of the balconies instead of leaving them to make the long walk from the back. As Zadan notes, "when they win, they are on stage in seconds."
7. Having removed the long walks for presenters and winners they created an opportunity to add more performances and increase Customer Value for the whole event.
This means performers and celebrities get to see more of a good show and the viewing audience will have more to engage them. It also gives more "face time" to the nominees in the technical categories who get to spend time up front in the balconies.
I must say, I'm a sometime Oscar viewer who's gotten a bit jaded with the dull spectacle over the years, but the work these two have done to improve the show is so intriguing I'm going to definitely set my dial for ABC this Sunday. I'm curious not just about whether they move the needle above 43 million viewers but whether it's a better show according to us, their customers.
So go ahead, watch the Oscars and report back. What do you think? Did their efforts pay off?