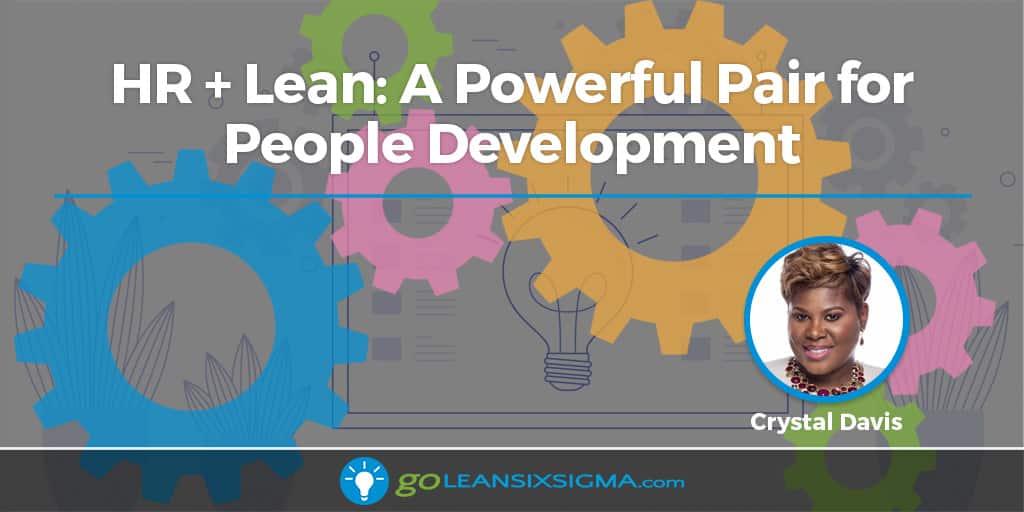 I recently spoke at Lean Frontier's Lean Leadership Week Summit, which focused on lean people development and lean accounting. This summit traditionally attracts a lot of HR professionals working in organizations undergoing a lean journey. During a concurrent session, I shared some of the ways that I've exercised with clients to engage HR early in the lean people development strategy.
Lean used to be widely known as a manufacturing solution for continuous improvement, and is more recognized today as a method that fits any operational improvement situation. Another truism—that most agree with—is that organizations underestimate the amount of work, time and commitment required to drive a continuous improvement culture and to develop lean and leadership skills at all levels for sustainability.
Staying Connected
Few companies connect their overall business strategy to their lean continuous improvement strategy. The disconnect between these strategies often creates divergent paths for the leaders and the resources working on both. These two strategies, in my opinion, should be connected.
The business strategy should be the key for aligning the continuous improvement strategy. Many practitioners refer to this as "Hoshin Kanri," otherwise known as policy deployment or strategy deployment. Organizations work to align with their true north and create 3- to 5-year breakthrough objectives. The strategy provides the roadmap to determine where resources should focus their efforts.
The business strategy should be the key for aligning the continuous improvement strategy.
When considering purpose, process, and people, we have many examples for defining the organization's purpose, and why lean is critical to their future success. Our grasp of the processes and process improvement approach is also well documented. However, when it comes to people—what most organizations deem their greatest asset—there is a lot of room for improvement and very few case studies to model after.
Do We Have to Be Like Toyota?
Many practitioners are familiar with the books about the Toyota culture and it's successful "DNA." I plead guilty for spending years trying to make every client organization be like Toyota. That is a tall, daunting and impossible task.
What we must learn instead are the elements of Toyota's formula for designing the culture, the leadership and the development practices that fit your organization. I want to focus your attention on people management and development opportunities, and how to connect those at a strategic level to align with your business strategy.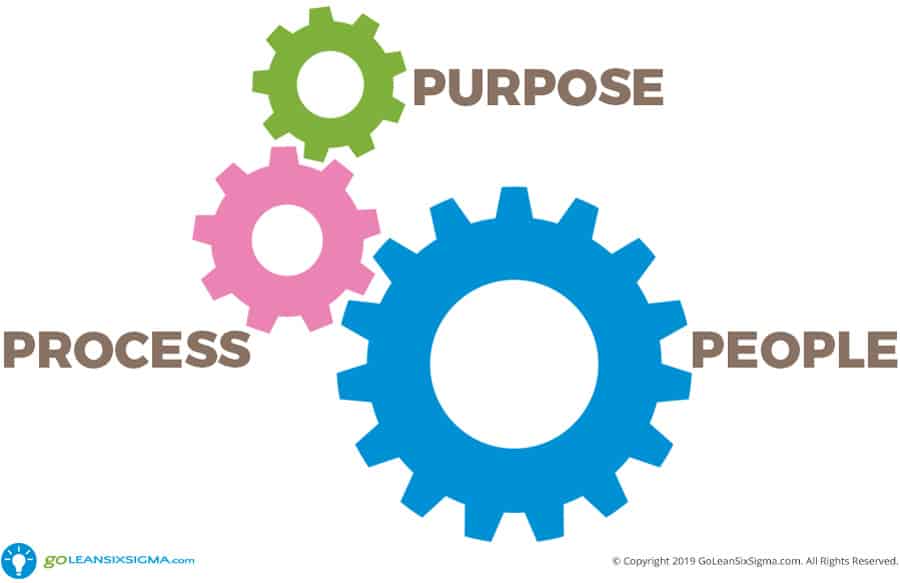 Before jumping into examples, let's begin with a fundamental quandary that practitioners should commit to understanding and overcoming. Lean practitioners place people management systems and coaching in high regard. They place great attention on training, learning by doing, and teaming. In spite of all this, many lean practitioners fail to partner with Human Resources to develop a strategic improvement plan for human capital to support lean business transformations.
Why is that? When I reflect on my 20-year journey—a few reasons come to mind.
Lack of Awareness
My perception of HR's role was recruiting, policy, benefit and compensation management—not talent development. Not until recently has HR paid more attention to employee experience, training and development, coaching, and talent management.
Lack of Understanding
We remain unclear of the potential for HR to help. It's natural to reach out to HR to recruit to fill vacancies or bridge skill-set gaps. Rarely in my experience was HR engaged in discussing and strategizing the development of a lean culture. That was always the lean team's lane. That's why I worked to recreate Toyota's culture. It didn't occur to me to ask HR for learning and development advice or resources. I mean, the lean team did all of the lean training, right?
Reduction of HR Staff
Many organizations moved to centralize and downsize HR staff by outsourcing functions such as learning and development, change management, and behavioral assessments. Without these resources front and center, it was easy to negate them from the process.
Lack of Understanding of Lean in HR
In my early days when I would push for engagement from support functions, my focus would always be on their unique process improvement opportunities rather than the collective, holistic strategy.
I focused on identifying processes where we could apply the toolset, because that was the approach I was taught. HR needed to 5S their office the same way they did on the manufacturing floor. There's a place for that—but realizing that approach was tactical not strategic, I set out to solve that problem.
I'll share a few areas where organizations might leverage HR within the lean people development strategy using some real world situations.
1. Training and Development—Core Soft and Hard Skills
HR professionals have an arsenal of tools and accessible resources to develop core soft and hard skills that fit well within a lean culture. As we consider respect for people, effective communication, empathic listening, emotional intelligence, the art of inquiry—these are great skills to support coaching, teaming, problem solving, daily management, gemba observation, and kaizens.
It is important for organizations to design the blueprint for their desired culture. This blueprint will provide the pathway for HR to determine the appropriate core skills relevant to achieving the desired state.
It is important for organizations to design the blueprint for their desired culture.
Attempts to Transfer Learnings Go Awry
One client came to this realization after enduring a lot of discourse among a value stream team. After much success the management team decided to pull a few of the rising stars from the value stream team to help with launching and developing a second value stream.
As willing and passionate as the rising stars were to share their learnings and train others on lean tools, they were not expecting to be met with staunch resistance from their peers. They became challenged and frustrated. Approaches that worked in their value stream weren't as effective with this group.
After observing the situation, it became apparent that while the rising stars had a good understanding of lean tools, they were not properly equipped to act as change agents in someone else's territory.
What are the Necessary Skill Sets?
A strategic approach working with HR or Learning and Development would have included some conversations and research about the types of skills needed to support these change agents. Ultimately, the training matrix for Subject Matter Experts (SMEs) was expanded to include topics such as facilitation skills, managing conflict, effective communication, humble inquiry, some basics of coaching, and more.
2. Attracting and Retaining Talent in Accordance with the Lean Business Strategy
As a lean organization matures, there are four camps that people will gravitate toward: early adopters, detractors, neutrals, and newbies.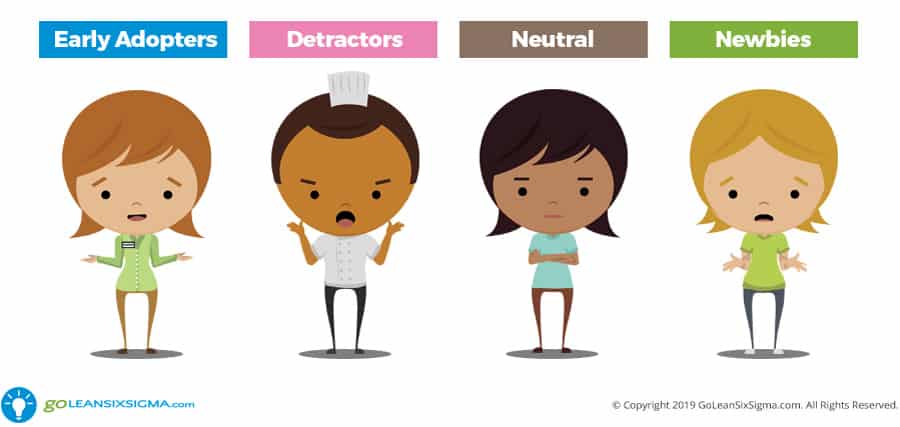 The Four Camps
Typically, after experiencing some success, the early adopters will promote and explore other options. Detractors, on the other hand may determine the organization/department in transition is no longer a good fit, or have that decision made for them.
The neutral camp can go either way. Then there are the newbies. There is an influx when organizations decide they want to "up-level" the hiring requirements new talent. Typically new hires must have some level of lean experience or have a belt certification.
These shifts place a lot of demands on HR—often without warning—requiring changes to recruiting practices, performance management, training and development, promotions and succession planning.
A Superstar Migration
A client with multiple divisions on the same campus, experienced a significant migration of superstar talent—early adopters were recruited by fellow division partners. The superstars had up-leveled skills, yet there weren't enough promotional opportunities within their division.
I was natural for them to explore these opportunities—especially with direct solicitations—but this churn created significant challenges and slowed progression of that division's lean business strategy. When they finally reached out to HR as a partner, rather than a resource to recruit talent, they collaborated on a more cohesive and holistic strategy to address all areas impacting talent management.
Why Not Hire Lean-Only Resources?
In one case, the operations director, with his newfound appreciation for people with a lean background, only wanted to hire people with lean experience. "What's wrong with that?" you might wonder. On the surface, nothing. It is actually a smart move. However, this move limits long-term, committed and dedicated company resources that have worked tirelessly waiting for openings to apply for a promotion or lateral moves that increase their knowledge base.
Another problem with these biases for lean experience is they could inadvertently change how managers rate performance without giving credence to the fact that the organization did not do enough to up-level all existing employees with lean training and experience.
Lastly, this division had a very tenured population of skilled tradesmen who were solely interested in riding out their last few years to retirement in peace. They weren't interested in changing. This meant the operations team needed to work with HR on a recruitment strategy, while the lean team worked to convert years of tribal knowledge to work standards that new recruits could follow without jeopardizing product quality. The lack of planning or a strategic talent deployment plan produced many challenges.
3. Talent Management Aligned with Breakthrough Objectives
Another client set a breakthrough objective to 5X their business in 5 years. There was a time when this was a common goal often dictated to divisions. Nevertheless, this particular client had done amazing work to free up capacity and footprint—they welcomed the challenge. They aligned their X-matrix and A3 to develop their plans. Once they started—they quickly realized the chaos that would accompany growth in the midst of their lean transformation journey.
A Culture Clash
One thing became alarmingly apparent—a lost identity. As they began to consider the new ventures that would grow their business, they realized there were still a lot of areas with limited lean engagement or no more than an introduction to the foundational elements and tools. They were essentially operating between the old culture and the new lean culture. It was as though some people only spoke English while others spoke only Dutch.
Navigating Organizational Identity
As they considered new markets and products, they needed to revisit the skill sets that would take them into the future. In this case, driving the right culture and leadership practices were important to who they were becoming. They decided to take a step back to define their culture and to develop a plan to bring others along. There were a lot of factors that could impact the growth strategy where HR professional could extend their professional expertise to navigate these treacherous waters.
4. Adapting Performance Management to Develop the Desired Culture
I touched on this briefly when referencing the divide of newly recruited talent threatening the biases of performance measurement of tenured employees. Here I want to expand the impact culture can have on performance management. Maturing lean organizations understand that cultural changes often associated with lean require a shift in mindset, behaviors and leadership practices. All of which demands that people change.
Maturing lean organizations understand that cultural changes often associated with lean require a shift in mindset, behaviors and leadership practices. All of which demands that people change.
Change management requires a significant level of time and commitment to practice new behaviors. Louis V. Gerstner, Jr. says, "people do what you inspect, not what you expect." This means performance metrics and management are another area where HR can engage in supporting and driving a lean people development strategy.
HR can facilitate defining the mindset, behaviors and leadership practices that drive the type of culture in which the organization desires to operate. Once these elements are defined and communicated, HR can assist with personality and behavioral assessments to help people to understand how they fit or don't. When there are gaps in fit, HR can then support the employee with training, coaching and repositioning so the employee is positioned to thrive.
Finding One's Strengths
In one case study, there was a supervisor doing his very best to align with the new way of leading as a coach. He was truly committed but the more he tried, the more his team was turned off. They didn't feel they could speak up and be transparent. This led to a lack of engagement at the standup meetings, and several start/stops with lean initiatives.
His manager approached me for some coaching. As I asked the manager his opinion of the supervisor's strengths, he realized he didn't have a bad supervisor—he had a supervisor in the wrong role. I recommended that he and his team reach out to HR to complete the StrengthFinder's assessment.
Clarity Gold
The results were like gold for each person as well as the manager. They began to have an open dialogue about the new requirements, the impact on performance, role clarity, fit, career paths, and so much more. As positions became open or necessary as a result of their growth strategy and clarity around their desired culture, the manager began to shift people into positions where they could be of better service overall.
Instead of the manager being frustrated with this supervisor, which would have led to a poor performance evaluation, he could support him in a win-win solution for the team and the individual. Another benefit of this approach was that it created a safe environment for the development of more rising stars, which was a strategic lever for succession planning led by HR.
[This approach] created a safe environment for the development of more rising stars.
In my work, these practices have provided meaningful and rewarding impacts to engage HR professionals in the lean continuous improvement journey and business strategy. Certainly there are HR department processes where lean tool applications are relevant. Nevertheless, radical breakthroughs and improvement sustainability occurs when an organization's culture has the right mindset, the right behaviors, the right leadership, and the right talent to support the business objectives and to drive the cultural DNA of lean deep within the organization. That, my friend, is how you drive sustainable and lasting change in an organization.
Invite HR resources to the party!