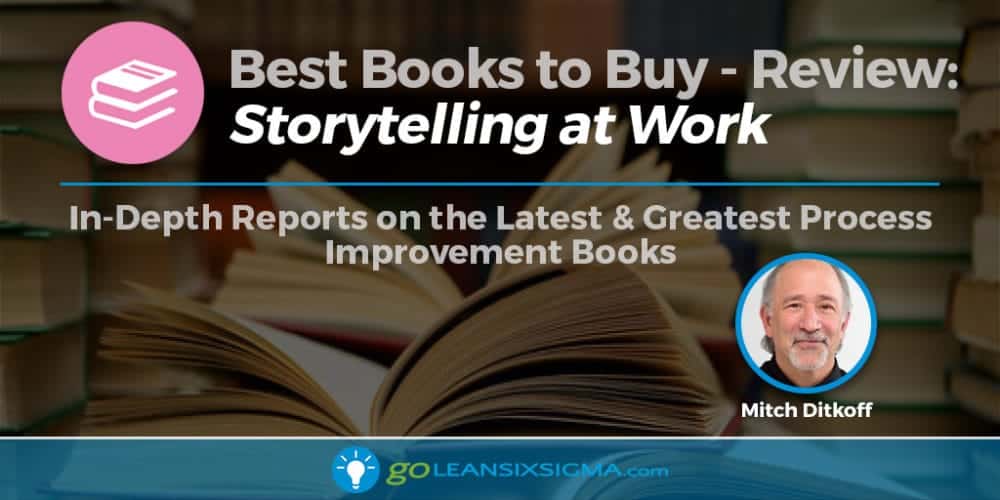 This month's book is Storytelling at Work: How Moments of Truth on the Job Reveal the Real Business of Life by Mitch Ditkoff.
About the Book:
"There have been great societies that did not use the wheel, but there have been no societies that did not tell stories." – Ursula K. Le Guin
This book is the right-brain's answer to the left-brain's frustration when facts and data don't rule the day. For those of us making the case for improvement – something as mundane as changing a form or as radical as redesigning someone's job – helping others to "see the light" could benefit from a well-told story. This stuff generally comes under the heading of "Change Management" and "Stakeholder Analysis" but we rarely include stories in our formal "change" toolkits. We've all got stories. And we've all had those moments where, conscious or not, telling our story caused people to start truly listening to us. Short, long, well-told or slightly scattered, stories are key to engaging others. Enter the master storyteller, innovation provocateur and entertaining business writer, Mitch Ditkoff.
At its heart, this book relays thirty eight of Mr. Ditkoff's selected stories. Thirty eight moments in the author's life that moved him or profoundly shifted his thinking. The stories stem from events that took place while he was doing things like running an innovation workshop at Pfizer, working as a night watchman, catching a cab or dressing up as Santa. They are just a few pages each and they're all relatable – an example is the moment when he relayed his cab driver's story to a distracted group of workshop participants and suddenly they stopped texting, picked up their heads and sat in rapt attention. Moments like those elevate the purpose of the work. We've all had to compete with people's phones for attention and we all know the sense of relief when whatever we're saying manages to cut through it all. Cue the story.
Human beings traffic in stories. It's an ancient dynamic between hominids dating back as far as anthropologists could tell us what those fossilized molars were saying or what those cave drawings were all about. Storytelling is so ingrained that we're often unaware of the potent role it plays in our lives. Mr. Ditkoff provides an inviting guide for us to examine how stories star in our own lives and how we might become more mindful of embracing, adopting, refining and ultimately telling our own stories. I must confess, his sense of humor is a fabulous bonus.
But he doesn't just tell us his stories. He plays Socrates by asking, "So What?" and "Now What?" The "so what" is the message – what the story meant for him. He takes a step back from each experience and considers the significance, "This is the choice each of us needs to make every day of our lives. Do we play it safe and do the expected or do we take a risk and try something new?" The "now what" challenges us to apply the underlying questions to our own lives and work, "What message have you been trying to deliver that might be better communicated in a totally different way – a way that more successfully engages people and leads to the kind of extraordinary results you're looking for?"
And the "now what" questions are facilitated by the second section of the book, "The Art and Science of Storytelling." The book, including the final "how to" section, is delivered in bite-size chunks. Each chapter provides a digestible nugget of direction. As an example, he lays out the classic story structure. It's fun to see stories broken into what Hollywood producers know by heart:
Story Structure
Setting (what was the organization, department where it happened)
Character (who is trying to prevail with improvement)
Plot (Events that unfold or what happens to the character and the process improvement effort)
Conflict (what were the obstacle encountered by the character)
Theme (the resolution of the conflict and what's been learned along the way)
He asks the reader to "acknowledge the stories you already tell." He maintains, "the skillful storyteller doesn't tell too much, doesn't clutter the tale with his telling. Instead, he provides just enough detail for the listener to enter his world and participate. That's the goal of any work of art – to create a space for people to explore new realms."
Process improvement isn't the only arena that could benefit from the telling of stories. Mr. Ditkoff makes a great case for how organizations can prevent the loss of "tacit knowledge." As job tenures become shorter and turnover more constant, this issue only grows in consequence. This book lays the groundwork for Knowledge Management professionals to engage workers in telling and codifying their stories before walking out the door. This book is rich with ways to hone your storytelling skills. Find a new way to make the case for change and, in the process, elevate your life's work, make life more interesting and have a good time doing it!
About the Author:
Mitch Ditkoff is the Co-Founder and President of Idea Champions, an innovation consulting and training company headquartered in Woodstock, NY. He's been "Innovation Blogger of the Year" two years running. He's the Author of the award winning Awake at the Wheel and his newest book, Storytelling at Work, won an Axiom Business Book Awards Bronze Medal in 2016. He's a popular public speaker and has the distinction of having asked more than 10,000 people where they get their best ideas.
Practical Tools and Concepts Covered:
Stakeholder Management
Change Management
Storytelling Skills
Listening Skills
Influence Skills
Knowledge Management
Innovation
Who Should Read Storytelling at Work?
Process Improvement Professionals
Change Agents
Knowledge Management Experts
Managers and other leaders
Coaches
Teachers
Facilitators
Storytellers
From the Page:
"Storytelling is the most effective, time-tested, dependable way of transmitting meaning from one human being to another. It's been going on since the beginning of time when our first ancestors stood around the tribal fire. It's how civilizations pass on their wisdom to the next generation. It's how religions pass on the sacred teachings of their faith. And it's how parents transmit the values they want to impart to their children."
---
Check out our Amazingly Awesome List for more book reviews as well as a comprehensive list of Lean Six Sigma and process improvement books!