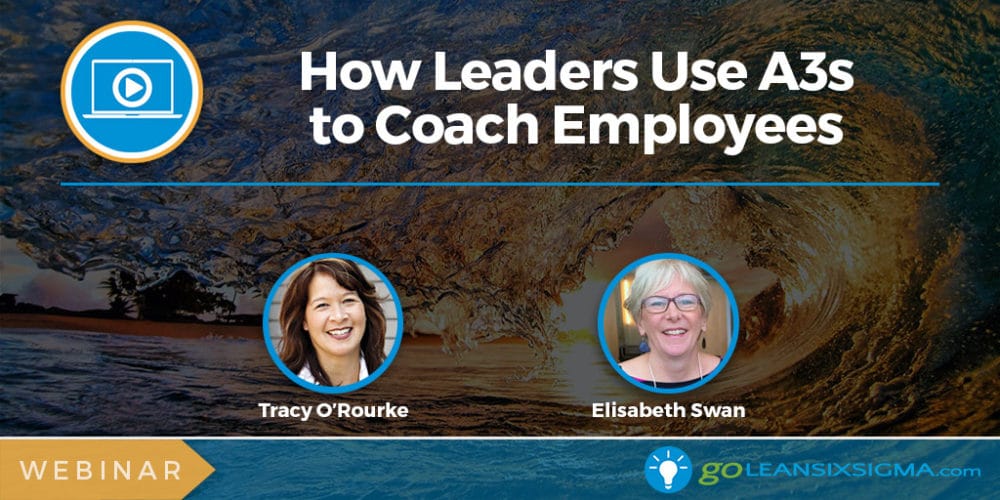 A3s are more than just documenting your project – they serve as a coaching tool for leaders. A3s help leaders see the problem-solving muscle at work. As employees become better problem-solvers, the problem-solving maturity manifests in A3s.
---
Webinar Level
Date & Time
Date: Wednesday, December 6, 2017
Time: 11:00 AM – 12:00 PM PT
Agenda
In this 1-hour Leadership webinar, we'll explore:
The A3 defined
Reasons to use A3s
How A3s build problem-solving muscles
How Leaders coach with A3s
A3 tips for Coaches
Tools & Templates
---
Presenter
Tracy O'Rourke, Managing Partner & Executive Advisor
Tracy is a Managing Partner & Executive Advisor at GoLeanSixSigma.com. For almost 20 years, she's helped leading organizations like Washington State, Cisco and GE build problem-solving muscles with Lean Six Sigma to achieve their goals.
---
Past Webinars
---
View our upcoming webinars and join live so you can ask questions and let us know what you'd like to us to cover next. We're busy building new webinars all the time. And we're happy to know you're busy too – building your problem-solving muscles – keep it up!
Get Full Lean Six Sigma Training & Certification