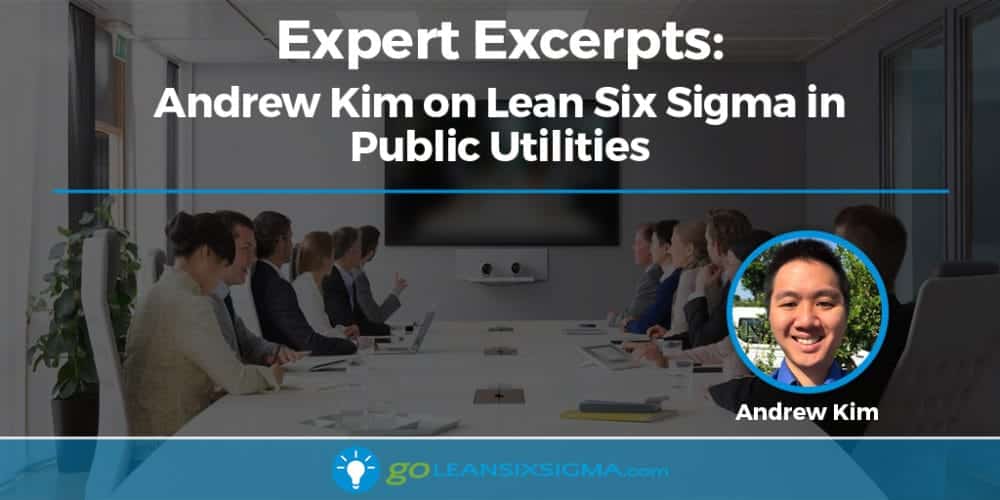 Whether you're just starting your Lean Six Sigma journey, or you're in the middle of improving a process, guidance from Experts can help make your efforts easier – and more successful! In this Expert Excerpt, we interview Andrew Kim who shares key insights to being successful with Lean Six Sigma in Public Utilities.
Andrew Kim is the Process and Business Analysis Manager in the Incident Support and Analysis department at Southern California Gas. He earned his Lean Six Sigma Green Belt in 2012 from IIE through USC, and earned his Black Belt from ProgressivEdge in 2016.
What advice do you have for someone who is getting started with applying Lean Six Sigma in public utilities?
My first piece of advice for our new Yellow Belts / Green Belts is always to start small and not bite off more than you can chew. There's a natural tendency to want to dive in and fix every problem available, or the biggest problem you can find. In theory, that would be an amazing way to kick off your Lean Six Sigma program, but more often it leads to projects stalling out, waiting on approvals, or getting sidetracked and unfinished.
Instead, pick a smaller project that you have full control over, for which you can easily gather buy-in. Complete that first project, use it as a proof of concept of Lean Six Sigma truly working, and utilize that momentum to take on a bigger project moving forward.
What are some common mistakes you see people making when applying Lean Six Sigma in public utilities?
It's tempting to want to jump straight into the Improve Phase of a project, because we immediately believe we know everything there is to know about the process. However, taking the time upfront to gather full knowledge of the process in the Define Phase and performing a full root cause analysis in the Analyze Phase can reveal things you didn't realize, and will potentially save you a lot of headache down the road.
Do you have any pet peeves related to applying Lean Six Sigma in public utilities?
The pet peeve that sticks out the most to me is when people are overly resistant to the idea that processes need to evolve and change. Large organizations, such as utilities, often have many well-established processes but also need to constantly adapt to the current environment or technology around them.
Granted, it's expected that most people will be hesitant to see things change from what they're already comfortable with – but it becomes incredibly difficult when your stakeholders become overly defensive of keeping everything the way it is.
Is there anyone who has significantly influenced you over the years?
Now recently retired, my old Director, Ed Fong, was the head of our Performance Management & Organization Strategy department when I first joined SoCalGas in 2010. He built the department from scratch, always putting an emphasis on hiring the best and brightest minds, in order to solve the most complicated and sophisticated business problems in the company. That forward-looking mindset always stood out to me as being very unique and admirable within the utility industry, which inspired me to strive to achieve the greatest results possible.
Why do you do what you do? (What motivates you?)
I've always had a passion for developing strategies and looking to maximize the effectiveness of whatever I'm focused on, so Lean Six Sigma was a perfect way to roll that mindset in with a proven methodology.
At SoCalGas, I'm motivated by the fact that we're viewed as an industry leader in so many areas, and that Lean Six Sigma can impact every one of those leading areas, whether it's operational processes, supporting processes, or anything in between. There's always a new challenge waiting, and no two processes are ever exactly alike.
What's something exciting that you're currently working on?
Today, I'm a part of the newly formed Incident Support and Analysis department, aiming to help prepare the company for any potential future major incidents. While this department doesn't focus on process improvement specifically, it does borrow from Lean Six Sigma principles in order to figure out what questions we need to ask for incident preparedness, and what actions to take accordingly. Forming a new department with brand new responsibilities is simultaneously an incredible challenge, but also an exciting opportunity for our whole group.
What's your favorite application of Lean Six Sigma in your personal life (away from work)?
I like to cook as much as I can at home, so I try to apply Lean Six Sigma to help cut down on my cooking time, by doing as many steps in parallel as possible, or by reducing my setup time by as much as possible.
The best meal is served with all of the different dishes finishing at just the right time, so it's imperative to minimize downtime and not have dishes waiting on one another before moving on to the dinner table!
Have a question for Andrew? Please feel free to ask in the comments below.