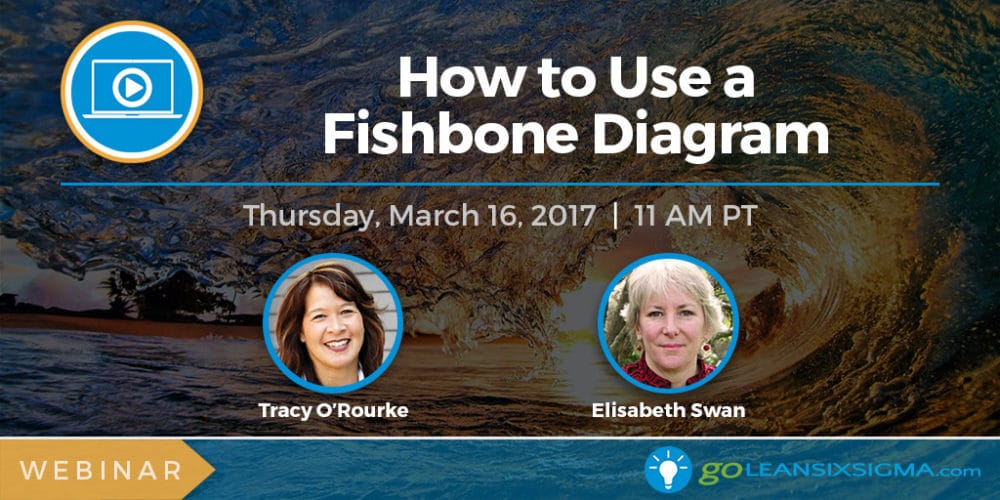 The Fishbone (aka Cause & Effect or Ishikawa) Diagram is a seemingly simple method of conducting structured brainstorming around the root cause of a process problem. So why is it so hard to get it right? We'll walk through some classic ways to build a Fishbone Diagram, we'll show you some of the common missteps and we'll provide examples of what they look like when they're properly executed. Join us for a guided tour of the Fishbone!
---
Date & Time
Date: Thursday, March 16, 2017
Time: 11:00 AM – 12:00 PM PT
Agenda
What is Fishbone (aka Cause & Effect) Diagram?
Why and when should we use a Fishbone Diagram?
What's the right way to build a Fishbone Diagram?
Are there any ways not to use a Fishbone Diagram?
What do "proper" Fishbones look like?
---
Presenter
Elisabeth Swan, Managing Partner & Executive Advisor
Elisabeth is a Managing Partner, Executive Advisor and Master Black Belt of GoLeanSixSigma.com. Elisabeth has over 25 years of success helping leading organizations like Amazon, Charles Schwab, and Starwood Hotels & Resorts build problem solving muscles and use Lean Six Sigma to achieve their goals.
---
Past Webinars
---
Future Webinars
An Orientation to Process Walks for Participants
Please keep an eye out for registration invitations which we'll share via email, LinkedIn, Twitter and Facebook!