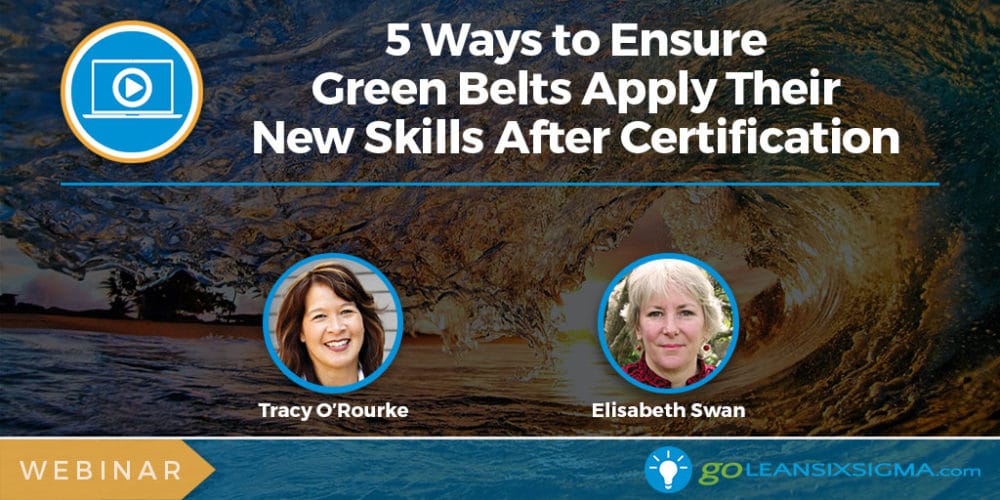 Investing time, money and effort into Green Belt Training & Certification is a great way to educate employees on continuous improvement concepts, tools and application. But what about after certification? Most Green Belts suffer from the waste of non-utilized talent. In this 1-hour leadership webinar, we'll discuss how organizations can better utilize and engage certified Green Belts and their talents.
---
Webinar Level
Date & Time
Date: Monday, August 21, 2017
Time: 11:00 AM – 12:00 PM PDT
Agenda
Setting the stage for Green Belts upfront
Why it's important to integrate Certified Green Belts into the CI community
5 things you can do to engage Green Belts
---
Presenter
Tracy O'Rourke, Managing Partner & Executive Advisor
Tracy is a Managing Partner & Executive Advisor at GoLeanSixSigma.com. For almost 20 years, she's helped leading organizations like Washington State, Cisco and GE build problem-solving muscles with Lean Six Sigma to achieve their goals.
---
Past Webinars
---
View our upcoming webinars and join live so you can ask questions and let us know what you'd like to us to cover next. We're busy building new webinars all the time. And we're happy to know you're busy too – building your problem-solving muscles – keep it up!
Get Full Lean Six Sigma Training & Certification