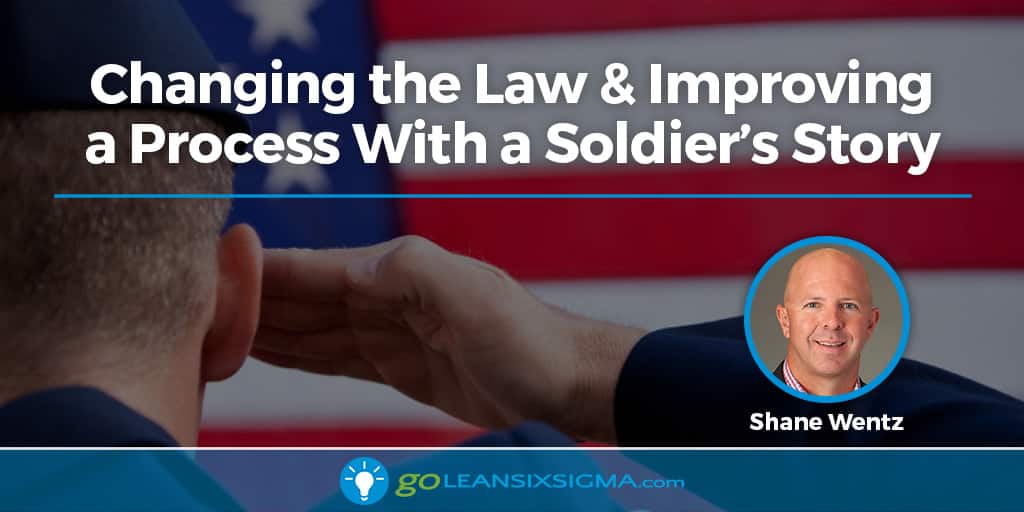 I have been in the Continuous Improvement field for about 12 years now. It has been an amazing journey filled with awesome teams, amazing mentors, a lot of challenges but, most of all, a lot of meaningful work. It drives my passion for helping others to continuously improve how they operate.
Whether it is a question and answer session at a speaking engagement, a podcast, or just talking to people about how lucky I am to have such a great career, one question I always seem to get is, "What is the best Continuous Improvement experience of your career?"
The Best Experience of My Career
As I mentioned, I have been fortunate to work with amazing people at awesome companies. I started my Continuous Improvement journey with the Army and then did some consulting before going back into federal government as a civilian. I made the jump to the private sector with Siemens, Nike and Radial, and today I am Co-owner of A Change In Latitude Consulting where we help organizations get closer to their "true north" by leveraging continuous improvement. When asked about my favorite Continuous Improvement experience of my entire career, I always refer to one of my first enterprise-level projects for the Army—The Military Occupational Specialty/Medical Retention Board.
Back in 2010 I was a Lean Six Sigma Black Belt in the Army. I had about a year left until I was scheduled to leave the Army, and I was in the process of getting my Master Black Belt Certification. It was also a tough time in the Army with wars waging in both Iraq and Afghanistan. The battlefields of war have changed drastically over the years. One of the positive changes—due to the miracles of modern medicine on the battlefield—is the drop in the fatality rate for U.S. Soldiers.
As of August of 2010, there were approximately 6,200 U.S. service member deaths, but there were somewhere around 40,000 wounded service members. When compared with previous conflicts, although casualty rates had gone down, the wounded-in-action rates had gone up.
Evaluating Soldiers Wounded-In-Action
With wounded-in-action rates going up, the Army had to rethink the way they evaluated wounded service members when determining if they could continue to serve in the Army. The old process was decades-old and too slow and cumbersome to handle the number of wounded service members returning from war. I was asked to be part of a small team that would work across the Army (both active as well as US Army Reserve and the National Guard) to determine a better way to evaluate injured service members.
When a Soldier returned with an injury, the old process put them through a medical review process that would determine if:
the injury was so severe they needed to be separated from the Army
the injury was not so severe they needed to be separated but was severe enough that they couldn't do their current job
the injury wasn't severe enough to impact their job or their Army career
Once a Soldier begins this medical board process, they are not eligible to deploy to war. They can't go to another duty station and their career is basically "put on hold" until a decision is made. This negatively impacts the Soldier as well as their family. In addition, their organization is left with a Soldier that can't deploy. The next time they go to the battlefield they will often be shorthanded. At one point, some organizations in the Army had up to 20-30% of their Soldiers going through this medical evaluation process and thus couldn't deploy.
What Did the Data Say?
When we gathered baseline data for this project, we began to understand exactly how much the process needed to change. We found that although the "average" time for a Soldier to go through the medical board process was about 2 months, the range was between one and 18 months. Imagine being a Soldier, not knowing what your future in the military was, for 18 months. Also, imagine how their family felt and how their organization felt knowing they couldn't deploy with that Soldier the next time they went to war.
My Lessons Learned—Bring Data
I won't go into project detail, but I want to highlight a few of the lessons that stuck with me throughout my Continuous Improvement career. The first lesson was that data drives improvements. If you spend time up-front collecting data and put it into a format that key stakeholders and leaders can easily understand, it helps take any potential prejudice, or what I call the "question of why we need to do this," out of the project.
If you spend time up-front collecting data and put it into a format that key Stakeholders and leaders can easily understand, it helps take any potential prejudice out of the project.
If It Ain't Broke…
There can be a lot of red tape in the federal government. I lost track of the number of times key leaders said something to the effect of, "this medical board review process has been in place for decades, why should we change it now?" Or "it obviously isn't broken, so why should we fix it?" Responding to those questions is much easier when you have tens of thousands of lines of data showing that the current process isn't capable of meeting the Voice of the Customer.
In this case, the customer was the U.S. Army, Soldiers going through the process as well as Congressional leaders who were getting endless complaints about how slow the current process was. Leveraging very simple tools like Box Plots, Pareto Charts, Run Charts and Control Charts allowed us to "tell the story" of exactly how bad the current process was.
Leveraging very simple tools like Box Plots, Pareto Charts, Run Charts and Control Charts allowed us to "tell the story" of exactly how bad the current process was.
Tell the Stories of the People Behind the Data
My next lesson was to spend time getting to know the people behind the processes and to leverage "people stories" to advance projects. Data was a huge advantage for us during this project. We gathered baseline data from the active army, U.S. Army Reserve as well as 4 different state National Guard units. What we found was a process not capable of meeting the needs of customers. We had been asked to get the process down to 30 days and the existing process took between a month and 18 months—That's a lot of variation.
However, as powerful as that data was, the time spent interviewing people involved in the process was invaluable. We talked to leaders of organizations who admitted they were concerned for the safety of their organizations during their next deployment due to how many service members would be unable to deploy with them because they were pending a medical board. We spoke to service members who were scared because they didn't know if—in a week, month or year—they were going to be separated from the Army due to their injuries. Finally, we spoke to military spouses who were in tears because they weren't sure how they would pay for medication, food or schooling for kids if their spouses were separated.
However, as powerful as that data was, the time spent interviewing people involved in the process was invaluable.
Leadership Pushes Back—Can't You Just "Tweak" the Process?
I will never forget a critical meeting we had at the Pentagon with a key Army stakeholder. He was a 3-star General whose support was critical if we had any chance of success. The team had worked hard to gather data, analyze data, interpret results, brainstorm solutions and even pilot a potential future state process. However, for the team's recommendation to be implemented there would have to be a change in federal law. That meant senior Army leaders would have to brief Congress and ultimately get congressional approval. This meeting included a lot of senior Army leaders along with congressional aids. At the time I was a Master Sergeant in the Army—needless to say I was the junior person in the room.
The briefing was going well, but at one point the 3-star General asked the person doing the briefing for our team why it was so critical to make this change now. He knew it would be a long road to get the approvals and hinted that maybe we could make tweaks to the process rather than develop an entirely new process, which was what we were recommending.
The Layers that Drove the Lead Time Variation
We found during the project that a lot of the variation introduced into the existing process was due to the fact every Army installation had their own panel that would meet monthly or bi-weekly to review and make a decision on each Soldier's case. They reviewed anywhere from 10-50 pages of documentation—each site reviewed different documents—talk to a doctor on the panel, hear from the Soldier and their boss and then make a final determination.
The Army's requirements for a Soldier to either keep their current job, be processed into a new job or separated from the Army were clear. The process got convoluted because each location (hundreds across the Army) added their own requirements to the process and then waited for the panels to meet. The panels then made recommendations that went to the Department of the Army for final validation.
Piloting a New Process
To alleviate the lead time, we piloted a process in which the Soldier would fill out the required paperwork for the medical review process and then, rather than going before a panel of leaders to review, the request would go to an office at the Army's Human Resources Command for determination.
The new process simply required the Soldier to fill out a few documents, submit a recommendation from a military doctor, along with 3 other documents, that all went to an office at the Army's Human Resources Command. There, one of 5 people would review the documents and make a final determination. By taking all that variation and waiting out of the process, our pilot showed that the process could go from 2-18 months down to a few weeks.
By taking all that variation and waiting out of the process, our pilot showed that the process could go from 2-18 months down to a few weeks.
Facing Down Red Tape With a Story
During the Pentagon meeting, the team's hard work came face to face with red tape and the reality of what it took to change a law. When the general asked why the change needed to be made, something in me clicked. I stood up and shared the story of a young Soldier we met who shared how he had been waiting for over a year for a decision to be made on his case.
His son had major medical issues which required regular treatment and a lot of medication. Since the Army covered all the treatment for his son, if he were to be separated that would be thousands of dollars a month in medical bills his family couldn't afford. We spoke to his wife as well, who broke down crying as I was talking to her. It's an experience that I will never forget.
After I finished speaking, I sat down and thought to myself, "oh crap." I just interrupted a 3-star general and spoke for a team in which I was the junior person. I figured I only had about a year left in my Army career anyway, so if I got fired it was worth it to share that Soldier's story. Lucky for me, and the Army, the general agreed with me. The law had to be changed immediately in order to support the amazing men and women who sacrifice their lives for our country. It took several months, but eventually the law was changed and the Military Occupational Specialty/Medical Retention Board process (or MMRB) was replaced by the MOS Administrative Retention Review (or MAR2).
One Last Lesson—It's All About the Team
The final lesson I learned from this project was that it's always about the team. What I mean by that is that no matter the great work done by a Continuous Improvement practitioner, leader or consultant on a project, there is always a great team behind the effort.
I ended up being recognized by the Secretary of the Army for the Best Enterprise Level Project at the Army's Lean/Six Sigma Excellence Award Program (or LEAP). I was also interviewed by a few publications about the project and the award and the project ended up helping me achieve my Master Black Belt Certification. However, I always tell people that my role in the project was minimal. I was a sort of Project Manager and responsible for data collection and analysis.
The cross-functional team of subject matter experts were the ones who developed the game-changing future state process for the Army. I encourage Continuous Improvement to be done as a team, that is the only way to build a true culture of Continuous Improvement. Please visit our LinkedIn page or learn more about our work at www.acilconsulting.com.