*NEW* The Problem-Solver's Toolkit: A Surprisingly Simple Guide to Your Lean Six Sigma Journey
$29.00
Description
You've been asking for a book – so we wrote one!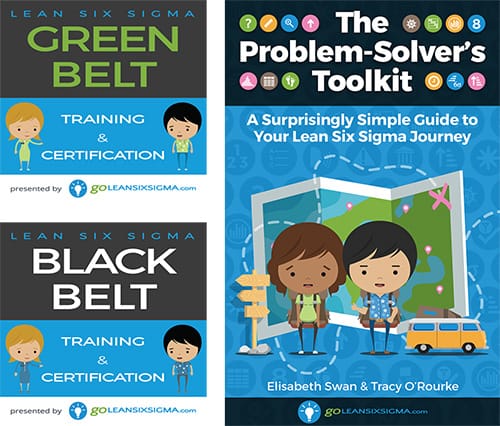 Fast and fun reference guide to 35 foundational Lean Six Sigma tools
Clear instructions, examples and best practices
Draws on over 25 years of success helping organizations achieve their goals with Lean Six Sigma
$29 FREE! with your Green Belt or Black Belt Registration
We realize that as helpful as our online training is, sometimes you just want a compact companion guide for quick reference.
Introducing The Problem-Solvers Toolkit: A Surprisingly Simple Guide to Your Lean Six Sigma Journey! It's a fast-and-fun eBook travel kit for the process improvement traveller. We provide a basic tool set, examples, instructions, short paths around potholes and some sight-seeing options when you want to learn more.
We deliver 35 tools to get you from "bad" to "better" process performance. We cover essentials like the A3, Process Walks, SIPOCs, Check Sheets, Run Charts, 5S and Monitoring and Response Plans. Just enough to get you rolling.
This downloadable eBook is packed with colorful charts, instructive graphics and the familiar faces of the staff at the Bahama Bistro who contribute their own case study throughout.
Start your Lean Six Sigma Road Trip right now!