Podcast: Play in new window | Download
Subscribe: Apple Podcasts | Android | Google Podcasts | Stitcher | RSS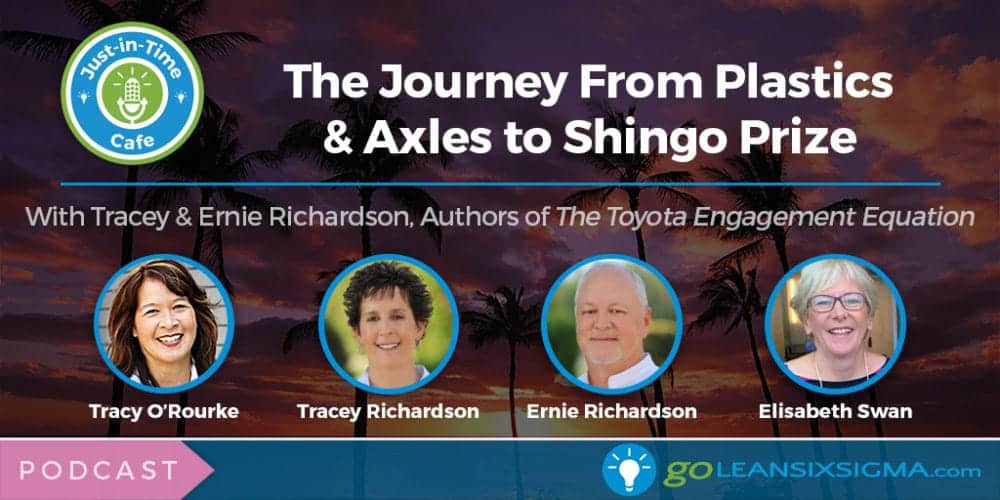 Today's Special highlights our southern friends Tracey and Ernie Richardson — The couple who started their work life at the first Toyota Plant in North America and wrote a book about it.
Today's Appetizer is the opposite of an app — It is a massive, integrated process collaboration platform for the ultimate process performance management. In the News, Harvard's Ash Center just recognized an agency in the State of Colorado for an Innovation Award and for The Printed Page, we'll review Tracey and Ernie's book about their time at the Kentucky plant called The Toyota Engagement Equation — A Shingo-Prize-winning history that takes the reader on a journey of learning. Packed with cafe goodies!
Timeline
2:16 Appetizer of the Day
5:53 In the News
8:42 The Printed Page
11:02 Coupon Code

Special coupon code for all of our awesome listeners: 20% discount on all of our online training!

12:16 Today's Special

Interview with Tracey & Richardson, Shingo-Prize-winning authors of The Toyota Engagement Equation

46:32 This Just In
---
Thanks for Listening!