Online Six Sigma Training
GoLeanSixSigma.com's Online Lean Six Sigma Training & Certification is the highest rated, most practical, easy to understand and enjoyable way to learn and apply Lean Six Sigma. Advance your career and transform your organization with the most effective Yellow Belt, Green Belt, Black Belt and Lean Training available.
Our online training draws on 20 years of success in virtually every industry and what our Experts practice every day in the field to provide you with the most effective way to learn and implement Lean Six Sigma.
What Is Six Sigma?
Six Sigma is simply a method of efficiently solving a problem. Using Six Sigma reduces the amount of defective products manufactured or services provided, resulting in increased revenue and greater customer satisfaction.
Six Sigma identifies the cause(s) of your problem to efficiently develop effective solution(s).
Six Sigma originated at Motorola in 1986 and since then has saved organizations billions of dollars in virtually every industry.
What exactly does "Six Sigma" mean?
Six Sigma is named after a statistical concept where a process only produces 3.4 defects per million opportunities (DPMO). Six Sigma can therefore be also thought of as a goal, where processes not only encounter less defects, but do so consistently (low variability).
Basically, Six Sigma reduces variation, so products or services can be delivered as expected reliably.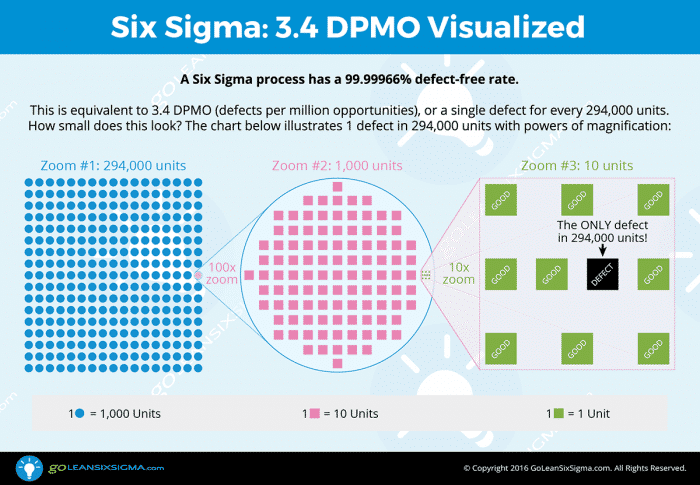 Learn More About Lean Six Sigma – Register for Green Belt Training
GoLeanSixSigma.com's Green Belt course is an in-depth, interactive, enjoyable online course that quickly and effectively builds your process improvement and project management skills using clear language and plenty of fun examples.
Green Belt Training Duration: Online, Self-Paced, 32 hours (4 days, 4 CEUs / 32 PDUs)
Green Belt Certification: 130 Multiple Choice Questions. Unlimited Re-Takes.
Green Belt Training & Certification Cost: Click Here