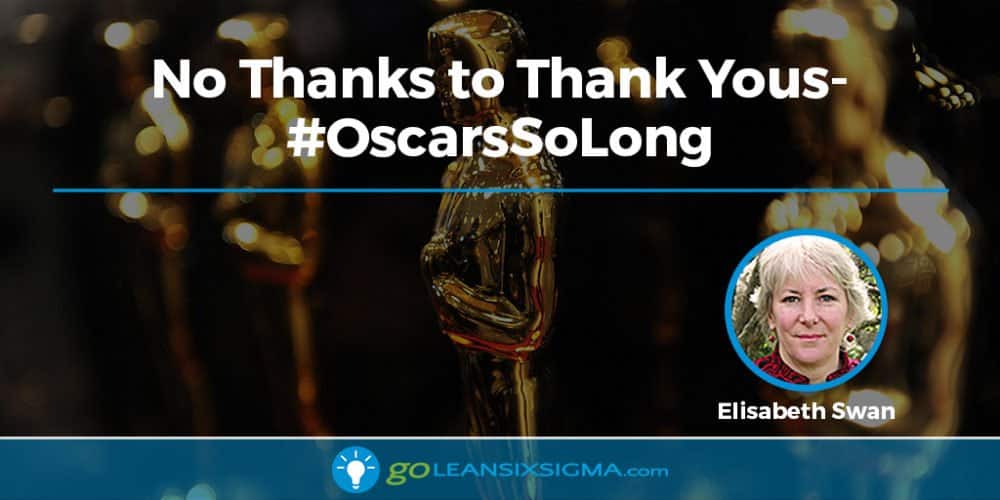 Here's a
cycle time

shocker: This year's Oscars will be blessedly short – Wha?! The new producers claim they'll be "In and Out. Nobody gets hurt. Just fun." Their goals? "Get it done in as short a time as possible, have as much glamour and Hollywood style as possible, and just let people have a good time." Great goals, but how to measure? Pounds of sequins? Ounces of hairspray? Decibels of laughs? Well, we can definitely still measure the length of the Oscars and it's been in a steady incline for years.

Last year's "Thank You" scrolls effectively shortened the time it took each recipient to thank everyone they knew (see below) which was great. They managed to knock the running time from 3 hours and 43 minutes down to 3 hours and 37 minutes. But 6 minutes doesn't really help when it's almost midnight and you've been snoring on the barcalounger for 45 minutes! I love watching the Oscars – huge movie buff – but I also love watching them from a Lean Six Sigma perspective because they truly have a cycle time issue. They've done some great work and they are definitely listening to the Voice of the Customer. With Jimmy Kimmel in charge, I will be in rapt attendance. Envelope please!
2015 Oscars Improvements
We reported on this in 2015 when the people in charge did some impressive cycle time analysis and came up with novel improvements:
They reduced the number of stairs and made them shorter (less steps and less of a chance that beautiful women in high-heeled shoes would take a tumble)
They hid presenters behind movable panels and so they were "revealed" when the time came (no waiting for them to arrive)
They rotated the nominees for the technical awards up front when it was their turn so there were no long walks from the "cheap seats" in the back
They basically ran an Oscar-styled time & motion study and reduced much of the waste of walking time. Maybe they used a Spaghetti Map like the one below?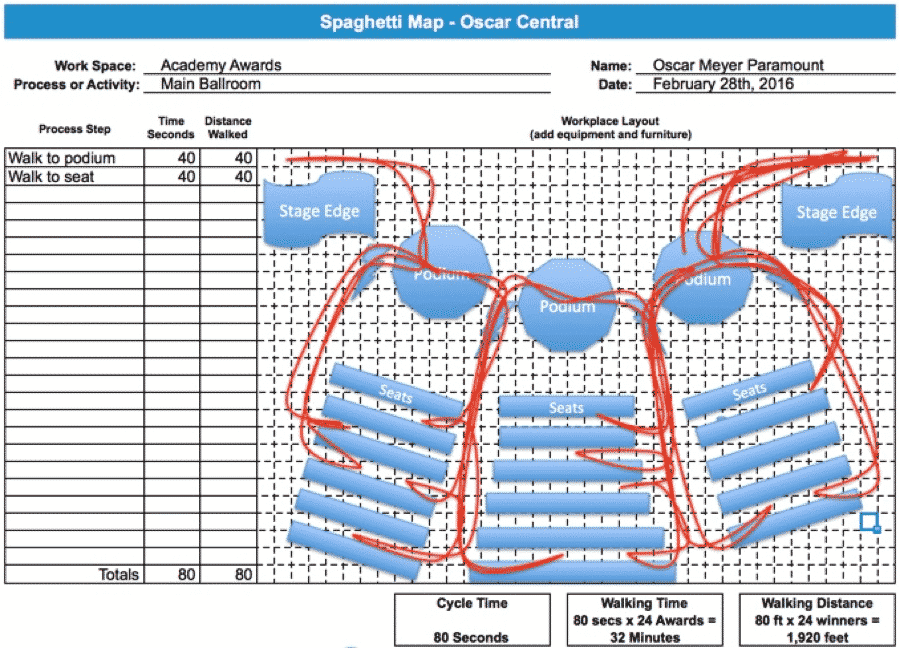 They shaved 10 minutes off the 2014 running time, but 2015 still clocked in at 3 hours and 43 minutes. I would say, and I don't think I'm alone, that is still "too long!" According to The Hollywood Reporter, 2015's award show was nowhere near the worst. The "2002 Oscars stretched on for an inhumane four hours and twenty minutes."
They shaved 10 minutes off the 2014 running time, but 2015 still clocked in at 3 hours and 40 minutes.
How Did They Address #OscarsSoLong For 2016?
For 2016 they went after the time-suck of the endless, and endlessly dull "thank-you" speeches. They already added the dreaded audio cue – that music that let's people know it's time to wrap up their acceptance speeches and get off the stage. Does anyone remember the musical parody done by Jack Black and Will Farrell sung to the tune of the "audio cue" music? In their version, the chorus was a tuneful, and to the point, "You're boring!":

Since they introduced the dreaded "you're done" music, recipients have reacted to it in different ways:
Some ignore it
Some use it as a theme song to their "thank you" list
Others just speed up their thank-you speech into a frantic listing of all the people they've known since 3rd grade
That tactic reminds me of restaurants that print a line on their wine glasses to prevent the costly "over pour." Just like the "see ya' later" music, it's a bit tacky. This is a peak and public moment in someone's life and they're basically getting the "hook" – it's verging on "The Gong Show" spectacle.
The reality is that nobody in the audience really wants to hear the endless thank-you laundry lists.
But, aside from those being thanked, the reality is that nobody in the audience really wants to hear the endless thank-you laundry lists read off some crumpled sheet of paper. It's not just a cycle time issue – it's a customer satisfaction issue. There's a few different "customers" involved here so let's consider this scenario. Their issues might be picked apart, with a Voice of the Customer Translation Matrix, something like this: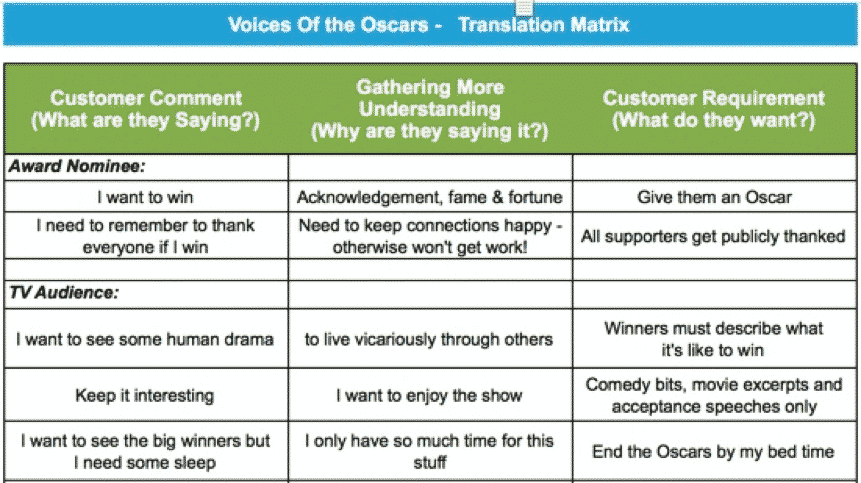 How Long Should the Oscars Be?
So, this brings up the question, "What is the right length of time for the Academy Awards?" We know 4 hours and 20 minutes is too long. If we're trying to satisfy customers, then we need a measureable target. I think we have an answer for that. As James Poniewozik of the New York Times put it, "2016's longest best picture nominee, The Revenant, clocks in at 2 hours and 36 minutes. Why should the academy ask its audience to sit longer than that?"
That's it! The Oscars serve the movie-going public, so base the running time of the awards ceremony on the length of the longest movie. Of course, I would not suggest basing it on a movie like the 1925 version of Les Miserables which clocked in at 5 hours and 59 minutes. But just look at the title– 'nuff said.
Make a List!
Since the thank-you speeches are not only boring and long, they are sometimes incomplete (remember all the day-after reporting on rueful winners forgetting to mention their long-suffering spouses?), addressing them would make everyone happy.
The new plan? Parallel Processing! They got each nominee to create and submit lists of everyone they'd be indebted to in the event that they won. They handed these into the Academy in advance of the Oscars which gave them the chance to double-check their lists for completeness. According to Eliza Berman of Time Magazine, "One added bonus for the winners and the folks to whom they owe their victories? 'Words are written on the winds,' Hudlin and Hall said. 'A screen grab of your scroll can be kept forever.'" Perfect!
For those of you who watched the Oscars last year, what you saw were these pre-made "Thank You" lists running in a scroll across the bottom of the screen as the winners accepted their Oscars. The upshot? Everyone gets thanked, no one has to listen to laundry lists, the TV audience enjoys the drama of how it feels to win and the whole thing takes less time – Problem solved, right?
The Winners Did What?
According to Peter Sybold of the New York Daily News, "instead of simply letting the scroll do the thanking, every early winner spent their precious time on stage gushing over their casts, crews and loved ones…even as the names rolled across the screen." So now we not only retained the thank-you lists, we had a duplicate audio version! And this left the winners with no time to say anything worth hearing. Once again the music played them off the stage as they tried to name everyone they knew…back to the "Gong Show." Personally, I think the Academy had a Stakeholder buy-in issue – but we'll leave that for another day.
Can We Fix the Oscars?
By all accounts last year's Oscars ended up benefitting from the controversy resulting from "whites only" list of nominees. It added some drama in an otherwise predictable Oscar race. But what about the length of the show? Final results – the ceremony clocked in 3 hours and 37 minutes – only 6 minutes shorter than 2015. At this rate, it will take 20 years to pare it down to the length of The Revenant!
At this rate, it will take 20 years to pare it down to the length of The Revenant!
What's next, Changeover Reduction? Work Cell Design? Removing categories of movies that no one has any chance of seeing? Replacing the entire cast with puppies??
Oh, and for this blog, I'd like to thank:
My husband Scott
My mother Jeanne
My colleagues at GoLeanSixSigma.com
My cat Johnny
(Is that music I hear playing?)
Do you even watch the Oscars? We want to hear from you! How long should the Oscars be? How can they pare it down?