Podcast: Play in new window | Download
Subscribe: iTunes | Android | RSS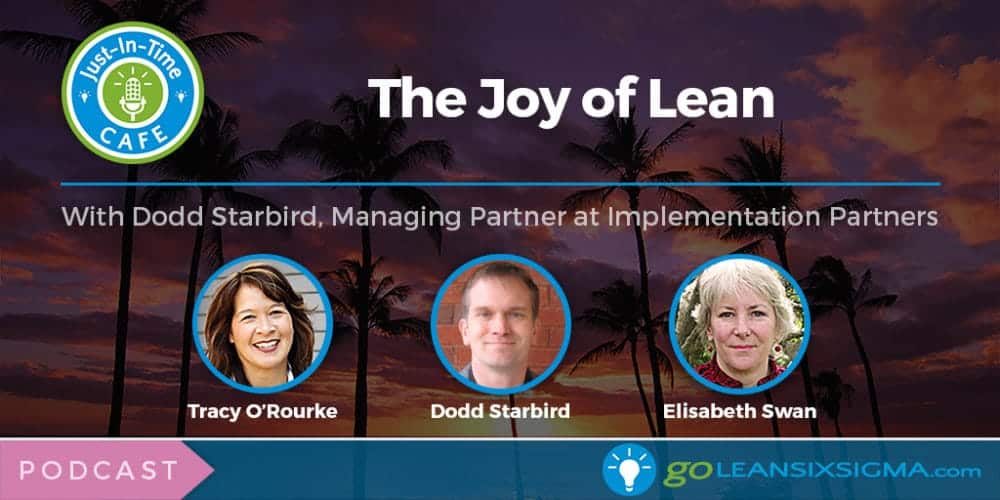 This month, we'll be interviewing Dodd Starbird whose new book, The Joy of Lean, gives us new recipes for happiness and workplace efficiency. For today's appetizer we're going to find out what tomatoes have to do with productivity. We'll discuss how Lean can go "Meta" with cleaning services and we'll visit Cape Cod, Massachusetts to find out how even little kids are benefitting from Lean Six Sigma. For Tools of the Trade we'll discuss a new book that takes a lesson from the famous chef Julia Child and we'll answer a subscriber's question that leads us into some classic sports analogies. Join us as we add some whipped cream to our February coffees at the Just-In-Time Cafe!
Also Listen On
---
Timeline
2:00 Appetizer of the Day 
5:55 Bulletin Board
11:30 Tools of the Trade
16:00 Special Request (Q&A)
20:20 Today's Special

Interview with Dodd Starbird, Managing Partner at Implementation Partners
---
Podcast Transcript
Coming soon!
---
Thanks For Listening!