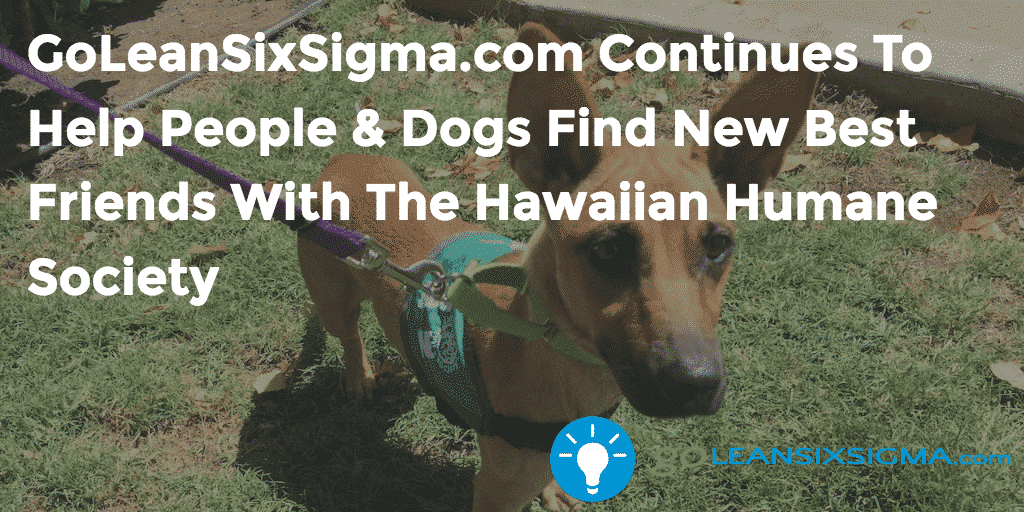 At GoLeanSixSigma.com, we make it easy for everyone everywhere to improve their organizations using Lean Six Sigma. But, we don't stop there. We help mankind's best friends live higher quality lives, also!
In an effort to help continuously improve our communities and inspire you to improve yours, we're honored to fulfill our social responsibility by volunteering our time one day a month. Our goal is to help organizations whose mission is to make our world a better place accomplish their most immediate goals.
For the month of September 2016, our Hawaii Team headed back to the Hawaiian Humane Society to help with weekend adoptions at a local Petco on the island of Oahu. Thanks to the Hawaiian Humane Society for allowing us to spend time the dogs on-site, bunny rabbits, and cats! We were able to make a three local families' houses feel a bit more like homes with their new fur-babies.
We're grateful for the opportunity to help support our local community and give back through the Humane Society.
We invite you to join us in helping dogs, cats and other animals find homes by volunteering to assist with adoptions, admissions at your local Humane Society!
The best therapist has fur and four legs.