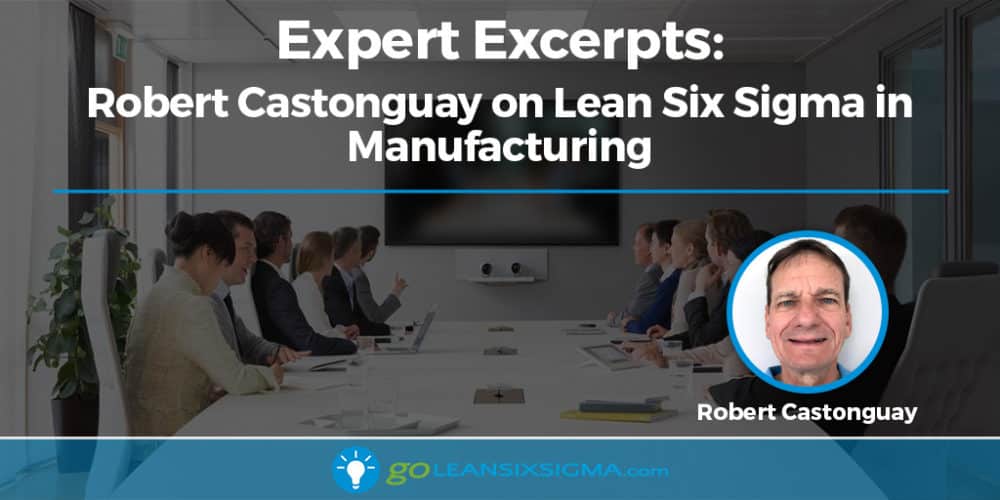 Whether you're just starting your Lean Six Sigma journey, or you're in the middle of improving a process, guidance from Experts can help make your efforts easier – and more successful! In this Expert Excerpt, we interview Robert Castonguay, who shares key insights to being successful with Lean Six Sigma in Manufacturing.
Robert (Bob) Castonguay is a semi-retired manufacturing executive and seasoned shop floor leader who is a Lean Master trained by Shinjitsu with Certifications as a Six Sigma Black Belt and Professional Project Manager. Bob is a subject matter expert focused on operational efficiency including the application of Lean Manufacturing disciplines and the integration of the Toyota Production System (TPS) methods and principles.
Bob has worked as a Lean / Six Sigma coach and consultant for numerous North American manufacturers and has over 40 plus years of direct manufacturing experience. He has overseen hundreds of organizational transformation projects and Kaizen improvement workshops within both office and plant settings. Bob specializes in strategic and tactical operational analysis and deployment within: Lean systems design and integration, production planning, inventory control and logistics, quality management and Six Sigma training & coaching, supplier development and plant based TAKT, flow, pull implementation.
What advice do you have for someone who is getting started with applying Lean Six Sigma in Manufacturing?
Lean Six Sigma has been around in the manufacturing world since the late 1970s. There is a lot of history available for anyone to research and experience. I would advise anyone starting out today to first read up on various Lean manufacturing techniques and Six Sigma variation reduction methods. Many companies will allow you to benchmark with them.
Finding one of these organizations can greatly reduce your learning curve and become a great way to develop improvement ideas as you move through your Lean Six Sigma journey. Focusing on the basics of the Toyota Production System and the DMAIC principles is a must for any beginner.
What are some common mistakes you see people making when applying Lean Six Sigma in Manufacturing?
To be successful with developing a Lean Six Sigma culture within a manufacturing enterprise, senior management must first be absolutely committed. Without this top-down commitment, restrictions will be placed on limited resources, required funding and essential implementation time which will ultimately doom the initiative.
Another mistake is for senior management not to select a respected in-house Champion to help coordinate the effort. This resource should possess some knowledge and experience with Lean Six Sigma since that is critical for success. The Champion must become a catalyst who works with senior management, middle management, supervisors and hourly personnel on a seamless basis. They should be tasked with developing a Lean Six Sigma curriculum and coordinate the training of all required employees.
Another big mistake I have seen is allowing people to "opt out" of learning and applying the Lean Six Sigma tools and techniques. Everyone in the organization must be held accountable for their part in helping the organization reach the annual goals and objectives of the business. Learning and utilizing Lean Six Sigma tools on a daily basis is everyone's job!
Do you have any pet peeves related to Lean Six Sigma application in Manufacturing?
There is a famous saying, "You deserve what you tolerate." My biggest pet peeve is "backsliding." Not tolerating backsliding must be taken seriously. It takes a lot of effort to make the Lean Six Sigma improvements necessary to increase an enterprise's competitiveness. Once an improvement has been successfully implemented it must be maintained. This is a major tenant of the Plan, Do, Check, Act improvement cycle. Backsliding typically occurs on the Lean side when several or more activities take place.
For example, someone gets promoted or retires and leaves the improvement area without coordinating a proper handoff with the new area manager or supervisor. Another example is when new or temporary employees are introduced into the improvement area but there is no standardized work or there's no implementation of employee cross-training.
Backsliding on the Six Sigma side can result from the aforementioned personnel issues or when the DMAIC project improvement Control Plan is not adequately adjusted in a timely manner. If it is not properly maintained by the new person responsible, that becomes an opportunity for backsliding. There are lots of other causes of backsliding so it's important to stay vigilant and avoid its detrimental impacts to the business.
Is there anyone that has significantly influenced you over the years?
Looking back on my 40 plus years as a Change Agent within the manufacturing sector, my biggest influence has been Dr. Eliyahu Goldratt, author of the book The Goal. Prior to meeting Dr. Goldratt, I was a production supervisor working at a high-volume batch and queue manufacturing company. I was introduced to Dr. Goldratt during a manufacturing seminar and was so impressed with his revolutionary approach to running a manufacturing enterprise I decided to go to work for him as a project manager.
He trained me to utilize the OPT (Optimized Production Technology) method along with his "Theory of Constraints Thinking" which can be applied to any manufacturing company in the world. Working for him gave me first-hand exposure to implementing Continuous Improvement methods within a large number of Fortune 50 clients. His influence was instrumental in steering me to learn more about Lean Six Sigma methods and principles during my career.
Why do you do what you do? (What motivates you?)
I truly enjoy being a mentor to both senior management and shop floor manufacturing personnel. I have acquired a vast wealth of both Lean manufacturing and Six Sigma expertise over the past 40 years. My wish is to transfer these skills to up-and-coming manufacturing business leaders and plant personnel in order to help improve the competitiveness of manufacturing within the U.S.
Like a sports coach, I really enjoy helping a manufacturing team keep or grab new market share utilizing process improvement techniques. Helping organizations reduce the "get the order → get the cash" timeline is also a lot of fun.
What's something exciting that you're currently working on?
I was recently asked to develop and deliver a Lean Six Sigma Green Belt Certification program for a family-owned German manufacturing company in the midwest. This project is very exciting as this company is looking to upload all of the certification training into its world-wide Sharepoint-based training library.
The training development is allowing me to work with all levels of employees within the company and is providing lots of business examples we will utilize within many of the training modules. Once the curriculum is completed it will allow for a standardized training approach for all existing and new hire employees.
What's your favorite application of Lean Six Sigma in your personal life (away from work)?
At home I always had missing socks after we did our weekly laundry. That got me thinking about running a small DMAIC project to better control this process. After creating a simple Check Sheet, I convinced my wife to collect some "good" background data about our laundry items like frequency of laundry and my missing socks status.
We were able to run several experiments, analyze the results and introduce improvements. The end result was to always place our socks (prior to laundry) into a nylon, zipped socks bag. The project was fun and my wife helped me eliminate my missing socks problem.
Have a question for Bob? Please feel free to ask in the comments below.