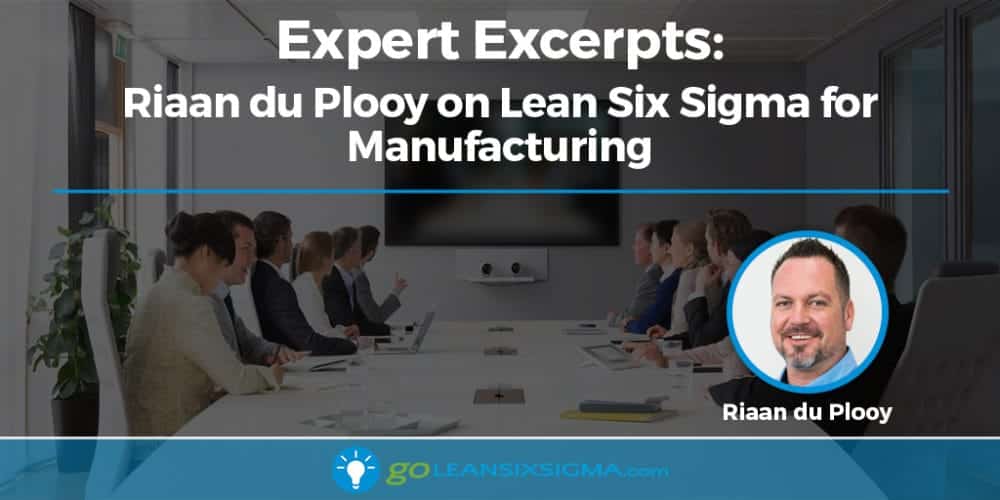 Whether you're just starting your Lean Six Sigma journey, or you're in the middle of improving a process, guidance from Experts can help make your efforts easier – and more successful! In this Expert Excerpt, we interview Riaan du Plooy who shares key insights to being successful with Lean Six Sigma in Manufacturing.
Riaan is a Lean Six Sigma Master Black Belt and Consultant with over 17 years of experience in leading, teaching, coaching and facilitating the successful application of Lean Six Sigma tools and concepts. Since 2001, Riaan has spent most of his career as a Lean Six Sigma/Operational Excellence Leader within various global companies, Riaan has broad experience in applying improvement in complex and large-scale environments across all value chains.
As a South African born Australian, Riaan has the unique experience and perspective to skillfully and effectively work across functions, regions and diverse cultures to create lasting improvement and to build competence and engagement throughout organizations.
What advice do you have for someone who is getting started with applying Lean Six Sigma in Manufacturing?
Take the time to understand why you are implementing this program. Define the benefits it will bring — behavioural, cultural and monetary. Who will be involved? Is this program supported by top management? Will there be a budget to support training, education, time away from the production process and low-hanging-fruit improvements?
Do not try to focus on the entire facility at once. Roll out the message of change across the site, but have a robust plan in place detailing which areas will be influenced first. Gantt-chart the program out, with as much detail as possible, then advertise it. Hold meetings around the plan to assess progress and keep employees informed especially at the beginning!
Get leadership onboard and ensure it's supported from the top. Add a target to the leadership team's personal goals to support the objectives of the program. Ensure department leaders understand their role in wholeheartedly driving and supporting the change.
What are some common mistakes you see people making when applying Lean Six Sigma in Manufacturing?
People often assume that Lean Six Sigma and Lean are massive beasts — complicated to understand and implement. The models themselves are not difficult, but what can be complicated is ownership. Simplify the process, break it up into smaller pieces — do not get overwhelmed. Rather, slow down the pace, ingrain what you want to achieve, and when you are sure everyone understands the concepts, move on to the next step.
On numerous occasions I've seen business leaders expect fast and furious results from the start and then the same results year after year. This is dangerous. This is where the cultural change must support the outcomes. Set realistic targets — especially at the beginning. You want small Quick Wins to shows everyone involved what can be done by showcasing the new process. Do a lot of kinesthetic training (hands-on) out in the area affected by the change — don't be shy!
Role-model the process and the expected change. Work on behaviors —what is expected of you from the team, what do you expect from them and what do they expect from each other? How are we (as a team) expected to conduct ourselves? Review these expectations with real examples at least every two weeks and don't be afraid to "rip off the band-aids." Cultural and behavioral change is just as, if not more important than, the results. If you have the right mindset and supporting behaviors, the results will automatically follow.
Do you have any pet peeves related to applying Lean Six Sigma in Manufacturing?
Only a few these days. The main one probably being "Fear of Experimentation." Think of the adage "if you want to achieve something you have never achieved, you have to do things you've never done." Organizations that decide to implement Lean, naturally do this for a reason — they want different results and outcomes.
The pet peeve comes into play with the expectation of trying something different which, depending on your culture, could be great or disastrous (especially at the beginning). For example, when we are afraid to try even the smallest things differently, i.e 5S in an office (which by the way, is where all 5S projects should be started). With seemingly low-stakes activities such as centralizing stationery, getting rid of old folders and files, etc. — I have literally had employees fall apart, cry, stomp off, go home and even end up on stress leave.
This could be due to lots of different reasons, but never underestimate the psychological effect of change. Prepare for this. Inform, educate, coach and nurture the values of everyone involved in the change, and bring them along for the ride. It's true, it's not for everyone, and some people eventually decide to move on and find happiness elsewhere. But never allow this to slow down the momentum and pace set by the Steering Committee who is driving the implementation. In my experience, most experiments will fail, but some will work. Celebrate these successes, ensure the team gets the credit they deserve and nail it down as you move forward. Experimentation is key to finding the right way for your organization!
Is there anyone who has significantly influenced you over the years?
Yes, through the years I have had some excellent support figures, and also, some not so excellent. Early on, when I was still in South Africa, I had a manager who would take me into his office, close the door and yell at me. I'd yell back, and I could literally hear other people take their belongings and go home!
It wasn't until later that I realized he meant well, but he didn't know how to get his message across — this taught me a lot. First of all, yelling doesn't help. Prepare for your meetings, especially the ones where you're planning on giving someone personal feedback. Have a goal for your meeting (what do you want to achieve out of this) and mind your body language (the unspoken words) which generally transmit more than what you say. Mr. Rowley, you are a legend!
There are also a few recent influencers which I have chosen as they inspire me every day to want to be better, improve the way I do things and learn as much as I possibly can. For these very special people I have the utmost respect. I appreciate observing and learning from them as they nurture their own values, concentrate on sharing their knowledge, but never stop learning themselves.
Why do you do what you do? (What motivates you?)
I am very passionate about change. For me change, death and taxes are the only sure things you can bet on in life. So I might as well be prepared for it. I love influencing people's lives and not just changing the way they work, but the way they interact. I love to see them grow as people as they find ways to improve their personal lives through teachings at work. Coaching, training and interacting with people from different cultural backgrounds, learning how to approach difficult or sensitive subjects and growing myself into a better person is high up on my agenda.
What's something exciting that you're currently working on?
Standard work. I know I just put some of the readers asleep, but I find this process extremely exciting! The results of implementing this process from the Team leader level down, is incredible — both from behavioral and cultural aspects. We still have a long way to go, but 6 months into it, I have already received a lot of positive feedback about the process, and the way that we are implementing it.
I am a big supporter of process-driven change. This leads to disciplined, organized and sustainable change. We always wonder how the Japanese do it and how they managed to ingrain it into their culture. They didn't put a deadline on it, someone didn't do it for them and they all benefit from it. Sustainability through behavioral change is key.
What's your favorite application of process improvement in your personal life (away from work)?
My father is an electrician, and from a young age he drilled into me that when I used something out of his garage (tools, etc.) I should put it back where I found it. This was the reason for a lot of debate and tension — easily avoided if I complied.
Here's an example of being organised that helped a great deal. We went camping one year with friends out in the bush and as we arrived we witnessed a beautiful sunset. My son (about 4 years old at the time) ran around kicking his soccer ball and having fun, until he kicked the ball under the camper, and ran straight into it, lacerating his left eye, spilling blood everywhere!
We quickly jumped in the car and raced to the nearest town for help, leaving my daughter with our friends. We were gone for a couple of hours as the town was about 20 km away. Behold — upon our return, our whole camp had been set up. We had our camper so well organised that our friends had no problem setting it up for us. Everything was in its place and an ice cold drink was waiting for us after our unnerving experience. I love 5S.
Have a question for Riaan? Please feel free to ask in the comments below.