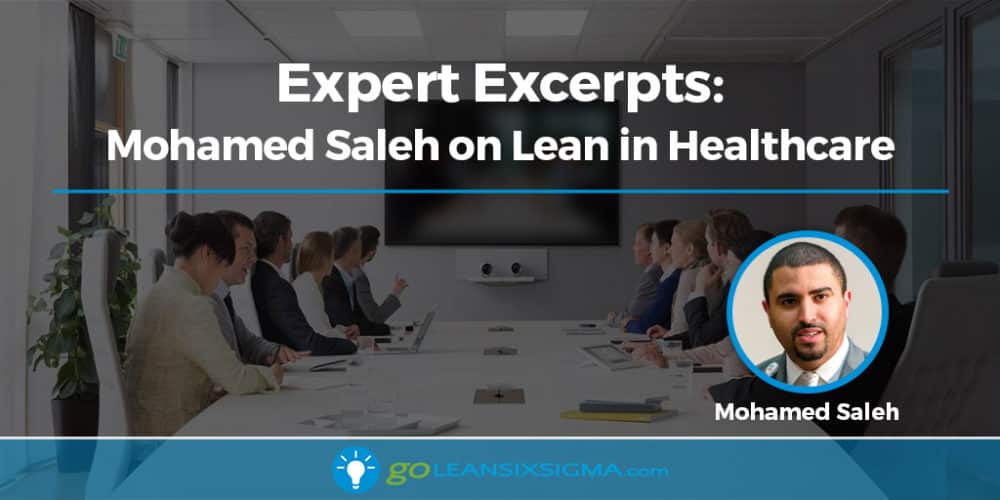 Whether you're just starting your Lean Six Sigma journey, or you're in the middle of improving a process, guidance from Experts can help make your efforts easier – and more successful! In this Expert Excerpt, we interview Mohamed Saleh who shares key insights to being successful with Lean in the Healthcare industry.
Mohamed Saleh is the Executive Director of the Lean Office and Senior Sensei at Hartford Healthcare in Connecticut. Prior to his work at Hartford Healthcare he served as Director of Continuous Improvement for the Medical Group (then Hartford Hospital). He is a Professor at Central Connecticut State University for the Graduate Department of Engineering and Technology Management with a focus on Lean Management, Operational Management and Project Management and Principle at Vizibility.
Mohamed is currently working toward his PhD in Business Administration from Northcentral University and received his Masters in Engineering and Technology Management and his Bachelors in Mechanical Engineering from Central Connecticut State University. Mohamed is a Six Sigma Master Black Belt (Kaplan University) and a Past Malcolm Baldrige Examiner (PIPEX).
What advice do you have for someone who is getting started with applying Lean in Healthcare?
Know the "Why." It is critical, as someone starts their Lean journey, to consider why they want to do it. I often find senior leaders interested in bringing Lean into their processes without a burning platform or a sense of urgency.
Have the Humility Required. Leaders must be willing to engage in self-reflection, live the needed Lean leadership behaviors and be open to coaching.
Hire the Right Lean Experts. You need good people to coach you through the transformation. Selecting the right leaders with experience is key. Don't be penny-wise and pound foolish. Much of the Lean toolkit may sound like organized common sense but transforming the culture from a Lean principle-based architect requires the right talent.
Don't Copy. Lean principles are foundational but make sure that the selected tools activate and evolve the system that works for you. Adapting it to your environment to achieve the right results and affirm the Lean principles is paramount for success. Lean is definitely a holistic culture transformation. It's rooted in behavioral evidence of cultural principles that enable your systems to achieve results that are anchored in values. Its focus is underscored by the Scientific Method.
Go Deep. Select a few key areas to learn from for approximately 6 months. Once you get it right you can provide a demonstration unit, model cell, a beacon of excellence or a lighthouse for future followers. This allows you to test the culture, design what works for you and create an organizational relatable pull.
Role Model Leader Standard Work From the Top. Leadership has a responsibility to both commit and participate. Lean is not something to be delegated. Organizations have to adopt it to fully be Lean. Many are doing Lean but very few are being Lean, living the philosophy and teaching it to others.
Don't Wait Until the Culture Is Ready. Design the systems of the principles, anchor them in values, implement and then the behavior evidence you need will shift the culture over time.
What are some common mistakes you see people making when applying Lean in Healthcare?
Trying to Quantify an ROI. Most organizations that are doing Lean for ROI miss the boat in terms of cultural transformation.
Using Lean as a Head-Cut-Reduction Tool. Lean does not mean "Less Employees Are Needed." It is mission critical that organizations commit to a no-layoff policy to demonstrate the principle of "Respect for People." Employees should be treated as the untapped capacity for the future evolution of the organization.
Cherry Picking the Tools. Do not fall into the trap of being a tool-based architect. Select the right tools to activate your systems operating model to drive the Lean principles.
Yielding to Concrete Heads. Accept that there is a lot of change management involved. Do not discredit people's' efforts since egos will get in the way; do not try to erase the organization's legacy as pride will alienate you and be sensitive to people's body of knowledge by taking the time to teach and motivate.
Diluting Lean with Other Initiatives. Beware of competing initiatives and what you're going up against. Going in with blinders or without the organizational awareness of the potential innovation fatigue leaders are up against is a recipe for a check-the-box mentality.
Stay Away From Traditional Classroom Training. Lean training must to be expanded to practical Just-in-Time elements focused on the work environment. Provide many engaging venues such as technological, small digestible chunks, 20% classroom that includes simulation, case studies, observation and testimonial panels. Work to have 80% of the teaching at the Gemba with more of a "go do" approach. Additional venues should be complemented with 1-1 coaching by a dyad of both the facilitator and direct report as they develop their problem-solving muscles.
Do you have any pet peeves related to applying Lean in Healthcare?
Layoffs
Blaming others
Delegating Lean
Not willing to try
Always wanting to find a solution and back into a problem vs. trying to exercise the A3 problem-solving muscle first to understand the current state, work hard to identify the root causes and from that identify countermeasures. That can come from both the internal creative juices of the people or leverageable best practices from the outside.
Thriving on a firefighting culture
Is there anyone who has significantly influenced you over the years?
Many – I've needed a lot of help. I would note but not limited to:
Atef and Hoda Saleh (Dad and mom)
Heather Saleh (wife)
David Stec, Mark DeLuzio, Bob Emiliani, Peter Teti (Lean Mentors)
Kent Stahl, Donna Handley, Jim Blazar, Gary Havican, Stu Markowitz, Jamie Roche (Prior Bosses)
Connie Flores, Sandi Voogd (Peers)
Why do you do what you do? (What motivates you?)
Helping people grow. It is very rewarding finding an approach that truly respects people and reinforces humility.
Being part of an organization build that is truly founded on Lean principles.
What's something exciting that you're currently working on?
Moving the system that includes many hospitals and outpatient ambulatory services from a vertical view to a horizontal view.
Evolving the Lean office to be a talent engine for redeployment of the problem-solving muscles back into operations.
Designing what the Silver journey milestone for Hartford Healthcare looks like
What's your favorite application of Lean in your personal life (away from work)?
Teaching Lean to my two girls; Aya (my 6 year old) and Nura (my 3 year old). Watching them try to huddle at our visual board at home, come up with opportunity cards or try to 5S brings up so much joy.
Have a question for Mohamed? Please feel free to ask in the comments below.