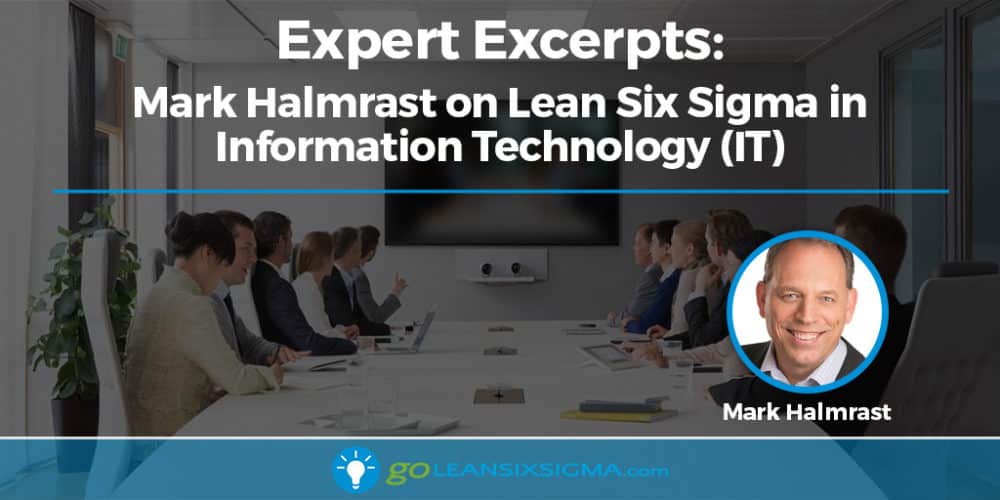 Whether you're just starting your Lean Six Sigma journey, or you're in the middle of improving a process, guidance from Experts can help make your efforts easier – and more successful! In this Expert Excerpt, we interview Mark Halmrast who shares key insights to being successful with Lean Six Sigma in Information Technology (IT).
Mark is a certified Quality Leader and Master Black Belt with 20+ years of experience leading process improvement. In addition to formal Lean Six Sigma roles, his experience as an operations leader in Fortune 50 companies gives him a first-hand appreciation for ensuring Lean Six Sigma efforts are practical, relevant, and energizing. Mark is the founder and principal of BlueTrail Consulting, a boutique consultancy that partners with clients motivated to improve business performance.
What advice do you have for someone who is getting started with applying Lean Six Sigma in Information Technologies (IT)?
First, let's acknowledge that Lean Six Sigma absolutely applies to IT!
The IT function itself is comprehensive and diverse. Given that, the question of where to start can spiral into complexity quickly. I am an advocate for simple starts that establish momentum, and a good way to do that is to begin with an outside-in mindset (think of the business as the customer of IT services) and identify a set of projects that the business will feel.
One area to notch some early wins is the new hire onboarding process. That process takes long, involves many handoffs, and, despite the good intentions and hard work of everyone involved, often results in the organization not being fully prepared for a new hire's Day 1 (an exciting and important day for these valued employees!).
My encouragement when starting the Lean Six Sigma journey in IT is to adopt the point of view that the business is the customer, understand their priorities, and then start making a difference!
What are some common mistakes you see people making when applying Lean Six Sigma in IT?
As the Lean Six Sigma journey in IT expands to include the development process, a common mistake is to automate business processes before fixing them.
A scenario that plays out over and over across industries and markets looks something like this: the business has a problem and jumps immediately to a system solution, rather than first clarifying the problem, finding a business solution, and only then requesting a system fix.
I speak from the business side, having led operations and having spent years in process improvement, so let me note that this is not solely an IT issue, it is a business issue. We all—business, IT, and Finance—need to find a better way to incorporate process fixes before prioritizing, funding, and executing system changes.
Lean Six Sigma can play a significant role in changing that dynamic. Leaders in business, IT and Finance would do well to address this together.
Do you have any pet peeves related to applying Lean Six Sigma in IT?
Yes, a cumbersome bureaucracy in administering a Lean Six Sigma program (a peeve not limited to IT since it applies across the enterprise.) An executive in a company with a struggling process improvement deployment had resorted to creating a shadow team of Lean Six Sigma Black Belts—calling them by a different name—so they could benefit from the Lean Six Sigma toolkit without becoming ensnared in the deployment's bureaucracy.
Structure is important and as Lean Six Sigma practitioners we value structured problem solving. I am not advocating for zero structure in deploying Lean Six Sigma. This is a call to pay attention to keeping our Lean Six Sigma deployments…lean!
Is there anyone who has significantly influenced you over the years?
My grandfather and father modeled for me the transformative power of kindness and grace. They instilled in me an appreciation for the dignity and infinite value of every single person, no matter their position.
That carries into my professional life as inspiration to give respect to each person's voice as we tackle tough business problems together.
Why do you do what you do? (What motivates you?)
Two things are especially motivating for me: fixing business problems and playing a role in developing leaders. Teaching brings me joy, so engaging in training, coaching, and development—formal or informal—are big reasons I get up in the morning!
What's something exciting that you're currently working on?
I am currently focused on service (transaction) operations, working to help leaders manage and improve processes more effectively. That sounds generic, so let me say a bit more.
In a service operation, the two things most visible are people and computers. In my experience, those are the two things leaders of service and transactional processes change most frequently. We change the organization. We change the system. Overlooked is changing the actual business process and how work gets done.
Service leaders develop excellent skills in leading people; imagine coupling that with an equally strong acumen for managing and improving business processes!
What's your favorite application of Lean Six Sigma in your personal life (away from work)?
Queues. I am a bit of a geek when it comes to flow and queuing theory, so when I find myself in a line—at the store, airport, or even a sporting event—my brain instantly engages in how the flow can be improved for everyone. That, and I am very curious, so I find myself wearing out the 5 Whys!
Have a question for Mark? Please feel free to ask in the comments below.