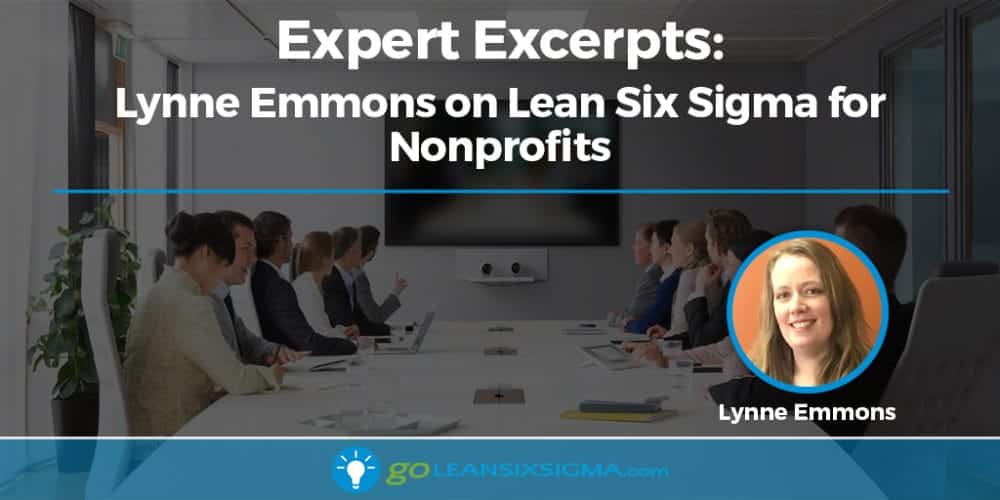 Whether you're just starting your Lean Six Sigma journey, or you're in the middle of improving a process, guidance from Experts can help make your efforts easier – and more successful! In this Expert Excerpt, we interview Expert Lynne Emmons, who shares key insights to being successful with Lean Six Sigma in the nonprofit industry.
Lynne Emmons is an Arizona native who caught her big break in healthcare by selling golf balls and lemonade to raise money for her community's first health clinic. Years later, she paid her way through college by working with youth diagnosed with autism and graduated with a Masters degree in Marriage and Family Therapy.
Seeking an opportunity to be of service to her community, Lynne started her career as a therapist and worked her way up the ranks at Valle del Sol to her current position as Director of Quality Management, Corporate Compliance and Privacy Officer, and the new Chair of the Arizona FQHC Quality Improvement Committee. In this capacity, Lynne is able to drive change initiatives which impact healthcare for over 500k Arizona and New Mexico residents.
When not navigating healthcare systems and ensuring quality service delivery, she loves time with her family and chasing her 6, 3, and 1 year old children.
What advice do you have for someone who is getting started with applying Lean Six Sigma the nonprofit world?
Patience & persistence. Most nonprofits who start applying Lean Six Sigma utilize staff who are already wearing multiple hats and likely over-scheduled. The person leading this effort needs to have the vision to see the added work as investment towards future savings. There also needs to be a champion/supervisor who has enough authority to allow for some flexibility when other duties occasionally get neglected.
For example, I am the Risk Manager, Corporate Compliance & Privacy Officer, Director of Quality Management, and so on. When I became trained in Lean Six Sigma, I knew this would be something I had to "add on to my current roles." I came to my team and said, "We are doing this. Now how do we make it happen?" They didn't trust the new system but fortunately they did trust me.
It took about 6 months before they started seeing the fruits of their labor. In our experience, that is about how long it takes to complete a project without a dedicated team. More often than not, project team members get pulled away for other pressing tasks. This leads to action items on the RACI Matrix (To Do List) left unaccomplished or pushed out. It is hard not to get discouraged at times, but with patience and persistence, team members catch back up and the incremental step improvements have monumental impacts for others.
What are some common mistakes you see people making when applying Lean Six Sigma the nonprofit world?
Trying to do it all. I would say this is my greatest weakness but I've observed it is often shared across project team members. When we start brainstorming, there are amazing ideas that come out of that process and it is hard to say "no." Especially when you have the vision for how that idea could be used and the magnitude of difference it could make. From experience, I can say that it drags the process down especially with the aforementioned limited resources.
I can honestly say every idea we have used has served a purpose but "do we have to do it right now?" A project team I am working on currently has been going for 8 months. We are very close to finishing and the final product is going to be AMAZING. But could we have done less and still had incremental improvement? Staff could have started enjoying the benefits several months ago and we could have built upon that.
Take your list and cut it in half. Then cut it in half again. And if it is longer than 3-6 ideas, cut it in half again. Any ideas not used are Just-in-Time Quick Wins or ready-made solutions in the next go around.
What makes you groan when applying Lean Six Sigma the nonprofit world?
Sticklers! Individuals who are inflexible when creative new approaches are identified. In healthcare there are rules, standards, regulations which you "have" to follow prescriptively. When we want to try something new, it is a multi-YEAR process to get any movement on it. Even when evidence exists that supports the change OR there is no regulatory reason as to why it could not be done.
For example, we are required to get signatures from patients on different forms. Occasionally there are significant internet issues due to the rural locations of the clinics/services. Our staff may choose to get the signatures on printed documents and later send them to be scanned to the patient chart. We were seeing a lot of waste in this process. So we thought, "hey wouldn't it be nice if staff could take a picture of the signatures and upload them into the medical record."
Eagerly we checked with our medical record company and regulatory bodies. NO! You cannot load JPEGs or other images into the record. NO! That is not considered a legal signature. We pursued this for several months before we finally dropped it. Then about a year later, it was announced at a conference that a new mobile application would be released which would allow you to take pictures with your phone, save it to the patient's chart, and it would comply with regulatory bodies.
Is there anyone who has significantly influenced you over the years?
My religion and my family. I know this may turn off some of the readers but I have to give credit where credit is due. My childhood and adulthood has been surrounded with a cultural value on lifelong learning. I used to spend summers with my grandparents who taught me new trades and continued to learn themselves well into their 80s. Like my grandma who started a Facebook account at 84 and began texting regularly. My mother who is about to retire and wants to go back to school to learn a new trade. My husband who is a self-taught mechanic, computer tech, wood craftsman, and so much more.
Why do you do what you do? (What motivates you?)
I remember attending a gathering as a teenager where the speaker said "Only YOU decide how much YOU get out of this experience." At the time he was talking about Sunday meetings which could be labeled as "boring" or "repetitious." And the message was "if you are investing your valuable time being here, why are you allowing another person to dictate what you get out of it. Pay attention. Draw your own conclusions. Get past the WAY the information is presented and listen to the message. What can you learn from it?"
Ever since that meeting I have determined that nobody was going to waste my time. I was going to make every experience meaningful and be open to the idea that "I have something to learn here." Since then I have become known for seeing the "bright side" of every situation and somebody who "knows everything." The funniest part is I know how much I don't know which drives me to learn more. I credit this attitude to my current successes and for seeking out Lean Six Sigma in the first place.
What's something exciting that you're currently working on?
I have two current projects which I am really passionate about. Both are focused on the patient experience. Right now if a patient wanted to start Mental Health Services, they would be required to attend a 2-3 hour appointment and answer over 500 questions. Sometimes we even have to call them in for another appointment because of questions they missed or the complexity of the case. The project team is working to reduce that to 1 hour, about 1/2 the questions, and only 1 visit.
The second project is a statewide project for patients over the age of 50 who need a colorectal cancer screening. Just as with any cancer, if a patient is screened and the cancer is caught early it is usually treatable. However, many patients do not get screened until they are symptomatic and by then it is usually terminal. In Arizona, approximately half of all patients are not screened for cancer. The goal of this project is to increase the screenings by 15% which could lead to 5,000 preventable deaths.
What's your favorite application of Lean Six Sigma in your personal life (away from work)?
I was used to getting up in the morning and out the door in 10-15 minutes. That drastically changed when my oldest daughter started kindergarten. Every morning was a 30-40 minute routine as outlined below. Many times it took longer than that and she would miss the bus which cost me another hour due to travel time and waiting for the school to open.
 Step
Type
Cycle Time
Mommy wakes up
VA
1-2 minutes
Mommy wakes up daughter
NVA-r
5 minutes
Mommy convinces daughter to brush teeth
NVA
5 minutes
Daughter and mommy brush teeth
VA
2 minutes
Mommy gets dressed & daughter waits to get dressed
VA
NVA
5-10 minutes
Mommy and daughter walk downstairs
VA
1 minute
Daughter tries to find school clothes
NVA
1-5 minutes
Daughter gets dressed
VA
2-5 minutes
Daughter tries to find shoes
NVA
1-5 minutes
Daughter puts on shoes
VA
1-3 minute
Daughter tries to find backpack
NVA
2-5 minutes
Daughter puts on backpack
VA
0 minutes
Mommy and daughter leave the house
VA
1 minute
Drive to the bus stop
VA
2-4 minutes
Total Cycle Time
29-44 minutes

We were both frustrated with this experience in the mornings, so I used Lean Six Sigma. The goal was to cut out waste in this process and get it down to 15-20 minutes. I talked with my daughter and we found the following root causes and solutions:
| | | |
| --- | --- | --- |
|  Root Cause | Solution | |
| Spending up to 10 minutes looking for backpack and shoes. | Backpack and shoes would be put away in the same spot EVERY day. | |
| Spending 5-10 minutes looking for clothes and getting dressed. | Lay out clothes, shoes, etc. the night before OR go to bed in the clothes she would wear the next day (her idea!). | |
| It is too dark downstairs for daughter to go by herself. | Mommy would turn on the light downstairs ahead of time. | |
| Spending 5-10 minutes trying to get daughter to brush her teeth. | Daughter gets to pick her own snack if she gets up quietly and brushes her teeth without being told. | |

Today I can happily say she has only missed the bus once in the last 8 months and we have our routine down to 15 minutes. In fact, some mornings she is so fast she will be waiting for ME. Nailed it!
Cross Functional Flow Chart – Before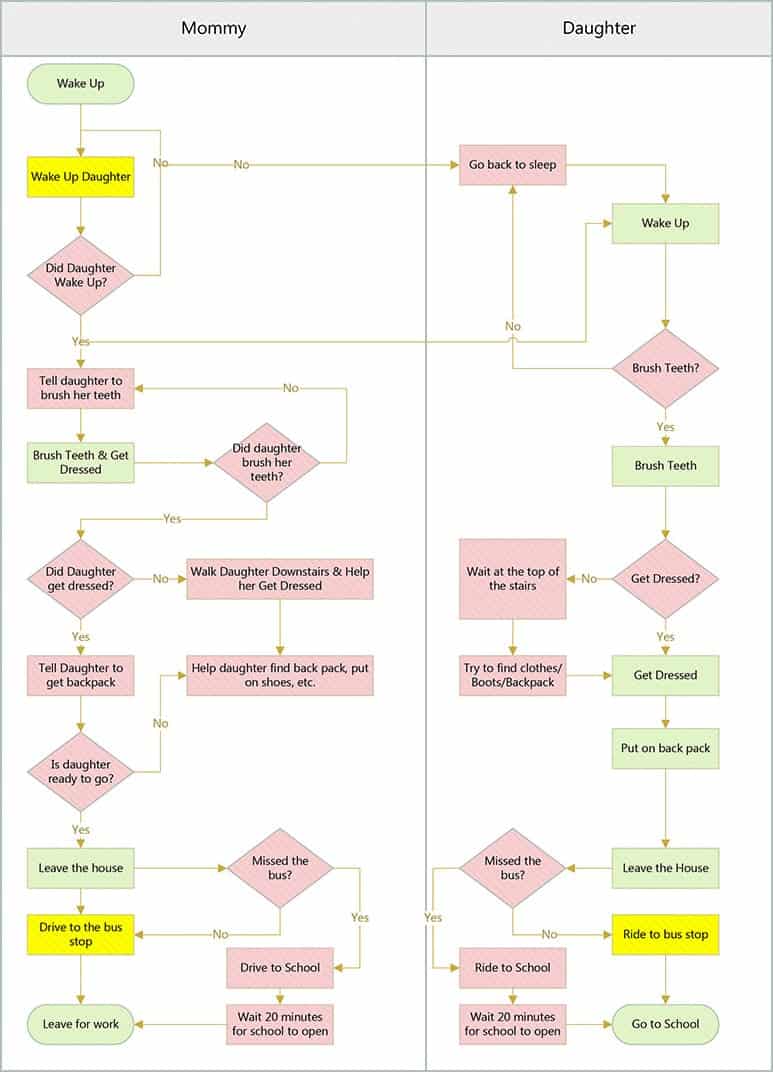 Cross Functional Flow Chart – After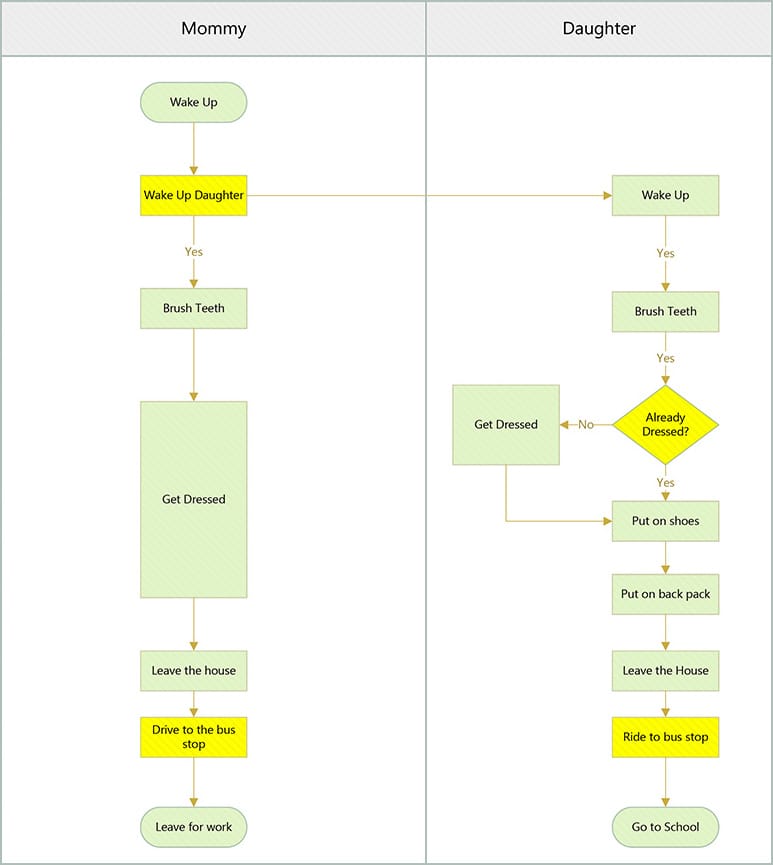 Have a question for Lynne? Please feel free to ask in the comments below.