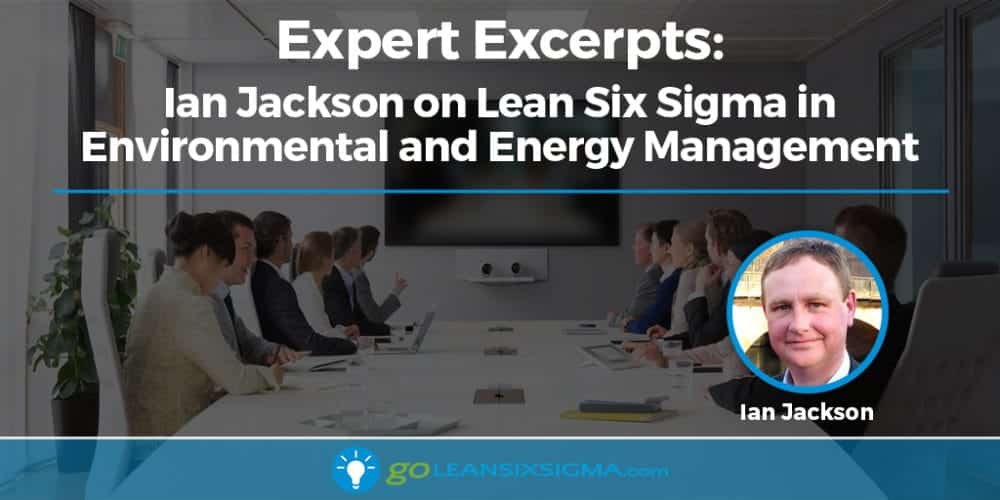 Whether you're just starting your Lean Six Sigma journey, or you're in the middle of improving a process, guidance from Experts can help make your efforts easier – and more successful! In this Expert Excerpt, we interview Expert Ian Jackson, who shares key insights to being successful with Lean Six Sigma in Environmental and Energy Management.
Ian Jackson joined his wife Helen (former Toyota L&D specialist) in their Lean and Green business improvement consultancy, Develop Your Ltd., in 2010. Prior to becoming an independent consultant, Ian worked within a FMCG industry for 25 years in a variety of Engineering and Operational management roles. Waste minimization had always been a focus for his work but this was accelerated when he completed the Alcan Packaging Lean Six Sigma Black Belt program in 2005 and spent several years on operational excellence projects across a multinational group. More recently, as an accredited Energy Savings Opportunities Scheme lead assessor Ian is supporting organizations in the identification of environmental and energy improvements and cost savings using Lean Six Sigma tools and techniques.
What advice do you have for someone who is getting started with applying Lean Six Sigma to Environmental and Energy management?
Adopt the alternative 7 Environmental Wastes (Biodiversity, Rubbish, Energy, Water, Materials, Emissions and Transport) and start learning to see in a new way.
Identifying the key drivers that affect energy usage, whether its production volumes, tonnage of materials consumed, external temperatures, or a combination, can be a great way to use Lean Six Sigma tools to develop your Energy Performance Indicator to monitor and target improvements.
What are some common mistakes you see people making when applying Lean Six Sigma to Environmental and Energy management?
The most common mistake is organizations who have the Lean Six Sigma skills and tools but fail to apply them to reducing their organization's environmental impact.
It is not uncommon for process teams to be fully engaged with Lean Six Sigma. But it is a foreign language to their Facilities or Environmental Health & Safety (EHS) managers who are struggling to identify and remove waste from their organizations without the Lean Six Sigma knowledge or understanding.
Do you have any pet peeves related to applying Lean Six Sigma to Environmental and Energy management?
The Lean Six Sigma and Black Belt terminology can cause barriers, so I often work with clients using the thinking and tools of Lean Six Sigma without associated language and the teams still know that is what we are doing.
Is there anyone who has significantly influenced you over the years?
I was fortunate to be trained by two Master Black Belts, Rene French and Bill Zeeb, who truly opened my eyes and gave me the tools and confidence to make a difference.
More recently Rob Hopkins, founder of the Transition Movement, has certainly influenced my priorities in terms of dealing with climate change and the depletion of resources, whilst at the same time showing the way local communities can make a real difference.
Why do you do what you do? (What motivates you?)
Tackling waste has always been 'What I do.' Now improving sustainability and resilience, professionally or within my community, is what drives me every day.
What's something exciting that you're currently working on?
I am currently working with a couple of clients, using energy usage data collected over many years but not monitored or analyzed in the past. Using a systematic process and working with operatives in their areas of work is enabling incredible energy savings (over 15% in 12 months) being delivered and a pull from other departments to deliver similar savings.
What's your favorite application of Lean Six Sigma in your personal life (away from work)?
Workshop or team working with community groups, using skills learned during my Black Belt training, can achieve so much, with massive rewards. Again, with the participants enjoying and benefiting from the process but having no idea we are using Lean Six Sigma tools.
Have a question for Ian? Please feel free to ask in the comments below.